How to remove fake tan fast at home if you've made a self-tanning mistake
Our Beauty Editor put different methods for how to remove fake tan to the test and these are the 8 we found that really work...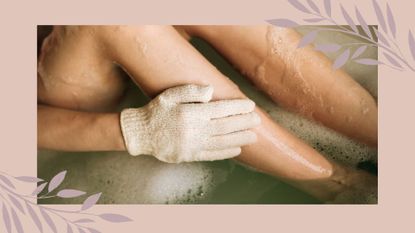 (Image credit: Getty)
woman&home newsletter
Sign up to our free daily email for the latest royal and entertainment news, interesting opinion, expert advice on styling and beauty trends, and no-nonsense guides to the health and wellness questions you want answered.
Thank you for signing up to Woman & Home. You will receive a verification email shortly.
There was a problem. Please refresh the page and try again.
If you're searching for how to remove fake tan, I'm willing to guess you've got yourself into a bit of a streaky pickle.
I personally pride myself on being something of a fake tan pro. Having been tanning since my teens I have tried all of the best self-tans for the body, the best fake tan for face, and even the best fake tan for pale skin. I'm so convincing in my application that I (smugly) haven't experienced a streak in years. That is, until this week, when trialing a gradual tan (from a brand that will remain nameless) that turned my legs into a patchwork quilt of orange – thank goodness for working from home.
I set about looking for how to remove fake tan as fast as possible at home and put various different methods to test. Below are the best methods I found for removing fake tan at home, plus a little bit of help and advice from experts in fake tan - Nicky Matthews, tanning expert and founder of Sienna X, Michaella Bolder, St.Tropez Tanning and Skincare Expert and Olivia Todd, international MUA and Tanning expert working with St. Moriz.
Tried and tested methods to remove fake tan at home that really work
Keep in mind that everyone's skin is different, so while the below methods worked for us, they may not be suitable for your skin type and tone. Do your research, be patient, and don't throw the kitchen sink at your streaks all at once.
1. Shave your legs
If the problem with your tan is that the color is too deep, or there are a few subtle streaks, then shaving your legs will help to soften the finish. Not only does the process of shaving remove visible hairs, but it also offers gentle exfoliation as the blades take the first layers of dead skin cells with them. By removing these from the surface of your skin, your tan will fade. Obviously, the downside of this method is that it only really works in areas, like the legs, where you would normally shave, and we would never condone shaving more of your body simply to try and remove your fake tan.
What you'll need:
A razor
Shaving foam or soap
How to remove fake tan by shaving your legs:
Create a lather on your skin using shaving foam or a foamy shower gel or soap. This will help the razor to glide smoothly and prevent any nicks.
Move the razor along your legs, starting from the ankle and working upwards. Be extra careful around the knees which are a prime spot for shaving cuts.
2. Soaking in the bath
I'm pretty much always looking for an excuse to soak in the bath, and learning how to remove fake tan is definitely a cast-iron one. Soaking in the bath does a couple of different things for fake tan removal. First, it will soften the skin, so that if you're going to follow with exfoliation, it'll be more effective. And secondly, it will start to dissolve some of the excess tan. "My top tip is a lovely warm relaxing bath with baby oil added to the water," says Matthews. "Whilst in the bath gently massage your skin to help break down the fake tan. You could also exfoliate after the bath."
What you'll need:
Time to soak in the bath (ideally 30 minutes)
Baby oil, body oil, or bath oil
How to remove fake tan by soaking in the bath:
Run a warm bath. It doesn't need to be too hot, as all this will do is scorch your skin.
Either add bath oil to the water or slather your skin with baby oil or body oil before getting in.
Soak in the tub for around 30 minutes – the longer the better.
Before you get out, exfoliate using a scrub or a mitt.
When you are out of the bath, use your towel to rub any problem areas where the tan is still clinging. This will typically be your elbows, knees, hands, or feet.
3. Baby oil or body oil
"Baby oil is known to soften and soothe the skin, but also as an oil, it stimulates cell turnover and is, therefore, a great option to remove fake tan," advises Bolder. "Make sure to soak the skin in baby oil for around five to 10 minutes, then jump in the shower and rinse off, using an exfoliating glove or mitt to help." The great thing about baby oil is that it is designed for babies, so will be gentle enough for even sensitive or easily irritated skin – providing you're not too harsh with your exfoliating mitt. It's nourishing too, which will help to restore moisture lost through tanning and exfoliation, both of which can dry out the skin. If (like me) you don't have any baby oil to hand in your time of need, then a nourishing body oil will do the trick.
What you'll need:
How to remove fake tan using baby oil:
Massage the oil onto your skin, paying particular attention to any patchy or streaky areas.
Leave on the skin for as long as possible. Ideally, around 20 minutes but at least five.
Rinse off in the shower, using an exfoliating mitt or scrub to persuade the tan away from the skin.
4. Exfoliation
Of all the different options for how to remove fake tan, exfoliation is the most obvious. It's the process of removing old, no-longer-needed skin cells from the surface of the skin, and helps with tan removal as these cells are what the majority of the color is clinging to. You can either exfoliate using a scrub (just make sure the particles are smooth, not scratchy to avoid irritating your skin) or with a body lotion packed with exfoliating acids. Glycolic acid, a type of alpha-hydroxy acid, is the most effective of the bunch. "If you do happen to develop streaks from your tan, gently exfoliate with a little pressure to fade it," says Matthews.
What you'll need:
An exfoliating scrub or moisturizer containing chemical exfoliants
How to remove fake tan using exfoliation:
If you're using a scrub, apply to dry or damp skin as this will create more friction than wet skin.
Massage in circular motions, working mostly where the color is deepest.
Rinse off and pat the skin dry.
5. Toothpaste
Toothpaste, in particular the best whitening toothpastes, are a surprisingly good way to remove fake tan - and it's expert recommended.
"If it's the day after you've applied fake tan and you have some really bad mistakes, and you have a wedding or a party and can't make it to the shops to get a tan removal product, then I would probably suggest starting with toothpaste," advises Matthews. "You may find some success in reducing the look."
Todd agrees. "Whitening toothpaste could be good at removing residual tan that has seeped between fingers as it has bleaching properties that lift dark stains and whiten," Todd says. "However, I would not recommend using this on larger areas." It's not that it won't be effective on bigger areas, like your whole leg, but more that it'll end up an expensive option as toothpaste tubes are so small and you need a fair amount.
What you'll need:
A tube of whitening toothpaste (if you don't have whitening toothpaste, you can try normal toothpaste but it may not be as effective)
How to remove fake tan using toothpaste:
Rub a generous amount of toothpaste onto the area.
Leave on the skin to work for around ten minutes.
Rinse with warm water or remove with a damp cloth.
6. Lemon juice and baking soda
We regularly clean with baking soda here at woman&home (it's one of our favourite eco-friendly kitchen cleaning hacks) but we wouldn't have thought to try it as a way to remove fake tan unless this method had come expert recommended.
"Lemon is fantastic for tan removal and is one of my at-home go-to favorites," explains Bolder. "The acidic properties of lemon help to dissolve tan formulation on the skin. Baking soda and lemon mixed into a paste and massaged onto the area for a few minutes and left for another few minutes can break down the self-tan color."
If you have sensitive skin, just be wary with this combination, as it may be too punchy for you. So perhaps skip this method and try one of the gentler ones.
What you'll need:
How to remove fake tan using lemon juice and baking soda
Squeeze the juice out of the lemon and combine it with baking soda in a 50/50 ratio. It fizzes initially, so wait until this has settled.
Massage the solution onto your skin for 2-3 minutes, taking care not to rub too hard as baking soda can be abrasive.
Leave to work for 2-3 minutes.
Rinse with warm water or remove with a damp cloth.
7. Shaving foam
It's not going to make a dramatic difference, but if you're clutching at straws in your bathroom cabinet then shaving foam is worth a try to remove fake tan if you're experiencing stained or streaky palms. "If you apply a layer on the palm of your hands you may notice it slightly lifts self-tan," says Todd. "However, it won't be as effective as buffing away using an exfoliator or tan removal pads." If you can combine it with manual exfoliation with a mitt or muslin cloth, then you'll have the best chance of success.
What you'll need:
How to remove fake tan using shaving foam:
Apply a thick layer of shaving foam between your palms and rub them together.
Leave to work for around 5 to 10 minutes.
Wipe your hands using an exfoliating mitt to remove the shaving foam and residual tan and then rinse with water.
8. Proper fake tan remover
This one is only going to work if either you have time to head to the shops, are patient enough to wait for next-day delivery, or, by a stroke of luck, already have some fake tan remover in the cupboard at home. These products have been designed and formulated with removing tan in mind, so you know they will be effective.
Our favourite fake tan remover products
A word of warning: Things you should never use to remove fake tan
Social media is a treasure trove of information, with experts like dermatologists and makeup artists using their online platforms to educate their audiences. But it's also home to some not-quite-so-reliable sources, which are handing out unsolicited beauty advice that's at best ineffective, and at worst, dangerous. "It is important to prioritize skin safety. Stick to gentle methods and products specifically designed for tan removal or fading," says Matthews.
The following should all be avoided at all costs:
Nail polish remover. Terrifying, we know, but people have been known to use nail polish remover in their quest to remove tan. "The harsh chemical formula will irritate the skin and is not meant to be used on the surface of the skin," explains Todd.
Household cleaning products. "Do not use household cleaning products," warns Mathews. "These products are not designed for the skin and cause severe irritation and allergic reactions. The chemicals present in these products are too harsh for the skin and can lead to potential long-term damage."
Hair removal creams. Hair removal creams are another product to steer clear of. "These creams contain strong chemicals for dissolving hair and not to remove tan. Avoid anything that is a harsh abrasive as this can disrupt the skin's natural barrier and result in sensitivity or inflammation," says Matthews.
Products with high alcohol content. "Do not use anything that has high alcohol or detergent-based properties as these will disrupt the skin's barrier function and can cause irritation," says Bolder.
How to avoid self-tanning mistakes in the future
There are lots of reasons why your tan may have ended up patchy and orange rather than even and golden.
"Streaky tans can occur if you're not a confident self-tanner or on areas that are tricky to reach," explains tanning expert Nicky Matthews of Sienna X. Even if you are a seasoned tanner, mistakes can happen.
"Maybe you forgot to wash your hands and have the dreaded orange palms," says Olivia Todd, international MUA & Tanning expert working with St. Moriz. "You could have applied a touch too much to the feet and ankles resulting in a stronger color than the rest of you, or you could have used the wrong tools. For example, a large mitt is what I recommend for the legs, arms, and torso, but a smaller mitt or makeup buffing brush is a great way to apply the excess tan to areas such as the hands, feet, ankles, and knees."
The key to how to fake tan your body and avoid common self-tanning mistakes is all in the prep, using one of the best body exfoliators to smooth skin and applying one of the best body moisturizers to especially dry areas where tan tends to cling.
The formula can play a part too, as not all fake tans are created equal, and it can take differently depending on how dehydrated your skin is.
Sign up to our free daily email for the latest royal and entertainment news, interesting opinion, expert advice on styling and beauty trends, and no-nonsense guides to the health and wellness questions you want answered.
Jess Beech is an experienced fashion and beauty editor, with more than eight years experience in the publishing industry. She has written for woman&home, GoodtoKnow, Now, Woman, Woman's Weekly, Woman's Own and Chat, and is a former Deputy Fashion & Beauty Editor at Future PLC. A beauty obsessive, Jess has tried everything from cryotherapy to chemical peels (minus the Samantha in Sex and The City-worthy redness) and interviewed experts including Jo Malone and Trinny Woodall.