Best whitening toothpaste for a brighter smile in 2023, approved by dentists and tested by us
Woman&home's health team found the best whitening toothpaste to help brighten your teeth for a dazzling smile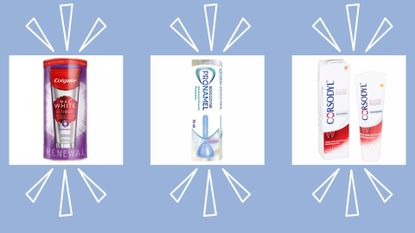 (Image credit: Colgate, Sensodyne, Corsodyl)
The best whitening toothpaste won't change the color of your teeth in the same way a professional treatment would, but it can certainly help to lift surface stains and go a long way to helping you achieve pearlier whites in the long term.
The main difference between home whitening kits and the treatments you'll have at the dentist is that professional work uses six percent hydrogen peroxide. This chemical formula works to tackle discoloration on our enamel - the outer protective layer on our teeth - that's caused by red wine, coffee, and other tannin-rich foods and drinks. But with this power comes cost, both in terms of time spent in the dentist's chair and money. So it's always worth checking whether you can get at least some way to the Hollywood shine on your own.
Not all whitening toothpaste is made equal though. To help you work out what whitening toothpaste is right for you, we asked the experts and tested products from the leading oral health brands so that you can find the best toothpaste for your needs.
How we tried and tested the best whitening toothpaste
Why you can trust Woman & Home Our expert reviewers spend hours testing and comparing products and services so you can choose the best for you. Find out more about how we test.
To discover the best whitening toothpaste, we asked the experts. We consulted them on what ingredients to look out for and which ones to avoid, asked them to recommend key brands, and they pointed out particular pastes for certain types of whitening. We then collected a range of toothpaste from across the market that met the criteria and the woman&home health team tried and tested them using the following criteria:
Whitening results: Did the toothpaste lift stains and deliver a whiter smile within the suggested timeframe given by the manufacturer? We noted how white our testers' teeth were before and after use, rating each paste based on how successful the whitening was.
Frequency of use: We assessed each toothpaste to determine how long it took to see the effects of using the whitening toothpaste. While no amount of brushing will give you a whiter smile, good results in just a few weeks were the gold standard. We measured the best whitening toothpaste against this mark.
Fluoride quantity: Fluoride is essential for maintaining healthy tooth enamel, which creates the natural white color of your teeth, so it's important to keep this intact. According to the experts and The Oral Health Foundation, you should expect to see 1350ppm to 1500ppm of fluoride in most formulas, so we made sure to note how much fluoride each paste contained.
Product claims: Did the product deliver on claims of whiter teeth? We tested the results of the toothpaste's claim to see if the results weren't only significant, but delivered on the claims made by the manufacturer.
Taste: No one wants to (or would continue to) use a foul-tasting toothpaste or even one that left a less-than-minty-fresh taste after brushing, so we also rated each paste on its taste and texture.
Best whitening toothpastes, tested by the expert health team
1. Colgate Max White Ultra Active Foam Whitening Toothpaste
Best whitening toothpaste overall
Specifications
RRP: $5.89 / £5
Fluoride : 1450 ppm
Flavor : Mint
Features: Warming sensation and oxygen molecules
Reasons to buy
+
Visibly whiter teeth in three days
+
Fresh taste
+
Actively works to prevent teeth staining
Reasons to avoid
-
Tastes chemically to begin with
Colgate is the leading brand when it comes to home teeth whitening and the latest product, the Colgate Max White Ultra Active Foam Whitening Toothpaste is our top pick of them all. It covers all the bases: whitening teeth in just three days, as promised by the promotion, with a good level of fluoride and a clean feeling post-brushing.
I tried this one myself and can back up the company's claim of visibly-whiter teeth in just three days as I saw a color change to my own in less than a week. While I don't have very stained teeth, I do drink both red wine and coffee so, naturally, my teeth are a little darker. I didn't notice any difference after the first brush but after using the paste for three days, I did notice some changes to the color of my teeth - as did those around me. My teeth weren't brilliant white but they were a lot brighter than before, with some minor stains between my teeth gone as well.
Apart from the slightly chemical taste, which you soon get used to, this paste is really pleasant to use and you only need a pea-sized amount for a full two minutes of brushing. I noticed the foaming effect on my teeth straight away and while it won't be a sensation everyone likes, I felt like it made sure I was covering every one of my teeth and the paste went a lot further in this form than traditional toothpaste.
2. Colgate Total Whitening Toothpaste Gel
Best premium whitening toothpaste
Specifications
RRP: $26 / £15
Fluoride: 1450ppm
Flavor: Mint
Features: Enzyme boosted, removes deep stains, enamel-shield technology
Reasons to buy
+
Whitens teeth in five days
+
Long-term teeth whitening treatment
+
Fresh taste
Reasons to avoid
-
Most expensive whitening toothpaste on the list
If you have a little more money to spend on whitening your teeth at home but still aren't looking for a professional treatment, then this alternative Colgate toothpaste could be for you. A fellow member of the woman&home health team tested the paste and said they noticed significant changes that lasted a while, even after they stopped brushing with the Total Whitening Toothpaste, after just five days.
They said, "I used this toothpaste for two weeks in total and noticed changes within about five days. I drink a lot of tea and I have quite a bit of yellowing towards the back of my mouth so I wasn't expecting huge results. However, I found this toothpaste cleared it up. My teeth were whiter all over and also a lot more even in color, which I didn't expect."
This Colgate whitening gel also has a smooth texture and our tester found it made her teeth feel squeaky clean after use, even if the flavor was a little intense. "My breath felt clean after using the gel every time. It's a feeling I don't really get with a lot of other toothpaste so I normally use a mouthwash as well, but I didn't feel the need to with this one."
While our tester can't comment on the brand's promise to get rid of 15 years' worth of discoloration, the results are looking so far so good. The only downside, she comments, is the price as it's a huge jump up from the $5 price point of our top option with no guarantee that the premium price point will pay off. It's worth noting, however, that this toothpaste is regularly on sale and we've seen offers for as much as 50% off recently.
3. Arm & Hammer Extreme Whitening Toothpaste
Best budget whitening toothpaste
Specifications
RRP: $7.95 / £1.50
Fluoride: Y (1100 ppm)
Flavor: Clean mint
Features: low abrasion formula, fluoride cavity protection, tartar control agent
Reasons to buy
+
Removes surface stains
+
Contains classic whitening ingredients
+
Cheapest option on the list
Reasons to avoid
-
Less fluoride than other toothpastes
Where there's a premium whitening toothpaste, there's always an option for those with more of a budget. The Extreme Whitening option from Arm & Hammer is another great pick if you're after something even cheaper than this. At almost $8 in the US, it works out more expensive than our top pick but in the UK, it's only £3. The top pick in our list, the Colgate Max White Ultra Active Foam Whitening Toothpaste, is also an excellent budget option as well at under $6 / £5.
Arm & Hammer is a classic brand that uses baking soda in its whitening toothpaste to help remove surface stains and improve the appearance of the teeth. Our tester tried the product out over two weeks and found it was effective in removing stains - especially the trickier ones that appear between the teeth. "All of my teeth were whiter after using this toothpaste but I particularly saw a change in the color of the sides of my teeth," she says.
"It's on the cheaper end of the spectrum so I don't mind this but the toothpaste didn't leave my teeth feeling as minty fresh as some of the other ones I tried out and it also left a slightly chalky aftertaste. But I don't feel I can complain, it still did a great job."
One important note when it comes to this toothpaste is the fluoride level. In comparison to other pastes on our list, this one has a much lower fluoride level meaning it doesn't protect your teeth from cavities and other issues to the same level. "I probably wouldn't use it in the long term because I want toothpaste with more protection for my teeth as I know cavities are one of the potential causes of sensitive teeth, which I also have," our tester said.
4. Spotlight Oral Care Toothpaste For Whitening Teeth
Best vegan whitening toothpaste
Specifications
RRP: $9.99 / £5.70
Fluoride: Y (1450ppm)
Flavor: Spearmint
Features: Vegan, contains hydrogen peroxide, PETA-approved
Reasons to buy
+
Strong spearmint flavor
+
Gradual whitening formula
Reasons to avoid
-
Taste can be overpowering
If you're vegan and you're looking for a toothpaste that doesn't use any animal products, it may be better to opt for Spotlight Oral Care's Toothpaste for Whitening Teeth. It was the least-effective whitening toothpaste on our list when it came to learning how to whiten teeth at home, but it did offer some results and it's 100% vegan.
"Having vegan toothpaste is essential for me as I don't have any other animal products in my life," our tester says. "I did find that the paste had a very strong mint flavor which was overpowering initially and it took two weeks to see any change to my teeth at all but my teeth did feel very clean afterward and I did see a slight color change through the weeks. I wouldn't go back to using my old non-whitening toothpaste now, but don't expect pearly whites."
Our tester also said that the texture was smooth and the consistency of the paste was at normal levels - not so thick as to feel heavy and not so thin that she had to use a lot of the paste on her toothbrush.
This toothpaste's eco-friendly credentials and smooth texture make it a worthwhile spend if you want ways to whiten teeth naturally but aren't looking for huge results. If you're not specifically looking for a vegan toothpaste then I'd recommend opting for our top pick - the Colgate Max White Ultra Active Foam Whitening Toothpaste - as this actively whitens teeth more.
5. Sensodyne Pronamel Gentle Whitening Toothpaste
Best whitening toothpaste for taste
Specifications
RRP: $6.99 / £4
Fluoride: Y (1450ppm)
Flavor: alpine Breeze or cool mint
Features: acid protection formula, formulated for people with sensitive teeth, dentist-recommended
Reasons to buy
+
Dentist-approved
+
Practical desgin
The Sensodyne Pronamel Gentle Whitening Toothpaste was the top-rated toothpaste on our list for taste as it left our tester's mouth feeling clean and fresh without any of the chemical aftertaste offered by many of the pastes on our list. "It's significantly smoother and feels much less chalky through the brushing process, which I appreciated," says our tester, who also reviewed the Arm & Hammer option. "Compared to the other toothpaste I tried, it feels a lot more like a normal toothpaste with additional benefits rather than a whitening-specific paste."
When we looked into the details of this toothpaste, we discovered this was down to the inclusion of glycerin and sorbitol in the paste. These two ingredients are essential if you're looking for smooth brushing as they hold the paste together and make it taste sweeter.
"Where whitening was concerned, I did see results but they were minimal," says our tester. "I eat a lot of food and drink beverages that probably stain my teeth quite badly so I wasn't too surprised by this. I know that teeth whitening and coffee aren't a match made in heaven." Overall, she used the paste for two weeks and found that results started coming through after about six days but didn't undergo such a significant whitening transformation when compared to other's testers' results.
6. Oral-B Pro Expert Whitening Toothpaste
Best whitening toothpaste for money value
Specifications
RRP: $9.99 / £2.50
Fluoride: Y (1450ppm)
Flavor: Clean mint
Features: removes surface stains, helps prevents enamel erosion, 24-hour protection
Reasons to buy
+
Visibly whiter teeth
+
Dentist recommended
+
Strong minty flavor
Reasons to avoid
-
Takes a while to see whitening results
If you have time on your side and you're willing to be patient with your teeth whitening results, Oral-B's Pro-Expert Whitening Toothpaste at $9.99 / £2.50 could be the pick of the best whitening toothpaste for you. Not only is it a lower price than many of the pastes on this list, our tester felt it was value for money.
"I noticed changes in the color of my teeth about two and a half weeks in," she says. "In total, I tested the paste for about a month and always brushed before breakfast rather than after, in case that makes any difference. I noticed the most visible changes after a fortnight. My teeth were whiter and many of the surface stains around my gum lines had disappeared. I also really liked how this toothpaste left my teeth feeling fresh and my mouth felt clean."
Famously a brand favorite of dentists, Oral-B's Pro-Expert Whitening Toothpaste contains ingredients such as stabilized stannous and polyphosphate to strengthen teeth while whitening them. Much like the other pastes on our list, this pick also contains a suitable amount of fluoride to protect teeth from wear and tear, cavities, and other issues.
7. Corsodyl Whitening Toothpaste
Best whitening toothpaste for gum care
Specifications
RRP: $5.92 / £4.50
Fluoride: 1400ppm
Flavor: Mint
Features : gentle whitening, deep cleans, strengthens enamel
Reasons to buy
+
Kind to gums
+
Protects sensitive teeth
+
Gentle formula
Reasons to avoid
-
Some find the taste unpleasant
-
Not as clean a feel as others on the market
Gum care is one of the more undervalued elements of oral hygiene. Without good gum care, cavities and tooth decay become a huge risk - and this can seriously impact your oral hygiene. Corsodyl is a daily fluoride toothpaste clinically proven to help stop and prevent bleeding gums, so we were eager to have someone test the product who suffers from this.
Our tester suffers from gum inflammation and occasional bleeding but she was also keen to try a whitening toothpaste to remove surface stains without making the condition worse. "I enjoyed using this toothpaste," she tells us. "The formula felt gentle and non-abrasive on my teeth, meaning it didn't give me any gum irritation either during brushing or afterward. While I did find the taste to be mild, it's more salty than sweet and there was a slight tang to the toothpaste that meant it didn't feel as fresh as others I've used in the past."
After three weeks of using this toothpaste, our tester notices her inflamed gums felt calmer and her teeth were slightly brighter. Although we wouldn't advise expecting miracles on the whitening front, this is a great option for anyone with sensitive gums that wants to give their smile a boost. However, it'll be best to increase how often you visit the dentist if you're concerned about gum disease before trying home remedies.
7. Icy Bear Diamond Whitening Toothpaste
Best whitening toothpaste for quick results
Specifications
RRP: $24.55 / £17.99
Fluoride: Y (1450ppmm)
Flavor: ice mint
Features: contains diamond dust, not too abrasive, strengthens tooth enamel and protects against cavities
Reasons to buy
+
Contains diamond dust
+
Fast-acting
+
Fresh taste
Reasons to avoid
-
Taste could be overpowering
While nothing beats the three-day color change of the Colgate toothpaste that appears first on our list, this toothpaste also produced some speedy results in comparison to some of the others. The brainchild of celebrity dentist Dr Hanna Kinsella, the Icy Bear range promises quick results with little abrasiveness. The formula uses dust from ground diamonds to effectively reduce stains, which explains the higher price point.
"I was a little skeptical at first, but I did learn that diamond dust is a natural abrasive agent that reduces staining while polishing the surface of the teeth," our tester tells us. "I noticed differences in the staining and color of teeth within about four to five days, but it wasn't a huge color change. I'd say they maybe turned one shade whiter than they were before with much less staining across all of my teeth."
The results were standard generally, she explains, offering a similar level of success to the Arm & Hammer Extreme Whitening Toothpaste - our cheapest option. But the results came to a lot faster and there was a real change after seven days, so if you're able to spend a little more and you want speedier results, this is the paste to choose from. Also, unlike the Arm & Hammer paste, this toothpaste has a high level of fluoride and is not abrasive in any way, making for a satisfying brushing experience.
How to choose the best whitening toothpaste
How white do you want your teeth? When choosing your whitening toothpaste, it's important to temper your expectations and consider how white you're expecting your teeth to be after using the toothpaste. None of these will turn yellow teeth pearly white after a couple of weeks of use, so think about whether it's a whitening toothpaste you really want - or whether a dentist's whitening treatment would be better for you.
Is this the only toothpaste you're going to use? Consider whether you're planning to use this paste in combination with another type of toothpaste. For example, perhaps you'd rather opt for a gum-focused whitening toothpaste in combination with a regular paste for a more clean feeling. If that's the case, it'll be pointless to opt for a minty fresh whitening toothpaste as well.
How soon do you want to see the results? As we've seen from this curated list, some kinds of toothpaste offer visible changes in the color of your teeth in as little as three to five days. If you don't mind waiting a little longer, you may be able to spend less.
Do you want a fresh feeling? How important is that fresh feeling to you? If you want a toothpaste that'll leave you with minty fresh breath, it'll be best to opt for one that's described as giving this effect and avoid the more salty-tasting kinds of toothpaste.
Budget: The big difference between many of the best whitening toothpaste on our list is price. All our testers, including myself, attested that they saw some change to the color of their teeth during the testing process, regardless of whether the toothpaste cost $20 or $8. Consider your budget and what your other priorities are before deciding on the best whitening toothpaste for you.
Teeth whitening ingredients to look out for
There are a few key ingredients to have on your radar when looking for whitening toothpaste including whitening products like hydrogen peroxide, along with abrasive material for a deeper scrub. Dr Kailesh Solanki, who specializes in aesthetic and restorative dentistry, says, "Whitening toothpaste which contains blue optic brighteners also coats the teeth, giving a brighter effect, but this still won't penetrate the deeper layers of the enamel to change the color of the teeth."
Hydrogen peroxide
This is a bleaching agent found in many cleaning and household products - but don't panic, the concentration of the chemical in teeth whitening toothpaste is tiny. Despite this, it can still have a noticeable effect on the color of your teeth over time.
"If you're living in the UK, be aware that by law, only up to 0.1 percent hydrogen peroxide can be used in products sold off the shelf, which isn't enough to whiten teeth," says Dr Kunal Patel, a dentist with expertise in teeth whitening.
Carbamide peroxide
Carbamide peroxide is a whitening agent is similar to hydrogen peroxide, Dr Patel, who is also the founder of Love Teeth Dental Practice, says. "Water-based carbamide peroxide is a product formed from hydrogen peroxide and urea. This has the same function as hydrogen peroxide but is thought to have longer-lasting effects."
Hydrated silica
Hydrated silica is another common ingredient in the best whitening toothpastes, and it works as an abrasive (in a similar way to baking soda) to scrub the stains from your teeth.
"Check if your whitening toothpaste is suitable for daily use and follow the instructions provided, as many types of whitening toothpaste are abrasive, and if overused, could gradually wear away your enamel," says Dr Elizabeth Claire Borland at Bupa Dental Care, Malin Bridge.
How long does it take to whiten teeth?
It can take up to two to six weeks to see a noticeable difference in the color of your teeth when using a whitening toothpaste for the first time. While these whitening toothpastes did have some positive effects in as little as four weeks, you shouldn't expect to see results quickly.
"If stain removing toothpaste is used every day, the stains should start to fade in a matter of weeks, depending on the severity of staining," says Dr Patel. However, if you're wondering how often you should brush your teeth to see results, it's best to continue brushing twice a day.
Does charcoal toothpaste work?
There is little evidence that charcoal toothpaste works as an effective whitener, a 2017 review from University of Maryland School of Dentistry found. It's become a popular product in recent years with activated charcoal hitting the dental care shelves of pharmacies and supermarkets worldwide - but it's not all it's cracked up to be.
The review urges dentists to warn patients away from exclusively using charcoal-based toothpastes due to the possible risks of the abrasive compounds which can wear down the enamel on your teeth, exposing them to sensitivity. Rather than being a way to prevent yellow teeth, this damage can cause teeth to discolor further. They warn that charcoal particles have been known to gather in the cracks of older teeth as well, leading to darker-appearing teeth in general.
Perhaps more worryingly though, some evidence included in the review found that charcoal kinds of toothpaste could contribute to tooth decay over time as they lack fluoride, the essential compound in regular toothpaste that protects tooth enamel.
"Charcoal toothpaste should be used with care," Dr Patel explains. "This is another abrasive product that can help to remove surface stains. It is much harsher though, and it can damage the tooth enamel if used too frequently, so it should not be used every day."
A digital health journalist with over five years experience writing and editing for UK publications, Grace has covered the world of health and wellbeing extensively for Cosmopolitan, The i Paper and more.
She started her career writing about the complexities of sex and relationships, before combining personal hobbies with professional and writing about fitness. Everything from the best protein powder to sleep technology, the latest health trend to nutrition essentials, Grace has a huge spectrum of interests in the wellness sphere. Having reported on the coronavirus pandemic since the very first swab, she now also counts public health among them.
With contributions from