The best aftersun lotions to soothe sunburn and quench parched skin
Overdone the sun? Our best aftersun lotions edit will cool, calm and repair summer skin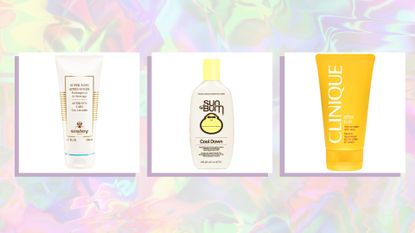 (Image credit: Future)
If you're yet to invest in one of the best aftersun lotions, rectify that pronto. A summer staple, aftersun lotions, balms, and creams can soothe sun-scorched skin in an instance. What's more, many formulas are super hydrating which means they can double up as moisturizers, too.
Of course, it goes without saying – applying one of the best facial sunscreens every day is a non-negotiable. "Sun damage caused by UVA irradiation is practically irreversible as it damages the skin at a DNA level which is hard to undo," says Dr Catharine Denning (opens in new tab), advanced aesthetic doctor. If, however, you do experience a case of sunburn (we've all been there), it's important to support the skin in healing itself. This is where aftersun lotion comes in – to help you learn how to treat sunburn with ease.
"A good aftersun lotion can calm and soothe sun-exposed skin," says Dr Sophie Shotter (opens in new tab), aesthetic doctor. "Regardless of whether you've burnt your skin or not, aftersun will help restore a healthy moisture balance," she continues. In the market for a moisturizing and soothing cream? Turn to our edit of the best aftersun lotions, tried and tested by us.
How to pick the best aftersun lotion
There are countless aftersun lotions available on the market – which can make finding 'the one' a difficult task. Overall, most formulas do work. The difference being is that some are laced with extra skincare ingredients. Here are a couple of things to consider:
Texture: As with the best face moisturizer, aftersun comes in a variety of textures – from lightweight lotions to heavier balms. Consider your texture preference before choosing an aftersun product.
Ingredients: Look out for antioxidant-rich ingredients like aloe vera and vitamin E as they can help prevent further skin damage. "Ceramides are also good at soothing inflamed skin," says Denning. Avoid any aftersun lotions that contain alcohol as it can dehydrate skin further.
The best aftersun lotion, by our beauty team
1. Institut Esthederm After Sun Repair
Best overall aftersun lotion
Specifications
RRP: $57/£44
Texture: Milk
Key ingredients: Glycerin, lanolin and water
Reasons to buy
+
Can be used on the face and body
+
Soothes and calms sunburned skin
+
Repairs and hydrates skin
+
Lightweight texture
When it comes to skincare, French beauty brands are a cut above the rest and this aftersun lotion from Institut Esthederm is no exception. Getting our vote for one of the best skincare products around, it's fuss-free, non-irritating, and suitable for all. Dr Shotter's go-to, the lightweight fluid has a milky texture that blends in seamlessly without feeling sticky or greasy. Instead, skin feels soft, supple, and instantly soothed. "I am a huge fan of the Insitut Esthederm Aftersun Repair, which gently soothes the skin and makes it feel cooler and nourished," says Shotter.
As well as providing instant relief, the aftersun lotion hydrates skin that has been scorched in the sun and increases skin's tolerance to later exposure. Clever! We also love that you can apply this one to the body and face which cuts down on precious packing space. To use, simply spritz onto sun-exposed skin and massage in. And while the milk itself is fragranced, we love the super-subtle scent and it shouldn't be an issue for anyone.
2. Garnier Ambre Solaire Hydrating Soothing After Sun Lotion
Best budget aftersun lotion
Specifications
RRP: $19/£6
Texture: Lotion
Key ingredients: Aloe Vera, shea butter, glycerin
Reasons to buy
+
Cools sunburned skin
+
Hydrates skin
+
Non-greasy formula
+
Contains Aloe Vera
Aloe Vera is one of the most popular skincare ingredients that's renowned for its anti-inflammatory and skin cooling properties. Hence why it plays a starring role in so many aftersun lotions. Find it in abundance in this purse-friendly pick from Garnier that's racked up hundreds of 5-star reviews. Loved for its refreshing texture, this formula is a total joy to apply – sinking into the skin quickly, cooling it down as it goes.
Thanks to aloe vera and glycerin (a humectant), it's also super hydrating and, according to the brand, provides 24 hours of hydration. While we can't validate this exact claim, we can say that our skin felt nourished and smooth after application. Our top tip? Store this aftersun in the fridge for an extra refreshing boost – you'll thank yourself after a hot summer's day. The only downside worth mentioning is that this product does contain fragrance which, while it leaves behind a lovely scent, may be irritating for some.
3. Sisley After-Sun Care
Best luxury aftersun lotion
Specifications
RRP: $190/£124
Texture: Cream
Key ingredients: Sage and marjoram essential oils, cucumber, shea, calyx and stevia leaf extracts
Reasons to buy
+
Moisturises and cools down the skin
+
Contains active self-tanning ingredients
+
Bolsters glow
+
Doesn't transfer onto clothing
Fancy a splurge? Turn your attention to this luxurious aftersun lotion from Sisley. A real treat for the skin, the featherweight formula (that feels like a salve) is brimming with powerhouse ingredients that really do work. There's andiroba oil and stevia leaf extract to nourish and hydrate; cucumber to calm, plus vitamin E acetate and sunflower oil to soften skin. After application, we found that skin felt silky smooth and hydrated.
That's not all though. This multi-tasking wonder also bolsters glow with a touch of the tanning agent (DHA) that deepens your natural color. We noticed that after a few hours, our skin looked radiant and glowy. So, while this is a very expensive product, it is essentially a two-in-one – which may make the price point more palatable. Overall, it's a great holiday hero that will prolong your summer glow (while also enhancing it). Double tick!
4. La Roche-Posay Lipikar Baume AP+M
Best aftersun lotion for sensitive skin
Specifications
RRP: $18.99/£15
Texture: Balm
Key ingredients: Thermal spring water, glycerin, shea butter
Reasons to buy
+
Suitable for sensitive skin
+
Soothes dry skin
+
Moisturises and hydrates
+
Fragrance-free
Reasons to avoid
-
Doesn't have a cooling effect
French pharmacy brand La Roche-Posay is known for its effective formulations that are non-irritating and especially well-suited for anyone following a skincare routine for sensitive skin. And the brand's latest product, AP+M, is no exception. While it's not marketed as an aftersun lotion, this nourishing balm has been specifically formulated to soothe and repair dry, itchy skin – something that many of us experience after time spent in the sun.
Unlike other 'aftersun' lotions, it doesn't have a cooling effect – but we did fid that it deeply moisturizes and comforts skin and, in our opinion, is up there with the best La Roche Posay products of all time. This is thanks to the line-up of dermatologist-approved ingredients including hydrating glycerin, moisturizing shea butter, and the brand's soothing thermal spring water. It's also fragrance-free and suitable for use on eczema-prone skin. Oh, and you can feel good while using it as the eco-friendly tube is crafted from paper – not plastic.
5. Sun Bum Cool Down Hydrating After Sun Lotion
Best cooling aftersun lotion
Specifications
RRP: $11.99/£16.79
Texture: Lotion
Key ingredients:
Reasons to buy
+
Refreshing feel on the skin
+
Smells like summer
+
Vegan friendly
+
Contains antioxidants
This aftersun from US-born Sun Bum ticks all our boxes and then some. We love the easy-to-squeeze bottle, the subtle summery scent and the lighter-than-light formula that cools on contact with the skin and is jam-packed with conditioning ingredients. In fact, as far as aftersun formulas go, this is up there with the very best in the business. Aloe vera and cocoa butter hydrate and soothe skin while vitamin E repairs and replenishes moisture loss from sun damage.
If we're completely honest, we're not all that surprised to find that this aftersun is so darn good – considering the brand works between California and Florida where temperatures soar. Initially created for their friends, the founders decided to spread the love and launch their products online - and for that, we thank them. As well as the ingredients mentioned above, the formula is also brimming with antioxidants and is hypoallergenic, vegan-friendly and free from gluten and parabens. Like we said, it ticks all our boxes.
6. Dr Hauschka After Sun
Best natural aftersun
Specifications
RRP: £25 (UK only)
Texture: Lotion
Key ingredients: Anthyllis, ice plant, almond oil and rose wax
Reasons to buy
+
Promotes a longer-lasting tan
+
Refreshes and calms skin
+
Formulated with 100% natural ingredients
'Natural' has become a marketing tool in the skincare sphere. And because it's an unregulated term, many products claim to be natural without actually being natural (and by natural we mean free from synthetically derived ingredients). This aftersun lotion, from Dr Hauschka, is different. Formulated with 100% natural and/or organic cosmetics, it has been certified to NATRUE (opens in new tab)standard – so you can trust that the claims are true. It's free from synthetic fragrances, dyes, and preservatives and is free from mineral oils and silicone.
As for what the natural skincare formula does contain – it's laced with marigold and anthyllis to soothe sun-stressed skin as well as almond oil, shea butter and rose wax to moisturize and protect skin from drying out. The texture is rich and we found that it takes a little longer than most to fully absorb into the skin. But once it has been absorbed, we experienced seriously soothed and smooth limbs. One more thing to note is that this cream can transfer onto clothes – so we recommend allowing five minutes to let it sink in before getting dressed.
7. Clinique After-Sun Rescue Balm with Aloe
Best aftersun lotion for oily skin
Specifications
RRP: $27/£20
Texture: Balm
Key ingredients: Aloe
Reasons to buy
+
Helps minimize peeling
+
Suitable for face and body
+
Oil-free
+
Contains soothing aloe
Reasons to avoid
-
Thick texture may not be for everyone
If you prefer a beauty balm to a lotion or cream – give this aftersun from Clinique a whirl. It has a rich texture that coats the skin with a moisturizing layer of aloe vera to soothe and hydrate both body and face. We found that it gets to work instantly, cooling on contact with the skin (like several other aftersun lotions), which is especially refreshing on any areas that are burnt, stinging, or hot.
Even if your skin doesn't appear burnt, we still urge you to apply this after a day spent in the sun as it will help repair skin to prevent future visible damage. What's more we found it left our limbs hydrated, moisturized and silky soft. To use, apply liberally to clean, dry skin straight after being in the sun. And if you're searching 'how to get rid of acne' and want to avoid anything that's pore-clogging on breakout-prone areas like your back – note that this aftersun is oil-free and non-acnegenic.
8. Clarins After Sun Shower Gel
Best after sun shower gel
Specifications
RRP: $25/£22
Texture: Gel
Key ingredients: Aloe Vera, glycerin
Reasons to buy
+
Removes sea salt, chlorine, and sand
+
Soothes skin
+
Contains Aloe Vera
Reasons to avoid
-
Light lather not for everyone
Ok, so this technically isn't an aftersun lotion – but hear us out. Shower gel is an everyday essential that many of us wouldn't go without – especially during the warm, summer months. And this one, from Clarins, is so much more than your average shower gel. Laced with two plant extracts (organic aloe vera extract and soapwort), it cools the skin as you shower to calm sun-damaged skin while washing away any salt, sand, and chlorine.
The ultimate holiday must-have, we recommend splashing out on this shower gel before going away. We found that with daily use, our skin didn't peel or flake. Instead, we felt soft and moisturized (even before using one of the best body moisturizers), and our limbs were delicately scented. Of course, the major downfall is that this product, being a shower gel, is designed to be washed off which means you don't get quite the same skin-soothing benefits as you would from a leave-on cream. But instead of choosing between the two, why not invest in this shower gel and a cream? You'll get double beauty brownie points!
---
Does aftersun lotion really work?
"There's no quick fix to heal sunburn," says Denning, "but there are things that can help." Enter: aftersun. To understand how aftersun lotion works, Denning gives us a quick science recap. "The heat from the sun causes damage to the skin by irradiating it which leads to the skin heating up causing water loss, dehydration, and inflammation," explains Denning.
Aftersun is specifically designed to support the skin's healing process. "It's lightweight, meaning it allows heat to leave the skin; it has a high-water content to replace water loss in the skin; plus, aftersun also contains soothing, anti-inflammatory antiseptic ingredients such as aloe, bisabolol, and allantoin," says Denning.
Is aftersun or moisturiser better for sunburn?
According to Denning, "aftersun is preferable to normal moisturizer however any moisturizer is better than none." Shotter adds that it depends on the formulation. "If you have a good, gentle, soothing moisturizer that contains aloe vera, then it doesn't need to be targeted at sunburn. However, if reading an ingredients list is tricky, looking for a product marketed as 'aftersun' can be helpful."
What should you not put on sunburn?
"Avoid anything that contains oil, petroleum or active ingredients – such as urea, glycolic or salicylic acid," advises Denning. "Anything that has added scent or alcohol in can worsen the inflammation and further dehydrate the impaired skin barrier – so should be avoided," continues Denning. Shottter notes that "you can occasionally find a small amount of alcohol in aftersun products as, on application, it can feel cooling when it evaporates – but it is not good for the skin at all."
What's the best way to treat sunburn?
"Sunburn can occur within 10 minutes of sun exposure for some people. When you first notice any signs of sunburn you should get out of the sun, find some shade and have a cool shower/bath to help cool the skin down in the first instance," says Denning. "Using cooling, gentle aftersun lotions will help to further cool the skin and also replace some of the moisture that will have been lost by being burned."
In severe cases, Shotter says that ibuprofen can be used to help ease the inflammation in the skin. "Drink extra water while the sunburn heals, as you can become dehydrated," adds Shotter.
Emma Stoddart is a freelance beauty journalist and self-confessed skincare aficionado with over five years' industry experience. Emma has worked for some of the UK's top women's titles including Net-A-Porter, Stylist and Grazia. Her experience spans online and print as well as producing editorial shoots with some of the industry's biggest artists, including Val Garland. Asides from working with them behind the scenes, she's also had the chance to interview the likes of Patrick Ta, Pat McGrath, and Sam McKnight for all their insider tips and tricks.