Best cream blush: the easy, natural way to a healthy glow
From portable sticks to dewy liquids, the best cream blush offers the prettiest flush of color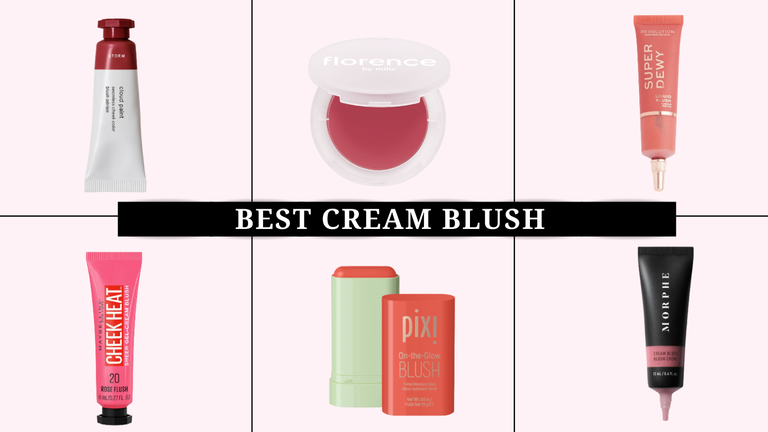 (Image credit: Future)
The transformative power of blusher (and the best cream blush in particular) should not be underestimated. Yes, the perfect puff of pink will distract from tired eyes, inject a healthy glow into lifeless skin, and even vanquish the telltale signs of a hangover. 
But finding the perfect blusher for your skin type between powders, creams, gels and liquids can be as tricky as trying to nail down the best foundation. Exhausting stuff, right?
As we reach a certain age, when lines become more apparent and dryness takes a hold, it's advisable to switch to more nourishing, forgiving makeup textures—cue the best cream blush! These little beauties deliver great color pay-off, often with a healthy-looking, glowy finish. 
So dust off those fingertips and blend, blend, blend, as it's time to reignite your love of the pink stuff. We've rounded up the best cream blush offerings that won't smear, crease, or slide off after only an hour. 
How to choose the best cream blush for you
Don't get us wrong; powder blushers have their place. For a start, they tend to be longer-lasting and can be a good option for oily skin types. But their longevity is a double-edged sword, given that they can feel cakey on the skin, particularly in summer, and accentuate fine lines and wrinkles. 
"Even though powder blusher can be used on all skin types, the texture will always sit on top of makeup, making it more noticeable on the skin," explains NARS Senior Artist Rebecca Moore. The best cream blushes, however, are completely universal—they work on any skin tone, skin type, and skin age. Those with oily and combination skin types might be deterred by words like 'glowy' and 'dewy', commonly emblazoned on the packaging of cream and liquid blushers. But in these cases, Rebecca says, "as a final touch, dust over with finishing powder to lock your blusher in place." 
Another winning asset? Their buildability allows you to truly customize your cheek color to suit your mood, from a natural makeup look to a more sculpted and contoured '80s makeup effect. "Liquid and cream blushers are great for adapting your desired blush look," she says. "The texture allows you to blend the product seamlessly onto the skin, mimicking the appearance of a natural flush, and the hydrating elements create a youthful glow."
The best cream blush, as chosen by our experts
1. Glossier Cloud Paint
Best cream blush for most people
Specifications
RRP: $18/£15
Shade range: 8
Finish: Fresh and airy
Reasons to buy
+Easy to blend+Buildable formula+Enriched with collagen
Reasons to avoid
-Tube can be difficult to control
The airy, translucent finish means that this is one of the more foolproof blushers on our shortlist. There's very little chance of ending up with ragdoll-pink cheeks with this cream, making it the best cream blush for anyone who wants a natural look. Although the squeezy tube can be a little hard to control so take heed and compress gently. Overzealous squeezing aside, the gel-cream is very blendable and smooths across the skin as silkily as a skin cream. Dot on to your fingertip then bounce and blend across cheeks. The blurring powder pigments act like your favorite Instagram filter, hazing over the appearance of open pores. It's even infused with moisture-binding collagen that ensures this pillowy-soft formula won't pill, crease or gather in lines. 
2. Maybelline Cheek Heat Sheer Gel Cream Blusher
Best oil-free cream blush
Specifications
RRP: $5.98/£8.99
Shade range: 6
Finish: Sheer and natural
Reasons to buy
+Refreshing feel +Luminous effect +Buildable 
Reasons to avoid
-Can be patchy if worn on top of foundation
Looking for a cream blusher that blends on over foundation, leaving your skin with a bright pop of color? Then it's time tune out and keep scrolling. 
Because this product is meant for those who prefer a softer effect, it's also for people who choose to forego a base and apply blush directly to bare skin. We're not saying you can't use it on top of foundation, but the effect just looks better when there's nothing there already. But what is the effect? Well, it's sheer, almost stain-like, without being too shouty. The colors are made to emulate a natural flush and really complement freckles, making this product an ideal choice for hot weather and vacations. 
Most cream blushers contain oil, but this has a cooling gel-based formula, so you might find the texture a little odd at first, but once blended in, it leaves a soft and subtle color behind, and your face feels more radiant and refreshed. 
3. Revolution Superdewy Liquid Blush
Best cream to stain blush
Specifications
RRP: £5/not available in the US
Shade range: 8
Finish: Natural flush
Reasons to buy
+Buildable color+Medium pigment+Vegan & cruelty free+Incredible value +Long-lasting
Reasons to avoid
-Easy to make mistakes-Hard to remove if you apply too much
Wondering if something this affordable could ever be good? We had the same thoughts. But after blending it on to our skin, we were instantly hooked. 
The creamy moisturizing formula glides on and can be applied directly to the cheek, however if you air on the side of caution you may want to use it via a hand or palette. We'd personally use a brush to blend it out as it ensures a better finish but if fingertips are all you have, they will work just as well.  
It lasts longer than most blushers as once applied it temporarily stains the skin. However, mistakes are not welcome as this dye-like effect means it can be challenging to rectify if you overload on color.  We did find that we needed to apply concealer to shape the area afterwards, and it's also worth noting that a little goes a long way, so ease in with caution. But if you take it steady and apply a tiny amount at a time, the effect is easy to build. 
4. Pixi On The Glow Blush
Best cream blush when you're in a hurry
Specifications
RRP: $25.99/£18
Shade range: 3
Finish: Creamy and dewy
Reasons to buy
+Easy to apply +Beautiful colors+Highly pigmented+Contains skincare ingredients 
Reasons to avoid
-Needs a better shade range 
Life just wasn't the same before this arrived, we'd always have leftover blush on our hands and our cheeks would take forever to look even. But now one swipe of this clever little stick, a quick blend and we're out the door. It's so incredibly fool-proof that we can even apply it without a mirror, although that does seem a little brave. 
And what about the payoff, you wonder? Well, that's good too! The pigment is strong but not overly bold, so you spend ages trying to tone it down.  As cream blushers go, it's pretty long-lasting, not overly so, but we say 'who even cares?' when it's so quick and easy to reapply. 
The texture it gives the cheek is deliciously dewy, and thanks to the long list of skincare ingredients, it leaves your face looking very moisturized and plumped. The only disappointing factor is the shade range, as we know Pixi has so much more to offer, but the product only launched in 2021, so we surmise with enough pestering they're likely to add more colors to the collection. 
5. Florence by Mills Cheek Me Later Cream Blush
Best cream to powder blush
Specifications
RRP: $23.49/£7
Shade range: 6
Finish: Powdery
Reasons to buy
+Long lasting +Strong pigment +Great value
Reasons to avoid
-Isn't dewy
We didn't know we wanted this product until we tried it. To be honest, we've always steered towards a cream blush that smooths on and gives our cheeks a real sheen. Don't get us wrong: This is perfectly glidey, but the buttery formula transforms as it dries and magically turns into a pretty powder that we're surprisingly fond of. 
You apply it in the same way as most other cheek pots, and all you need is a dab of your fingertips to smooth it on. Use a brush if you like, but we found it wasn't necessary. Powderiness aside, a real plus point of this product is the staying power, as one of the worst things about cream blushers is that they tend to slip and slide. But this stays put without making your face look dry or caked. Plus, the clever mix of moisture-loving candelilla wax, and oil-absorbing kaolin clay, keep your complexion looking fresh and not at all greasy
6. Morphe Cream Blush
Best cream blush for a natural finish
Specifications
RRP: $12/£12
Shade range: 5
Finish: Light and luminous
Reasons to buy
+Makes skin glow +Looks natural +Blends easily +Soft texture
Reasons to avoid
-Has slight shimmer 
Ever applied too much blush and regretted it? Who hasn't? Thankfully this product takes the stress out of coloring your cheeks, as the soft texture glides on, leaving a very subtle wash over the skin. It's also fuss-free as the formula almost melts on to your complexion, meaning brushes aren't necessary for application, or for blending. This could have something to do with its rosehip oil enriched formula or the nourishing vitamin E it contains. Either way, it works. 
The result could be too barely there if you like your blusher to pack a punch straight away, but for those who want to take it steady, it's perfect as you can keep building the shade up gently. We're not sure you'd ever get it to a bold finish, but we doubt you'd want to anyway. The product has a subtle shimmer, which adds luminosity to the face, and personally, it's one we love. However, if even the slightest glimmer sends you into a flurry, then this isn't for you. 
7. Bobbi Brown Pot Rouge
Best cream blush for oily skin types
Specifications
RRP: $34.50/£23.50
Shade range: 3
Finish: Natural matte
Reasons to buy
+Handy mirrored compact+Multi-use+Great color pay-off
Reasons to avoid
-Limited shades
This best-selling blush is a cult favorite, owing to its multi-use capabilities. The color can be used to flush up cheeks and blotted on to lips to create an elegant stained effect. Add to this the fact it comes in a mirrored compact and you've got yourself a truly portable, take-anywhere-and-everywhere hero. 
This cream is absolutely packed with pigment so please believe that the color in the compact is the color you're going to achieve on your cheeks. In fact, the cream is so punchy that it can be easy to go overboard so our advice is to build up and blend out gradually. The finish veers on the more matte, velvety side so this a great option for oily skin types, particularly in summer when skin tends to feel a little more slippery. This color isn't going anywhere.
8. Rimmel London Jelly Blush
Best cream blush for a healthy glow
Specifications
RRP: $6.99/£7.99
Shade range: 4
Finish: Dewy
RRP:
Reasons to buy
+Light water-based formula+Radiant finish+Pleasant texture
Reasons to avoid
-Can clag up in the pot-Not quite as long-wearing
There are very few makeup products out there that are as thrilling to apply as they are to wear. This is one such blush. The bouncy, springy gel feels fun and strangely satisfying to the touch. Just dab a finger into the pot and bounce across your cheeks until blended. It gives a soft and subtle effect but is easily built upon. 
What we love most about this wash of color is how natural it looks. There's a dewiness to the finish that looks super healthy and youthful. And because the formula is water-based, it feels weightless. The one downside is that once you've had the pot for a few months, the jelly coagulates and we have, on more than one occasion, opened the pot to spill a blob on our pants/vanity table/carpet after the blusher stuck to the lid. But even this has not put us off. The formula is too gosh darn flattering. 
9. Westman Atelier Baby Cheeks Blush Stick
Best cream blush for on-the-go
Specifications
RRP: $48/£44
Shade range: 6
Finish: Naturally radiant
Reasons to buy
+Travel-friendly+Easy to control+Multi-purpose
Reasons to avoid
-May require touch-ups-Pricey
This is higher up there—no question—but from the moment you pick up this weighty, supremely tactile swipe-on cheek cream, it feels worth it. The stick glides across cheeks—no pulling, dragging or yanking and it blends out with the faintest of feathery finger strokes. The finish is quite natural, not too shiny, yet not matte. The Petal shade,  seems like it would suit anyone and everyone. I found I needed to go in with a second application after a few hours but the stick format makes this easy and enjoyable, rather than a chore. 
Great for gym bunnies and frequent travelers, who need something quick, easy and exceptionally pretty. We've enjoyed a long-standing love affair with stick blushers (I used to sneak in a No7 rouge into school to top up in the girls' loos on my lunch break) Judging by Gucci Westman's latest incarnation, twist-up blushers have come a long way.
10. Trinny London Flush Blush
Best cream blush for buildable color
Specifications
RRP: $26.50/£20
Shade range: 4
Finish: Naturally matte
Reasons to buy
+Punchy pigment+Easy to blend and build+Stackable storage
Reasons to avoid
-Pot is quite small
Trinny London's clever cylindrical pots stack together so you can store your makeup neatly, or even select your favorites to 'click' together for a night out or weekend away. While this is undoubtedly clever and very helpful, it does, however, mean that the cream blush pot, which is intended to be applied with your fingers is a little on the small side. I have short nails so it wasn't too much of an issue for me but longer talons may struggle. 
One of the many upsides to this cream blush, however, is the formula. It's a little denser and less creamy than the others, which actually makes it easier to handle and harder to go overboard. Plus, once it's on the skin, it's a whole different ballgame. It diffuses across the cheeks beautifully, feels incredibly lightweight, and the color can be revved up gradually. The finish is on the matte side, which makes it long-lasting too. 
11. NARS Liquid Blush
Best cream blush for long-lasting color
Specifications
RRP: $30/£26
Shade range: 4
Finish: Available in matte or shimmer
Reasons to buy
+Pump dispenser+Great color pay-off
Reasons to avoid
-Quick-drying
NARS is THE authority on blusher. There aren't many beauty lines where the shades are as iconic as the brand itself—hello Orgasm. So why do I love this Liquid Blush? For starters, this is the only liquid in our list with a pump dispenser, which makes it user-friendly—squeeze straight on your fingertip to dot and blend across cheeks, or squirt some on the back of your hand and diffuse with a fluffy blusher brush for a softer effect. 
The pigment is so incredibly punchy that even with the most modest amount this can look a little full-on but a bit of speedy blending (the formula does dry fairly quickly) will soften the look. It must be the added tamanu and monoi oils that give this such a soft and silky feel—you need not worry that the color will sit in lines or cake after a few hours. It looks entirely natural, like second skin.  
12. Chantecaille Cheek Gelée
Best cream blush for dry skin
Specifications
RRP: $45/£40
Shade range: 3
Finish: Sheer
Reasons to buy
+Multi-purpose+Intensely hydrating+Buildable color
This clever, understated formula benefits from both the fresh, featherlight feel of a gel with the unyielding staying power of a cheek stain. The hybrid gel-cream texture is ridiculously easy to apply and effortless to blend, even when applying on top of other makeup—no chance of pilling or caking. What is so appealing is the soft-focus, airy, 'like you but better' effect this blusher creates. 
The brand's own website labels this as a multi-use product. We obliged using the 'Happy' shade across the eyes, cheeks and lips, and actually this monotone effect is a shortcut to a modern and elegant makeup look. There's nothing not to love about this, except maybe the price, but when you consider how little of the blush is needed to create a beautiful, all-day flush, one of these little tubes is sure to go a long way. 
How to apply cream blush
To master a radiant complexion, you need to learn how to apply blush like a pro. If you want to create a truly natural-looking, 'just got in from a jog around the block' kind of flush, then the secret is to forgo foundation on your cheeks and apply blusher directly to skin. Smile, find the 'apples' of the cheeks, and work the blusher around to this plump area for a fresh, youthful and natural look.
When it comes to the best tools for the job, this depends on the format of the cream blush. A blusher stick, for example, is best applied directly on to the cheek and blended out with your fingertips. But a cream compact or liquid blush could be used with a fluffy brush to diffuse the color across the cheeks for a more subtle look. 
NARS Senior Artist Rebecca Moore shares an expert tip to create a totally natural finish with liquid blush. "Apply a pea-sized amount of liquid blush in the palm of your hand and push the product into the cheek."
How to find the best cream blush shade
You've found the best cream blush, and now's the time to nail that perfect shade. Pinning down your skin's unique undertone is crucial, just as you would when finding your perfect foundation match. Usually, pale skin has a cool undertone that suits rosy pinks; medium skin tones can vary but generally have warmer undertones, suiting apricots and deeper rose shades; deep skin tones look best in rich burgundy and maroon blushers. 
A nice easy shortcut to working out your perfect cheek match is to think about the color you would naturally flush on a brisk walk and embrace those tones. 
woman&home thanks Rebecca Moore of NARS Cosmetics for her time and expertise.