'80s makeup is back, and we're actually loving these wildly flattering looks
Surprise: '80s makeup is trending again, and we're all about these unapologetically bold and beautiful takes on color and contour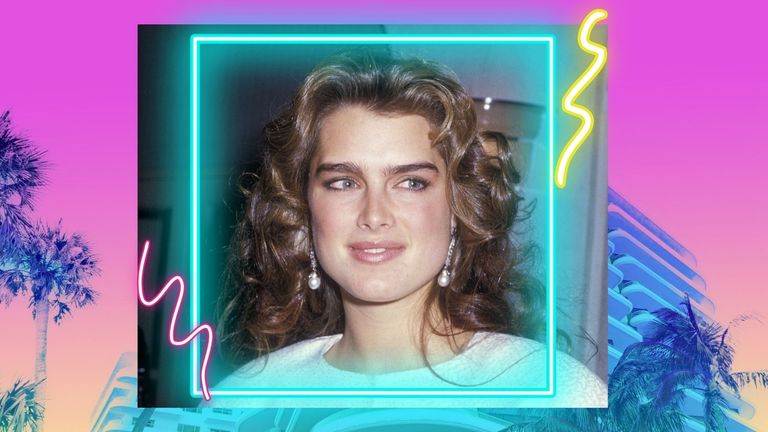 (Image credit: Future)
Ah, the '80s... what's not to love? Trends from the Decade of Excess, particularly surrounding '80s makeup, have been making the beauty circuit rounds lately, and to be honest, we're not all that surprised. Much like the revival of many iconic fashion trends (puffy sleeves, chunky sneakers, big hair), beauty trends always end up coming back in some way or another. After all, we've already seen '90s and Y2K nostalgia come back in a major way through frosted lips and butterfly clips.  
However, it seems that '80s makeup looks are now having their turn in the spotlight, as Geneva Fong, creative director and makeup artist for dome BEAUTY, says that one of the hottest ways we're now taking a cue from the decade is by creating a fully-flushed blush look that extends from the higher points of the cheekbones to across the nose. 
Though if you aren't too keen on blush-centric, not to worry: We spotlight other iconic '80s makeup looks to try, including some of the best foundation contouring hacks, especially if you are looking to start the summer on a fun, colorful note. From colored mascara to bold brows, we round up several of our fave beauty looks sure to bring on the glamorous and unapologetically bold '80s nostalgia vibe in no time. 
'80s makeup looks we love
1. Contoured cheeks
Contouring, without a doubt, was one of the most popular '80s makeup trends, as high-profile celebrities like Debbie Harry and Brooke Shields were often seen wearing this look. 
Back then, celebrity makeup artist Douglas Otero says contouring looks were achieved with some help from blush in both light and dark tones. 
Nowadays, Douglas explains that both bronzer and blush are used to create seamless, more naturally flushed contoured looks, as seen in actress Constance Wu. This technique of using blush to contour is called "blush draping" and has been making waves both on the runways and off.
To create an '80s-inspired contoured blush look, celebrity makeup artist Jenny Patinkin recommends using a dense brush such as her Luxury Vegan Complexion Brush and running a soft line of blush (we like the universally flattering NARS Orgasm) just underneath your cheekbone lined up vertically under the corner of your eye, and extending to the front of the ear and diffused near the temple. To soften the line, she advises using a damp makeup sponge just at the edges to balance out the look.
NARS Blush in Orgasm
This peachy-pink hue with the slightest of shimmer somehow manages to flatter a wide variety of skin tones and is somewhat of an icon in its own right. Strobe upwards on the cheekbones and towards the temple for a blush-draped effect, but with a more subtle, modern twist.
---
2. Bold eyeshadow
"Colorful eyes are making a comeback, but with more muted tones on the lips and cheeks to balance the look out," says Geneva. "Violet, sky blues, and bright orange tones are really popular for this look."
To create an '80s-style eyeshadow look, Geneva suggests taking a bright orange eyeshadow from NYX Cosmetics Ultimate Shadow Palette, and applying it on the outer corners of the eyes. Next, mix in a deeper shade of that eyeshadow on the outer corners with a crease brush. 
Then, with the same crease brush, drag a line of shadow out, until it reaches the end of the eyebrow. Blend the deeper tone on the lower lash line to create more depth and dimension, and finish with several coats of the best mascara for volume.
NYX Ultimate Eyeshadow Palette in Brights
Talk about major bang for your buck: This 16-shade palette has all the peppy '80s makeup colors you could possibly need and boasts of a bright payoff to rival a Dynasty star's glam.
---
3. Colored mascara
Colored mascara is one of the easiest ways to play around with the '80s makeup trend, says New York City-based makeup artist Dana Arcidy.  
"Bright blue mascara still looks cute today, but there are so many options," Dana says. "Lately, I have been loving a pop of neon orange on top and bottom lashes. For a more subtle look, navy blue or burgundy mascara is also really pretty. It adds a hint of color to the eyes and isn't noticeable until someone comes close to you." 
NYX Coral Mascara in Coral Reef
Amazing color payoff at a price that can't be beat, this coral shade looks killer when paired with a peachy or warm-toned eyeshadow. For best results, use a lash primer and make sure each coat is dry before adding another swipe.
---
4. Lip liner
Lip liner is also making a comeback. Only now, it's being worn in a more subtle way than it was back in the '80s, Jenny says.
"Taupe and brown lip pencils, like Make Up Forever Artist Color Pencil: Eye, Lip & Brow Pencil, can be used with any lipstick or gloss," she says. "Instead of leaving it obvious and unblended around the mouth, simply use your pinky or a small downed brush to soften and diffuse."
Make Up For Ever Artist Color Pencil: Eye, Lip & Brow Pencil in Total Taupe
For an even more '80s feel, rock a monochromatic look by using the same shade of lip liner on the eyes as well. This versatile medium brown is pretty diplomatic and also sets off both cool and warm lipstick colors.
---
5. Pushed-up brows
Pushed-up brows are another '80s makeup trend that has reemerged to acclaim, as Geneva says it feigns the look of a fuller brow without the use of growth serums.  
To create a sexy, pushed-up brow, make sure you've shaped your eyebrows and have filled in any sparse patches. Then Geneva advises taking a clear soap and a wet mascara spoolie and brushing up your brows. If brow hairs are more textured, she recommends using Got2B Glued Spiking Glue and tapping the area with your fingers to flatten the hairs.
 
Got2B Glued Spiking Glue
It wouldn't be an '80s makeup roundup without some heavy-duty gel, now would it? However, instead of snaking this strong-hold gel onto your bangs, we advise using a minuscule amount on a Q-tip or your finger and spot-tapping onto brows to achieve that faux brow-laminated effect. 
---
woman&home thanks Geneva Fong of dome BEAUTY, Douglas Otero, Jenny Patinkin, and Dana Arcidy for their time and expertise.