'80s Makeup trends: the best looks from this electric decade are making a comeback
Surprise: '80s makeup is trending again, and we're super excited about these unapologetically bold and beautiful takes on color and contour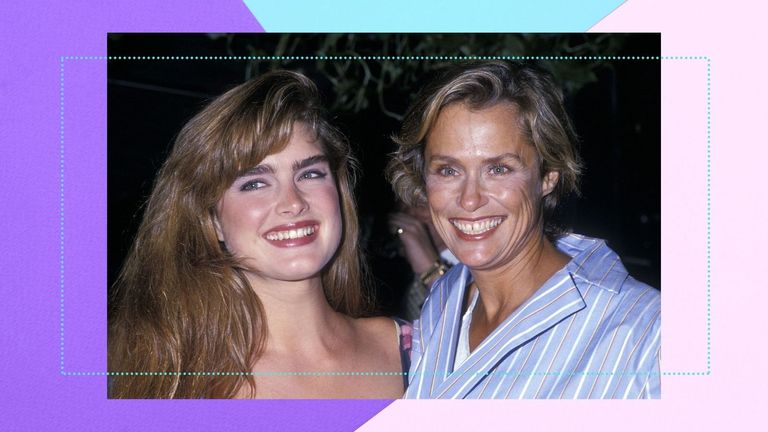 (Image credit: Future/Getty Images)
Ah, the 1980s—the decade of everything, where '80s makeup trends were decidedly over-the-top because girls just wanted to have fun, and where more was always more. Punk and New Wave superstars took over our inspiration boards just as their music blew up on boomboxes and MTV; everyone wanted Madonna's blush, Debbie Harry's lips, Grace Jones' lids, Cyndi Lauper's... everything. Hair had its own zip code. Women were ditching their tweezers in solidarity with brow legend Brooke Shields, and newly-minted Princess Diana had us going gaga over preppy Sloane Ranger hallmarks (and its New World equivalent, the country club brat), such as feathered bobs, a Day-Glo tan, and the shiniest peach gloss, a look that also stole screens in the hottest John Hughes film of the week.
What goes around definitely comes around, and much like the revival of many unforgettable fashion trends from the aptly named Decade of Excess—puffy sleeves, chunky sneakers, neon, animal print, floral print, all of the prints—it seems that '80s makeup looks are once again having their crazy-beautiful turn in the spotlight. What once was maligned as being "too much" is now, in light of today's self-expressive times, just right.
Geneva Fong, creative director and makeup artist for dome BEAUTY, says that one of the hottest ways we're now taking a cue from the decade is by creating a fully-flushed blush look that extends from the higher points of the cheekbones to across the nose (a.k.a. blush draping, and more on that in a bit!).
Though if you aren't too blush-centric, not to worry: We spotlight other iconic '80s makeup looks to try, including some of the best foundation contouring hacks, especially if you are looking to get with the revival on a fun, colorful note. From colored mascara to bold brows to lips to outfrost them all, we round up several of our fave beauty looks sure to bring on the glamorous—and unapologetically extra—nostalgic vibe in no time.
'80s makeup: looks we love
1. Bushy brows
After Brooke Shields made waves in her 1980 movie Blue Lagoon, it seemed everyone had now become brow-obsessed—and with good reason. Her naturally bushy brows were not only a welcome break from the super-groomed arches of the '70s; they were also on-brand for the era's take on excess. Fuller, untweezed brows then became the signature look for the entirety of the decade, with some even considerably darkening their arches to achieve the look.
These days, pushed-up brows are an '80s makeup trend that has reemerged to acclaim, as Geneva says it feigns the look of a fuller brow without the use of growth serums.
To create a sexy, pushed-up brow similar to Jennifer Connelly's fresh, modern-day version, make sure you've shaped your eyebrows and have filled in any sparse patches. Then Geneva advises taking a clear soap and a wet mascara spoolie and brushing up your brows. If brow hairs are more textured, she recommends using brow gel and tapping the area with your fingers to flatten the hairs.
---
Lurrose Brow Styling Soap Kit
Create the bushy look of your dreams with a soap brow kit (hear us out). First fill in any sparse areas, then apply the gel/pomade formula, which is first brushed onto the included spoolie, then brushed onto the brows in an upward direction for a pushed-up look. The result is the trending, full-browed look of your dreams.
---
2. Bold eyeshadow
Cyndi Lauper's punk-pop image was quintessentially '80s, and teens the world over embraced the Brooklyn native's unconventional beauty choices during the height of her career in full force. The songstress' fun, eccentric true colors did indeed come shining through (cough), particularly in her choice of electric shadow and bold, now-iconic Manic Panic hair color.
"Colorful eyes are making a comeback, but with more muted tones on the lips and cheeks to balance the look out," says Geneva. "Violet, sky blues, and bright orange tones are really popular for this."
To create an '80s-style eyeshadow look but with a refined twist (as seen on Margot Robbie), Geneva suggests taking a bright orange eyeshadow from NYX Cosmetics Ultimate Shadow Palette, and applying it on the outer corners of the eyes. Next, mix in a deeper shade of that palette on the outer corners with a crease brush.
Then, with the same crease brush, drag a line of shadow out, until it reaches the end of the eyebrow. Blend the deeper tone on the lower lash line to create more depth and dimension, and finish with several coats of the best volumizing mascara you can find.
---
NYX Professional Makeup Ultimate Eyeshadow Palette in Brights
Talk about major bang for your buck: This 16-shade palette has all the peppy '80s makeup colors you could possibly need and boasts of a bright payoff to rival a Dynasty star's glam.
---
3. Colored mascara
Another piece of the cultural zeitgeist was the supermodel-rockstar coupling, of which British beauty Yasmin Le Bon was on the forefront. As one of the highest-paid models of the era (and wife to Duran Duran frontman Simon Le Bon—classic 1980s! *chef's kiss*), she, along with fellow musician WAGs Paulina Porizkova, Iman, Jerry Hall, and Christie Brinkley were literal poster girls for glam/rock. As such, they were responsible for a lot of beauty trends hitting mainstream vernacular—colored mascara, lacquered lipstick, and va-va-volumized shaggy hair being only a few of their calling cards.
Colored mascara is one of the easiest ways to play around with the '80s makeup trend, says New York City-based makeup artist Dana Arcidy. Contemporary model Joan Small demonstrates just how a simple wash of color on the lashes can make a huge impact and give just the right hint of '80s even for the most color-shy.
"Bright blue mascara still looks cute today, but there are so many other options as well," Dana says. "Lately, I have been loving a pop of neon orange on top and bottom lashes. For a more subtle look, navy blue or burgundy mascara is also really pretty. It adds a hint of color to the eyes and isn't noticeable until someone comes close to you."
---
L'Oreal Voluminous Original Mascara in Cobalt Blue
Clump-resistant and famously pumps up natural lashes to up to 5x in fullness, this best-selling formula is a must-have in its own right. Add to that a de rigueur shade of bright blue, and you've got a winner. Ed's tip: A white lash primer applied before colored mascara helps maximize color payoff.
---
4. Contoured cheeks
Contouring, without a doubt, was one of the most popular '80s makeup trends, as high-profile celebrities like Madonna and Debbie Harry were often seen wearing this look. Sculpting your facial features to seem larger-than-life onstage against harsh klieg lights was almost second nature to celebrities—and they have makeup artist Way Bandy, who authored the seminal tome Designing Your Face: An Illustrated Guide to Using Cosmetics in 1977, to thank for this technique.
This, coupled with the obsession with pops of color and campy accents (see: Madonna's beauty mark), set the tone for the aesthetic of the era's latter years and showed the majority of us how to contour as well.
Back then, celebrity makeup artist Douglas Otero says contouring looks were achieved with some help from blush in both light and dark tones.
Nowadays, Douglas explains that both bronzer and blush are used to create seamless, more naturally flushed contoured looks, as seen in actress Constance Wu. This technique of using blush to contour is called blush draping and has been making waves both on the runways and off.
---
NARS Blush in Orgasm
To create an '80s-inspired contoured blush look, celebrity makeup artist Jenny Patinkin recommends using a dense brush such as her Luxury Vegan Complexion Brush and running a soft line of blush just underneath your cheekbone lined up vertically under the corner of your eye, and extending to the front of the ear and diffused near the temple. To soften the line, she advises using a damp makeup sponge just at the edges to balance out the look. The universally flattering NARS Orgasm is, coincidentally, in an '80s makeup-approved shade of coral peach yet is chic enough for modern looks.
---
5. Lip liner
The cross-dressing movement of the 1980s found its exuberant heroine in model, musician, and flamboyant Studio 54 muse Grace Jones, whose penchant for gender-bending style influenced a slew of future iconoclasts like Annie Lennox, Solange, and Lady Gaga. Her androgynous features were the perfect foil for makeup's fun, theatrical appeal, which she often played to the hilt with pronounced lip liner, razor-sharp eyeshadow, and even body paint.
Lip liner is also making a comeback. Only now, it's being worn in a more subtle, monochromatic way than it was back in the '80s, Jenny says. Unlike what we saw in '80s makeup, nowadays lip liner and lipstick are usually in the same color family, like we see on Grammy-winning artist Lizzo.
"Taupe and brown lip pencils, like Make Up Forever Artist Color Pencil: Eye, Lip & Brow Pencil, can be used with any lipstick or gloss," she says. "Instead of leaving it obvious and unblended around the mouth, simply use your pinky or a small downed brush to soften and diffuse."
---
Make Up For Ever Artist Color Pencil: Eye, Lip & Brow Pencil in Limitless Brown
For an even more '80s-meets-today feel, rock a monochromatic look by using the same shade of lip liner on the eyes as well. This versatile medium brown is pretty diplomatic and also sets off both cool and warm lipstick colors.
---
6. Frosty lips
What did your average, small-town American mallrat and country club blueblood have in common? A penchant for the frosted lip, of course. Call it 1980's Great Equalizer: Women from all cross-sections of society flocked to the creamy, frosted lipstick trend—and its similarly irrepressible younger sister, the gloss—like moths to a flame.
It comes to no one's surprise that this naturally unnatural lipstick formula—composed of a creamy lip color commonly in hues of orange, mauve, peach, and the eightiest of all Eighties colors, orchid pink, all with a metallic finish—took the beauty industry by storm. If it's good enough for the trendsetting royal Princess Diana (who, by the way, was totally ahead of the blue eyeliner curve), who are we to argue?
Frosted lips had quite the staying power, too: This '80s makeup trend, which had a solid foothold in the later part of the decade, carried over to the club-happy 1990s. Their soap-opera glory years remain a beloved look to this day, however, albeit in more muted variations like this pale pink seen on big-screen stunner Lupita Nyong'O.
---
MAC Frost Lipstick in Fabby
Never to be outwitted when it comes to on-the-pulse formulations, MAC once again hits the nail on the cultural head with its Frost Lipstick collection. Fabby, a "mauve with gold pearl" shade (hello, '80s Bingo!), is just the thing to cop if you're in the mood for that sweet and sassy semi-lustrous lip.
---
woman&home thanks Geneva Fong of dome BEAUTY, Douglas Otero, Jenny Patinkin, and Dana Arcidy for their time and expertise.