'70s makeup looks that still feel completely relevant today
From sun-baked skin to glossy lips, we break down the best '70s makeup looks that have stood the test of time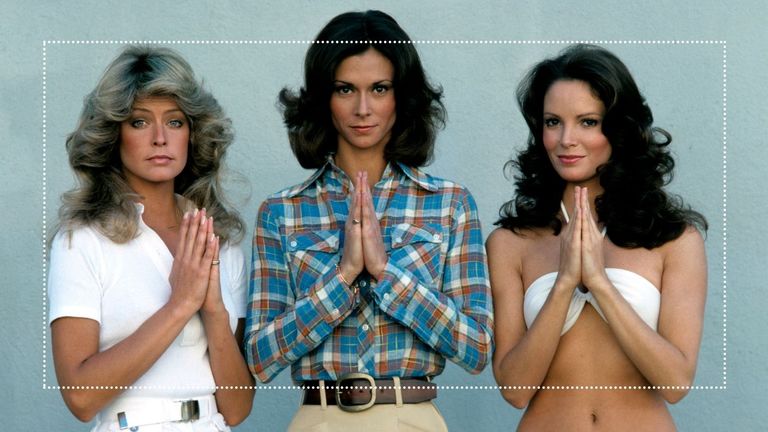 (Image credit: Future/Getty Images)
Earthy, hyperreal, glossy—'70s makeup definitely had a lot going for it. Similar to other decades, there was a certain polarity in the looks that purveyed during the Disco years: On one hand, we had the athletic, all-American ideal of fresh-faced skin and natural hair; on the other, we had the glamorous, shellacked avatar of a Boogie Nights sizzle reel. Dancefloor-worthy glitz, shiny red lips, the peak of blue eyeshadow, and even a nostalgic Art Deco revival (skinny brows and Cupid's bows) provided the foundation for the cutting-edge punk aesthetic that would follow.
The 1970s were a rather chaotic period with regard to American and world events, with environmental activism, anti-Vietnam war protests, and the Watergate scandal providing lots of political backdrop and social commentary. Beauty-wise, it was the Women's Liberation movement that proved particularly influential on '70s makeup trends: A rise in feminism made for an inverse drop in products traditionally marketed to the wife and homemaker. Ad agencies and brands had to pivot, and thus makeup for the "sassy, liberated woman"—like creamy, easy-to-apply shadow, sexy gloss, and nonconformist fragrances like Revlon's blockbuster Charlie—were born. The best foundation formulas of the era took on a pearlized and dewy finish, a departure from the old-fashioned powder foundation look of prior years.
There's also certainly no mistaking the overarching effect that music and pop culture lent to the main '70s makeup and beauty trends of the era. From epic outdoor rock n' roll festivals swathed in psychedelic color, to a growing interest in natural, hippie ingredients due to anti-industrialist counterculture, to the cheeky, feathered, centerfold-worthy protagonists of Charlie's Angels—we get a curious cross-section of tastemakers lending extra flavor to an already super-saturated decade. The result? An exhilaratingly warm vibe evocative of the folksy outdoors and the Great American Road Trip, as well as a decadent disco lifestyle that's unmistakably, fondly, Seventies.
5 iconic '70s makeup looks we love
1. Creamy pastels
Cream makeup formulations popped up in the 1970s, spearheaded by brands like Yardley, Aziza, and Cover Girl. The desired effect was a soft, sheer eye in light pinks, peaches, blues, and even yellows, accentuated especially in the earlier years by a darker cut crease, crisp eyeliner, and spiky mascara—familiar elements from a few years before. Shimmer was also a crowd favorite finish, and women usually played up a pale, pastel eye, as seen in peppy actress Goldie Hawn and songstress Aretha Franklin, with a natural lip for day and darker berry shades for evening.
Make it modern...
A key micro trend of '70s makeup was sunset hues, so why not hit two birds with one stone and pick up a creamy shadow in orange, pink, or super-current lavender? Make like Emma Stone and apply all over the lid, extending slightly past the outer corners and lower lashes for a perfectly diffused result.
Recreate the look with...
---
Shiseido Kajal InkArtist in Lilac Lotus
Crayon makeup was also introduced by many brands during the decade, such as Mary Quant and Max Factor. Emulate this chic simplicity with a dusty orchid pastel shade softly smudged onto the eyelid past the crease. Finish off with the best lengthening mascara you have on hand.
---
2. Skinny eyebrows
The 1970s saw a wave of nostalgia for the Roaring Twenties (another decade notable for women's rights) with the release of several 1920s-themed movies like The Great Gatsby, Caddie, The Boy Friend, and Lady Sings the Blues, the latter starring music sensation Diana Ross as Billie Holliday. Dubbed the Art Deco Revival, it brought a renaissance of iconic beauty looks such as the thin, high brow, sooty, banana-shaped eyeshadow, and the defined Cupid's bow.
Not a fan of the skinny brow? Never fear: The right eyebrow shape is always the one that complements your face.
Make it modern...
Modern-day golden goddess Charlize Theron plays up her naturally skinny, very '70s-worthy brows with glam warm hues worthy of Saturday Night Fever.
Recreate the look with...
---
Kosas Air Brow Clear Lifting Treatment Gel
Clear brow gel became quite popular during the decade, with women favoring the natural effect on their slimmer brows. This current formula also imparts a trendy finish that mimics the brushed-up result of eyebrow lamination.
---
3. Blue eyeshadow
Whether rendered as a solid sheath of matte or a shimmery, dancefloor-friendly gradient, blue eyeshadow was the pinnacle of pretty and is a rite of passage when it came to classic '70s makeup looks. Women turned to celebrities like Cher, then-Cover Girl model Cybil Shepherd, and the Queen of Disco herself, Donna Summer, to learn how to apply eyeshadow in the decade's trendiest hue.
Make it modern...
Actress Thandiwe Newton demonstrates a contemporary twist—and yes, timeless appeal—of the artfully applied blue shadow. A shimmery formula adds that undeniable disco glint, while the rimmed application on both upper and lower lids lends it a futuristic vibe. How's that for versatile?
Recreate the look with...
---
Urban Decay 24/7 Eyeshadow
The bright pop of color in the shade Charged, a shimmery deep blue, takes center stage and looks best with otherwise subtle shades of makeup. Think peach-toned blush and a matching lipstick. The metallic finish is an added bonus and draws even more attention to your eyes.
---
4. Glossy red lips and gray eyes
Red lips are by no means original at this point, but the version '70s makeup put on the map boasts of a glossy, cherry shade with a translucent finish paired with shimmery lids, as seen on Blondie frontwoman (and style icon in her own right) Debbie Harry, as well as on fresh-faced galactic princesses like Carrie Fisher. Before you claim the look reductive of another famous blonde bombshell, zoom into this particular decade's details: Just like many colors in the 1970s palette, reds take on a warmer, earthier shade and are usually with a brick, orange, or coral undertone.
Make it modern...
Jessica Chastain is proof that red-on-red is a killer combo. Pairing her shiny red lips with a gray shadow (so Seventies!), and of course, her famously fiery locks all make for an elegant yet fresh vibe.
Recreate the look with...
---
Glossier Ultralip in Fete
A juicy watermelon red, this achieves that brazen red lip of the decade without the goopy mess. We love the low-key shiny finish.
5. Sun-baked skin
Suntanning took a major turn in the 1960s and 1970s, with products like tanning oil, fake tan, and the invention of the tanning bed providing a foil for the decade's predilection for warmer natural makeup. Celebrities Farah Fawcett-Majors during her heyday as the plucky blonde and 1/3 of the Charlie's Angels, as well as alpha male icon Burt Reynolds and beach bombshells Bo Derek and Raquel Welch, exemplified the outdoorsy appeal so big in the decade, whether from bronzers or straight from the source itself.
Make it modern...
Bronzed skin is firmly in the '70s makeup camp that championed natural, sensual shades and a sunny poolside warmth. Celebrity stylist (and self-proclaimed Seventies fan) Rachel Zoe borrows cues from the era with a natural, allover-bronzed look, neat and simple brows and eye makeup, and a trademark '70s red glossy lip. If you do decide to get that vitamin D glow... just remember: SPF!
Recreate the look with...
---
Hourglass Ambient Lighting Bronzer
Using a fluffy contour brush, sweep bronzer all over the forehead, cheeks, nose bridge, and chin to create a warm glow, focusing more on just below your cheekbones and on the outer edges of your face. You can also sweep some product along your jawline to add even more definition. Even bronzer novices can learn how to contour naturally with this simple sweeping method.
---