Eyebrow lamination – 11 things to know before perming your brows
Eyebrow lamination is the hottest new eyebrow trend to emerge in 2020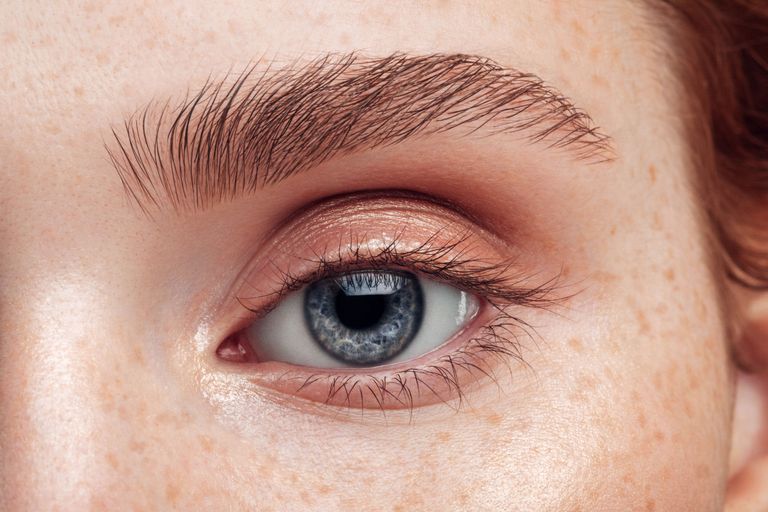 (Image credit: Getty Images)
Even the best tweezers and the best eyebrow pencils can't fix an overly plucked arch. But what if you could perm your eyebrows to fake a fuller looking brow? Well, actually, you can. Enter eyebrow lamination, a relatively new and non-invasive beauty treatment that can help give the illusion of a thicker line. Hello, perfect eyebrows!
Not just an Instagram trend for millennials, this brow hair straightening treatment is fast becoming the new favoured beauty appointment for women in their 40s and 50s. And even if you didn't succumb to the thin arch trend of the nineties, your hairs might have started to become sparse as you've aged or because of illness. If that is the case, even the best eyebrow makeup or eyebrow tinting at home might not cut it. And a treatment that helps out with the daily draw on of your brows could be a welcome relief.
Intrigued? Read on to find out if eyebrow lamination is for you.
What is brow lamination?
"Brow Lamination, also called brow sculpt or brow lift, is essentially a perm for your hairs, which can create a fuller more defined style", says brow expert Samantha Trace.
And the best bit? "Brow lamination can be adjusted to personal preference," says Samantha. "We can create a full and fluffy brow or a sleek and straight brushed up look, depending on what the client wants."
Does brow lamination work on thin brows?
"Yes!" says a spokesperson for beauty service Blow Ltd. "Brow Lamination can work well on sparse brows as the hair can be directed to cover gaps in brows and make existing hairs appear fuller. It won't make your brows fuller, but it will define them and create the illusion of a fuller brow."
How long does brow lamination take?
It should take 45 to 60 minutes dependant on your hair type.
Your technician will map out the shape and style of your brows according to what suits your brow and face shape.
After a quick tidy up, a straightening solution is applied to the brows to soften the hairs and relax the cuticles.
The first product is removed and a fixing solution is then applied.
Most people then have a tint, which gives extra definition to your brows. This step is usually optional and costs a little more (approx. £10).
To finish a moisturising cream or serum is applied.
How long does brow lamination last?
Eyebrow lamination should last six to eight weeks, or the natural growth cycle of your eyebrows.
Is brow lamination for me?
If you lack thickness, have gaps, or you have unruly hairs that you're continually gelling into place, then yes.
But if you like your hairs to do their own thing and to sit on your face subtly, then this might not be for you.
Is brow lamination bad for your brows?
Just like when you perm your hair or have a length, volume and lift treatment on your lashes, brow lamination disrupts the hair bond and softens the hair cuticle, which is what enables the hair to be manipulated into a new shape. This process could undoubtedly create weakness and damage to your follicles over time, which is why it is essential to combat this disruption by applying a nourishing oil to strengthen the brows after the lamination process.
Is brow lamination safe?
"It's totally safe," says Leisa Roberts, founder of Brow HQ. She adds, "A patch test should be done beforehand to ensure you are not allergic to any of the solutions and ingredients. It is also important to make sure you have your treatment carried out by a qualified technician or buy an at-home brow lamination kit from a trusted source."
Is brow lamination painful?
Absolutely not. "There is no pain at all", says Samantha. "The lamination process itself is very relaxing, and you shouldn't experience any irritation during the treatment. It's quite therapeutic having your eyebrows brushed."
How much does brow lamination cost?
Like anything, it depends where you go, but we found it to cost anywhere between £40 and £85 in the UK at the end of 2020.
Can I brush my brows after lamination?
Sure! Go for it. It's essential not to get them wet, so no showering, exercising or anything else that would build up a sweat, but the daily brushing of your swish new brows is encouraged.
How can I laminate my brows at home?
Nothing beats heading into the salon for the expertise and safety you will gain from trying a treatment like this. However, there are certified at-home kits that include patch tests and easy to follow instructions. These could be more suitable to those who have had the treatment before and know what style and result they would like to achieve.