The 15 best eyebrow gels for tidy, defined arches in a single swipe
Our beauty team selects the best eyebrow gels, from luxury picks to cult drugstore bargains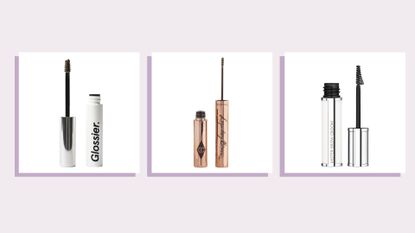 (Image credit: Future)
Eyebrows are still big news in beauty, making the best eyebrow gels a key buy to keep your arches in check. From affordable staples to luxury splurges, there's an excellent eyebrow gel at every price point.
Much like finding the best eyebrow pencil, the best eyebrow gel all depends on your preference and budget. "Our brows are extremely personal - it's not 'one size fits all,' explains Sarah Fogg, celebrity brow artist and founder of Brows By Sarah. "We all have different needs and shapes and certain colours will suit different faces."
An effective brow gel is one of the best eyebrow kit products to have in your arsenal for easy makeup looks. Just like the best mascara has the power to transform your lashes, the best eyebrow gels keep hairs in place, create natural-looking texture and if you opt for a pigmented formula, can thicken up the look of sparse growth.
Our eyebrows are crucial to the face, providing structure and definition, and using a great eyebrow gel can really help to achieve this.
How to choose the best eyebrow gel for your needs
Why you can trust Woman & Home Our expert reviewers spend hours testing and comparing products and services so you can choose the best for you. Find out more about how we test.
Sparse brows: If you've over-plucked your brows and the hairs haven't grown back properly, the best eyebrow gel for you will be one that thickens and promotes growth. Much like the best eyelash grower serums, a brow gel containing a serum will encourage healthy growth and a gel with tiny, thickening fibres that cling to hairs will help to create fullness.
Thick brows: Brows that already have fullness shouldn't need fibers to thicken them. A clear, no-frills eyebrow gel that keeps hairs in place and looking natural, will do. "Being too heavy-handed with gels is one of the most common problems I see," says Fogg. "It's all about using light strokes of product."
Unruly brows: Brows that move out of place with a slight breeze will need to go for long-lasting, fixing eyebrow gels. One with an excellent brush will make them easier to style. "Brush your brows using one of the best makeup brushes or a spoolie, to shape and move any unruly hairs into the right direction," says Fogg.
Fair brows: Although it's tempting to add definition to fair brows with a darker gel, opting for a matching shade will be more flattering. "Don't just take any color and apply heavily, less is more!", says Fogg.
Dark brows: When you don't need to add color go for a slick of the best clear mascara. These won't add any extra pigment and turn your eyebrows into slugs, but will keep hairs looking neat and tidy.
The best eyebrow gels, chosen by our beauty team
1. Chanel Le Gel Sourcils
Best eyebrow gel overall
Specifications
RRP: $32/£27
Shades available : 3 (1 transparent)
Extra features: Contains thickening fibres, small precise brush, contains polymers to weightlessly set hairs
Reasons to buy
+
Luxury packaging
+
Natural but effective hold
+
Gives brows texture and fullness
Reasons to avoid
-
A little expensive
-
Small range of shades available
After trying this brow gel, I can honestly say it's the best on the market. Pricey? Yes, but totally worth it. The luxurious packaging feels weighty in your hand and looks super chic in your makeup bag but, it's not just about style. It's effective too.
The small, narrow brush allows for precise application so you can really brush hairs up and into the desired shape. It gives natural-looking fullness to sparse brows as the tiny fibers cling onto your existing brow hairs, boosting volume and creating a fluffy brow look. The transparent shade will suit all skin and hair tones but there are blonde and brown shades if you're after a little more depth.
The only drawbacks I found when testing was the price, obviously - it is Chanel after all - but also the lack of shades available. If your color isn't there we suggest going for the universal transparent option and using a fine-point brow pencil to fill in any gaps.
2. Benefit Gimme Brow+ Volumising Eyebrow Gel
Best eyebrow gel for sparse brows
Specifications
RRP: $24/£23.50
Shades available: 10
Extra features: Tiny wand, contains microfibres to thicken hairs, water-resistant formula
Reasons to buy
+
Huge range of shades available
+
Contains microfibres to thicken up thin brows
+
Water-resistant
+
Long-wearing
Reasons to avoid
-
We found the tube dries out quickly
Benefit is known for excellent brow products and the Gimme Brow+ gel is certainly up there with the best. It features a minuscule wand that brushes up even the shortest, finest brow hairs and allows you to be incredibly accurate when depositing product so you can easily achieve your desired eyebrow shape.
The formula contains microfibres that stick to your existing hairs and when testing it, I found it greatly improved the thickness of my over-plucked arches. The huge, 10-strong shade range means there's one to suit all skin tones and doesn't leave anyone out.
It gives good hold but I do find that the tube tends to dry out after just a few weeks. If you buy it, make sure you're tightening the lid on after every use to minimize this but unfortunately, it seems pretty inevitable.
3. Anastasia Beverly Hills Brow Freeze
Best eyebrow gel for maximum hold
Specifications
RRP: $23/£23
Shades available: 1 (transparent)
Extra features: Clear formula, wax texture, long-lasting formula
Reasons to buy
+
Perfect for creating the laminated brow look
+
Keeps hair in place for hours
+
A little goes a very long way
+
Non-flaky, wax texture
Reasons to avoid
-
Doesn't come with a brush/spoolie which is advised for application
-
A little fiddly to use in a rush
If you find even your best eyebrow gel tends to flake off throughout the day and your brow hairs move around, give this one from Anastasia Beverly Hills a go. It's like superglue, but for your brows.
The waxy formula comes in a pot so you'll need a small brush or spoolie to apply it properly to the eyebrows (unfortunately, it doesn't come with one but we suggest using an old, clean mascara wand to save buying one). This process can be a little fiddly when you're doing your makeup in a rush but spend a few minutes to apply a small amount of the product and you'll have it nailed.
When we tested, it did a phenomenal job of keeping hairs in place and giving a fluffy, eyebrow lamination look. It's clear so it doesn't add depth but you can always add in a few brow strokes with a pencil where growth is a little more sparse.
4. Givenchy Mister Brow Groom
Best eyebrow gel for natural looking brows
Specifications
RRP: $30/£21.50
Shades available : 1 (transparent)
Extra features: Curved brush, transparent formula, contains nourishing vitamin B5
Reasons to buy
+
Added vitamin B5 to condition hairs
+
Small, curved brush great for catching every hair
+
Transparent, universal formula
+
Non-crispy finish
Reasons to avoid
-
Only one transparent shade available
-
Natural hold that might not be enough for unruly brows
Some of the best eyebrow gels can leave brow hairs feeling crispy but this luxe formula from Givenchy is not one of them. The addition of conditioning vitamin B5 means your brows actually benefit from wearing this and will feel softer and more nourished with every use.
We were a little skeptical of the curved wand delivering much except a novelty selling point, but after testing it, I can confirm it does a great job of grooming every hair into place and depositing a good amount of product. You won't need to wipe off the brush before applying it to your brows like some gels either.
When using this brow gel, the finished result gives you natural-looking brows with a firm hold and the transparent formula is great for all hair colors. But, if you're looking for a product to give you depth or color, there might be a more suitable tinted option.
5. Revitalash Hi-Def Brow Gel
Best brow gel for sculpting your brows
Specifications
RRP: $32/£32
Shades available : 3 (1 transparent)
Extra features : Hypoallergenic, vegan, clinically tested, double-ended wand
Reasons to buy
+
A double-ended wand gives you maximum control
+
Gives brows natural looking texture
+
Conditions hairs
Reasons to avoid
-
Pretty pricey
-
Small shade range
When it comes to getting your eyebrows into shape and keeping them there, there's no rival for Revitalash's Hi-Def Brow Gel. Featuring a double-ended wand with two different-sized combs at one end and a spoolie at the other, it allows for maximum control. You can sculpt your brows into place, brush them up and keep hairs solidly in place.
We rate the peptide-rich formula which softens brows and keeps hairs nourished (perfect for those that often tint their brows as this can cause damage.) The soft flex polymers also help to build the density of your natural hairs. These polymers cling onto your existing hairs, resulting in thicker-looking brows while still remaining natural.
The only downside we found was the price. At $32/£32 it's expensive for a brow gel but if you're looking to splurge, it's certainly a product that's worth the extra cash - you won't be disappointed.
6. Sisley Phyto-Sourcils Fix
Best eyebrow gel for luxury lovers
Specifications
RRP: $56/£42
Shades available : 3 (1 transparent)
Extra features: Contains thickening nylon fibres, tiny precise wand, conditioning vitamin B5 and passionflower extract
Reasons to buy
+
Thickening formula containing nylon fibers
+
Rub-proof formula
+
Conditions hairs
+
Precise wand
+
Long-lasting hold
Reasons to avoid
-
Very expensive
-
Limited shade range
Eye-wateringly expensive it might be, but this extravagant eyebrow gel is a luxury purchase with benefits. Pro-vitamin B5 and passionflower extract condition the hairs, repairing any signs of damage (great if you've undergone brow lamination or brow tinting) If your brows are a little sparse or over-plucked, investing in a conditioning gel like this one will help hairs grow stronger and healthier.
This brow gel also contains nylon fibers which work to thicken up eyebrows and give a fluffy look akin to having your eyebrows microbladed. These fibers grab onto existing hairs, adding length and fullness so if a Brooke Shields style brow is your desired look, it could be worth the investment.
Of course, the price is a major factor with this gel, it's not cheap but if you have the cash to splash, I do recommend it - it's one of my favorites for fancy events. If you're after a brow gel that's more staple than splurge, look elsewhere. Otherwise, give this one a go.
7. NYX Professional Makeup Control Freak Clear Eyebrow Gel
Best budget eyebrow gel
Specifications
RRP: $7/£7
Shades available: 1 (transparent)
Extra features: Large brush
Reasons to buy
+
Affordable
+
Keeps hairs in place
+
Quick and easy to apply
Reasons to avoid
-
Turns flaky after a few hours wear
-
Wet formula
A frill-free, functional beauty product that doesn't scream glamour but does the job effectively, this gets a solid yes from me. This no-frills, fuss-free eyebrow gel from NYX does exactly what it claims - keeping brow hairs in place and defined.
For the price, it's a great brow gel but after wearing it for a few hours, I found it to turn a little flaky. I felt that my eyebrows were crispy rather than soft and natural and some small white flakes could be seen. If you have dark brows this might be a problem as it could look a little bit like brow dandruff (not the look we're after) but fair brows shouldn't notice it as much.
Another small drawback was how wet we found the formula. The spoolie applicator seems to have way too much product when it comes out and sometimes needs wiping away. Otherwise, the gel can take off any pencil or powder you've already applied. I'd suggest wiping it back into the tube to avoid wasting any product.
8. Refy Brow Sculpt
Best eyebrow gel for feathery, fluffy brows
Specifications
RRP: $17/£16
Shades available: 1 (transparent)
Extra features: Double-ended wand, narrow spoolie applicator
Reasons to buy
+
Long-lasting hold
+
Smudge-proof and sweat-proof formula
+
Wax/gel formula that adds texture
Reasons to avoid
-
Applies white and takes a while to dry clear
Big, fluffy, brushed-up brows are the beauty trend that seems to stick around and achieving that look couldn't be easier with the Refy Brow Sculpt. This brow/wax hybrid gives hairs unbeatable hold. I was wary of the viral hype around it, but after testing I was genuinely impressed with the result - it even kept my brows in place through an especially sweaty workout class.
I also rated the double-ended applicator - the spoolie is used to apply the product and the two combs are perfect for brushing hairs into place and giving separation to hairs. This allows for a more natural, fluffy look to the eyebrows and works perfectly to fix uneven brows.
Although the glue-like texture and white color might be off-putting for some, have some patience and it will dry clear. If you're doing your makeup in a rush and expect to be out the door in 5 minutes though, you may want to search for a clear or tinted formula that doesn't need time to dry.
9. Schwarzkopf got2b Glued 4 Brows & Edges 2 in 1 Hair Gel
Best multipurpose eyebrow gel
Specifications
RRP: $5/£4.50
Shades available: 1 (transparent)
Extra features: Dual sided brush, suitable for brows and edges
Reasons to buy
+
Suitable for use on eyebrows, baby hairs and edges
+
Affordable
+
Dermatologically tested
+
Vegan formula
Reasons to avoid
-
Dries flaky
-
Feels sticky on application
Multipurpose products mean more space in your makeup bag and more cash in your wallet which is why I really rate this gel - it's suitable to use on brows and baby hairs. More commonly incorporated into braided hairstyles, styled edges (otherwise known as baby hairs that grow around the hairline) can be put into place with a hair gel or wax but why not save your money and use this 2-in-1 brow-edge gel instead?
One side of the brush has longer bristles than the other, and I found it really easy to control how much product is deposited and the depth of each brush stroke. I found using the short bristles toward the head of the eyebrow and the longer bristles on the tail of the brow resulted in the most natural look and easiest application.
The product claims to give up to 72 hours of hold and when I put it to the test, I certainly found my eyebrows didn't budge. It kept hairs brushed up and in place but the texture itself was a little sticky. If you use a lot of product it can also turn flaky and crispy after a few hours. For the price though, it's a solid makeup staple.
10. Hourglass Arch Brow Shaping Gel
Best brow gel for brunettes
Specifications
RRP: $29/£27
Shades available : 7 (1 transparent)
Extra features: Dual sided brush, contains thickening microfibres, natural hold
Reasons to buy
+
Great range of brunette shades
+
Thickening microfibre-infused formula
+
Short, precise wand
Reasons to avoid
-
Might not have enough hold for some
There are so many shades of brunette, from red-toned auburn to ashy, smoky brown, and it can be tricky to find the best eyebrow gel to suit your coloring. That's why this Hourglass one is a real favorite for brunettes. The range of deeper shades means there's something for everyone and you're bound to find a match. Blondes, however, might struggle. There are only two lighter shades on offer which could be a drawback (but there's always the transparent option!)
I rated the dual-sided brush which allows for good control over product application and the added microfibres mean you can thicken sparse hairs in just a few strokes.
When I tested it, my brows brushed up into place nicely but after a long day of wear, the hold did tend to falter. But, it's worth bearing in mind that it promises a more natural than steadfast hold and aims to create a more subtle-looking brow. The formula of the product also came out very wet, which will be absolutely fine if you have bushier brows that need a bit more product but those with sparse growth might find it a bit much.
11. Glossier Boy Brow
Best eyebrow gel for thin brows
Specifications
RRP: $17/£15
Shades available : 5 (1 transparent)
Extra features: Tiny, precise wand, ophthalmologist & dermatologist tested
Reasons to buy
+
Waxy formula that thickens hairs
+
Small wand for precise application
+
Long-lasting hold