Best eyebrow pencils: our favorite buys for your fullest, fluffiest brows yet
Our pick of the best eyebrow pencils, from growth-enhancing to waterproof and a brow lift in a crayon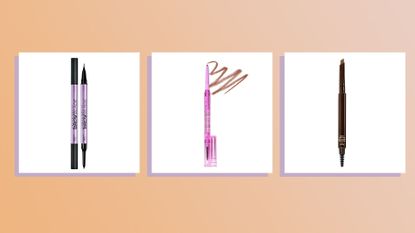 (Image credit: Future)
Having the best eyebrow pencil to create full and fluffy arches is an absolute must. So much so, it's hard to believe that just a couple of decades ago we were doing the exact opposite: tweezing and plucking our eyebrows into skinny oblivion.
Thankfully, we have seen the error of our collective ways, and now appreciate the beauty of a well-defined brow as a key part of most easy makeup looks. If your brows are on the slimmer side naturally, or you overplucked and never quite recovered, don't worry. The best thing you can do is embrace whatever eyebrow shape nature gave you, then simply enhance and define it with—you guessed it—the best eyebrow pencil for your needs. "The natural brow will prove popular in 2022, sticking to your natural shape with a more defined look," predicts brow expert and CEO of Rubis Tweezers, Fides Baldesberger.
Why use an eyebrow pencil? Because this is a relatively inexpensive yet hardworking beauty staple that delivers understated yet impactful results and offers precision that even the best eyebrow gels can't match. "Brows create a frame for our expressions and I prefer an eyebrow color in pencil form, as it gives more control," says expert makeup artist Andrea Claire.
How to use the best eyebrow pencil for you
Why you can trust Woman & Home Our expert reviewers spend hours testing and comparing products and services so you can choose the best for you. Find out more about how we test.
Choosing the best eyebrow pencil comes down to a few key considerations:
Texture: "Select products that aren't too soft but aren't too firm, and can deposit enough color without looking like you accidentally reached for a Sharpie," advises Claire.
Color: Warm-toned eyebrow pencils are strangely prevalent compared with how many of us actually have warm-toned hair. For most, a greyish undertone within a brown or blonde color will be more natural-looking.
Extras: Many eyebrow pencils come with blending brushes and spoolies on the end, which can come in handy. "You need space between the hairs, so use a brow brush to gently blend hairs and color together. This keeps your brows looking natural," advises Claire.
Although full and bushy seems to be the soft glam makeup look du jour, don't force it if that's not your thing, or it doesn't suit your face. Knowing how to shape eyebrows into the arch that works for you is key.
The best eyebrow pencils, as chosen by our experts
(opens in new tab)
1. Anastasia Beverly Hills Brow Wiz
Best overall eyebrow pencil
Specifications
RRP: $23/£23
Type: Retractable
Waterproof: No
Shades: 12
Extra features: Retractable tip, spoolie brush
Reasons to buy
+
12 shades
+
Ultra-fine retractable tip
+
Very precise spot-filling
+
Natural look
Anastasia Beverly Hills has earned a reputation for being the authority in eyebrow makeup. After all, the brand was founded by brow artist turned CEO Anastasia Soare whose clientele includes the likes of Cindy Crawford and Naomi Campbell.
While the brand's DipBrow Pomade gets a lot of adoration online, we think brow Wiz is equally worth shouting about, especially for those of us who can't be bothered with the messiness of a gel or having to use a separate brush. The best eyebrow pencils should be easy-peasy to use and this one is super light, with a fine retractable tip that's a major plus if you hate sharpening pencils. It successfully fills in bare spots, particularly if you're going for a soap brow brushed-up look, and the extensive shade options are inclusive, including a gray hair color and strawberry blonde as well as the usual browns.
With that said, as convenient and precise as the retractable tip may be, it comes with some caveats: The pencil is thinner, making it prone to breakage if you apply too much pressure. Similarly, if you prefer a pencil with a creamier texture, be advised that this product is on the drier side.
Because its tip successfully shades in hard-to-fill areas and gives brows a seamless and natural-looking finish, this eyebrow pencil is definitely worth a try. You'd be hard-pressed to find a dud brow-related product by ABH, and this handy pencil gets top marks for versatility and ease of use.
(opens in new tab)
2. NYX Professional Makeup Micro Brow Pencil
Best budget eyebrow pencil
Specifications
RRP: $10/£7
Type: Retractable
Waterproof: No
Shades: 7
Extra features: Skinny tip, spoolie brush
Reasons to buy
+
Cruelty-free
+
Skinny micro-tip offers control
+
Easy to create natural or dramatic looks
+
Reasonably priced
This eyebrow pencil will definitely come in handy if brow gels and pomades look a bit too strong for your liking. Its skinny, micro-fine tip offers plenty of control, eliminating the risk of overdrawn, cartoon-like brows. Though if you still want to try a bolder look every now and then, don't worry, as the buildable formula allows you to create stronger shapes.
While this eyebrow pencil offers the best of both worlds in terms of the finished look, its wax-like feel may be a little too slippery to the touch for some. Another drawback? Ashy or icy blondes may want to stick with other pencils on our list; most of these shades contain red undertones, which might not work for anyone whose toning for blonde hair choices are on the cooler side of the spectrum.
With an unbeatable price and precise applicator tip, this is still our best eyebrow pencil pick for those wanting bang for your buck. NYX Cosmetics is no stranger to serving up unofficial dupes, or at least, similar quality offerings, of higher-end products, and their Micro Brow Pencil is no exception: You get the same easy-to-use pencil as an Anastasia Beverly Hills product but at a fraction of the cost.
(opens in new tab)
3. Tom Ford Brow Sculptor
Best luxury eyebrow pencil
Specifications
RRP: $54/£40
Type: Retractable
Waterproof: No
Shades: 5
Extra features: Calligraphy tip, spoolie brush, added refill, self-sharpener
Reasons to buy
+
Ceamy and well-pigmented
+
Comes with one refill
+
Self-sharpening
+
Luxe look and feel
Reasons to avoid
-
Calligraphy tip may be difficult to use
Don't let its price tag scare you: Tom Ford Brow Sculptor is an investment your makeup bag will thank you for. Not only does the cleverly angled tip covers a large area in one go, it also self-sharpens and includes an extra refill so will last twice as long as many other pencils.
Extra perks aside, the formula itself is impressive. It offers a creamier texture than most making it easy to draw on for natural makeup looks and it's highly pigmented, so filling in sparse areas is comfortable with no dragging. However, it does require a good few strokes to transfer enough color, especially if you are looking to achieve a bolder brow. The calligraphy tip is fabulous for quick touch-ups, but has its hiccups: Being slanted, it might be a bit tricky to use in hard-to-reach areas such as under the arch, which could be a learning curve for some beginners.
Because of its texture and bonus features, Tom Ford Brow Sculptor is one for the wishlist. We love the smooth, non-dragging feel plus beautiful packaging that you'd expect from such a perfectionist designer. On top of all that, this feels absolutely beautiful, it's super glam and a pleasure to use—a real treat if you can afford it.
(opens in new tab)
4. L'Oreal Paris Brow Stylist Definer
Best waterproof eyebrow pencil
Specifications
RRP: $7/£11
Type: Retractable
Waterproof: Yes
Shades: 10
Extra features: Spoolie, mechanical pencil tube, ultra-fine pencil tip
Reasons to buy
+
Waterproof and long-lasting
+
Creates a natural finish
+
Reasonably priced
Reasons to avoid
-
Pencil can break if too much pressure is applied
-
Product size is smaller
Affordable? Check. Waterproof? Check. Natural finish? Check! L'Oréal Brow Stylist Definer has a lot going for it, not least because it's the best eyebrow pencil for weatherproof wear.
Unlike some pencils on the market, this drugstore best-seller is neither stiff nor dry, it has a firm yet creamy consistency that is pretty comfortable to hold through all kinds of strokes. The added spoolie brush is also a plus. These little tools are one of the best makeup brushes to diffuse color on the eyebrows for a softer look and also make setting the brows in place a cinch, keeping your arches looking neat and natural.
However, the color range of this eyebrow pencil is limited, so be advised that you may have to mix some shades together to achieve your desired tone. Similarly, the product size is pretty small, so you may run out quickly if you fill in your brows on a daily basis. On the plus side, the smaller size is handy for toting around—so if you're one to favor dinky versions of your original kit for a party makeup bag, this will work nicely
Easy to use, beautifully textured, and available at a steal of a price, this brow pencil is a can't-miss.
(opens in new tab)
5. Urban Decay Cosmetics Brow Blade Waterproof Eyebrow Pencil
Best microblade-effect eyebrow pencil
Specifications
RRP: $26/£20
Type: Double sided pencil and stain
Waterproof: Yes
Shades: 9
Extra features: Twist-up always sharp nib
Reasons to buy
+
Extremely versatile
+
Microblade effect
+
Great shade range
+
Long staying power
+
Can look as bold or natural as you like
Getting your eyebrows microbladed helps you achieve beautiful, permanently defined brows that won't budge or smudge. However, these treatments are a big commitment and can be both painful and costly with studios charging $500/£350 a session or more.
Thankfully, this clever multitasking eyebrow pencil provides an affordable alternative, offering a traditional twist-up pencil for soft definition, then a skinny nib of inky stain to draw on fine individual hairs for a microblade-like effect. You can use either end individually, or both together, up to you. And while it may take a little bit of practice to get used to drawing on fine baby hairs (hint: try a light flicking action) once you've got the knack it looks incredibly natural.
The formula of the traditional pencil side is soft, glides onto brows easily, and is as long-lasting as the stain. Plus it twists up so there's no need to sharpen. Another perk? The shade range is excellent, with nine to choose from including plenty of cool-toned browns. While this may not be as simple to master as a traditional crayon-style pencil, it would certainly make the best eyebrow pencil for anyone looking to replicate the microbladed look at home.
(opens in new tab)
6. Kosas Brow Pop Clean Dual-Action Defining Eyebrow Pencil
Best eyebrow pencil for hair growth
Specifications
RRP: $22/£16
Type: Retractable
Waterproof : No
Shades: 10
Extra features: Micro-triangle tip, spoolie, castor oil, panthenol Pro-vitamin B5
Reasons to buy
+
Promotes brow growth
+
Very pigmented
+
Micro-triangle tip creates hair-like strokes
Whether your sparse brows are caused by overplucking, tweezing or a more serious hair thinning condition, this is the best eyebrow pencil to help get things back on track. Enriched with hair-building ingredients, Kosas Brow Pop Clean Dual-Action Defining Eyebrow Pencil includes castor oil and ProVitamin B5 in its formula, two ingredients known to nourish and revive sparse brows.
Aside from growth-boosting ingredients, this pencil's micro-triangle tip is also a hit. The unique shape helps create hair-like strokes quickly and easily plus there's plenty of pigment in the formula which lays down smoothly. Like a few other best eyebrow pencil picks on this list, this does have a fairly dry and stiff feel. You might prefer that for precision but might not suit if you have dehydrated skin and prefer creamier textures that are less likely to drag. Some of the shades' warm undertones may also be a turnoff, particularly for cool blondes and deeper brunettes.
Because of its superstar ingredients and unique tip shape, Kosas Brow Pop is sure to let your natural brows shine and encourage fuller growth with continued use—making it the gift that keeps on giving.
(opens in new tab)
7. BeneFit High Brow Glow Pencil
Best brow-enhancing pencil
Specifications
RRP: $22/£19
Type: Sharpenable pencil
Waterproof: No
Shades: 2
Extra features: Shimmer
Reasons to buy
+
Visibly 'lifts' brows
+
Excellent shape enhancer
+
Multitasking highlighter
Need a quick brow lift? Benefit High Brow Glow Pencil will, as its name confidently suggests, get the job done. This creamy crayon adds a pop of brightening shimmer right beneath the brows, giving arches a lifted and sculpted appearance, making your eyes look brighter and perkier as a result.
Obviously, if you are looking to fill in gappy brows, look elsewhere. But if you are looking to enhance already defined brows (whether they're the result of the best eyebrow pencil or simply what nature gave you) this could be the product you have been looking for. The shade is, like all the best highlighters, a delightful, universally-flattering peach-champagne, which blends easily with fingers. It's also super versatile, we love using it as a cut-crease enhancer and to sharpen up the edges of eyeshadow looks on the lid.
A word of caution: This eyebrow pencil isn't for everyone. Its shimmering formula may be too sparkly to those who like more muted looks. It also isn't as long-lasting as some other products on our list. It fades after a few hours and may require a setting product to lock it in (we recommend Charlotte Tilbury Setting Spray) However if you want to give your brow area extra oomph for special occasions, High Brow Glow Pencil is definitely a product to stash inside your evening clutch.
---
woman&home thanks Fides Baldesberger of Rubis Tweezers (opens in new tab) and Andrea Claire (opens in new tab) for her time and expertise.