10 things you should ask before having your eyebrows microbladed
Intrigued by the idea of having your eyebrows microbladed? Our complete guide to brow tattooing has all the answers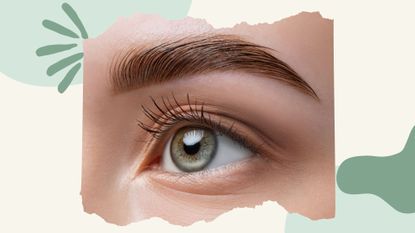 (Image credit: Future/Getty images)
If you'd asked us a few years back about having our eyebrows microbladed and semi-permanent makeup tattooed on our faces, our reply would have been a stern no. But things have changed.
This salon service, which promises to create a beautiful eyebrow shape that lasts for at least a year, has come a long way. "This technique of permanent makeup originated in Asia and has since developed so much, especially over the past twenty years," agrees award-winning microblading expert Karen Betts.
In fact, along with eyebrow lamination and eyebrow tinting, microblading has become so mainstream that you probably know at least one or two people that have had it done. Famous fans include Serena Williams and Helen Mirren, who has said of the treatment, "They're very lightly and delicately done – when I get up in the morning and I have no makeup on, at least I have eyebrows. It's made a huge difference."
As with every beauty treatment, it's important to know the facts before you book in. So, we've done the legwork for you and consulted eyebrow experts to answer your top 10 microblading FAQs.
10 things to ask before having your eyebrows microbladed
1. Is microblading a tattoo?
Kind of. Technically speaking, having your eyebrows microbladed is classified as semi-permanent make-up. "I draw hair-like strokes with a tool to mimic brow hairs," explains A-list 'lash and brow queen' Daxita Vaghela. Said hand-held tool creates thinner and more precise strokes than a regular tattoo gun. "This gives results that fade more naturally over time as opposed to methods like permanent brow tattooing," adds Vaghela.
It also doesn't penetrate as deeply as a tattoo. "Microblading works on the second layer of the skin whereas tattooing works on the third layer," explains Vaghela. The effect left on the skin is a lot softer than in traditional tattoo artistry, which is why it's so hard to tell if someone has had it done.
2. Is microblading permanent?
No, it's best described as semi-permanent, and although the effects can last a very long time, they will eventually fade if you don't have top-up appointments.
How long microblading lasts depends on your skin type – if you have an oiler complexion, then the effects will fade a little more quickly, lasting around 12 months. Those with dry or balanced skin types can expect microblading to last up to 18 months. Lifestyle factors such as UV exposure and your skincare routine will also affect the lasting power.
3. How painful is microblading?
"It's usually dependant on one's threshold," says brow and microblading expert Suman Jalaf of Suman Brows. "Most of my clients say it's the sound of the scratching that they don't like, rather than pain, I say to bring headphones so you can listen to music while I work. If you're worried, you can also take paracetamol 20 minutes before your appointment."
Pain relief is also built into the treatment, as every microblading session starts with the application of numbing cream. This stays on for about 40 minutes and will help to alleviate pain. Most people who have their eyebrows microbladed report it feeling uncomfortable and scratchy, but not intolerably sore.
4. Is microblading safe?
It's completely natural to worry about something going wrong when having your eyebrows microbladed; it is your face after all. The procedure is generally straightforward, however, as with most beauty treatments, there are always some risks to be aware of.
First and foremost, pay due diligence to health and safety. It's essential to choose a reputable artist and make sure they are working in a professional and sterile environment. Always check their training and that they have a license to practice. That aside, the skin around the eyes and brows is susceptible to irritation, so you must have a patch test before your treatment to check for reactions and allergies. Your technician will organize this in advance of your treatment.
5. Who is microblading best for?
The beauty of this treatment is that it's completely bespoke, so your artist can tailor it to your needs. "Microblading isn't only reserved for thin, sparse brows. Even if you've been blessed with naturally full arches, microblading can enhance what's already there," agrees Jalaf.
With that said, if you experience age- or health-related brow thinning, having your eyebrows microbladed could be an absolute game-changer. "The results are especially remarkable on those with thin brows, and can be nearly life-changing for people who suffer from alopecia or who have had chemotherapy," Jalaf adds.
6. Who should avoid microblading?
It may not be a good idea if you have sensitive skin, Jalaf says, "I'm afraid it's not for you if you suffer from conditions like rosacea, eczema or rashes." This is because the skin barrier is compromised, and any shedding or inflammation will affect the results of your microblading as well as increase the likelihood of reactions.
Various medical conditions and treatments may rule you out of having your eyebrows microbladed too. "You shouldn't have microblading if you're taking blood thinners or Roaccutane, or if you're currently having chemotherapy. It's also not suitable if you have diabetes, or for women who are pregnant or breastfeeding," advises Jalaf.
7. How should I prepare for microblading?
Try to avoid taking fish oil supplements, vitamin E, and ibuprofen, as they can thin the blood and increase the risk of bleeding, bruising, and scarring.
It's also a good idea to avoid alcohol and caffeine. And, no matter how well-versed you are at how to pluck eyebrows, put the tweezers away for a good few weeks before your appointment. It's much better for your technician to do that on the day rather than for you to make mistakes with the shape or create sensitivity.
8. What happens on the first day of microblading?
Immediately after your treatment, you will be given strict yet straightforward aftercare guidelines to follow, like not getting your brows wet for 24 hours after the procedure. And no tanning, swimming or sweating for a week – which we'd call a great excuse to skip the gym.
It is normal to experience a bit of flakiness when your brows are healing, and using a small amount of natural coconut oil is excellent for soothing itchy skin. It's also worth noting that, like any tattooing, your freshly 'bladed brows will look extremely dark and dramatic for the first few days, and even up to a week post-treatment. After that, the top layer will shed and a far more natural-looking brow will emerge.
9. How often should you have your eyebrows microbladed?
Even your very first microblading treatment should come in two parts, with an initial appointment then a follow-up session around eight weeks later. This allows your artist to check how the first session is healing and top up your microblading, particularly in areas where the pigment may not have 'taken' as well as it should.
After that, top-ups are usually around every six months if you want to keep your microblading super fresh and defined. Of course, this depends on how quickly your treatment fades, or if the tone has skewed warm due to UV exposure. Ultimately, the maintenance is up to you. You are also free to stop at any point and let it fade away gradually, which can take a few years to completely disappear.
10. What is nanoblading?
Another technique that can be used in conjunction with microblading, nanoblading creates individual hairs via a machine with ultra-fine needles. "I usually combine the two techniques," explains Betts. "I start with a hand-held tool (microblade) to add the initial strokes, then I'll pick up my Nouveau Contour digital machine and use several needles to add different thicknesses of strokes."
This combined approach can have even more natural results than microblading alone. "The digital machine allows you to use more advanced techniques such as cross-stroking, which contrasts perfectly with the fluffy texture you can create with a microblade and creates a truly realistic-looking brow," adds Betts.
Sign up to our free daily email for the latest royal and entertainment news, interesting opinion, expert advice on styling and beauty trends, and no-nonsense guides to the health and wellness questions you want answered.
All about beauty, Lydia House has been writing about creams and complexions for over a decade. Contributing to titles such as Women's Health, Grazia, Stylist and The Evening Standard, Lydia also uses her vast knowledge of the industry to consult leading health and beauty brands like Rituals, Tisserand and The Inkey List. Spending her working life obsessing over ingredients and formulas, Lydia believes that feeding your skin from within is just, if not more important, than the lotions you slather on. And even with a busy life and work schedule, she will always find the time to fit in a pampering session (or two).