The best eyebrow shapes for every face—and how to achieve them
Expert tips and eyebrow shapes inspiration to help you find a flattering look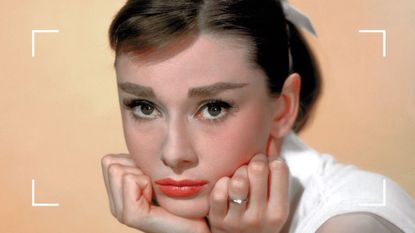 (Image credit: Future/Getty images)
woman&home newsletter
Sign up to our free daily email for the latest royal and entertainment news, interesting opinion, expert advice on styling and beauty trends, and no-nonsense guides to the health and wellness questions you want answered.
Thank you for signing up to . You will receive a verification email shortly.
There was a problem. Please refresh the page and try again.
It may sound dramatic, but eyebrow shapes summarize moments in time like no other facial feature can. From Hollywood's golden age, where actors compensated for silent roles with expressive sky-high arches, to fluffy '80s brows during the decade of excess, brows provide us with an accurate snapshot of the cultural and beauty zeitgeist through the ages. Pretty neat for some facial hair, huh?
These days, we tend to err towards a fuller, natural-leaning look as a riposte to the skinny, high-maintenance arches of the minimalist '90s. Whatever your preference, experts across the board agree that the best eyebrow shapes are not trend-based at all. Just as the best mascara is the one that suits your natural lashes and facial structure, the best way to learn how to shape eyebrows is by working with what nature gave you.
"Different shaped faces suit different brows, and the best way of working it out is to see it as a balancing act," says Vanita Parti MBE, founder of Blink Brow Bar. "If you have a longish face, then flat brows with a lower arch are perfect. If you have a heart-shaped face, then a raised Marylin Monroe-type arch works brilliantly." Whether you desire a bushy laminated eyebrows look, or want subtle, precise definition, this expert guide will help you find a flattering, face-framing shape.
The best eyebrow shapes for everyone, by the pros
1. Straight and full
(opens in new tab)
Perhaps one of the most iconic and desirable eyebrow shapes has to be Audrey Hepburn's straight and full style. Her famous arches (or, should we say, lack thereof) are best displayed in silver screen classic Breakfast At Tiffany's. "For us, the Audrey continues to be the most requested brow design at our boutique," says Sherrille Riley, Founder, and CEO of Nails & Brows Mayfair.
(opens in new tab)
Straight eyebrow shapes bring attention to the eyes while enhancing the cheekbones and giving a more angular structure to the upper eye area overall. It's also good to note that, being on the fuller side, this style requires a minimal amount of upkeep, which adds to the appeal.
Who suits straight and full eyebrow shapes?
These straighter, thicker brows feature a slight drop at the tail and frame long and heart-shaped faces perfectly.
How to achieve this shape
"To achieve the look, you must first abandon your arch," says Fides Baldesberger, CEO and Owner of Rubis Tweezers. "Go to the end of your eyebrow near the tail and tweeze off the hairs that go downward. This will allow your eyebrows to appear straighter. However, be super careful not to take off too much. Your eyebrows should still have a good length across your eye."
2. Classic arch
This timeless, feminine, tapered look is effortlessly glam, it looks groomed but not unnatural. Cindy Crawford is a great modern example of this screen siren-inspired shape, as her natural arch brings structure to her face, and the soft but tidy edges don't look as though they've been carved out.
(opens in new tab)
"This brow style has really captivated our clientele, especially because of the trend of the in-salon brow lamination treatment, which is all about straightening the brow hairs to make the arches look fluffy and natural," says Riley.
Who suits the classic arch eyebrow shape?
As far as eyebrow shapes go, the classic arch is pretty diplomatic; it flatters most face shapes. It particularly provides a nice counterpoint to a narrow chin area, which is why a lot of Old Hollywood, classically feminine-featured actresses sport this style.
How to achieve this shape
If your natural eyebrows have a similar arch—which is, to say, soft but defined and slightly tapering upwards and thinning towards the tail—tweezing at the outer side of each eye will help enhance them and open up your face. Your best makeup mirror should come in handy for precision here. Want to fluff them up a bit at home? "This involves brushing up the brow hairs with skin coming through and minimal use of the best eyebrow pencils and powders, for a more natural, less defined look," explains Baldesberger.
3. Soft arch
(opens in new tab)
This barely-there arch is similar to the straight brow but noticeably thinner and less furry. Actor and beauty entrepreneur Jessica Alba is a perfect example of this look. For the low commitment, it's also a great way to try the popular Korean straight-brow trend (sometimes referred to as 'boy brow') without going full-on horizontal.
(opens in new tab)
"We call this one the non-surgical cat eye lift. It consists of fuller brows with a minimal arch and a tail that drops at the ends in a subtle manner," says Baldesberger. These eyebrow shapes are amazing at accentuating deep-set eyes—just see how Adele takes hers one step further with a killer cut crease eyeshadow look and impeccable cat-eye liner.
Who suits soft arch eyebrow shapes?
Those with oval and square faces can rock this style with beautiful results. It's a soft, shape that's relatively unobtrusive and, with the underside of the brow kept clean, really opens up the eye area.
How to achieve this shape
This soft taper demands careful and judicious use of tweezers, says Baldesberger. "Plucking one hair at a time and then standing back and reviewing in a mirror will help to stop over-plucking," she advises. "Avoid plucking out a new shape by overplucking underneath your brows. Focus on the strays, and if in doubt use one of the best eyebrow gels, powders, or pomades to draw in your natural shape and give you a clear indication of what hairs to avoid."
4. High arch
(opens in new tab)
Not to be confused with the ultra-skinny '90s brow, this style is far more wearable and up-to-date. High-arched brows can definitely give off a sassy vibe as proven by actor and director Olivia Wilde's pointed peaks.
(opens in new tab)
Higher arches have the ability to refine our facial features, giving them a well-groomed quality. "This trend is for those that prefer a defined brow with a natural finish. Clean lines, a lighter feathered front, and structured arch," advises Laurretta Power, National Brow Artist & Head of Artistry at Benefit Cosmetics.
Who suits high arch eyebrow shapes?
Those with square faces, inverted triangle faces (wide foreheads and sharp chins), or those with more prominent jawlines in general benefit from the balanced proportion offered up by these sharper peaks.
How to achieve this shape
Working with what nature gave you, identify the perfect point of your arch to taper with a spot of brow mapping. Take a pencil and rest it against the outside of your nostril at a 45-degree angle, going past your pupil. The spot where the pencil intersects your brow points to where the brow arch should begin. Ed's tip: Ensure your brows are one to two shades darker than your hair color for extra definition. This can be achieved with regular beauty treatments or eyebrow tinting at home.
5. Rounded
(opens in new tab)
Not everyone is born with a sharp arch, and, just like we see on Julia Roberts, that can definitely work in your favor. Rounded brows tend to boast length and a smooth curved shape all of their own.
The rounded or brow is a masterclass in resisting the temptation to fight what nature gave you and simply neatening it up instead. "The natural brow will prove popular in 2022, sticking to your natural shape with a more defined look," agrees Baldesberger. Enhance your rainbow brows by keeping the tail a tad higher and longer past the outer eye for a lifted look.
Who suits rounded eyebrow shapes?
Rounded eyebrow shapes are generally seen as optimistic and peppy, particularly on inverted triangle-shaped and square-shaped faces, which benefit from the curvier shape to provide some flattering balance.
How to achieve this shape
If your eyebrows are naturally round or rainbow-shaped, maintaining their natural curve with a tiny bit of grooming will make for a super flattering look. Of sticking with your natural shape when shaping, Baldesberger advises, "This means all the strays are removed, including thickness throughout the brow right to the tail and a slight arch — so nothing exaggerated."
6. Bushy
(opens in new tab)
Actor and icon of her generation Zendaya is the perfect example of unapologetic bushy brow wearing. We don't doubt a professional's hands have graced the shape in one way or another, but the effect is simply brushed up and au naturel.
(opens in new tab)
We're calling for a rebrand of the unibrow! Okay, maybe not, but a smattering of wayward strands around your inner brow area is to be embraced. "Many clients used the lockdowns as an opportunity to regrow their brows into a thicker, fuller look. Now, they want us to shape up their brows while boasting a thicker look," says Riley.
Who suits bushy eyebrow shapes?
Anyone lucky enough to be endowed with naturally fulsome facial follicles! This bold shape has an earthy feel that can give otherwise super-delicate features a shot of edge. These eyebrow shapes can create the illusion of a slimmer, longer nose as well as being fabulously low maintenance (potentially zero maintenance) So put down your tweezers and adopt this effortless style if that's what you're going for.
How to achieve this shape
Ideally, do very little to them and focus on growth. Brow guru Shavata Singh, speaking to Treatwell suggests applying castor oil to them each day, saying, "there's no better way to get thicker, fuller brows". If you must tweeze, do so near the tail; the 'ungroomed' strands underneath and nearest the eyelid only add to the fabulously textured feel and are best left alone.
---
The best products for every eyebrow shape
---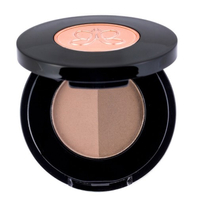 (opens in new tab)
Anastasia Beverly Hills Brow Powder Duo | RRP: $23/£24
This award-winning brow powder offers a soft and simple way to fill in gappy arches and create your perfect shape. It offers sheer to medium coverage. Use the lighter of the two shades to fill in the front of the brows for a soft, ombre look.
---
---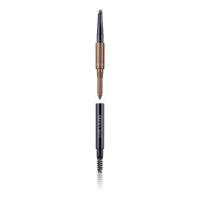 (opens in new tab)
Estée Lauder The Brow Multi-Tasker | RRP $27/£24
For those who don't want to bother with a powder, this 3-in-1 pencil is all you need to shape those arches. The angled tip thickens where you need it, the powder end can be used to fill and shade in any lighter areas, and the spoolie grooms to perfection and softens any hard lines.
---
---
---
---
woman&home thanks Sherrille Riley of Nails & Brows Mayfair (opens in new tab), Vanita Parti MBE of Blink Brow Bar (opens in new tab), Laurretta Power of Benefit Cosmetics (opens in new tab) Shavata Singh of Shavata (opens in new tab) and Fides Baldesberger of Rubis Tweezers (opens in new tab) for their time and expertise.
Emma North is a Beauty Writer who works for digital titles including woman&home, Woman, Woman's Weekly, Woman's Own, Chat and GoodtoKnow. Emma's career in beauty journalism began with internships at publications including Vogue, Elle, The Telegraph and Glamour. She was then taken under the wing of Funmi Fetto, Contributing Beauty Editor at Vogue where Emma assisted with Funmi's debut beauty book, Palette.