The best makeup mirrors for flawless application and easy tweezing
From LED-lit to travel-friendly compacts, our edit of the best makeup mirrors will ensure you never miss a spot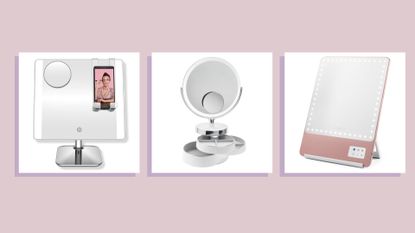 (Image credit: Future)
The best makeup mirrors don't have to be the most expensive options or come with dozens of features. That being said, if that's what you're after, the market is brimming with options. Next to makeup brushes, finding the right makeup mirror is a key player in the outcome of your look. Without a good quality mirror, you risk uneven eyeliner at best and completely mismatched foundation at worst.
To help you narrow down your options (we know, there are a lot!), we've rounded up the best makeup mirrors on the market, from simple magnifying mirrors to the feature-filled best skincare devices that do more than just show your reflection.
Whether you need a close-up mirror to perfect your best red lipstick, a large mirror to get the full picture of your look, or a portable mirror that won't eat up room in your suitcase, these are the best options to consider for every budget.
How we tested these makeup mirrors
Why you can trust Woman & Home Our expert reviewers spend hours testing and comparing products and services so you can choose the best for you. Find out more about how we test.
Finding the best makeup mirror depends on a number of factors. The common ones that we considered to create this list were magnification, size, and extra features. We also assessed each makeup mirror for how they suit a number of possible scenarios, from topping up a natural makeup look, to vacation makeup in various lights and precision at-home facial hair removal.
The best makeup mirrors, chosen by our experts
1. Gotofine Double Sided Magnifying Makeup Mirror
Best budget makeup mirror
Specifications
RRP: $20/£13.99
Key features: 360-degree rotation, double-sided
Magnification: 1x, 10x
Reasons to buy
+
Sturdy oval base
+
Lightweight and easy to transport
+
Powerful magnification
Don't let the size of this makeup mirror fool you. It's small but mighty, packing in dual 1x and 10x magnification. This makes it perfect for times you need to get up close and personal (i.e. to inspect your chin so you can work out how to get rid of a pimple) or step back and work on your face makeup.
Unlike many makeup mirrors on the market that have a flat base, this one features a narrow clamshell base that fits easily onto a windowsill, which is helpful if you like to do your makeup in natural light. And, even though the mirror's diameter is no bigger than an iPhone Pro (almost 6"), we found it's more than big enough for activities like styling your hair and putting on jewelry.
2. Simplehuman Sensor Mirror Hi-Fi
Best luxury makeup mirror
Specifications
RRP: $300/£250
Key features: Built-in Alexa
Magnification: 5x
Reasons to buy
+
Soft, natural light
+
Sensor touch
+
Music/audio capabilities
Reasons to avoid
-
Only one magnification level
At $300/£350, this is the priciest makeup mirror on our list – but the laundry list of features makes it worth it. It has a built-in Alexa so you can play music, listen to an audiobook, or find out the weather as you're getting ready. And, everything is futuristic-feeling: the volume and audio control, and brightness adjustment is all done with a finger tap.
We found that the mirror's tru-lux light system, which the brand says closely simulates natural sunlight's full-color spectrum, took the guesswork out of finding our perfect foundation match and provided the most natural finish.
3. Conair Social Media Lighted Makeup Mirror
The best makeup mirror for special features
Specifications
RRP: $119 (US only)
Key features: LED lighting, removable phone holder
Magnification: 1x, 10x
Reasons to buy
+
Offers viewing of different angles
+
4 light settings
+
Modern aesthetic
In terms of extra features, this makeup mirror from Conair is the best one we tried. Beyond its simplistic aesthetic that'll complement any bathroom or vanity decor, the mirror has several functionalities we found useful.
There's the removable phone holder that makes following tutorials (or catching up on Netflix) a breeze, the 180-degree hinge tilt and 30-degree rotation that allows you to view your makeup at different angles, the 1x magnification for getting a full look at your application, and the 10x magnification for close-up precision work like learning how to apply eyeliner. But perhaps our favorite feature of this pick is the fact that it's sturdy and built with quality materials – it fell during testing and didn't break or even scratch.
4. Fancii Mini Lumi
Best compact makeup mirror
Specifications
RRP: $27/£15.99
Key features: LED lights
Magnification: 1x, 10x
Reasons to buy
+
Ultra-slim design
+
High-quality LED lights
+
Available in 3 shades
Reasons to avoid
-
Better for on-the-go than home use
For a truly enviable compact makeup mirror, Fancii's Mini Lumi is the real deal. It's a one-inch smaller version of the brand's full-size Lumi, but still boasts all of the great qualities of the original, including a super slim design, a distortion-free reflection, and natural LED lights that form a ring light around your face for perfect lighting every time.
This fit into a variety of purses we tested, including clutches and our best crossbody bags, making it super convenient. Plus, it features dual magnification and is available in three sophisticated shades (white, black, and rose gold) so you can customize your pick to accompany your style.
5. Kudosale Touch Sensor Control Makeup Mirror
Best lighted makeup mirror
Specifications
RRP: $22 (US only)
Key features: Dimmable LED lights, 360-degree rotation
Magnification: 1x
Reasons to buy
+
Doesn't overheat
+
Sensor controlled lighting
+
Sturdy construction
Reasons to avoid
-
No close-up magnification
Reasonably priced and loaded with useful functions, this makeup mirror earns the title of best light-up makeup mirror for several reasons. For one, you can choose between light colors: warm white (which celebrity makeup artist Tobi Henney says it's good for golden, bronzed makeup looks) and cool white light (great for taking selfies or when you know you'll be photographed). It also features four dimmable Hi-Pot LEDs that have a 50,000-hour life span.
This makeup mirror is also battery-operated (meaning you don't have to worry about finding a power source for it). During testing, we were impressed that the lights didn't flicker or overheat, even when we worked on long, intricate makeup looks. We did dock a point for the fact that it doesn't have any close-up magnification, which would have been helpful for things like putting in contacts or following a cat eye makeup tutorial.
6. Riki Loves Riki Riki Skinny Mirror
Best bluetooth makeup mirror
Specifications
RRP: $205/£175
Key features: Bluetooth capabilities, micro USB charger, rechargeable battery, LED lights
Magnification: 5x, 10x
Reasons to buy
+
Includes a magnetic 5X magnifying mirror
+
Has a magnetic phone clip
+
5 lighting options
Reasons to avoid
-
None, unless you're on a tight budget
For many people (us included), the getting ready process isn't complete without music. Cue this makeup mirror from Riki Loves Riki: it connects to your Bluetooth so you can listen to tunes, take a Zoom call, watch YouTube videos, or catch up on your favorite podcast while putting on your makeup.
Though it's among the pricier options on our list, it comes with five dimmable lighting options and a removable 5x magnification mirror. We found the magnetic phone attachment handy for following makeup tutorials, like learning how to contour, especially because it rotates 360 degrees. Henney is also a fan of this pick, noting that it features a tilted angle with a range of lighting from soft to bright white.
7. Vanity Planet Mini Magnifier
Best close-up makeup mirror
Specifications
RRP: $10 (US only)
Key features: Suction cup attachment
Magnification: 1x
Reasons to buy
+
Small and lightweight
+
Attaches to any makeup mirror
+
Portable and travel-friendly
If you have a makeup mirror that doesn't have magnification, or you're looking for a handheld close-up mirror, look to this one from Vanity Planet. It attaches to any makeup mirror via two suction cups to make daily grooming and precise makeup application a simpler task. We love how easy it is to pop on and off, as well as how sturdy of a hold it has without slipping and sliding. The white color is sleek and modern, but we would have liked to see it available in different color options.
8. Sharper Image SpaStudio Vanity Plus Round Mirror with Storage
Best makeup mirror with storage
Specifications
RRP: $250 (US only)
Key features: Swivel storage drawers
Magnification: 1x, 5x, 10x
Reasons to buy
+
Pleasing aesthetic
+
3 convenient magnifications
+
LED halo light
+
Reduces vanity clutter
Reasons to avoid
-
Expensive, so won't suit all budgets
Is it a piece of art or is it a makeup mirror? This stunner will upgrade any surface you put it on and is packed with features, 360-degree rotation for full-spectrum application and tilted angles for optimal viewing among them. Our favorite feature of this mirror by far are the three swivel drawers that hold everything from the best face rollers to your tweezers.
The first two drawers have various sections for your everyday products while the last drawer is impressively deep and can hold larger items like your face cream and powder compacts. All of the drawers are incredibly sturdy and are able to swing out easily without tipping over the mirror frame itself. Plus, the bottom base of the mirror has several dimmable light options that are sensor controlled. We also love the fact that it comes with a magnetic mini mirror for close-up application.
9. Impressions Vanity Touch Trifold Makeup Mirror
Best tri-fold makeup mirror
Specifications
RRP: $60/£67
Key features: Three mirror panels, soft-touch sensor switch
Magnification: 2x, 3x, 10x
Reasons to buy
+
Portable design
+
USB plug and cordless options
+
Available in white and rose gold
Reasons to avoid
-
None, this is excellent!
This was one of the sleekest-looking makeup mirrors we tried, and with three mirror panels, you'll be able to get an accurate view of your makeup from all angles. A tri-fold mirror like this is especially helpful for making sure your cheek contour is well-blended, your foundation coloring is spot on, and your flyaways are held down.
We enjoyed the strip LED lighting and soft-touch sensor switch on this mirror – the ability to dim the light was especially helpful to see the finished look in different lighting situations.
10. Jerdon Wall Mount Mirror
Best wall-mounted makeup mirror
Specifications
RRP: $115/£167
Key features: LED bulbs
Magnification: 5x
Reasons to buy
+
Modern, luxurious aesthetic
+
Has tilted angles
+
Comes with 1-year warranty
Upgrade your bathroom and mimic hotel vibes with this luxe wall-mounted mirror. We love its modern square design and chrome finish, which contributes to the mirror's elevated aesthetic.
You don't need a special power cord or plug to get this mirror up and running—it has a direct wire that goes into your wall for easy installation. It only has one magnification (5x), but we found that we were still able to tweeze unruly eyebrows, get an overall impression of our look, and don more intricate makeup with this level of magnification.
---
What mirror is best for applying makeup?
As well as the bare essentials of magnifying and light, modern-day makeup mirrors are now equipped with all the bells and whistles: a holder for your phone, Bluetooth connectivity, and storage compartments for your most used products. When shopping for best makeup mirror, take into account what features you need and what you can live without.
Professional makeup artist Vivi Mintara says that a cordless or battery-operated makeup mirror has the benefit of being able to move around freely, but Tobi Henney says corded is a better option if you don't want to worry about running out of power. Similarly, decide if you'd like a tilted makeup mirror. Both Henney and Mintara note that tilted makeup mirrors are ideal, as they allow you to view your makeup look in varying angles.
What magnification is best for a makeup mirror?
Makeup mirrors have levels of magnification – typically 1x, 5x, and 7x-10x. The higher a mirror's magnification is, the more detail you'll be able to see. Smaller, more magnified mirrors are great for close-up beauty work such as applying your best false eyelashes and tweezing eyebrow hairs, advises Henney.
"1x magnification is great for blush, contour, and highlighter because you'll be able to fully see your blending process," says Mintara. "5x magnification is probably the most common simply because it gives you an incredibly clear view of features on your face down to individual hairs and pores," she notes. "This means that it is ideal for eyeliner, spot covering and applying primer as a pore minimizer to specific areas." Finally, 7x magnification is best for things like tweezing, fine art and gem application, and applying individual false lashes, says Mintara.
Michelle Rostamian is a Los Angeles-based beauty writer with 10 years of experience in the beauty industry. She began her career as a publicist, content writer, and social media manager, representing beauty brands and industry professionals. Currently, she is an editor and writer on all things makeup, beauty, skincare, and lifestyle. Michelle graduated from the University of California, Los Angeles with a B.A. in Communications. She has bylines at Cosmopolitan, Elle, Marie Claire, Allure, The Zoe Report, HelloGiggles, Yahoo, Byrdie, Well+Good, Reviewed, Women's Health, Runner's World, The Girlfriend, and more.