How to find your foundation shade and avoid tell-tale tidemarks
Not sure how to find your foundation shade? Our expert guide has every tip you need to shop online or in-store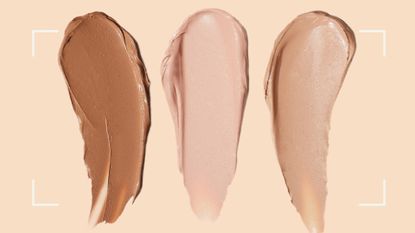 (Image credit: Getty/Future)
Soup-bowl-like rings around your jawline? A finish that doesn't look all that convincing? Sounds like you need to brush up on how to find your foundation shade.
When it comes to makeup colors, we're normally inclined to say go with what you like and don't think too much about whether it suits you or not. If you feel great, the fact that red lipstick might be too warm for your skin tone is irrelevant. But your foundation? That, you absolutely need to get right. There is, unfortunately, not even a millimeter of wiggle room. Even the best foundation will look odd when it's the wrong shade.
To make your life easy, all of this advice applies to whichever type of base you opt for. Whether you're looking for the best full-coverage foundation, the best lightweight foundation, or the best tinted moisturizer – we've got you covered.
Before you begin... find your undertone
The answer to how to find your foundation shade will vary depending on whether you're heading to the shops or scrolling online, but a common universal mistake is not considering your undertone. "Undertones are absolutely key to creating a seamless base," says Warren Dowdall, Senior Pro Artist at Bobbi Brown. "There are three: cool, warm, and neutral. Cooler undertones will be pink or red, warm will be golden, and neutral will be a balance of both."
If you're not sure what undertones you have, pop on a white shirt or t-shirt and sit in front of the mirror in natural lighting. You should be able to see if your skin has red or yellow tones to it or a mix of both. Jewelry is a good test too. Normally gold jewelry suits those with warm skin tones, and silver jewelry looks best on cool skin tones.
A second likely misstep when you're working out how to find your foundation shade is using a darker base than your skin tone with the aim of creating the appearance of a tan. "It's better to use bronzer to warm up the skin than a darker shade of foundation," advises celebrity makeup artist Valeria Ferreira. "Foundation is used to even out your skin tone and create a flawless canvas to work on. If the shade isn't right, it loses its purpose."
How to find your foundation shade in-store
The harsh glare of shop lighting and the over-interested eyes of a sales assistant can make for a high-pressure foundation shopping scenario. To make sure your trip to the shops isn't a wasted one and avoid any next-day buyer's remorse, take the following into consideration:
1. Apply to clean skin
Testing a new foundation on top of an existing base isn't going to give you a clear picture of whether it's the right match or not. Heading to the shop makeup free, or cleansing the area first, will help you get a more reliable result. And if you like to use your best primer before you apply foundation, then go in with that first. "Priming appropriately will give you an idea of how the foundation will look not just in terms of shade, but also texture and finish," says Dowdall.
2. Swatch on your face, not your hands
"Most people try foundation on their hand, but it's always best to try it on the side of the face or even your neck," explains Ferreira. "because the skin on our hands is usually a different tone to the face."
This is going to be especially true if you apply fake tan, and also during the winter months when exposure to cold temperatures means your hands can be redder than your face.
3. Test a few different shades
Hopefully, now you've got your undertones sussed you can try different matches within the same family. "Identify two or three shades in your undertone (most brands have identifiers on the shades with W for warm, C for cool, and N for neutral) that appear closest to your natural skin tone," advises Dowdall. "Swatch darkest to lightest from the cheek to the jawline and blend in using fingertips or your best foundation brush."
He continues, "The shade that is almost imperceptible on your skin is the right shade for you. If you're undecided between two shades, double-check both on the forehead as this is where we tend to have a little more sun exposure. If it works there, it's the one."
4. Double-check in natural light
The lighting in shops is designed to drive purchases, making items look brighter and more enticing than they would in other settings. It can, therefore, also distort your natural coloring when looking in a mirror – making it hard to see if your new foundation suits you or not. "If you have the opportunity to check the foundation shade under daylight then please do," suggests Ferreira. "Daylight allows you to see the real texture and color of the product on your skin." This is true whether you're buying foundation vs tinted moisturizer vs the lightest skin tint – even sheer bases can look unnatural in the cold light of day if they aren't well matched.
5. Take a tester home if you can
Worried you might be making the wrong decision? If you're shopping for a luxury foundation, getting the wrong shade match can be an expensive mistake. This is one of the main reasons learning how to find your foundation shade is so important. Ask the makeup artist on the counter if it would be possible to try one or two shade testers. You can then take them home and apply them beneath the light you usually do your makeup in to see which is the best match. Most sales advisors will be happy to help, as they'd rather you had a positive experience with the brand than felt duped.
6. Check for oxidizing
Another thing that makes finding the right foundation tricky is the potential for oxidization. When they come into contact with air, some bases can become darker, meaning your match isn't quite as seamless as you might have previously thought. "Apply a swipe and walk around for around 15 minutes to see if it oxidizes," suggests pro makeup artist Alexa Hernandez.
How to find your foundation shade online
Adding clothes to basket online? Easy. Working out how to find your foundation shade without physically testing it IRL? That's much harder to get right. But, while we will admit that finding your perfect shade of foundation online isn't entirely foolproof, it is possible to meet your match without leaving the house. You'll just need a little help along the way.
1. Take advantage of experts
Expert help is to hand when shopping online, so take advantage of it instead of struggling alone. "Bobbi Brown has got you covered," says Dowdall. "We have a team of artists who are trained to help you find your perfect match either from a photo, or video chat, or you can even book in for a personalized makeup lesson where they can advise you on formula and finish, plus application techniques, too." See if the brand you're shopping from offers a service like this – almost all premium brands will.
If not, seeing images of the foundation out of the bottle is the next best thing. "I think swatches are the most important when shopping online," says Hernandez. "Especially when they are displayed on a model – I find it more relatable." Seek out models who have very similar coloring to you for the most reliable match.
2. Use your previous foundations as a starting point
Found the perfect foundation shade but the formula isn't quite up to scratch? The good news is that you've already done the hard part, as it's easier to find a new shade match if you have something to compare it to. Input details of your shade matches in other foundations you have tried and sites like Temptalia and Findation will tell you your best match in alternative brands and products. The more details you can give of previous shade matches, the better.
3. Check the returns policy
Not all makeup artists are convinced that you can master how to find your foundation shade online. "It's possible. Does it happen often? Not so much," says Hernandez. "Only because there are so many variables such as lighting, foundation formula, and also your skin's unique chemistry." If you find that when your new foundation arrives it's not quite right, reach out to the brand's customer service department to see if there's anything they can do. While most won't hand out refunds in this instance, many will offer the option of exchanging for a different shade. At the very least, you may be able to get a discount code for your next purchase.
4. Consider buying more than one
"Whenever I have had to choose foundation shades online I always choose three or four shades within one skin tone," advises Ferreira. "This way, I have a higher chance of finding the shade I am looking for." Your skin tone will also change depending on the time of year, so, while it won't help with any makeup declutter you have planned, it's a worthwhile investment to have more than one shade to hand. "I always suggest having two successive shades in your favorite foundation so you can mix and match if you've been away on holiday or when it's winter and you're seeing less sunshine," says Dowdall.
Sign up to our free daily email for the latest royal and entertainment news, interesting opinion, expert advice on styling and beauty trends, and no-nonsense guides to the health and wellness questions you want answered.
Jess Beech is an experienced fashion and beauty editor, with more than eight years experience in the publishing industry. She has written for woman&home, GoodtoKnow, Now, Woman, Woman's Weekly, Woman's Own and Chat, and is a former Deputy Fashion & Beauty Editor at Future PLC. A beauty obsessive, Jess has tried everything from cryotherapy to chemical peels (minus the Samantha in Sex and The City-worthy redness) and interviewed experts including Jo Malone and Trinny Woodall.