How to contour makeup like a pro: 3 experts reveal all
From products to pro tricks, there's an art to learning how to contour makeup.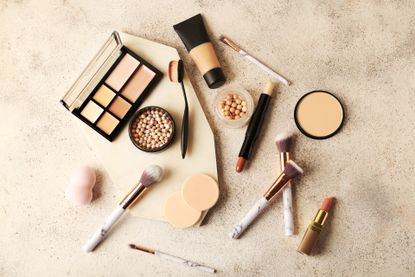 (Image credit: Getty Images)
The first thing I'd say to anyone who wants to learn how to contour make-up is, "Should you actually be contouring at all?" It's an odd way to start, granted, but some aspects of contouring are so troublesome I wouldn't feel right telling you how to chisel your cheekbones without mentioning them.
Contouring is using make-up, usually the best cream bronzers and highlighting products to trick the eye and reshape the face. Its origins are on the stage, where 16th-century theatre actors would paint facial lines to ensure their expressions reached the cheap seats at the back. Later dark powders were used to carve sharp bone structures onto silver screen stars. The practice was adopted by make-up artists and helped create a homogenized beauty ideal well-suited to the hyperreal perfection of editorial photography.
And therein lies the problem. As Instagram took off, hyperreal perfection began to present itself as reality, make-up artist tricks became accessible to all, and everyday folk like you and I decided to have a crack at contouring. Of course, folk like you and I didn't have professional skills, and make-up that looks great in photos looks insane in real life. Add to that the problematic nature of assuming everyone should conform to a slim-nosed European beauty ideal, and you can't help but wonder if learning how to contour with make-up is a good idea at all?
Yes, it can be. As long as you leave heavy-handed facial reconstruction to make-up artists and drag queens (whose mastery of contouring is a true art form), tricks of light and shade can be flattering if used cautiously to enhance subtly. "Subtly is the keyword here!" agrees Carly Utting, National Artist at MAC. "This doesn't need to be a complicated paint by numbers process, but done right, contouring is suitable for any age and any level of experience."
Which products are best to contour with?
As with any make-up, from nude lipstick to the best mascara, learning how to contour make-up begins with picking the right formula and texture of the product.
"There are many products that can be used for contouring, from creams to powders to liquids, but by far the easiest and most foolproof product is a powder," explains Carly.
"Powders are easier to apply with softer results, meaning you can gently build and apply in layers until you reach your desired effect. For highlighting, you would need products that are lighter than your skin tone and contain a reflective ingredient. Products such as MAC Strobe Cream are the perfect partner to a contour."
"Personally, I like to mix and match the products I use to contour, depending on the look I want to create," says Kirstie. "If you are new to contouring, I would suggest lightly bronzing the skin first and then building up to more traditional contouring. Charlotte's award-winning Airbrush Bronzer is so easy to use and creates a beautiful sun-kissed look to the skin. It's infused with hyaluronic acid, too, so it hydrates the skin while you wear."
"A lot of people struggle with cream contour as it can take a little more blending, but the result is a natural defined look," explains Aimee. "Powders can be quicker to apply, and they can work better for those who have oilier skin. Our Full Face Edit has everything you need from powder bronzer and highlight to cream blush, and it's totally okay to mix and match too."
"Picking the right tools and brushes is crucial too," she explains. "Using a larger brush will give a more diffused, bronzed look, and using a smaller cheek brush will give a more defined, sculpted look. It's really just down to preference. Less is definitely more, so start lightly with small amounts of product and build it up if necessary."
How to pick the right shades for contouring
Often when we see bad contouring, it comes down the using the wrong shade. Treat matching your contour product like finding a perfect foundation match, and you can avoid those muddy greyish cheekbones we've probably all spotted once or twice.
"Generally speaking, a contour is hollowing or pushing back an area of the face, therefore creating a shadow," explains Carly. "If you suck in your cheeks, the hollow that creates is the shade you are looking for to give you the most natural-looking contour."
"Charlotte has always taught us the rule is to pick a shade that is two shades darker than your foundation," says Kirstie. "Do keep in mind your skin's undertone too – if you are warm, you should use a shade with warm tones, and if you are fair, try tones that are cooler to complement your skin."
Aimee agrees that shade and undertone are crucial for highlighting. "If highlighting with cream concealer, choose a shade that is at least one shade lighter than your base. When using powder highlighters, choose a shade you feel comfortable in, but as guidance rose gold and pearlescent tones work well for light-medium skin, and golden or peachy tones look amazing on medium-dark skin."
How to contour - by the experts
Ready to take a shot at learning how to contour make-up? It's a technique best explained by the experts, so I asked three make-up artists for their best contouring tips.
Kirstie Murphy, Team Tilbury Pro Artist
"Charlotte always says, follow the hollow! To start, suck in your cheeks and apply your contour following the natural hollow upwards towards the hairline. When contouring, always blend upwards and outwards to create a lifting effect. I like to add a little contour close to my hairline and temples to create balance; you can also contour your jawline for more definition.
"My top tip is to hold your brush lightly and don't apply too much pressure. Always remember to blend, blend, blend! If you find your contour has gone too low, use your concealer or foundation to clean up any mistakes."
Aimee Connolly, founder of Sculpted by Aimee cosmetics and Make-up Academy
"Start by using circular motions to apply a small amount of bronzer under the cheekbones. Start from the top of the ear, and follow the hollows of your face.
"To finish, sweep whatever is left on the brush around the cheek to give a more lifted, blended look. Use the same bronzer shade to add warmth around the forehead and down each side of the nose – remember, less is definitely more!"
Carly Utting, National Artist at MAC
"Look at where you want to contour — there are so many potential areas, from cheekbones to slim the face, the sides of the nose, to under the chin to softly chisel the jaw. Use a soft small brush to apply your contour, such as MAC 109 contour brush, which has a perfectly shaped dome head that hugs cheekbones to perfection.
"Don't forget to highlight! If you're pushing areas of the face back to create a contour, highlighting or bringing forward the higher areas of the face, such as cheekbones, Cupid's bow and eyelid, will help those contoured areas appear further back."