Best mascara: our favorite formulas for the fluffiest, sexiest lashes yet
Our pick of the best mascara formulas—from curling to waterproof—to help you get your longest, fullest, most defined lashes ever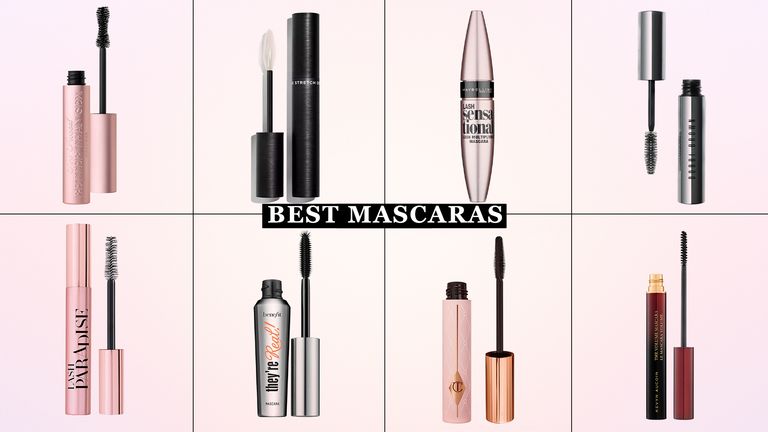 (Image credit: Future)
Finding the best mascara isn't as simple as just picking the one with the prettiest packaging and hoping for the best. Of course, there are those that work for most people, but with factors like short lashes and eye sensitivity to consider, as well as the different looks or concerns you might wish to address, it's worth doing some research and considering your options.
We all know that the best mascaras should be able to make it through any unexpected inconvenience that hits you throughout the day—from sweaty midday errands, an unpredicted city storm, that sudden onset of the waterworks during an all-too-emotional TV commercial, the list goes on. (Not that we advocate wearing makeup while you're exercising, but hey, you do you.) If it can make it through a workout, then it's a definite must-have.
To be sure that our favorites really did go the distance, during testing we wore each for about 12-14 hours a day to see how they stood up against each other. We also gave them a little smudge here and there to determine the real flake-free claims from the bogus ones and we might have even made it to the gym once or twice.
Much like the best foundation, the best mascaras should do a little bit of everything —and do it well. We think Too Faced Better Than Sex makes a great all-rounder, thanks to its multi-functional brush that delivers a naturally defined, lengthened flutter with the potential for dramatic layering when volume is desired. We also love the luxe look and feel of Chanel Le Volume Stretch, which comes with a fancy flexible 3D-printed brush. For those all about bang for their buck, Maybelline Lash Sensational does an amazing job at competing with the big guns, without breaking the bank.
How to choose the best mascara for you
The first thing to take into consideration is your lash type, as different formulas work better with certain types of lashes.
"If you have fine lashes, you want a volumizing, buildable formula that will give a fuller look that you can customize," says Bobbi Brown Senior PRO Artist, Warren Dowdall. "If you have fuller, thicker lashes, go for a good all-rounder mascara, as going for heavier, false-lash formulas can weigh down the lashes and make them droop. When lashes are shorter, using two mascara types can be beneficial sometimes. Apply a lengthening mascara first, then build up the volume and thickness with a coat or two of a more volumizing formula."
It can also be beneficial to layer up your favorite formulas. If you find something that gives you the length you've spent years looking for, but that doesn't pack on the volume (or vice versa), swipe on a coat of the best lengthening mascara you can find before loading them up with the more dramatic pick. Bonus points if the top layer is waterproof!
The best mascara formulas, as reviewed by our experts
1. Too Faced Better Than Sex Mascara
Best overall mascara
Specifications
RRP: $27/£24
Waterproof version available: Yes
Shades: Black
Mini version available: Yes
Extra features: Hourglass-shaped brush, nourishing acacia extract
Reasons to buy
+Mess-free and easy-to-use brush+Silky formula+Dramatic length, volume, and curl without clumping+Staying power
Reasons to avoid
-Brush is slightly thick
When a product comes with endorsements like this attention-grabbing name—as well as its one-time position as the top-selling mascara in the world—you know Too Faced Better Than Sex Mascara indeed boasts something special (and worth a test drive!). If the striking tube doesn't convince you of the robust formula inside, perhaps the plump, curvy brush will give you an idea of just how remarkable this long-lasting, compliment-inducing formulation is.
Its multi-functioning but uncomplicated brush lets you create a lengthened, separated, and bedroom-worthy flutter with just one swipe, while each additional coat packs on a mega dose of volume, so you can create diverse looks with just one product. The long-lasting and non-budging formula also cares for lashes with its infusion of acacia senegal gum extract, leaving lashes soft and nourished after use. It definitely lives up to the name, no matter how thrilling your dalliances.
See our full Too Faced Better Than Sex mascara review
---
2. Chanel Le Volume Stretch
Best luxury mascara
Specifications
RRP: $35/£30
Waterproof version available: No
Shades: Black
Mini version available: No
Extra features: Flexible 3D-printed comb wand, nourishing jojoba extracts
Reasons to buy
+Easy to apply+Fluttery length, volume, and curl
Reasons to avoid
-Hold doesn't last
If there's any premium brand sure to deliver the goods, it's Chanel—and the Chanel Le Volume Stretch offering definitely doesn't disappoint. With a super-luxe look and feel, thanks to the chic black matte tube with a silky thread-like woven texture, this mascara's packaging tells you that you're using something special from the moment you pick it up.
A unique hollow convex 3D-printed brush catches all lashes—even the tricky corner areas—and has a flexibility that allows for seamless application without any mess.
What's more, this best mascara contender does what it says when it comes to the formula: with jojoba extracts to nourish, it stretches lashes to the max. The sky-high hold doesn't last all day, though, so a quick midday touch-up definitely helps extend the results a little bit longer.
---
3. Maybelline Lash Sensational
Best budget mascara
Specifications
RRP: $9.99/£7
Waterproof version available: Yes
Shades: Midnight Black, Blackest Black, Very Black, Brown Black,
Mini version available: No
Extra features: Layer-Reveal brush
Reasons to buy
+Wide, curved, and flexible comb wand+Lash-multiplying look+Feathery finish
Reasons to avoid
-Cheap packaging-Not much volume-Some drooping and flaking
Maybelline Lash Sensational is a budget mascara that has made its name as one of Amazon's bestselling beauty products, so it's no wonder that it's among our roundup of the best drugstore mascaras.
With a lash-multiplying effect that hinges on its signature Layer-Reveal brush, this drugstore buy will give you lashes worthy of most high-end picks. It gives you a feathery, lengthened, and defined fanned-out look with a delicate curl, which could almost pass for a natural flutter from the very first swipe. And with each further coat adding a micro-dose of volume, that pretty look is cemented.
This best mascara pick doesn't have the most luxurious packaging (hence the low price) and you don't get the biggest hit of drama but, if the latter is what you're aiming to achieve, you could always pair it with a volumizing lash primer—you'll definitely have a winner on your hands then.
See our full Maybelline Lash Sensational review
---
4. Bobbi Brown No Smudge Mascara
Best waterproof mascara
Specifications
RRP: $32/£23
Mini version available: No
Waterproof version available: Yes
Shades: Black
Extra features: No-clump brush, kaolin clay
Reasons to buy
+Good definition and length without any clumping+Strong curl hold+No smudging or flaking+Very waterproof
Reasons to avoid
-Could be more volumizing
We were expecting a lot from Bobbi Brown No Smudge Mascara, a high-end contender that claims to be a "raincoat for lashes"—and wow, did it deliver!
Not only did it define and lengthen lashes but—thanks to the impenetrable waterproof barrier—it was also one of the best mascara picks when it came to holding a curl in place. We saw no smudging or flaking even after a long day of wear—in fact, it was almost too resilient when it came to bedtime. It wasn't the most volumizing, but would make a great top coat to layer over one of our more dramatic picks. Just make sure you know how to remove waterproof mascara properly, and you're golden.
---
5. L'Oréal Paris Lash Paradise
Best mascara for sensitive eyes
Specifications
RRP: $10.95/£12
Waterproof version available: Yes
Shades: Blackest Black, Black, Black Brown
Mini version available: No
Extra features: Suitable for sensitive eyes, infused with castor oil
Reasons to buy
+Gentle formula +Soft brush that doesn't cause irritation+Lifts lashes, holds curl+Pretty, fanned-out look
Reasons to avoid
-Some under-eye smudging and flaking -Tip of brush is awkwardly bulky
This best mascara budget buy has famously been compared to our favorite Too Faced Better Than Sex mascara, and we can see why. L'Oréal Paris Lash Paradise not only looks the part but it also plays the part: easy application, staggering volume, and a fanned-out finish.
This purse-friendly option will give you it all—length, definition, volume, and sometimes a little bit of curl thrown in for good measure. It lifts lashes and holds curl relatively well, while giving you the kind of consistent definition you would expect to achieve with a comb wand, without having to actually endure using one.
We also love the thick, fanned-out look that you get without any clumping, no matter how many layers you slap on. It's definitely one of the best mascaras for sensitive eyes we've come across, as it imparts volume, definition, and feathering all in one gentler, sensitive formula.
See our full L'Oréal Paris Lash Paradise review
---
6. Benefit They're Real!
Best smudge-proof mascara
Specifications
RRP: $26/£19
Waterproof version available: No
Shades: Black
Mini version available: Yes
Extra features: Unique crown tip
Reasons to buy
+Length and definition+Fluttery outer lashes+Flake-free and very resilient
Reasons to avoid
-Tough and awkward comb wand-Not as much lift and volume as expected
Not only does Benefit They're Real! mascara boast eye-catching packaging that stands out in our makeup bags, but it also has an almost excessively long-wearing formula that leaves lashes soft and springy without drying them out (and honestly, takes some serious elbow grease to remove).
If it's length, definition, and flutter you're after, then They're Real! is a winner. It's impactful, drawing attention to even the shortest and stubbiest of lashes—guaranteed to get friends asking you where you get your lashes done.
It's not the most volumizing, even after applying a few layers, so probably not the one to choose if you're looking for drama. It also doesn't quite lift inner lashes as much as we would have liked—even after using an eyelash curler, they do droop slightly after applying the product, so you could find yourself having to reach for it again to re-curl after application. If you do this, be sure to wait until lashes have properly dried first to avoid any clumping, sticking, or breakage; after all, this long-lasting bestseller does have quite the staying power.
See our full Benefit They're Real! review
---
7. Benefit BADgal Bang!
Best mascara for length
Specifications
RRP: $26/£19
Waterproof version available: Yes
Mini version available: Yes
Shades: Black, Blue
Extra features: Tapered comb wand
Reasons to buy
+Unique wand for straightforward and painless application+Sexy, fanned-out, and fluttery look+Long-lasting, smudge-free+Vitamin-infused for lash health
Reasons to avoid
-Not as much volume as we would like-Pretty stubborn to remove
Boasting a formula that contains super-light, aero-particles for mega volume with zero heaviness, Benefit BADgal Bang! is everything we love about cult favorite They're Real! but with the volume turned way up.
Unlike many other mascaras that see lashes droop under the weight of a heavy formula, BADgal BANG!'s aero-particles give lashes truly gravity-defying powers with a lift to write home about.
This stretches every millimeter out of your natural lashes with a gravity-defying formula. Lashes are even, defined, and fanned out, with a fluttery look worthy of a Disney princess, with the length definitely giving the famous They're Real! a run for its money. One thing, though, is that it doesn't give the voluminous effect we were expecting, even after a few coats. So while it's great at lengthening, if it's volume you're looking for, we would suggest applying this as a first layer underneath something a bit thicker, or just saving it for days when you want a sultry, bedroom-eye effect.
See our full Benefit BADgal Bang! review
---
8. Charlotte Tilbury Pillow Talk Push Up Lashes!
Best mascara for volume
Specifications
RRP: $29/£23
Waterproof version available: No
Shades: Black
Mini version available: Yes
Extra features: Strengthening keratin
Reasons to buy
+Gorgeous packaging+Lots of volume+Length, definition, and curl
Reasons to avoid
-Slightly awkward brush-Not as much lift as we'd like
Charlotte Tilbury's Pillow Talk range has become a cult favorite, so we were expecting big things from Charlotte Tilbury Pillow Talk Push Up Lashes!. We have to say, we weren't disappointed—it ended up being one of our favorite inclusions in the best mascara edit.
It delivered length, definition, curl, and a big dose of clump-free volume in just a couple of coats, thanks to its stretch formula that uses natural waxes to create layers of lightweight volume. We also love how it nourishes lashes with strengthening keratin during wear, and how the intense black color leaves you with something of an eyeliner-like effect.
The brush was slightly tricky to use, however. After a couple of uses (and digging out the instructions), you'll get the hang of it. With its "push-up" claims, we did expect this mascara to give a little more lift, but a midday eyelash curler touch-up managed to fix this. Wear it with your best eyeliner for an extra impactful look.
---
9. Dior Diorshow Iconic Overcurl
Best mascara for curl
Specifications
RRP: $29.50/£26
Waterproof version available: Yes
Mini version available: No
Shades: Black, Brown, Blue, Iconic Sequins (limited edition glitter finish)
Reasons to buy
+Easy-to-use and comfortable brush+Stretches and defines lashes while delivering clump-free volume+Holds curl all day+Smudge- and flake-free
We almost can't think of anything negative to say about Dior's Diorshow Iconic Overcurl. A pleasure to apply, it comes with a lovely soft brush that doesn't scratch or hold awkwardly at all, and the pliable formula graces the wand with just the right amount to coat lashes without creating a big, goopy mess.
It lifted and lengthened lashes, holding the curl in place seamlessly, while depositing an enviable dose of volume on each lash. And, for extra drama, it layered smoothly without any clumps, leaving us with more than one excuse to take one too many selfies. Curl is just the icing on the cake with this all-around superstar.
---
10. Kevyn Aucoin The Volume Mascara
Best mascara for short lashes
Specifications
RRP: $28/£22
Waterproof version available: No
Shades: Black
Mini version available: No
Extra features: Thin brush, hydrating jojoba oil
Reasons to buy
+Small brush makes for easy application+Smudge- and flake-free+Nourishes for soft lashes
Reasons to avoid
-Some clumping when layering
For those of us with short lashes, it can feel like a bit of a challenge to find a quality mascara that gets right into the root of your lashes to give you the length you need, along with some drama. Enter: Kevyn Aucoin The Volume Mascara. This volumizing marvel comes with the tiniest brush that will give those with shorter lashes more control over their styling, while bestowing length and drama onto your peepers.
The glossy formula glides onto lashes right from the roots, without leaving any mess; just a couple of swipes will give all of your lashes a feathery, fanned-out look. We did notice a little bit of clumping between layers so we wouldn't do apply many coats, but the formula is long-lasting and you won't notice any smudging or flaking at the end of the day. But beware: don't opt for any fancy cleansers when trying to remove this one, as it does scrape off in clumps when you try to dissolve it (not ideal for those crisp white pillowcases). All you need is a little bit of warm water—it should wash away painlessly.
---
11. Glossier Lash Slick
Best mascara for a natural look
Specifications
RRP: $16/£12
Mini version available: No
Shades: Black
Extra features: Water-resistant, suitable for sensitive eyes, tapered comb wand, biotin-infused
Reasons to buy
+Super lengthening+Defines and separates for a natural flutter+Smudge- and flake-free, but removes easily
Reasons to avoid
-Minimal volume
Anything released by Glossier is somehow immediately swept up and devoured by beauty fans—and it was no different with this Glossier Lash Slick. A product that keeps the makeup experts going back again and again, this sculpting mascara comes with a tapered wand that reaches even the most stubborn of roots on the lash line without leaving any mess behind.
In just one swipe, it gives a false-lash look; its stretched lash length, subtle curl, and gravity-defying lift actually does last all day. Rather than being waterproof, the formula is water-resistant, meaning that it can be easily washed off with a good cleanser, but still manages to make it through a full day without any flaking or smudging. It's also infused with vegan biotin which helps strengthen lashes, making it like a serum and mascara in one.
It's not one for anyone who wants volume but, whatever your lash type, this will give a gorgeous, natural-looking flutter.
---
12. Maybelline New York The Falsies Volum Express Mascara
Best mascara for a fanned out effect
Specifications
RRP: $6.99/£14.50
Waterproof version available: Yes
Shades: Blackest Black, Very Black, Brownish Black
Mini version available: No
Extra features: Flexible wand, ophthalmologist tested, Kera-fiber no clump formula.
Reasons to buy
+Fanned out look +Lifting effect +Easy to use
Reasons to avoid
-Tube dries out quite quickly
Need something to make you look more awake? This mascara is bound to help even the sleepiest faces feel alive. The wand has a beautiful curve, which means applying the product is easy and the result is a perfectly separated lash that fans out hairs and increases the length tenfold.
And you'd be hard-pressed to make a mess with the wand as its shape follows the line of your lashes, but if you do make any marks, they're easy to remove as the product creates such a uniformed separated lash. The name goes heavy on the promise of volume, but we'd say you need to layer on three coats to achieve that. Some formulations would be unhappy with so much building and start to clog but this doesn't bobble at the ends, and it is content with a few extra lashings.
It does last all day, but the lift starts to diminish after about four hours, so if you need more staying power it might be worth opting for the waterproof version. The splashproof formula has the same effect on lash hair and managed to withstand a rainy run. One sad thing about it is that we found that we needed to buy a new one a little quicker than expected. However, we were using it a lot, so this could have been the cause.
---
13. Missguided Real Thicc Lash Mega Volume Mascara
Best mascara for day
Specifications
RRP: $16/£10
Waterproof version available: No
Shades: Black Lash
Mini version available: No
Extra features: Ophthalmologist tested, suitable for contact lens wearers, vegan,
Reasons to buy
+A great everyday mascara+Easy to apply +Doesn't spit on the skin+Keeps lashes looking and feeling soft +Lasts all day
Reasons to avoid
-Needs a few coats to take effect-Doesn't give 'mega volume'
If you're after a failsafe mascara that you can whip out and whack on, then this is it. The formula glides onto the lashes and separates the hairs so they stand to attention, plus the pigment is dark enough without being overtly strong. However, we must note that this product is a bit too much with its 'mega volume' claims. And the finished effect is quite natural yet enhanced. But to be honest, we don't always want our eyes to be so 'look at me' and its toned-down effect is precisely why we like it.
Unless you have a very full and voluminous lash line, then you'll want to apply at least two coats (three if you want to amp things up a little). The formula doesn't splatter or clump, meaning there are no issues brushing it on. And once dry the hairs are soft to touch, so the lashes feel lightweight and in no way overloaded. Wondering if it lasts? We had no issues, and our lashes stayed in place without flaking until we were ready for bed. If your hairs sit on the straighter side, we'd suggest using a curler first as this really compliments the look, but if your long lashes tend to touch the skin above your eyes, then we'd leave this step out as the definition will be enough.
---
14. Max Factor Divine Lashes Mascara
Best mascara for a feathered effect
Specifications
RRP: $16.60/£11.99
Waterproof version available: Yes
Shades: Black, Black Brown
Mini version available: No
Extra features: Creamy whipped formula, ophthalmologically tested, suitable for contact wearers, contains panthenol
Reasons to buy
+Feathered fluttery effect+Doesn't flake+Increases volume and lift +Doesn't splatter+Separates the lashes evenly
Reasons to avoid
-Too much product on the brush
Like most beauty products, what mascara you like can be down to a personal preference. However, we all agree that this one will be a winner for most. Possibly not for those with smaller eyes, as the brush is relatively large, but if you can handle a bigger wand, the effect you receive is deliciously fluttery and full.
We must admit the brush itself set us on the back foot as it was overloaded with product, and we immediately thought it would cake and overcoat the lashes. But with a little swish at the top of the tube, we removed the excess and were pleasantly proved wrong. Many mascaras like to claim that they increase volume, but this one actually does it, and lashes look instantly maximized. It's also a reliable tool to have when you're in a hurry as it manages to lift and support straighter lashes, meaning you don't have to reach for your curlers.
There was also no clumping, spitting, flaking, or smudging. We even applied another layer later in the day, and our lashes were effortlessly transformed from day to night. To be honest, there's not much we can fault with this mascara other than the excess of formula that needs to be wiped away (which could cause the opening to clog up in time), but all in all, it's secured a top spot with us.
---
15. L'Oreal Paris Air Volume Mega Mascara
Best mascara for nights out
Specifications
RRP: $13.99/£7.99
Waterproof version available: Yes
Shades: Black
Mini version available: No
Extra features: Soft cushioned brush, hypoallergenic
Reasons to buy
+Increases volume+Very dark black pigment +Pretty packaging +Long-lasting
Reasons to avoid
-Splatters a little on the skin-Hard to apply to the lower lashes
Want to achieve a false lash effect without stepping anywhere near a tube of fiddly glue? Then this mascara is for you.
Perfect for evening events, the rich pigment instantly adds drama to your lash line. Even with one coat your eyes are immediately defined and lashes appear thicker, darker and fuller. A second application is all you need and it lifts the hairs like nothing else we've seen. The brush isn't the most elegant we've used and there's quite a lot of product that either splatters on the skin or needs scraping off before you apply it. But if you're saving it for dinner dates, parties, or whatever you get up to at night, then we'd say the payoff is worth the time you need to put in for a clear up.
It's a powerful product, so go steady when applying and be careful with your coatings, as too many could cause your lashes to look spidery and start to stick together. We'd also advise that the little splattering of black does mean it's worth popping this mascara on before your base. That way, you're not smudging black spots into perfectly concealed skin.
---
16. Rimmel Wonder'Extension Mascara
Best mascara for long defined lashes
Specifications
RRP: $9.79/£9.99
Waterproof version available: No
Shades: Brown Black, Extreme Black
Mini version available: No
Extra features: Patented FullStretch™ technology, contains polymers
Reasons to buy
+Doesn't flake+Beautiful packaging
Reasons to avoid
-Spits on to skin -Doesn't add volume
This innovative mascara was made for those of us who have a lot of lashes but are lacking in length. The formula somehow sticks to your original hairs, extending them up and out. Its unique texture is almost glue-like, which admittedly takes some getting used to, but once you're au fait with it, then you'll understand its purpose. And boy, oh boy, does it do what it promises.
If you get in a panic because you've overloaded on product, the spiky wand really grips to the lashes and separates any clumping with the tiniest of wiggles. We love the tapered brush as it is brilliant at getting into every corner. But you do have to be careful when applying as the formula is quite wet and has a tendency to splatter. We must say this mascara had our testing team completely divided on opinion. Some found the effect too spidery and sharp for their liking, but those who already had a fair number of hairs were obsessed with the result. So, the decision lies with you.
---
17. Ilia Fullest Volumizing Mascara
Best clean mascara
Specifications
RRP: $28/£28
Waterproof version available: No
Shades: Classic Black
Mini version available: Yes
Extra features: Argininine, Provitamin B5, weightless wax blend
Reasons to buy
+Clean+Fragrance-, silicone-, and cruelty-free+Ophthalmologist-tested; safe for contact lens wearers+Lightwearing volumizing formula that gives a super pretty flutter
Reasons to avoid
-Not as smudge-proof as we'd like-Formula a bit too wet-Brush takes a lot of product at once
We'd like to think that at this stage in the game we're a bit skeptical of any viral hype, but this latest offering from disruptor Ilia has us eating our words. Fullest Volumizing Mascara provides just that perfect amount of fluffy separation and flirty flutter that easily made us want to rethink any pending lash extension appointments for the near future.
Fans of their best-selling Limitless Lash might find it a bit tricky to adjust to the new, decidedly heftier brush in Fullest Volumizing ("violin-shaped," they say), and admittedly it took us a few tries to make sure we didn't smudge on the bottom lashes as we were coating the top ones; it's a bit wider than we're used to. The formula is also silkier than your run-of-the-mill volumizing mascara, which, on the upside, means less flaking, but also needs a bit of dry time in between coats to avoid any smudging (oh, and don't sneeze in between!). Removal is also a breeze with a makeup remover or cleanser.
For a clean mascara, this is one of our faves on the market as it doesn't compromise results. And by results, we mean longer, thicker, clean-looking lashes that live up to viral status.
woman&home thanks Warren Dowdall of Bobbi Brown for his time and expertise.