Which is the best Lancôme mascara? Here are our 6 favorites
Our beauty editor tested each one to narrow down the best Lancôme mascara for every lash look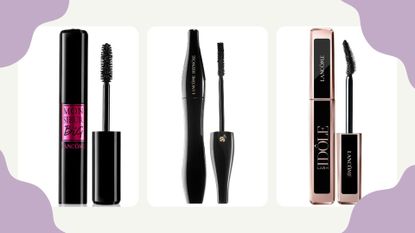 (Image credit: Lancome)
Wondering which is the best Lancôme mascara? You've come to the right place. As a mascara-obsessed beauty editor, I've tested every single one, so I can confidently say that the six picks below are the stand-out best from the brand.
The luxurious French brand is known for creating some of the best mascaras on the market, and because of that, they have a wide range of options. Whether you're trying to pick the best volumizing mascaras, or if you have naturally short lashes and need to find the best lengthening mascara, Lancôme has an option for you.
As someone who generally sticks to drugstore mascaras, I was curious to see how these iconic options, with their slightly higher price points, measured up. Here's how I put them through their paces and narrowed it down to the final selection of favorites.
How we tested the best Lancôme Mascaras
Why you can trust Woman & Home Our expert reviewers spend hours testing and comparing products and services so you can choose the best for you. Find out more about how we test.
Picking the best Lancôme mascara was a thoroughly fun experience - I'm now a real convert to the brand. I received all of the brands' mascaras and tested each one over the course of a few weeks. To make testing fair to each option, I tried each one a couple of times, to make sure I had given each product the full experience of wear. The main points I focused on were:
Ease of application
Wand shape
Comfortability of wear
Longevity
Effort of removal
Just a quick note up top - a big thing I noticed was that not many of the Lancôme mascaras are available in brown, which is something to note if you prefer a natural-looking mascara. If you tend to stick to black tones though, that shouldn't be too off-putting.
The best Lancôme mascaras, ranked by our beauty editor
These are the best Lancôme mascaras, all tried and tested by us. If you're wondering how to choose the best one for you, think about the sort of look you want to achieve. Whether you're after a lengthening mascara, one that helps curl your lashes or a more natural formula, we've labeled what each mascara is best for, to help you decide.
1. Lancome Hypnôse Mascara
Best overall Lancôme mascara
Specifications
RRP: $33 / £28.50
Waterproof available: Yes
Features: Mini available, SoftSculpt™ formula to soften and nourish lashes, suitable for sensitive eyes and contact wearers
Reasons to buy
+
Celebrity and MUA favorite
+
Adds length with very little effort
+
Doesn't smudge
+
Easy to remove
Reasons to avoid
-
None, it's pretty perfect
This has been one of those products that I've heard countless celebs, MUAs and Beauty Editor friends talk about for years, to the point that it started to sound a bit like white noise. I'm guilty of delaying trying things everyone's talking about - a super stubborn habit. I'm always the last one to watch that binge-worthy TV series and often find myself watching those big Oscar-winning films 5-10 years after their release.
Anyway, having not used this for years I was quite wowed by the results. It shouldn't be surprising, considering its stellar reputation, but I'm always impressed when products actually, fully live up to the hype.
From the first test, almost immediately and with very little effort I had super lengthened, slick lashes. It was a dream to apply - truly effortless, and not a clump in sight. The same result occurred with the second and third testing, where it snuck a place in my permanent makeup bag (no mean feat for this clutter-averse beauty editor). It's absolutely the best Lancôme mascara, and maybe even one of the best mascaras on the market full stop.
2. Lancome Lash Idôle Mascara
Best curling Lancôme mascara
Specifications
RRP: $30 / £24
Waterproof available: Yes
Features: Curved brush to curl lashes, 24h wear, easy removal
Reasons to buy
+
Curls impressively easily
+
Designed not to clump
+
Long-wearing but still comfortable
+
Very easy to remove
Reasons to avoid
-
More designed for curls than volume (if we're being VERY picky)
This was a very (very) close second to Hypnose as the best Lancôme mascara overall, and truly there's a case for them both being joint winners, but I had to be extra picky to pick just one winner. It's a tough job, but someone has to do it.
Anyway, this is an absolutely brilliant curling mascara, thanks to the curved silicone wand. My lashes were pushed up with minimal effort, and the tiny bristles grabbed every lash to create a fanned-out, open-eye effect. The petite brush also means it's perfect for applying to lower lashes. It didn't smudge or clump - even when I went a bit ham layering on more later in the day. This is the ideal pick if you have long, straight lashes but I think it's a brilliant all-rounder even if you don't - I'm genuinely so impressed by it.
Beauty Editor Stephanie is similarly evangelical in her Lancôme Lash idole review.
3. Lancome Monsieur Big Mascara
Best Lancôme mascara for volume
Specifications
RRP: $30 / £23
Waterproof available: Yes
Features: Different bristle sizes, suitable for sensitive eyes, ultra black color
Reasons to buy
+
Builds volume quickly
+
Spaced-out bristles means it won't clump easily
+
Responds well to layering later in the day
Reasons to avoid
-
The chunky brush may smudge on some
The USP for this one is big, dramatic lashes, and with a bit of wangling, that's exactly the result you get.
The chunky brush combined with quite a wet formula (that annoying 'new mascara' trait) made the initial testing a little messy - although I will admit I was being quite haphazard on my first testing. But, once the formula had dried out a bit it had better hold, provided impressive volume, and smudged much less. It didn't even clump when I was adding a few extra layers hours after the first application - and I can't say the same for many other bestselling mascaras.
If you want quick volume and dramatic lashes, this is the best Lancôme mascara for the job.
4. Lancome Défincils High Definition Mascara
Best natural-looking Lancôme mascara
Specifications
RRP: $33 / £26
Waterproof available: Yes
Features: Grooved bristles to evenly distribute, precise brush
Reasons to buy
+
Great for everyday wear
+
Comfortable to wear and soft
+
Separates easily
Reasons to avoid
-
Some will prefer a bigger brush
The Defincils mascara is - as you'd imagine, based on its name - designed to define lashes, rather than give full-blown volume or length. Because of this, it's a much smaller brush than others on this list, but it makes it an ideal natural-looking mascara for those more low-key makeup days.
Don't be put off by the smaller brush - this means you can give a really precise application, and you'll be surprised how efficient this is. Just a few coats lead to nicely separated, defined lashes that paired nicely with nude lipstick and a sheer base. During one test I actually forgot I was wearing this and hopped into the shower - my eyes were a little panda-y, but one quick sweep of micellar water and it was totally cleared. Easy, breezy removal - we love to see it.
If you're volume-hungry, you may not love this, but I'd say it's the best Lancôme mascara for easy, everyday wear.
5. Lancôme Grandiôse Mascara
Best multitasking Lancôme mascara
Specifications
RRP: $32 / £29
Waterproof available: Yes
Features: 'Swan neck' shape, long-wearing, 360 degree coating, rose cell extract to nourish
Reasons to buy
+
Innovative brush
+
Easy to achieve volume and length
+
Didn't smudge even with rigorous testing
Reasons to avoid
-
Some may find the brush fiddly
Is it tragic to admit that I said 'oooh' (out loud, to no one) when I first twisted this mascara open? I almost certainly need to get out more, but when you've written about as many mascaras as I have, something as surface-level minor as a twisted wand is enough to inspire a little 'oooh'.
The brush in question is designed to grab even the tiniest, stubbiest of lashes, fanning them out while lifting and coating lashes. Very intriguing, and - having tested this a handful of times - very smart. The bend in the brush means you can get really close to the lash line and grab each one from the root, pushing them up and out with very little effort. It's also the perfect shape and size for bottom lashes, which is always a nice little bonus. It does a bit of everything, making this the best Lancôme mascara if you don't want to pick between volume, curl, and length. I wanted to love this, and luckily - I do.
6. Lancôme Le 8 Hypnôse Serum-Infused Volumizing Mascara
Best lash-nourishing Lancôme mascara
Specifications
RRP: $33 / £32
Waterproof available: No
Features: Figure of 8 shaped brush, glass packaging, amino acids to nourish lashes
Reasons to buy
+
Striking, luxe-looking packaging
+
Kind to lashes
+
Volumizing and lengthening
Reasons to avoid
-
The serum makes the formula a little wet
With this being such a big tube I was surprised by how small the wand actually is IRL. Seriously - it feels heavy and quite massive, especially, compared to my other, everyday mascaras.
The petite brush is not a bad thing, it makes it a good option for building up volume and adding definition. The main selling point of this pick is the inclusion of amino acids and shea butter balm, designed to deeply nourish lashes, helping to strengthen and protect those delicate little hairs. This makes this the best Lancôme mascara pick if you're keen to combine mascara with eyelash growth serums, or if your lashes are sparse.
The slight downside to the serum is that it makes the formula a little bit smudgy and wet on the first application. This is also the only mascara on this list that I'd recommend using alongside an eyelash curler - to gift better lift and hold. If you don't mind that, you'll love this.
Rhiannon Derbyshire is the Senior Beauty Editor for Woman & Home and other publications.
She started interning for glossy magazines while working alongside her Fashion Journalism degree. There, she was lured to the beauty desk, seduced by matte lipsticks, posh shampoos, and every skincare product imaginable. 10+ years into her career, she can confidently tell you why the best mascaras are always high street, and why SPF is a non-negotiable all year round. Ask her about her curly hair routine, skincare minimalism, and how to find the exact right red lipstick