11 of the best brown mascaras for easy, flattering lash looks
Our experts trial the best brown mascaras that offer subtle flutter for everyday wear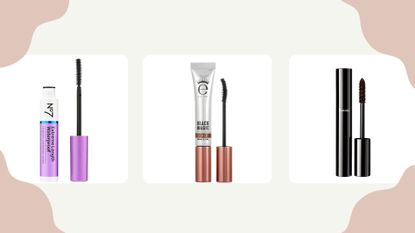 (Image credit: Canva)
The best brown mascara could be a real game-changer for your makeup routine. Previously considered the less-popular little sister to traditional black formulas, brown mascara is having a serious beauty moment.
Once upon a time it was pretty much a given that the best mascara would be a black one. But sometimes the smallest tweaks can have the biggest impact, and according to many TikTok users (7.1 million and counting), swapping to brown can give a more flattering finish. Of the two shades, brown is always going to create a more natural look because it's softer and less obvious – especially for those with fairer lashes. But darker lashes can benefit too. "If you have naturally dark lashes, or if you get your lashes tinted then the only thing brown mascara can't do is intensify your lashes even more," says Makeup Artist Georgia Rose (opens in new tab). "But it's still a great option for adding volume and length."
"Brown mascara goes with so many looks. There's a misconception that you can't wear it with a smoky eye but I think it's absolutely ideal if you're creating a smoky with copper, or deep green and navy shades" says makeup artist Paulina Siembor (opens in new tab). A sentiment that Rose shares. "I love to pair a dark brown with a smoky eye but I also think brown mascara is great for anyone who wants a more natural lash look. Brown mascara is probably more versatile than black in that way."
How we selected the best brown mascaras
Why you can trust Woman & Home Our expert reviewers spend hours testing and comparing products and services so you can choose the best for you. Find out more about how we test.
This is one area where the brown vs black mascara debate finds common ground, as finding the best brown mascara comes down to exactly the same factors as black. We tested and assessed these products on:
Ingredients and packaging
Wand shape and style
Ease of application
The finished look on the lashes
Longevity and smudge-proof powers
Ease of removal
We also kept a keen eye on price and value for money - as mascara is one of the beauty product categories where drugstore buys often outperform pricy designer picks. After wearing each mascara for a minimum of one full day, we whittled our selection down to the 11 best brown mascaras for every lash look and budget.
11 of the best brown mascaras, picked by our beauty team
1. Dolce & Gabbana Passioneyes Intense Volume Mascara in Sensual Wood
Best luxury brown mascara
Specifications
RRP: $39/£37
Wand type: Hourglass shaped bristle brush
Waterproof version available?: No
Reasons to buy
+
Beautiful packaging
+
Creamy formula
+
Long wand to help grab all lashes
We know we shouldn't judge products by their packaging, but when they look this good it's really hard not to. Thankfully, we're pleased to say what's inside exceeds the gloriously decadent exterior.
The wand has a unique hourglass shape and what that seems to offer is the ability to lift the inner and outer lashes whilst combing through the middle lashes to create an overall volumized and quite fluffy effect. The formula itself is very creamy and not drying or cakey in the slightest – I wore it all day and it didn't flake or smudge at all. The shade is a light chocolate brown that really works well on fairer lashes. You don't necessarily need to spend this much money to get the best brown mascara, but if your budget affords it, we think it's worth every penny.
2. Rimmel London Kind & Free Clean, Volumising and Conditioning Mascara
Best budget brown mascara
Specifications
RRP: $11/99/£9.99
Wand type: Bristle using 100% bio based fibers
Waterproof version available?: No
Reasons to buy
+
Vegan formula
+
Contains 99% natural ingredients
+
Great price point
This is a true testament to how great drugstore products can also manage to tick some eco-conscious boxes. The formula is vegan-friendly and contains natural ingredients. Plus it's unfragranced, so it will work well as a mascara for sensitive eyes and contact lens wearers. While the packaging isn't recyclable, every product in Rimmel's Kind & Free range uses recycled plastic in the packaging and they have pledged that by 2025, 100% of the packaging will be made from recycled plastic.
The mascara itself has quite a creamy formulation that glides on really easily. And whilst we have put the thin brush as a slight negative, that's only because bigger, chunkier wands create more volume. But what this one does do, and does it brilliantly, is lengthen, separate, and lift. It has a fairly pointy end which also makes it really easy to coat teeny tiny inner lashes that often get missed out. We think this is one of the best brown mascara options for this price point, for sure.
3. Charlotte Tilbury Pillow Talk Push Up Lashes! Mascara in Dream Pop
The best brown mascara for naturally dark lashes
Specifications
RRP: $29/£25
Wand type: Diamond shaped bristles
Waterproof version available?: No
Reasons to buy
+
Unique berry tone
+
Really lifts lashes
+
Contains keratin to strengthen lashes
Reasons to avoid
-
Formula is a little powdery
Unless you've been hiding in a hole for the last few years, Charlotte Tilbury's award-winning Pillow Talk range can't have escaped your notice. What started as one of the most versatile nude lipstick shades that she used on all her A-list clients, has subsequently expanded into the best lip liners on the market, blusher, and now this mascara. It has a very similar tone to the rest of the range with just a bit more brown thrown in to make it work for lashes. It's one of the best brown mascaras to make a visible color difference on darker lashes thanks to that berry undertone.
The brush is quite conical and what that does is fan out the outer lashes whilst lifting the inner lashes all at the same time. The end of the wand is quite pointy which means you can go back in and easily coat any tiny lashes that you may have missed. It's very easy to build up and darker lashes may need two coats whereas fairer lashes may only need one. We loved using this one.
4. Max Factor Masterpiece Divine Lashes in Black Brown
Best lengthening brown mascara
Specifications
RRP: $15.99/£11.99
Wand type: Curved bristle brush
Waterproof version available?: No
Reasons to buy
+
Great price
+
Gorgeous chestnut brown shade
+
Brilliant brush design that grabs every lash
Reasons to avoid
-
Formula is quite mousse-like
If you're coming to the end of your go-to black mascara and wondering how often should you replace your mascara, it may be time to swap to a brown, or this brown specifically. Why? Because Max Factor is renowned for making some of the best drugstore mascaras, and this really does tick all the boxes.
It has a lovely deep brown color that will amplify dark lashes and define fairer lashes. The brush has a slight curve and undulation in it which meant that, on testing, it coated every lash as we combed it through. The packaging is quite simple and practical but then again, do you need it to be anything other than that? Quite simply, it's a great buy that won't let you down.
5. Chanel Le Volume de Chanel in Écorces
Best volumising brown mascara
Specifications
RRP: $35/£31
Wand type: Bristle brush with stacked discs
Waterproof version available: Yes
Reasons to buy
+
Quick-drying formula
+
Really lifts each lash
+
Chic Chanel packaging
The clever people at Chanel designed this mascara wand with bristled discs that are stacked on top of each other in slightly different positions so that, at any given time, a bristle will always touch a lash. This not only means you get 360º mascara coverage but that it makes your lashes look super volumized and full, making it the best volumizing mascara on our list. In fact, we declare, that even those with the finest of lashes will be impressed with how voluptuous they look after a few coats of this.
The shade is quite a rich dark brown which makes it a great choice for when you want a slightly more impactful look with a smoky eye or perfect eyeliner flick. This really proves that you don't have to sacrifice lash drama when using a more natural shade of mascara. If you're looking for the best brown mascara combined with serious volume, look no further.
6. Eyeko Black Magic Mascara in Cocoa Edit
Best curling brown mascara
Specifications
RRP: $26/£19
Wand type: Curved bristle brush
Waterproof version available?: No
Reasons to buy
+
Contains shea butter and keratin
+
Curved brush lifts lashes
+
Tube packaging get maximum product out
Reasons to avoid
-
We found it a little bit clumpy
We're always surprised more mascaras haven't followed Eyeko's lead with their tube packaging, because it means you can squeeze it from the bottom, like a toothpaste tube, and make sure you get every last drop out. Rather than having to twirl and twist the wand around the bottom of a barrel hoping there's some left.
Anyway, onto the mascara. This has a great curved brush that we wiggled into place at the bottom of our lashes and then combed through. As you can imagine, this helps to lift and bend the lashes as it goes – and does so brilliantly. We did find that it can get a tiny bit clumpy, so be careful not to overload the lash with the formula. But as long as you start sparingly this is an excellent choice for lifted lashes without the need to curl.
7. Dior Diorshow Mascara in 798 Brown
Best brown mascara for fluffy lashes
Specifications
RRP: $31/£31
Wand type: Conical bristle brush
Waterproof version available?: Yes
Reasons to buy
+
Grabs tiny lashes
+
Lovely mid-brown shade
+
Gorgeous packaging
Reasons to avoid
-
Slightly powdery formula
Dior mascaras are truly excellent, so if this is in your budget then it's definitely worth your time and money. The brush is conical in shape but unlike others, it has a really chunky base section that helps it create lots of volume and density in lashes – great if yours are quite fine and spindly. The pointy end, as we've already said, meant we could point it towards our eye and coat those tiny inner and shorter bottom lashes that often get overloaded when applying mascara the 'regular' way.
The color of the mascara is a really flattering mid-brown. It's not too cool or too warm or too light or too dark, so it really will work on every lash and eye color. There's no denying this is a pricy pick, but it's also one of the best brown mascara options that's pretty much guaranteed to suit all.
8. Mii Intensifying Lash Lover Nourishing Natural Look Mascara in Brown
Best separating brown mascara
Specifications
RRP: $12.99/£13.50
Wand type: Fine bristle brush
Waterproof version available?: No
Reasons to buy
+
Contains waxes to increase shine
+
Suitable for vegans
+
Smudge-proof
If you're unfamiliar with Mii, they are a brand that are all about enhancing your natural look rather than masking or concealing it and this mascara very much fits into that ethos. It lengthens and defines the lashes you already have without making them look overly volumized or like you're wearing falsies.
Whilst we have put the thinner, smaller wand as a reason you might not like it – it may also be exactly what you're after. This may not be the best brown mascara for mega volume or length, but we found it great for everyday easy makeup looks. You will too if you find putting mascara on shorter, wispier bottom lashes without them clumping and smudging tricky. This manages to coat them without getting in the way. The brown shade has a hazelnut hue to it which will work really well on fair skin or anyone with a bit of red in their hair.
9. Aveda Mosscara in Warm Brown
Best thickening brown mascara
Specifications
RRP: $24/£22.49
Wand type: Thin bristle brush
Waterproof version available?: No
Reasons to buy
+
Contains moss extract to thicken
+
Cruelty-free formulation
+
Fast-drying
Reasons to avoid
-
Slightly powdery formulation
When you think about Aveda you may not think about it being the brand to buy a mascara from. But, when we had it on good authority that their brown mascara was worth giving a whirl, we were intrigued and are now pleased to say we're not disappointed.
It comes with a fairly delicate brush, but the formula packs a seriously thickening punch and seems to deposit product at the bottom of the lashes, making them look fuller but without feeling heavy. The formula was one of the most powdery ones we tried but it was easy to apply and stayed-put all day. We love it when we find an unexpectedly brilliant product from a brand that we already love. A great hidden gem.
10. No7 Extreme Length Waterproof Mascara in Black Brown
Best waterproof brown mascara
Specifications
RRP: $10.99/£12.95
Wand type: Plastic comb
Waterproof version available: Yes
Reasons to buy
+
Waterproof formulation
+
Often on special offer
+
Comb brush de-clumps as it coats
There's a reason this mascara is called 'extreme length' - because that is exactly what it does. In fact, it's one of the best lengthening mascaras we trialed as a part of this search.
The comb brush separates each lash, coating it in mascara as it goes keeping them looking long and defined without a clump in sight. There's something about waterproof mascara formulations that means they are never as creamy and velvety-smooth as non-waterproof versions, and this is very true to that. However, it fulfills its waterproof status brilliantly and after getting caught in a rain shower it hadn't budged a millimeter. A great brown mascara for longevity – and weepy weddings.
11. Beauty Pie Über Volume Boost Velvet Mascara in Brownie
Best brown mascara for nourishing lashes
Specifications
RRP: $30/£28 for non-members, $12/£10 for members
Wand type: Bristle with spiralling fibres
Waterproof version available?: No
Reasons to buy
+
Contains shea butter and vitamin E
+
Great price point (for Beauty Pie members)
+
Wand length gives lots of control
Reasons to avoid
-
If you're not a Beauty Pie member then you can see how much more you're paying
We don't think there's one dud Beauty Pie product, and this fab brown mascara is another example of what a brilliant concept this beauty members club is. Although it is slightly galling to see how much you're paying by not being a member, but that's pretty much the idea.
Now onto the brilliance of the brush. Thanks to its spiraling bristles, every bristle manages to grab a lash and lift it up as you comb it through creating some serious envy-inducing lash length. The formula is creamy and feels really hydrating on the lashes and left our lashes looking long the entire day. If you're a member, this is one of the best brown mascara options out there. If you aren't perhaps it's time to think about signing up?
---
What color eyes should wear brown mascara?
As with all makeup there are never any hard or fast rules, but if you have blue eyes brown mascara will be less intense because it will probably be closer to the color of your natural lashes. Whereas black mascara will definitely make more of an impact.
On the flip-side there are reasons why people with darker eye colors may want to steer clear of brown mascara, even if it is the best brown mascara out there. "Anyone with dark eyes that are framed with naturally full dark lashes may find that brown mascara takes something away from the natural dark beauty of their lashes and black mascara is a better option," says Sebiora.