The 9 best eyelash curlers to lift and lengthen your lashes
The best eyelash curlers will encourage even the straightest lashes to lift and lengthen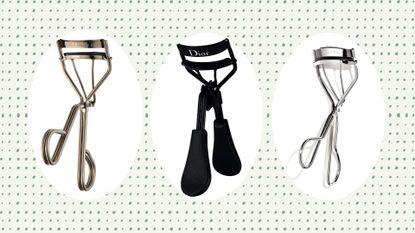 (Image credit: Laura Mercier/Dior/Chanel)
If you have stubbornly straight lashes, then the best eyelash curlers make for an excellent persuasion device.
Eyelash curlers work to make your lashes more visible by squeezing them between two plates (normally made of metal, with one covered with a silicone pad for bounce and spring). The effect is lashes that are more fanned out (just think of how dough expands when squished with a rolling pin) as well as lifted and curled from the point that the plates come into contact with your lashes. By standing them to attention, lashes which previously didn't have any airtime are suddenly visible above the lash line. If you have been diligently applying your best eyelash growth serum every night in the quest for more fluttery lashes, then eyelash curlers are the perfect way to showcase your commitment.
How we tested the best eyelash curlers
Why you can trust Woman & Home Our expert reviewers spend hours testing and comparing products and services so you can choose the best for you. Find out more about how we test.
To make sure our round-up of the best eyelash curlers was entirely reliable, we tested a wide range of tools across a variety of price points. We noted how they made our lashes look both with and without mascara and in the interest of fairness, followed with the same best mascara every time (it was a Lancôme mascara if you're interested). To make our edit, the eyelash curlers had to tick these boxes:
Easy to use: No one wants to be struggling with a fiddly tool when they're bleary-eyed and doing their makeup in the morning. A good pair of lash curlers should be intuitive to use.
Lifts and curls lashes: An obvious one, but an eyelash curler is pretty pointless if it doesn't lift or curl your lashes.
Comfortable: They say beauty is pain, but that's not something we're inclined to agree with. A lash curler should have an even, comfortable squeeze and not tug on the lashes.
The best eyelash curlers, tested by our Beauty Editor
1. Eyeko Eyelash Curlers
Best eyelash curlers on a budget
Reasons to buy
+
Wide shape
+
Affordable price
Reasons to avoid
-
The position of the hinge won't work for all
These are very good eyelash curlers, and even more so when you consider the price. The brushed steel-toned finish makes a change from your classic silver, and they come with the addition of one extra pad. I expected them to feel quite flimsy, but they don't, and they grip well onto the lashes. The surface area of the clamp is quite large, which makes it a bit of a struggle if you have very small eyes, but does mean that you'll be able to capture every lash if your eyes are on the wide side. The only downside was that the back hinge sits at a bit of a funny angle, which means it dug into my cheek when trying to curl my lashes. It's not painful but did restrict me and meant I couldn't get as close to the base of my lashes as I would have liked.
2. Laura Mercier Artist Eyelash Curler
Best eyelash curlers for straight lashes
Reasons to buy
+
Long-lasting curl
+
Easy to get close to the lash line
When chatting to anyone about eyelash curlers (when you're a Beauty Editor this conversation comes up pretty regularly) Laura Mercier is always a name that gets mentioned. What I really liked about these is that the shape of the clamp is flatter than other eyelash curlers on the market, which allowed me to get super close to the lash line. I find that when lash curlers they're too curved this is trickier to do. Because of this, you do need to exercise a little caution – if you're too over-zealous (like me) then it is possible to pinch the skin of your eyelid. The finished effect is much more of a curl than a lift, to the point that my lashes were almost bending back on themselves at the tops. If your lashes are normally stubbornly straight like mine, then this won't be a bad thing, as it means they'll stay upright for longer. The tool to make your best mascara for straight lashes or best mascara for short lashes redundant.
3. Rose Inc Ergonomic Eyelash Curler
Best eyelash curlers for a strong curl
Reasons to buy
+
Create a good curl
+
Intuitive to use
Reasons to avoid
-
Doesn't feel super premium
It wasn't love at first sight for me with these eyelash curlers, proving the point not to judge a book (and/or makeup tool) by its cover. They're quite lightweight and don't feel very substantial, which made me think that that'd be pretty ineffectual when it came to curling my lashes. They stack up where it matters though. Unlike some eyelash curlers which are a bit lopsided, the top metal panel slots perfectly into the center of the silicone pad beneath, which means you can get a fair bit of purchase and really squeeze the lashes. The fact they are lightweight is a plus for popping them in your makeup bag for the on the go too.
4. Tweezerman Classic Lash Curler
Best eyelash curlers for most people
Reasons to buy
+
Comes with three spare pads
+
Can get close to the root
I'm always impressed by how many makeup artists mention Tweezerman when it comes to the best eyelash curlers. In terms of shape and substance, they don't look or feel dissimilar to curlers that are double the price. If you watch carefully at how the curler works, the upper metal section doesn't hit the middle of the pad, it's slightly further back – maybe two-thirds of the way back. This is a good thing, as it allows you to get very close to the root of the lashes to lift them, but it did also mean I gave one of my eyelids an uninvited squeeze too. Going the extra mile when it comes to value for money, these eyelash curlers come with three replacement heads. They come in a handy little plastic pot too, which means that (unlike individual spares) they're less likely to get lost in the depths of your dressing table.
5. Dior Backstage Eyelash Curler
Best eyelash curlers for a natural look
Reasons to buy
+
Good for round eyes
+
Easy to use
Reasons to avoid
-
Doesn't suit all eye shapes
Looks are important when it comes to lash curlers, and Dior has gone against the grain with an all-black look. And instead of needing to loop your fingers through the holes like on a traditional eyelash curler, there are two smooth plastic handles to grip onto. It makes for a slightly more elevated experience and feels generally less fiddly too. As for the curling mechanism, the plates themselves are quite small and curved. I found the first part to be a bonus for my petite peepers, but the second part was a bit of a drawback as my eyes aren't very round – which meant I struggled to capture all of my lashes in the clamp. These certainly lifted my lashes but in a more "oh-I-look-more-awake" kind of way rather than a "wow-have-you-had-a-lash-lift?" level of impact. I'd say they're best suited to anyone looking to enhance an everyday natural makeup look.
6. Chanel Le Recourbe Cils de Chanel Eyelash Curler
Best eyelash curlers for lift
Reasons to buy
+
Long-lasting lift
+
Comes with two replacement pads
Reasons to avoid
-
Creates a dent on the lashes
Owning a pair of Chanel eyelash curlers has always felt like the height of sophistication. They're among the priciest in this round-up, and to an extent, you are paying a premium for the label. But, I have been impressed with their performance too. The design is pretty standard (as is the silver coloring) and it feels satisfyingly substantial without being heavy. I'd say the head is medium-sized, with a shape that would work for the majority of eye shapes. The press is tight and one squeeze was enough to really send my lashes skywards, but I could see the crease where the curler had been (a bit like the corner of an "L"). I personally didn't mind this, as the con was counteracted by the pro of the long-lasting curl – but not everyone will agree. In my opinion, it's the pad that does the majority of the heavy lifting for these eyelash curlers. It's much harder than others I've tried, which allows the metal edge to really press onto the lashes. Luckily it comes with two replacement pads because I don't think it would be as effective with alternatives from other brands.
7. Suqqu Eyelash Curler
Best eyelash curlers for big eyes
Reasons to buy
+
Pretty design
+
Wide clamp
Reasons to avoid
-
Not good for deep set eyes
The Suqqu Eyelash Curler is one of the biggest eyelash curlers on this list both in terms of the size of the head and the tool overall. This makes grabbing on to every single lash easy – especially as it opens up nice and wide too. It might be my favorite tool in terms of appearance (the scalloped sides and curved top are a nice touch) but the added height unfortunately made it quite difficult to use. When I used these as I would any other eyelash curler I found that the raised top of the tool hit my brow bone and prevented me from getting right into the lashes. My eyes aren't especially deep-set, so I think this would be a problem for a lot of people. You can work around it (I found that the best options were to angle the curler onto my eyelashes sideways or to tilt my head right back first) but it takes a bit of getting used to. Once I'd mastered the technique, this did give my lashes a good amount of lift.
8. Stylpro Heated Eyelash Curler
Best heated eyelash curlers
Reasons to buy
+
Easy to set up
+
Lifts lashes well
Reasons to avoid
-
Take a little while to heat
Something a little different for the list – heated eyelash curlers. The setup for these was really easy, and it even comes with batteries included. Once you've popped the batteries in, press the on button and wait for the red silicone pad to turn white. The brand says this takes 40 seconds, but I'd say it takes closer to three minutes for the whole pad to change color. To save time in the morning, I popped this on to heat up while I applied my skincare and base so it was ready to go when I got to my eye makeup. As the design is chunkier than metal eyelash curlers, it took a bit of time to align my lashes into the clamp, but the lever is easy to use. I found the heat initially unsettling, but also quite soothing around the eyes. You don't need to hold them for long – just ten seconds on each eye is enough. This did lift my lashes, but it did add a bend, and I couldn't get that close to the root, which meant they didn't look as long as I would have liked.
9. Nars Eyelash Curler
Best eyelash curlers for first-time users
Reasons to buy
+
Gentle on lashes
+
Good quality
Reasons to avoid
-
Not everyone will like the natural look
We know that eyelash curlers can be a little daunting, so if you're nervous about damaging your natural lashes through breakage or pulling them from the roots, then these are the perfect pair to start off with. The hinge on these is pretty loose, and the silicone pad has heaps of bounce, so pressing down feels more like gently persuading the lashes into place rather than forcing them skywards. If your lashes are naturally very straight and stubborn (I feel your pain) then the curl isn't dramatic (and does drop through the day) but if you already have a curve that you're trying to enhance, then they'll fit the bill. I found they worked best for me towards the end of a lash lift treatment cycle when my lashes still had a little lift to them but needed a bit of extra oomph.
How to choose the best eyelash curlers for you
Struggling to decide which are the best eyelash curlers for you? Use these pointers as your guide.
Quality: When we asked pro makeup artist Ruby Hammer MBE what made a good pair of eyelash curlers, her only reply was "quality". If your lash curlers are too flimsy, you won't be able to get a good curl, and if they're badly constructed (e.g. more metal comes into contact with your lashes than it should) then breakage can occur. Already got into this problem and wondering how long it takes for eyelashes to grow back? The answer is around eight weeks. Tips on how to grow eyelashes, like eating well and using a serum, can help speed up the process.
Eye shape: Not all eyelash curlers work for all eye shapes. "Some brands like Tweezerman cater to different eye shapes so you can buy them specifically to suit you," explains Hammer. "Shop around and see what is out there for your eye shape."
Heated or non-heated: Most eyelash curlers on the market look exactly how you'd expect them to (a sort of metal venus fly trap with a spindly handle) but some have the added benefit of heating up your lashes too. The idea is that by using heat, the curl will set into the lashes for longer – just like we use heat to style our hair. Some lash experts think that heated curlers can damage your natural lashes, so if you're going down this route you might want to limit your usage.
Replacement pads: Nothing lasts forever, and the rubbery pad on the base of your eyelash curler can become worn over time. It might just be an aesthetic thing (sometimes lighter colors can be altered by other items in your makeup bag) or, it could have lost some of its bounce, so you're no longer getting such a good effect. If you use mascara before your eyelash curler then this can build up on the pad (meaning more chance of damaging your lashes) so make sure to clean it regularly. Some eyelash curlers come with replacement pads, or you can stock up on Amazon.
Jess Beech is an experienced fashion and beauty editor, with more than eight years experience in the publishing industry. She has written for woman&home, GoodtoKnow, Now, Woman, Woman's Weekly, Woman's Own and Chat, and is a former Deputy Fashion & Beauty Editor at Future PLC. A beauty obsessive, Jess has tried everything from cryotherapy to chemical peels (minus the Samantha in Sex and The City-worthy redness) and interviewed experts including Jo Malone and Trinny Woodall.