What is a lash lift? The process, lasting power and results explained
Curious about lash lifts? We've asked the experts to answer all your questions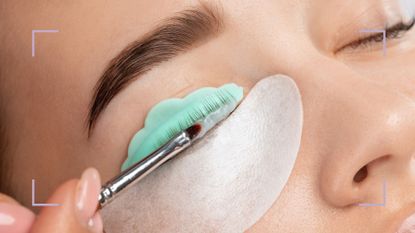 (Image credit: Getty)
Wondering what is a lash lift, exactly? Maybe you've noticed that your friend's lashes are looking perkier than normal, maybe you saw a sign in your local salon's window, or maybe you're just trying to find a less expensive alternative to lash extensions.
A lash lift is essentially a shortcut to longer-looking, more visible lashes, and requires far less patience than waiting for the results of your best eyelash growth serum to show. "A lash lift is a service that visually enhances the length and quality of your natural lashes," explains Kintija Belska, Lash Expert at Elleebana Europe.
"By lifting the lashes upwards, the treatment makes them more prominent, longer, and fuller looking. This creates a fresh-eyed look that's achieved using your natural lashes and without the need for extensions." Sounds pretty dreamy, right? Let's find out more.
What is a lash lift? Our expert guide
First and foremost, it's important to understand that there are different brands of lash lift, which means that the exact treatment process and results can vary slightly.
No matter where you go, lash guru Daxita Vaghela explains that "a lash lift is a semi-permanent lash procedure where natural lashes are lifted to create a curl." To get said curl, the technician will normally apply two different solutions to your lashes. The first is a sort of softener, which breaks down the bonds within your eyelashes to make them malleable enough to be maneuvered into a curved shape. Think of it like shaping cooked spaghetti strands versus dry ones. Once the first solution has had time to work its magic, a second solution is applied which will set your lashes in place.
If you're getting a lash lift for the first time or haven't visited the salon before, you will be asked to carry out a patch test at least 48 hours before your treatment to check for any allergic reactions. This will either mean popping into the salon in advance, or they may send a kit to your home. This will need to be repeated every six months and is essential for safety. If the salon you're visiting doesn't insist on a patch test before treatment, we'd advise you to cancel your booking.
How long does an eyelash lift take?
Expect to be in the salon for around an hour. Although less time-consuming than applying your best false eyelashes, the process is still a relatively fiddly one. The technician will ask you to close your eyes and apply guards or pads to your eyelid and below your eyes to stop the solution from getting onto your skin. Then they will "apply rods or shields depending on the look desired," explains Belska. "These go directly onto the eyelids and allow us to 'wrap' the lashes onto the silicone-shaped mold." As the technician needs to carefully ensure that every single lash is attached to the mold (miss one, and it'll look odd) this step can take as long as 15 minutes.
Your technician will then apply the solutions one after the other. Exactly how long these need to stay on for will vary from brand to brand. For example, Nouveau Lashes combines the second stage with tint, which "makes the treatment processing time up to 33% faster," explains their International Trainer Debbie Law. If the steps aren't combined, often the technician will tint your lashes as a final step to amplify the results.
In terms of salon etiquette, it's not frowned upon to take a nap during a lash lift. Some technicians encourage relaxation by incorporating a hand massage while the solutions are working. Whether you're having your lash lift in a treatment room or an open area will probably impact whether you feel comfortable enough to nod off though.
How long do lash lifts last?
And what is a lash lift like in terms of staying power? The time investment versus payoff is great. "Lash lifts are expected to last as long as your natural lash cycle, which is anything between eight to 12 weeks," says Belska. "However, most of the lashes we see are already two to four weeks into their cycle. Only lashes that are within their catagen (transitioning) and telogen (resting) stages can be lifted, as the anagen (growing) lashes are still located within the eyelid or too short to be used. Therefore a lash lift realistically lasts up to eight weeks."
To the untrained eye (and even to a trained one) it's hard to predict how long it will be until your longest lashes enter their final stage, which is shedding. For this reason, you might find that your lash lift grows out quickly after one treatment, but lasts much longer after another. It's all about the stage of growth the majority of your lashes are in at the time of the treatment.
After you've had your lash lift you'll need to keep your eyelashes completely dry for 24-48 hours for the curl to hold. If you don't follow this aftercare advice and either wash your face, hit the gym, or apply mascara straight after your appointment then your lift won't last as well. Remember that even though you're not directly wetting the lashes, washing up, ironing, and taking a steamy shower can all dampen your lashes through water in the air.
Do lash lifts damage your lashes?
The easy answer is no, but there are some caveats. "If the lash lift is performed by a professional using a healthy formula, then it won't damage your lashes," says Law. "But a lash lift is a chemical treatment and in inexperienced hands can cause damage if left on too long, the formula is too harsh or it doesn't contain the necessary hydrating and nourishing ingredients" The big lash lift brands all put a keen focus on caring for your lashes during the treatment – think of it like including a bonding treatment with your highlights.
Aftercare matters too. To continue the bleached-blonde analogy, if you don't look after your hair with purple shampoo to combat brassiness and weekly hair masks for moisture, then you won't maintain that just-left-the-salon look. It's the same for lash lifts. Treat your lashes with care. That means not rubbing them during the day, not using harsh cleansers around your eyes, and not sleeping in mascara. Applying a nourishing serum (the kind recommended as part of how to grow eyelashes) morning and night will also go a long way.
If the absolute worst-case scenario has happened, you might be wondering how long does it take for eyelashes to grow back after a lash lift disaster. "Even if there aren't any lashes left when they have been over-processed by an inexperienced technician, the follicle isn't affected," assures eyelash artist and founder of Edy London Edyta Kurowska. "You just have to wait through the shedding and growth process. You may end up lash-less for a little bit, maybe two months." If that did happen, which it really shouldn't, you might want to invest in some falsies to bridge the gap.
Can you still wear mascara?
Whether or not you wear mascara with a lash lift is really down to you. If you have naturally dark eyelashes then the process of lifting may be enough to forgo mascara."If you opted for a lash lift and tint then our clients often find that the results are noticeable enough to go mascara-free on a daily basis," explains Belska. "Every client will see a visible effect, but how visible depends on your natural lashes, and it is most dramatic on clients with naturally long lashes."
"You can continue using mascara after treatment if you need to," she continues. "But even then you will be able to see that the lashes are evenly spaced and you need less mascara than you would normally." Remember that a lash lift isn't going to make your lashes fuller, as it's working with what you've got, so if that's your aim, you might still need to rely on your best volumizing mascara. Equally, a tight line of your best eyeliner will make lashes appear fuller at the roots.
Do you have to have a lash tint?
Almost all salons that offer a lash lift include a lash tint as part of the treatment. That being said, you can opt out if you're in a rush (tinting adds on appointment time) or if you're allergic to hair dye. This will also be patch tested ahead of your treatment, and if you react, your technician will adapt to remove this part of the treatment.
That said, if you can get your lashes tinted, it is worth it. "Most people opt for a darker color such as black or blue/black, but tints do come in softer shades of brown which can be very flattering for red-haired or fair-haired clients," explains Law. "Many people like a lash tint ahead of vacations so they have the choice not to wear mascara around the pool. A lash tint can last up to four weeks, or until your eyelashes naturally fall out."
Can you do a lash lift at home?
We're all for DIY beauty treatments like an at-home facial or at-home pedicure as a way of saving money, but in our opinion, a lash lift should never be carried out at home. "I wouldn't advise this treatment at home as it needs lots of attention and uses chemicals," warns Vaghela.
On a purely cosmetic note, it's very unlikely that without training you'd be able to get a good result on your lashes by doing them yourself, as you don't have the benefit of being able to look at them from above. It would also take at least twice as much time, as you'd need to keep one eye open and then swap. On a health note, it's never worth taking any kind of risk around the eye area. Especially when there's no real guarantee that all solutions purchased online are safe. If you're hoping for a wide-eyed look and can't stretch to a lash lift this month, try one of the best mascaras for straight lashes or invest in eyelash curlers instead.
Jess Beech is an experienced fashion and beauty editor, with more than eight years experience in the publishing industry. She has written for woman&home, GoodtoKnow, Now, Woman, Woman's Weekly, Woman's Own and Chat, and is a former Deputy Fashion & Beauty Editor at Future PLC. A beauty obsessive, Jess has tried everything from cryotherapy to chemical peels (minus the Samantha in Sex and The City-worthy redness) and interviewed experts including Jo Malone and Trinny Woodall.