The best false eyelashes to add convincing volume, length, and flutter
Want to know which are the best false eyelashes out there? We've done all the testing for you to reveal our favorite pairs for every look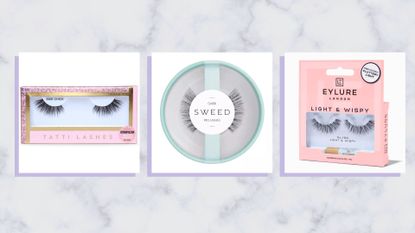 (Image credit: Future/brands)
woman&home newsletter
Sign up to our free daily email for the latest royal and entertainment news, interesting opinion, expert advice on styling and beauty trends, and no-nonsense guides to the health and wellness questions you want answered.
Thank you for signing up to Woman & Home. You will receive a verification email shortly.
There was a problem. Please refresh the page and try again.
They say nothing good comes easy, but sometimes you need to cut corners. Take the best false eyelashes for example. Yes, of course, you could lovingly massage castor oil into your lashes every night and wait patiently for the effects to pay off – or, you could fast-track your way to longer, fuller lashes with a pair of falsies.
Historically, false eyelashes aren't crowd-pleasers. Most of us are put off by the potential fiddliness of application, their weight, and the idea of them pinging off halfway through the evening. But let us assure you that false eyelashes have come a long way, and some are now as light and as easy to apply as your best mascara thanks to developments like magnetic bands, clever tools, and improved glue.
The great thing about false lashes is the speed at which they can change your look, and you don't need to worry about flakes or smudging. There are so many styles on offer, from feathered, fluttery, and seriously dramatic volumizers to shorter, more low-key lengtheners – truly, the choice is all yours. "The best way to pick a pair of false lashes is to choose a pair you like the look of and wear it with confidence," states makeup artist and Eylure lash expert Sara Sordillo, and our guide to the best false eyelashes can help you pinpoint that perfect pair.
How we tested the best false eyelashes for this guide
Why you can trust Woman & Home Our expert reviewers spend hours testing and comparing products and services so you can choose the best for you. Find out more about how we test.
To help you find the best false lashes for you, we put tens of pairs to the test by wearing them for at least one full day, or evening out. Our reviews are an honest roundup of all the factors we assessed, which were:
How tricky they were to apply
How much trimming and adjusting they needed
How the lashes looked on
How well they stayed put
Finally, we judged them on perhaps the most crucial factor of all – whether they were comfortable to wear, or felt like extra baggage every time we blinked. Here's what we found.
The best false eyelashes, as chosen by a Beauty Editor
1. Eylure London Light & Wispy Lashes No. 169
Best affordable false eyelashes
Specifications
RRP : $9.99 / £6
Application method: Glue
Glue included?: Yes
Key features: Lightweight
Reasons to buy
+
Affordable
+
Fluttery
+
Light on the lashes
Reasons to avoid
-
May be too long for some
When you think of false eyelashes, we're willing to bet that Eylure is one of the first brands that springs to mind. Their range is extensive, with regular new launches and celebrity collaborations. Previously named Fluttery Light, we found that the Light & Wispy lashes deliver just what they promise on the box, with a fine and fluttery, layered finish that doesn't weigh down your lashes.
The majority of the length is in the middle of the lash, which creates a wide-awake, doe eyes effect that makes small eyes look rounder. We like that the band is clear, except for where the clusters of lashes are glued, which gives lashes natural-looking volume. If they're a little too long, snip the outer edges before applying.
2. Ardell Professional Magnetic Accents 001
Best magnetic false eyelashes
Specifications
RRP : $13.99 / £13.99
Application method: Magnetic
Key features : Included application tool
Reasons to buy
+
Easy to apply
+
No adhesive needed
+
Natural finish
Not keen on the look and feel of full falsies and never quite nailed how to apply false eyelashes with traditional glue? Ardell Professional Magnetic Accents 001 are the perfect compromise. They've been designed to be worn on the outer edges of your eye only to lift and lengthen. To apply, you need to attach the top and bottom lashes for each eye onto the magnets on the included tool and then use this to secure them over your natural lashes. Magnetic styles also make mastering how to remove false eyelashes without tugging your natural ones a breeze, as you simply prize apart the magnets.
It looks very straightforward on the instructions, but we did find attaching the lashes to the tool (without them sticking to each other) quite fiddly. We think practice will make perfect though. Once on, the lashes looked really lovely. They are quite long, so if you don't have naturally lengthy lashes, you might want to add a little mascara to blend them in – although keep in mind that this might cut down the number of times you can re-wear them.
3. Huda Beauty Giselle Classic #1 Lash
Best false eyelashes for wearing to a party
Specifications
RRP : $18 / £14
Application method: Glue
Glue included?: No
Key features: Intense volume
Reasons to buy
+
Premium looking lashes
+
Statement style
+
No need for eyeliner
One of Huda Beauty's best-selling lash styles, the Giselle Classic #1 Lash brings serious length and volume to lashes. Of all the styles Huda offer, these are the most subtle. The band is a mixture of small and larger clusters of individual lashes alternated across for a layered, textured finish not unlike hybrid lash extensions. They are longest in the middle, which makes longer eyes look rounder and we were impressed by how weightless they felt on our lashes.
One thing to note is that not all of the lashes point outwards, and the longest ones cross over at the top, so we wouldn't recommend wearing these false eyelashes with mascara as this would accentuate that crossover. Lash glue isn't included, but Huda does sell their own in a generous-sized tube.
4. Velour Plant Fibre Hemp-Derived Lashes in A New Leaf
Best false eyelashes for volume
Specifications
RRP : $24 / £22
Application method: Glue
Glue included?: No
Key feature: Plant based
Reasons to buy
+
Can be worn up to 20 times
+
Easy shape to apply
+
100% recyclable packaging
Reasons to avoid
-
Black band might not be to all tastes
Of all the lashes we tried, Velour Plant Fibre Hemp-Derived Lashes in A New Leaf felt the most luxurious. They're super soft, super silky, and super fluffy. The range's unique selling point is that it's entirely plant-based. The band is crafted from a flexible cotton thread and the lashes themselves are made from hemp fibers. In the packaging, the band is lightly glued in a tighter semi-circle than the half-moon most lashes are adhered to, which made them easier to apply as they held their rounded shape.
The band is thick, giving the effect of black eyeliner that, combined with the layered lashes, makes for a voluminous look with plenty of impact. That being said, the varied lengths ensure they still feel fluffy rather than false.
5. Ardell Professional 3D Faux Mink Individuals in Medium
Best individual false eyelashes
Specifications
RRP : $10 / £8.49
Application method: Glue
Glue included?: No
Key feature: Potential to create a bespoke look
Reasons to buy
+
Natural finish
+
60 individual lashes per pack
+
Completely customizable
For most of us, even the best false eyelashes are a bit too much admin for everyday wear. But the exception to the rule (in our opinion) is individual lashes. You can apply these knot-free clusters of individual, faux mink lashes across the breadth of your lash line, or just use a couple at the end for extra lift and length.
They're great for anyone (like us) with smaller eyes, who finds that almost all strip lashes are far too long. The application is a little bit fiddly – you need to pick up the cluster on a pair of tweezers, dip the end in a dot of lash glue and use the tweezers again to stick them into place. But, if you're applying regularly, you'll pick up the technique quickly. Remember if you are combining a few of these with your usual eye makeup look, you'll need the best oil-free mascara to ensure the glue isn't compromised.
6. Nood New York False Eyelashes in Muse No. 12
Best eco-friendly false eyelashes
Specifications
RRP : $26 / £26
Application method: Glue
Glue included?: No
Key feature: 100% biodegradable
Reasons to buy
+
Biodegradable
+
Chic and great for gifting
+
Tapered shape
The beauty industry is always working hard to find new ways to be more sustainable and eco-friendly, and these lashes are a step in the right direction. Nood New York False Eyelashes are crafted from a 100% biodegradable plastic alternative that's derived from sugarcane, meaning they will eventually break down after you've discarded them.
Another point of difference is that you can navigate the lashes on their website by eye shape, and lid type (eg monolid, almond) which will help you to find a spot-on match. No.12, our preferred pair for a layered lash that lengthens eyes, is recommended for almond, round and upturned eyes. The only downside is that you do need to buy the lash glue separately, which does push up the price.
7. Sweed Lashes Gabbi
The most comfortable false eyelashes
Specifications
RRP: $16 / £12.50
Application method: Glue
Glue included?: No
Key feature: Flexible cotton band
Reasons to buy
+
Comfortable
+
Easy to apply
+
Flexible band
The Gabbi style from false eyelash brand Sweed Lashes is a number one best-seller - and we can see why. The jet-black fibers look exactly like real hair to give you that fluttery, full, voluminous finish without looking false. They are like your lashes, but better because you don't have to learn how to apply mascara to make them look long and defined. Set on a flexible cotton band, the strip can bend to suit your eye shape for a snug fit that's comfortable enough to wear all day long.
While the adhesive isn't included, you can use any lash glue to attach the lashes (we recommend Duo Striplash Glue) We ran the glue along the band, pressed it onto our natural lash line and added a dot on the inner and outer corners for extra staying power. The results? Fanned-out, full lashes that gradually lengthen towards the outer corners, elongating our natural eye shape.
8. Tatti Lashes Side Chick
Best false eyelashes for cat eye effect
Specifications
RRP: $9.60 / £7.99
Application method: Glue
Glue included?: Yes
Key feature : Faux mink effect
Reasons to buy
+
Natural half lash
+
Creates a cat-eye effect
+
Easy to apply
Reasons to avoid
-
Lash band is noticeable without eyeliner
If you're a fan of a cat-eye winged effect, these half eyelashes from Tatti Lashes are a must-try. Designed for just the outer corner, the soft fluffy eyelashes are made from ultra-fine faux mink and add length that really elongated our natural eye shape.
While glue is included, we tried these lashes with the Tatti Lashes Double Trouble Adhesive Liner, which proved to be a total game-changer. This product includes a clear liner at one end and a black liner at the other. Both are made of glue-like formula and held our lashes in place, which we found both a time-saver and a space-saver in our makeup kit.
9. Lola's Lashes Felt Cute Magnetic Eyelashes
Best full length magnetic false eyelashes
Specifications
RRP: $38 / £20
Application method: Magnetic eyeliner
Eyeliner included?: No
Key feature: Easy application
Reasons to buy
+
Creates a naturally fuller lash
+
Easy to apply with magnetic eyeliner
+
No mess
Reasons to avoid
-
Not as long-wearing as others
There's no denying that lash glue can sometimes cause a mess. For a smoother alternative, try your hand at magnetic lashes. Lola's Magnetic Lashes are designed to be used with the Magnetic Eyeliner that attracts the lashes, which have six magnets running along the band, then keeps them in place.
How does it work? Draw on the liner, let it dry for a few seconds, and then hold the false lashes to your lash line. It's a genius idea and the lashes themselves look fluffy and natural, adding just the right amount of drama to an everyday look. We found this to be significantly easier than the other magnetic lashes we tried, which required fiddly tools. However they didn't last quite as well as some others and had a tendency to lift towards the end of the day, so might be better for shorter events or evenings out only.
---
How to choose the best false eyelashes for you
The event you're going to will dictate what makes the best false eyelashes for you. It names sense to go for something subtle for casual events or everyday wear and a bolder style of lash for the evening:
Subtle: "If you prefer natural, go for more fluttery and wispy styles that aren't uniform," says Sordillo. "Styles that have a 'W' shape with dips and raises will blend into your natural lashes for a subtle look."
Statement: For more drama, opt for thick falsies with multiple layers of hairs and crisscrossed clusters to build up volume.
Clear vs black band: The color of the band matters too. "A clear lash band looks really natural and blends with your natural lashes," says Charlotte Tiplady, CEO and co-brand founder of Tatti Lashes. "While a black band is great for a heavier, glam look."
Which false eyelashes look most natural?
Don't want people to know you're wearing falsies? No problem – it is possible to make them look understated. "The best way to achieve a natural look with lashes is by using individual ones," says Jennifer Johnson, Senior Brand Manager at Ardell Lashes. "This allows you to build up the intensity of your lash look gradually. For the best results, start applying from the outside of the eye inwards."
If individual lashes feel too high maintenance, you can also adjust strip lashes for a subtler finish. "Always measure your false lashes against your eye to make sure the length is correct," continues Jennifer. "If you do need to trim them, cut between clusters working from the outer corner. If your lashes are quite straight, I'd also advise curling them first so that they blend better with the false lashes. Finally, get the band as close to the lash line as possible and use a clear, not tinted, glue."
Will false eyelashes ruin your natural lashes?
As false eyelashes are only worn for a relatively short amount of time, they shouldn't cause any damage to your natural lashes. That is, of course, unless you're going wrong with the application or removal. "When strip lashes are applied where they should be (to your eyelid, next to your lash line) they don't adhere to your natural lashes," explains Johnson.
Eyelash glue should always be easy to carefully melt away with eye makeup remover without the need to pull or tug at your lashes (which will damage them). Soak a cotton pad in a gentle, eye-friendly makeup remover and gently hold it onto each eye for 15 seconds to loosen the glue before carefully easing the lashes off. If you're not planning to reuse them, you could also use a cleansing balm and a warm cloth.
Which are the easiest false lashes to put on?
That totally depends on your skill set. Just as one person might be a pro at winged eyeliner whereas another's beauty expertise lies in applying a flawless red lip without a mirror – not everyone will find the same lashes easy or difficult to apply. Our advice? Have a few tips in your back pocket for each type of false lash. Sarah Sordillo shares hers.
For strip lashes…
When using new lashes, the band can be very rigid, so give it a wiggle by holding the ends of the lashes and making a wave like a soft "M" motion. The thicker the band, the more this is needed. Don't bend the lashes in sections as this will create awkward angles.
If you really struggle with placement cut the lashes into thirds. Apply each section next to the other to give the illusion of one seamless lash without fighting a long lash band.
Another problem is lashes not fitting or pinging off at the ends, so always measure the lash before cutting or gluing. Do this by looking down in a mirror and holding the lash with no glue against the lash line. If you need to cut them, always go from the outside corner as this will help keep a natural graduation of the lash.
For individual lashes…
Start with the eye you struggle the most with – you will have more time and patience at the start.
Use tweezers as the lashes are delicate and small. When pulling them out from the tray always get as close to the lash knot as possible.
For magnetic lashes…
If using a magnetic liner, give it a good shake first to ensure the formula is properly mixed.
Always apply three or four layers and alternate between eyes. This will mean the last layer is almost dried when you get to the next one.
The magnets will only stick where you apply the liner, so ensure it's thick enough for the lashes to stick to.
Sign up to our free daily email for the latest royal and entertainment news, interesting opinion, expert advice on styling and beauty trends, and no-nonsense guides to the health and wellness questions you want answered.
Jess Beech is an experienced fashion and beauty editor, with more than eight years experience in the publishing industry. She has written for woman&home, GoodtoKnow, Now, Woman, Woman's Weekly, Woman's Own and Chat, and is a former Deputy Fashion & Beauty Editor at Future PLC. A beauty obsessive, Jess has tried everything from cryotherapy to chemical peels (minus the Samantha in Sex and The City-worthy redness) and interviewed experts including Jo Malone and Trinny Woodall.