The best false eyelashes: From natural flutter to full-on drama
We tried and tested the best false eyelashes on the market, here's what we thought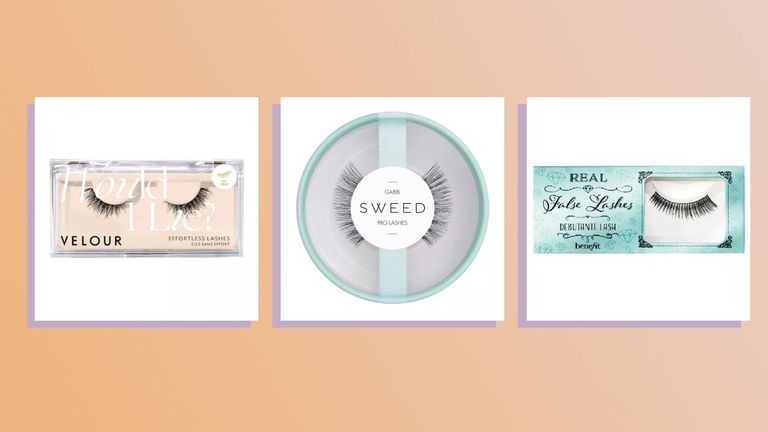 (Image credit: Future)
The best false eyelashes can easily transform a makeup look, adding drama and definition fast. The hard part? Finding the falsies that work for you. From individual clusters to magnetic strips, there are so many options to consider, each with slightly different results. Do you want a natural-looking flutter, or are you after full-on drama? Whatever your desired lash look is, it's worth doing some research first.
False eyelashes have come a long way since their heavy-lidded '90s heyday. No longer do we have to faff around with thick PVC glue and weighty strips—now, there's the option of clear adhesives and lightweight lashes that look realistic yet full. Much like the best mascaras, the best false eyelashes should do a bit of everything—adding length, volume and drama without being a chore to apply.
To separate the best false eyelashes from the rest, our tester is an experienced falsies wearer and knows how to apply lashes in the dark. She researched dozens of styles, putting the brands and styles with the best reputation through their paces to whittle the edit down to these 10. They were worn out and about, during the day and at night. We wanted to see how long these lashes last, how good they look, and whether they're comfortable enough for all-day wear.
How to choose the best false eyelashes for you
First of all, consider what lash look you're aiming for:

Subtle: "If you prefer natural, go for more fluttery and wispy styles that aren't uniform," says Sara Sordillo, makeup artist and Eylure ambassador. "Styles that have a 'W' shape with dips and raises will blend into your natural lashes for a subtle look."

Statement: For more drama, opt for thick falsies with multiple layers of hairs and crisscrossed clusters to build up volume.

Clear vs black band: "A clear lash band looks really natural and blends with your natural lashes," says Charlotte Tiplady, CEO and co-brand founder of Tatti Lashes. "While a black band is great for a heavier, glam look."

The best false eyelashes, as chosen by our experts
1. Sweed Lashes Gabbi
Best overall false eyelashes
Specifications
RRP: $16/£12.50
Shade: Black
Extra features: Flexible cotton band, reusable, recyclable packaging
Reasons to buy
+Bestselling lashes for Sweed+Comfortable +Easy to apply+Flexible band+Add length to outer corners+Can wear up to 10 times
Reasons to avoid
-Adhesive not included
The Gabbi style from false eyelash brand Sweed Lashes is a number one best-seller—and we can see why. Loved by makeup artists and beauty editors alike, the jet-black fibers look exactly like real hair to give you that fluttery, full voluminous finish without looking false. It's like your lashes but better because you don't have to learn how to apply mascara like a pro. Set on a flexible cotton band, the strip can bend to suit your eye shape for a snug fit that's comfortable enough to wear all day long.
While the adhesive isn't included, you can use any lash glue to attach the lashes (we recommend Duo Striplash Glue). Simply run the glue along the band and press it onto your natural lash line. We added a dot on the inner corner and outer corner for extra staying power as this is where lashes normally lift. The results? Fanned-out, full lashes that gradually lengthen towards the outer corners, elongating your natural eye shape. After use, place them back in the tray to keep them fresh for their next outing. These are an absolute must-try for lash lovers.
2. Huda Beauty Hoodie Lash
Best going 'out out' false eyelashes
Specifications
RRP: $19/£17
Shade: Black
Extra features: Transparent band, ultra-long 3D volume
Reasons to buy
+Lots of length and volume+Full-on drama+Transparent band +Crisscrossed clusters & multi-layer strands+Can wear up to 12 times
Reasons to avoid
-Heavy, compared to other lashes-Adhesive not included
For lashes that are packed full of drama, look no further. The Hoodie style from Huda Kattan combines crisscrossed clusters with layers of synthetic falsies to add insane volume and more flutter than you could achieve with even the best eyelash grower serum and best lengthening mascara. These would definitely be the best false eyelashes for a night out on the town.
"I wanted something fluffy, sexy, and alluring," says Huda, "and the Hoodie lash is that for me." A word of caution: the band is longer than others so remember to measure the lashes against your natural lash line first, in case they need a little trim. Also, the adhesive is not included so be sure to buy some before you go to apply. If you're a regular lash wearer who loves drama, definitely invest in this style. If, however, you prefer a more subtle effect these lengthy lashes might be a step too far.
3. Eylure Volume Lashes 101
Best affordable false eyelashes
Specifications
RRP: £5.50
Shade: Black
Extra features: Black band, lash glue and application instructions included
Reasons to buy
+Affordable +Flatter all eye shapes+Adds lift and curl+Adhesive included
Reasons to avoid
-Not as much wear as others
An all-time favorite of regular lash wearers, these affordable false eyelashes receive countless rave reviews online and are a great choice for both day and night. The length is shorter than others, but this does create a more natural-looking flutter that still opens and elongates the eyes. Also because they are set on a black band, you get added drama and can even forgo wearing eyeliner, which is a major plus point if you've never quite mastered how to apply eyeliner.
The downside? You can only reuse the lashes five times, compared to the usual ten of the brand's more expensive counterparts. If you're careful you can squeeze a few more goes out of them. And considering the relatively low initial spend, they do still represent good value for money.
4. Tatti Lashes Side Chick
Best false eyelashes for cat eye effect
Specifications
RRP: £7.99
Shade: Black
Extra features: Faux mink everyday lashes, black band, half lash
Reasons to buy
+Natural half lash+Creates a cat eye effect+Faux mink +Easy to apply+Can be worn up to 10 times+Adhesive included
Reasons to avoid
-Lash band is noticeable without eyeliner on the inner corner
If you're a fan of a cat-eye winged effect, these half eyelashes from Tatti Lashes are a must-try. Designed for just the outer corner, the soft fluffy eyelashes, made from ultra-fine faux mink add length and really elongate your natural eye shape. While glue is included, we tried these lashes with the Tatti Lashes Double Trouble Adhesive Liner. A total game-changer, this product includes a clear liner at one end and a black liner at the other. Both are made of glue-like formula and hold your lashes in place, which we found both a time-saver and space saver in our makeup kit.
For this Side Chick style, we recommend using the black adhesive liner for a seamless blend. "Unlike other adhesives, you don't have to wait for this lash glue to go tacky," says Charlotte Tiplady, Tatti Lashes CEO & co-brand founder, "simply swipe the pointed tip right across the eyelid from inner to the outer corner, before applying the lashes." It's genius!
5. Velour Lashes Effortless Would I Lie
Best luxury false eyelashes
Specifications
RRP: $26/£24
Shade: Black
Extra features: Synthetic silk lashes, transparent band, long-lasting lashes
Reasons to buy
+Natural-looking false lashes+Comfortable to wear+No need to measure or trim+Flexible transparent band+Can wear up to 20 times
Reasons to avoid
-Expensive-Adhesive not included
Expensive, yes. But are they worth it? Absolutely. These synthetic silk lashes really blew us away with their naturally flared design that adds drama to any look, be it daytime or going out glam. Plus, thanks to the crisscrossed design and wispy ends, the result is believable lifted lashes, rather than over-the-top Bambi eyes.
Designed to fit every lash line, the brand states no measuring or trimming is required. We were skeptical at first, but after testing, we can confirm that these eyelashes really were the perfect fit. All you need to do is apply your favorite glue (which isn't included), wait 20-30 seconds, before pressing the lashes on. We found them particularly comfortable once applied due to their super-fine silky material, and the band didn't rub or come away. For easy applying and comfortable wear, we'll be recommending these lashes to everyone.
6. Ardell Individual DuraLash
Best individual false eyelashes
Specifications
RRP: $5.50/£7.75
Shade: Black
Extra features: Contains short, medium and long flares, adhesive and remover included, as well as tweezers
Reasons to buy
+Creates multiple lash looks+Included short, medium & long flares+Adhesive and remover included+Tweezers included
Reasons to avoid
-Fiddly to apply
Individual lashes are a great way to create various lash looks—from soft and natural to loaded and dramatic. This starter kit from Ardell comes complete with everything you could possibly need including glue, remover, tweezers, and plenty of individual 'flares' that vary in length. While the idea is great, in reality, the lashes can be quite fiddly to apply, especially as a beginner.
Patience is key, as well as practice when applying individual lashes. Stick with it and eventually, you'll have a fanned-out fluttery finish that really suits your specific eye shape and size. If, however, you're lacking a steady hand and want the best false eyelashes for fast, easy application then it's probably best to opt for a strip lash instead.
7. Lola's Lashes Felt Cute Magnetic Eyelashes
Best magnetic false eyelashes
Specifications
RRP: $38/£20
Shade: Black
Extra features: Magnetic false eyelashes, band width: 33mm, 6 mini magnets on the band
Reasons to buy
+Creates a naturally fuller lash+Easy to apply with magnetic eyeliner+No mess+Can wear multiple times
Reasons to avoid
-Magnetic eyeliner not included-Not as long-wearing as others
There's no denying that lash glue can sometimes cause a mess. For a smoother alternative, try your hand at magnetic lashes. Lola's Magnetic Lashes are designed to be used with the Magnetic Eyeliner that attracts the lashes, which have six magnets running along the band, then keeps them in place. How does it work? Draw on the liner, let it dry for a few seconds, and then hold the false lashes to your lash line.
It's a genius idea and the lashes themselves look fluffy and natural, adding just the right amount of drama to an everyday look. As for application, it was a bit trickier than expected—we had to apply two layers of liner before the lashes really stuck. But once you've for the knack this is a brilliantly mess-free and sustainable option that could be the best false eyelashes for younger wearers too (no risk of glue accidents).
8. Charlotte Tilbury Hollywood Glamour Lash
Best false eyelashes for glamour
Specifications
RRP: $17/£14
Shade: Black
Extra features: Adhesive included, limited edition
Reasons to buy
+Easy to apply+Instant glamour +Lashes vary in length for a natural finish+Adhesive included+Good staying power+Can wear multiple times
Reasons to avoid
-Not as natural-looking as others
Many people aren't aware Charlotte Tilbury offers a range of false eyelashes. They're worth getting to know, however, as these falsies are amazing for that Hollywood glamour, full lash effect.
Varying in length, the jet-black synthetic hairs create a fluttery result that really stands out like the iconic makeup looks from the '60s. We recommend wearing these with a smoky eye and neutral lip for party makeup—they might be a bit much for daytime. Application-wise, the lashes come complete with glue and are as easy to apply as any false eyelashes can be. Either use hands or tweezers, follow the tips at the start of this guide and you should be golden.
9. Benefit Debutante Lash
Best everyday false eyelashes
Specifications
RRP: £12.50
Shade: Black
Extra features: Thin strip band, synthetic fibres, adhesive included
Reasons to buy
+Incredibly comfortable wear+Thin, flexible band +Creates a soft cat-eye look+Can wear multiple times
Reasons to avoid
-Short lashes-Possibly too natural
As you can see from the image, these lashes gradually fan outwards with longer lashes in the outer corner. This makes them ideal for creating a soft and subtle cat-eye effect, so they are a great pick for everyday wear when you don't want to apply mascara.
Very natural—perhaps too natural for some—these lashes are fairly short in length. To many wearers that will be a good thing, as you avoid that heavy-lidded obviously false look of some fake eyelashes. But if you naturally have long lashes, we'd recommend choosing a different set. In terms of application, they're very easy to apply and thanks to the ultra-thin flexible band you can really bend the lashes to suit your eye shape.
10. Ardell Invisiband Lashes Brown
Best natural false eyelashes
Specifications
RRP: $4/£4.49
Shade: Brown
Extra features: Transparent band, adhesive not included
Reasons to buy
+Natural-looking texture+Easy to apply+Comfortable to wear+Cruelty-free+Affordable+Invisible band +Can wear multiple times
Reasons to avoid
-Adhesive not included
If you find that black lashes always look a bit too dramatic, turn your eye to these soft brown wispies. Perfect for those with fair hair, or those who prefer a natural makeup look for day and night, these lashes have a fluffy texture that blends in seamlessly with your natural lashes.
Obviously, if you are going for high drama and the maximum impact possible these might not be for you, but the lashes are long in length, do not look synthetic (even though they are) and are comfortable to wear. We kept them on all day without any slips or discomfort, which makes them an impressive choice–especially considering their very reasonable price tag.
How to apply false eyelashes
Whatever effect you're aiming for, precise application is always a good look. Follow beauty entrepreneur and lash queen Huda Kattan's simple technique. "Measure the lashes against your natural lash line and if they're too long, trim the band from the outer corner. The band should be roughly 80% of your eye width," says Huda. "Apply a thin coat of lash glue to the lash band. Wait 20-30 seconds until the glue becomes sticky as this will ensure the lashes stick properly. Using an applicator or tweezers, gently press the lashes above your natural lashes, along the lash line." Sarah recommends doing this while looking down into a mirror—"it's much easier."
---
woman&home thanks Huda Kattan, Sara Sordillo and Charlotte Tiplady for their time and expertise.