Hybrid lash extensions: 9 things you should know about this trending technique
We tried hybrid lash extensions and quizzed the experts for this complete guide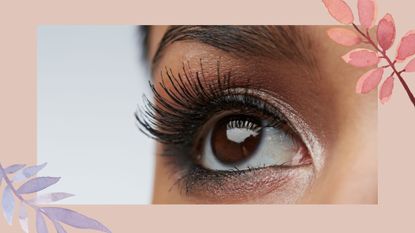 (Image credit: Future/Getty images)
Hybrid lash extensions are the new kid on the faux eyelash scene. You might have tried Defcon-5-drama Russian lashes, and while the draw of their inky-dark, full, voluminousness is undeniable, for some it's simply too much – that's where hybrid lash extensions come in.
If the eyes are the window to the soul, then lashes are the window dressing that invites people in. Sure, eyelash extensions can be a commitment (once you start, they can be hard to give up) but they are a godsend for a sparse lash line and mean you can retire your best eyelash growth serum and best mascara for weeks. If you're new to the lash extension game, it can seem overwhelming. Do you go for a classic extension or dramatic volume? Hybrid lash extensions can actually be a great place to start, meeting somewhere in the middle to boost volume and length without appearing OTT. Like your own lashes but way better.
So what exactly are hybrid lash extensions and how do they stack up against other, more well-known lash techniques? I tried the treatment and grilled lash expert and Nouveau Lashes International Trainer, Debbie Law on everything you need to know, including costs, how long they last, and what to expect during your appointment.
9 things you should know about hybrid lash extensions
1. What are hybrid lash extensions?
"Hybrid lashes are a technique that combines classic lashes with volume lash fans," explains Law. For reference, 1-on-1 lashes are applied individually, while volume lash fans involve applying several extensions per lash. Basically, in a Venn diagram of lash techniques, hybrid lash extensions would sit in the middle, delivering the fullness of Russian volume, broken up by the length of a classic extension for a soft, fluttery result. "The technique creates a wispy, textured look that is less severe and more universally flattering than Russian volume."
2. What is the difference between classic and hybrid lash extensions?
Classic extensions are designed to add length, and are applied individually to each eyelash – hence the '1-on-1'. Because of this, the process is often quicker than hybrid lash extensions, which combine both classic and volume techniques. Hybrid lash extensions alternate individual lash extensions with fans of 2-8 lash extensions applied to one natural eyelash to add volume. The effect is fuller and denser than classic lash extensions, and more wispy and romantic than Russian volume lashes.
3. What are the benefits of hybrid lash extensions?
Law describes hybrid lashes as "universally flattering." Besides looking prettier than even the best false eyelashes applied at home, hybrid lash extensions are useful in disguising sparse areas or gaps in your natural lash line. Whether you have hooded, close-set, or downturned eyes, this type of lash treatment, in particular, is really helpful in changing and enhancing the natural eye shape. "Hybrid techniques allow a lash artist to create multiple bespoke styles including wispy, textured, angular, and spiky. Where the lashes are placed is the key to creating the illusion of a different eye shape," adds Law.
4. What to expect from your lash appointment
"Treatments can take from 90 minutes, depending on the desired result, the number of natural lashes you have, and the speed of the lash artist," says Law. Allow yourself two hours – this is a very intricate, detail-oriented treatment.
So, what happened when I booked in? I've had lash extensions before, so was au fait with the process. The first step is the consultation, to assess your eye shape and natural lashes. Debbie, my lash artist, talked to me about the kind of lash look I wanted to achieve – how long did I want to go; would I prefer a lighter, fluffier look or something with a little more volume? Debbie astutely observed my round, slightly downturned eye shape and explained how she would keep the lashes shorter on the outer corner so as not to pull my eyes down, and instead, create more of a feline shape.
Lying down on a bed, eyes closed, with someone delicately ruffling through your lashes is honestly a treat in itself, and I was close to nodding off. It did take the full two hours so definitely make sure you give yourself enough time to enjoy the treatment and the end result. I can, hand on heart, say I am now hybrid lash extensions convert. They make my eyes look brighter, more wide awake and dare I say, younger, without feeling heavy or looking totally fake. Even sans makeup, my lashes make me feel 'done'.
5. What's the aftercare like?
Your lash artist will explain the protocols to you, but do not get your lash extensions wet in the first 24 hours following your treatment, and avoid steam (that means no sauna or steam rooms) for 48 hours. "Remember this even includes heat from the oven or steam from the kettle," says Law. The adhesive can take up to 48 hours to fully set, and water, steam, and heat can impact the glue. After that, you can do pretty much anything with your lashes on.
It's a good idea to brush through lashes with a spoolie every day to keep them neat and maintain their fluffiness. One week post-appointment, mine were as fluffy and fluttery as day one, and as someone who relies on multiple coats of mascara each morning, they save me valuable time. The only thing I'm worried about is how I'm going to give them up!
6. Will hybrid lash extensions damage my natural lashes?
If you're wondering are eyelash extensions bad for your eyes, there are a few things you should know. Provided that you choose a certified lash specialist, hybrid extensions should not damage your natural lashes. As Law says, "Hybrid lash extensions create a voluminous effect without placing excess weight on the natural lashes." Regardless of the type of extension you choose, a consultation is key. "What you may want and what is actually suitable for your natural lashes and lifestyle could be very different," explains Law. "It is the professional's job to take into consideration the length, thickness, and condition of the natural lashes and then advise what can be achieved. The end result you agree on will determine which lash technique, lash curl, and weight the lash artist chooses to use."
7. How long do they last?
The great thing about lash extensions, whether you go classic, Russian, or hybrid, is that the results are immediate and oh-so gratifying. Hybrid lash extensions can last up to eight weeks or longer if you go for regular infills every two to three weeks. Everyone sheds at different speeds (for those wondering, how long does it take for eyelashes to grow back, the answer is not the same for everyone) So get advice from your lash artist on how often you need to book a 30-minute infill appointment.
8. Can I wear makeup with hybrid lash extensions?
One of the major perks of lash extensions is that they make your eyes look 'done' even without makeup. But if you're partial to a flash of liner or wash of eyeshadow, then go for it, although you may have to wave goodbye to your best volumizing mascara. "It is not recommended to wear mascara with hybrid lashes because this can cause the fans to close," explains Law. "But all other eye makeup is fine as long as it is removed with an oil-free remover. Oil is known to break down the bonds in adhesive, which can cause your lash extensions to become loose or fall out prematurely."
Nouveau Lashes Prebiotic Eye Make-Up Remover | RRP $18/£16
Law recommends this oil-free formula as the best makeup remover for use with hybrid lashes. "It's been formulated to glide over the bonds without disturbing your lash extensions," she says. It's gentle but blasts through eye makeup, no sweat.
9. How much do they cost?
Depending on where you have your treatment, the cost for a full set of hybrid lash extensions costs from $70/£60. If you're popping in for infills every few weeks, you can expect to pay anywhere from $30/£25.
For more information or to find a salon and book hybrid lash extensions, visit Nouveaulashes.com.
Stephanie Maylor is a Beauty Editor working across five national magazine titles, with almost 15 years' experience in the industry. She has written for many brands, including woman&home, Grazia, Now, More!, Fabulous, NW, Woman, Woman's Own, Woman's Weekly, Essentials, Best, Chat, and OK! online.
In 2010 she launched her own beauty blog, which was shortlisted for Best Beauty Blog in the 2011 and 2012 Johnson & Johnson Beauty Journalism Awards. She has interviewed many high profile industry experts and celebrities including Alesha Dixon, Twiggy and Christina Hendricks.