9 of the best curling irons for thick hair, including budget and premium picks
We've tried and tested the best curling irons for thick hair that will give you long-lasting, and luscious curls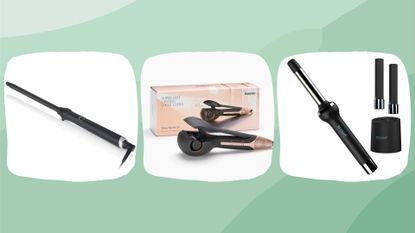 (Image credit: ghd, BaByliss, Remington, Future)
Choosing the best curling irons for thick hair requires a lot of trial and error. Those with particularly high maintenance 'dos will know that using the right tool makes all the difference when styling, which is why we have tried and tested the best curling irons on the market to find these standout picks.
The best curling iron should not only give you enviable curls but also be easy and fuss-free to use. However, anyone with thick hair will know the struggle of sourcing a heat tool that can work with your locks and provide long-lasting styling that won't drop. Thankfully, a few simple tips will help you pick the best curling irons for thick hair that pack a serious punch.
"When looking for a curling iron, much of what you consider should depend on your hair length and texture," says Nicole Petty (opens in new tab), Hair Expert and Milk + Blush. "You ideally want a curling iron with an adjustable temperature range, so you can customize the heat depending on your hair type," she advises. We have tested a range of hair curlers with various settings and functions to find out which is truly worth the investment and what results you can expect on thick hair.
How we tested the best curling irons for thick hair
Why you can trust Woman & Home Our expert reviewers spend hours testing and comparing products and services so you can choose the best for you. Find out more about how we test.
When testing the best curling irons for thick hair, we were on the lookout for several different attributes. We paid close attention to how each tool felt to use, how easy the curlers were to operate, the number of settings and functions available, and perhaps most importantly, the look of our curls and how long they lasted. All of these picks lived up to our expectations, so you can be sure that they are deserving of a place in your hair tools collection.
The best curling irons for thick hair, chosen by our beauty team
1. ghd Curve Creative Curl Wand
Best all-rounder curling iron for thick hair
Specifications
RRP: $205 / £149
Heat settings: 1
Barrel size: 28mm – 23mm tapered
Temperature: 185°C
Heat-up time: 25 seconds
Reasons to buy
+
Lightweight
+
Very easy to use
+
Automatic shut-off if left unattended
Reasons to avoid
-
No varying temperature settings
You don't need us to tell you that ghd tools are some of the best money can buy. Making some of the best hair straighteners as well as stellar haircare products, this is a brand that really knows how to make a great device. Naturally, we had high expectations for this curling wand, and it didn't disappoint. Recommended by the brand as one of their top curlers for short hair, we found that it worked equally well on our long, thick locks to provide curls that last, as well as loose beachy waves for a more natural look.
We love a lightweight tool that won't put any strain on your arms (those with thick hair know how long it can take to curl a full head, so this is a must) and this curler delivered exactly that. Easy to hold and extremely intuitive to use, this is a tool that would suit absolutely anyone. We also appreciated the cold tip of the wand that makes it easy to hold when styling. Although there is only one heat setting, we found this to be perfect for our thick, frizzy hair, and it saves any fiddling around with buttons and switches. If you want to invest in a high-quality, fuss-free tool that will deliver stellar results every time, you can't go wrong with this.
2. Remington PROluxe You Adaptive Wand
Best affordable curling iron for thick hair
Specifications
RRP: $89 / £69.99
Heat settings: 9
Barrel size: 19-32mm
Temperature: 130°C-210°C
Heat-up time: 30 seconds
Reasons to buy
+
Adapts to your hair type
+
Affordable
+
Range of settings
This is definitely one of the most unique curling irons we have tried on our thick hair, and we loved it. The PROluxe You wand uses a technology called StyleAdapt which assesses, adjusts, and personalizes its heat setting to your hair type. Essentially, it measures what heat you will require and sets itself accordingly. When testing, we found the wider barrel to be perfect for long hairstyles and the tool itself was easy to operate, providing gorgeous curls in an instant.
We were seriously impressed by how well these curls lasted without any hairspray or hair styling products – two days after using this our curls were still intact with a looser finish, proving that it holds up on thick hair. Although the adaptive technology is a unique and interesting touch, it doesn't feel totally essential, and we would've been quite happy setting the temperature ourselves. However, for this affordable price, we really can't complain. Plus, it is a great option for those who are still figuring out how to curl their hair or what is needed for their hair type.
3. Dyson Airwrap Multi-Styler Complete Long
Best premium curling iron for thick hair
Specifications
RRP: $599 / £479.99
Heat settings: 3
Barrel size: 30mm and 40mm
Temperature: 150°C and under
Heat-up time: N/A
Reasons to buy
+
Very easy to use
+
Range of styling options
+
Speedy styling process
We can't believe it took us this long to try out the Dyson Airwrap, but we can safely say that it was worth the wait. From the Dyson Supersonic hair dryer to the Airwrap, you have probably heard everything there is to know about the brand's tools. So, when testing this one, we focused on how it responds to thick, frizzy hair in particular. Our tester's hair is tricky to manage and requires significant heat to look its best, so we were initially unsure how the Airwrap would perform using air rather than high temperatures. However, after using the curling attachments on our natural, dry hair, we are completely sold. It took a matter of seconds to form each curl, and our hair went from dry and frizzy to shiny and smooth with a perfectly shaped curl. Plus, we love that the Airwrap minimizes heat damage, meaning we won't get through our best heat protection sprays quite so quickly.
This is by far the easiest styling tool we've ever used, and it saved so much time compared to our usual haircare routine. However, be aware that if your hair is thick and very long you probably won't get a tight, ringlet curl out of this, as it may be slightly tricky to get all of your hair wrapped around the barrel. Although this is a pricey tool, we would very happily sacrifice other heat styling products in favor of this one, as it completely transformed our hair and gave the optimum curl with minimal effort - something we very rarely encounter. If you have the cash to splash and are looking for the haircare benefits of learning how to curl hair overnight with heatless curls, while saving significant time and effort, we think it is worth the splurge.
See our full Dyson Airwrap review.
4. BaByliss Wave Secret Air
Best automatic curling iron for thick hair
Specifications
RRP: £150 (UK only)
Heat settings: 1
Barrel size: N/A
Temperature: 180°C, 200°C, 230°C
Heat-up time: N/A
Reasons to buy
+
Extremely easy to use
+
Perfect waves every time
+
Speedy styling
This BaByliss tool has come to change the curler game, and we are seriously impressed. Designed to create perfect beach waves in one simple step, this is one of the best curling irons for thick hair if you struggle with traditional curlers or, like us, are a fan of lazy beauty. It works by drawing your hair into the ceramic curl chamber where it heats up the hair, curls it, and stops automatically once the curl is formed. This whole process takes a matter of seconds, and you're left with a stunning wavy hairstyle with almost no effort required.
The large head of this tool, though slightly bulky, is ideal for thick, long hair as it works wonders even on chunky sections. However, for best results, we recommend opting for smaller bunches of hair to get the most defined waves. When testing, we found the only downside to be the fact that you have no control over the type of curl. However, considering how brilliant the results are, we really don't mind. Plus, it comes with a handy heat-proof mat which is always appreciated. For a tool that will help you master hairstyles for long hair without spending hours in front of a mirror, you can't do much better.
See our full BaByliss Wave Secret Air review.
5. Revamp iGen Progloss Cordless Ceramic Curling Tong
Best hydrating curling iron for thick hair
Specifications
RRP: £199.99 (UK/EU only)
Heat settings: 3
Barrel size: 25mm
Temperature: 160ºC-210ºC
Heat-up time: ~30 seconds
Reasons to buy
+
Lightweight
+
40 minutes battery life
+
Infused with keratin, argan, and coconut oils for a shiny finish
We are huge fans of Revamp tools for our thick and dry hair, as the Progloss range works some serious magic. After being wowed by the brand's hair straightener brushes, we were expecting the same success with our curls, which we got in bucket loads. We have never taken much issue with plug-in hair stylers, but our perspective has been transformed after trying this cordless tool. Small, light and so easy to use, the whole curling process was a breeze. Our curls stayed intact all night long without any hairspray and looked just as good the next day after being slept on.
Though the barrel is short, this posed no problems for our thick and long hair. Each section of hair was thoroughly heated and styled, giving a curl that was neither too tight or too loose - what we always search for. Thanks to the infused oils, we also found that our hair looked smooth and healthy with no need for finishing products, speeding up the process even more. With two interchangeable batteries, it is quick and easy to replace them when needed. However, be aware that the batteries do take a few hours to charge, so you will want to always make sure you have one ready to go. If you have drier, frizzier hair that needs some extra TLC, we can't recommend this tool enough. It will give your hair a new lease of life and revive all lengths and styles.
6. Beauty Works The Professional Styler
Best curling iron for thick hair for bouncy curls
Specifications
RRP: $105 / £70
Heat settings: Adjustable
Barrel size: 32mm
Temperature: 80-220°C
Heat-up time: 60 seconds
Reasons to buy
+
Ceramic coating
+
Easy to use
+
Creates perfect bouncy curls
Reasons to avoid
-
Requires hairspray to keep curl shape
It can be a struggle to find a traditional curling iron that doesn't produce ringlet-style curls with each wrap-around, especially if you are still figuring out the right curling techniques for your hair. If you have a short hairstyle or prefer a loose, bouncy look, the thicker barrel of this Beauty Works curling iron is the answer to your prayers. Providing that classy, old Hollywood look without the need for pricey products, it is a budget-friendly option that gives brilliant, salon-worthy results.
This particular wand comes with a travel case, heat-proof glove, and heat-proof mat, so all bases are covered for easy transport and usage. With an intuitive design that is extremely easy to navigate, it didn't take more than its 60 seconds heat-up time to be all set up to go. However, when testing, we did find that those with pin-straight hair will most likely need some finishing products to get the bouncy blow dry look to last. If you have hair that is particularly smooth or struggles to hold styles, be prepared to either finish off the look with rollers or heavy-duty hairspray. Overall, considering this is one of the most affordable curling irons for thick hair on this list, it performed extremely well and gave the type of curl we are always hoping for without any additional steps.
7. BaByliss 9000 Cordless Waving Wand
Best curling iron for thick hair for travel
Specifications
RRP: £180 (UK only)
Heat settings: 3
Barrel size: 28mm
Temperature: 160°C, 170°C, 180°C
Heat-up time: ~60 seconds
Reasons to buy
+
Ultra-smooth ceramic creates loose waves
+
Comes with travel storage case and heat-protective lining
+
Quick and easy use
Reasons to avoid
-
Requires recharging after 40 mins
Another stellar tool from BaByliss, this is certainly one of the best curling irons for thick hair if you like to travel or spend a lot of time out and about. Thanks to the cordless function, as well as the handy (and beautiful) travel case it comes with, there really couldn't be a better tool to use for fuss-free styling no matter where you are. When testing, we noticed that this curling iron is slightly shorter than some of the others we have used, however, the thick barrel provided ample room for each strand of hair. It has a weight to it but isn't actually too strenuous. Instead, this gives the curler a luxe feel.
A rival to the best hair straighteners for thick hair in terms of ease of use and results, we were seriously impressed by how quickly our curls formed and how well they held up throughout the day. The only downside is that it does require recharging after about 40 minutes of use at maximum heat, which was fine for us as our hair didn't take very long to complete. However, those with very thick and long hair may find this to be a slight challenge, which is something to be mindful of. But in our experience, it is perfectly doable to complete your whole look in much less than 40 mins, and being able to do it anywhere thanks to the cordless function, it is an enjoyable experience too.
8. Bellissima Steam Elixir Professional
Best curling iron for thick hair for loose waves
Specifications
RRP: $150 / £149.99
Heat settings: 4
Barrel size: N/A
Temperature: 170°C-230°C
Heat-up time: ~60 seconds
Reasons to buy
+
Less damaging than other heat tools
+
Multi-use
+
Ideal for thick hair
Reasons to avoid
-
Won't give you tight curls
This tool sits somewhere between straightener and waver, but due to the gorgeous tousled waves it produces, it only felt right to include it on this list. With the structure of the best hair straighteners plus a rounded internal clamp, it is extremely easy to get a natural, relaxed wave that lasts, even on thick hair. If you are someone who has mastered how to curl hair with straighteners and you're used to that type of tool, this is a great option that is both less damaging to your hair and also more catered towards curling.
When testing, we found this tool pretty easy to use despite the fact that we have always struggled to create straightener curls. Simply hold it at a slanted angle, turn 180°, and smooth through the hair in one motion. Voila, your brilliantly loose waves are formed. With a little bit more practice on the technique, we can see this becoming a go-to tool for multi-usage as it's ideal for traveling or quick hairstyles. The rounded plate means that the waves form without much effort, whilst the steam technology and argan oil-infused ceramic promote a healthy, shiny finish that penetrates even the thickest of strands. If you like to keep things classic and minimal in terms of hair tools, this is a fabulous intuitive product that won't fail you.
9. ghd Curve Thin Wand
Best curling wand for defining thick, curly hair
Specifications
RRP: $205 / £149
Heat settings: 1
Barrel size: 0.5"
Temperature: 185°C
Heat-up time: 30 seconds
Reasons to buy
+
Extra long barrel
+
Long-lasting curls
+
Ideal for naturally curly hair types
Reasons to avoid
-
Not for those after looser curls
This extra-thin tool behaves in much the same way as the regular ghd Curve tool, except this barrel, is both longer and much thinner. If you already have a curly hairstyle and you're looking to enhance and define your natural texture, this is the perfect touch-up tool that will give kinky and coily hair a gorgeous refresh. It is also ideal for those after a tight ringlet look, or for people who like to begin with tight curls and then let the hair fall naturally for their favorite type of wave.
Ridiculously easy to use, this curling iron takes just 30 seconds to heat up. It is also extremely fast when it comes to the actual curling, as we found when testing, as it lives up to its claims of being able to set hair in as little as three seconds, even on thick hair. We also love that it has an automatic sleep mode after 60 minutes, so you'll never have a sudden fire hazard panic strike you in the middle of the day. A foolproof wand for achieving defined curls extremely quickly, this is definitely our top pick for giving new life to naturally curly and wavy textures.
---
How to choose the best curling iron for thick hair
Choosing the best curling iron for thick hair can take some thorough research, but these top tips will make shopping a breeze:
Look at the barrel type: "There are many different sizes and shapes that can help you achieve different looks, whether that's a large barrel for loose and glamorous waves or a small barrel for tighter curls," says Tyler Moore, Expert Stylist at Live True London (opens in new tab).
Pay attention to barrel size: "Generally speaking, a 1-inch curling iron is the best all-rounder and can work for most lengths and textures," says Petty. This size is especially good for thick hair.
Assess the type of wand: "We tend to recommend ceramic for finer or more damaged hair types that can't handle higher temperatures, and tourmaline for thicker hair that is prone to frizz, as this emits negative ions to counteract this," says Moore.
Consider temperature controls: "We also recommend shopping for a curling iron that allows you to control the temperature with a degree setting, allowing you to have more control," says Moore. This is especially important for damaged hair types.
Look at additional extras: "Curling irons with an automatic shut-off option are great, so you don't spend the day wondering if you remembered to turn them off," says Petty. "Rotating barrels make the curling process easier, and some irons come with interchangeable barrels, so you can create different curl types without having to splash out on different gadgets."
How can I keep my hair healthy when using a curling iron?
"Always, always use heat protection!" says Tyler Moore, Expert Stylist at Live True London (opens in new tab). "No matter how you heat style your hair, this is the most vital step. We also recommend looking for a barrel material that is suited for your hair, and not styling too hot," says Moore. "As a rule for damaged, fine or colored hair, go no hotter than 150 degrees Celsius. For healthy or medium thickness hair, 150-190 degrees, and for coarse or thick hair, a maximum of 175-230 degrees."
On top of this, Petty recommends you "invest in heat protector creams and sprays, which are made to protect your hair from the heat of dryers and curling irons." This is the key to making sure that hair stays as damage-free as possible. "To protect your hair while styling, work quickly. If you are using a curling iron, try not to use it for more than three or four seconds per section," she suggests.
To finish off, Petty emphasizes the importance of aftercare. "Invest in good aftercare like hair oils and the best hair masks that are designed to repair any damage, which might be caused by overuse or too much heat," she says.
Why won't my thick hair hold curls and how can I fix it?
"One of the main reasons is usually because the curling irons are not hot enough when used," says Petty. "Thick hair usually needs higher temperatures ranging from 350 to 450 degrees Fahrenheit to set the curls." Moore agrees, suggesting that "if your hair won't hold curls, try styling your hair on a higher degree setting until you find a temperature your hair can tolerate without becoming dry."
Another top tip lies in how you're washing your hair, which Petty advises you revisit. "Even if you're already using quality products, you want to ensure you're thoroughly rinsing your hair in the shower too. Not properly removing conditioner creates an oily residue which doesn't react well with heat, and also creates a barrier that stops the heat from activating the hair curl," she says.
Finally, be mindful of touching your hair just after you have finished styling. "If you brush or touch your curls when they are still warm, they lose their curl quickly," says Petty. "This is a challenge if you have longer, thicker hair, which takes more time to cool. Setting the hair with pins or clips until it has fully cooled can be useful here to get your style to hold for longer."
How can I make my curls last longer?
"Prep will be important to make our curls last longer," emphasizes Moore, reiterating Petty's comments about allowing the hair to cool. "Clip each curl in place while it cools down to help it set and apply a generous amount of flexible hold hairspray to maintain the style throughout the day."
Petty also recommends styling slightly dirty hair to get a stronger hold. "For even better results, curl your hair on the second or third day after shampooing. Dirtier hair can hold a curl better. If your hair feels greasy, you can always use a dry shampoo beforehand," she says.
Amelia joined woman&home after graduating with an MA in Magazine Journalism from City University in 2022. She specialises in lifestyle journalism and throughout her undergraduate degree she wrote for a variety of student publications, where she developed a love for all things style, beauty and sustainable fashion. She has previously written for titles including OK! Magazine, New! Magazine and Notion before she started her career as a lifestyle journalist with woman&home after completing an internship with the brand.