Babyliss Wave Secret Air review: "literally anyone could curl their hair with this"
This styler claims to be completely foolproof – read our beauty editor's honest Babyliss Wave Secret Air review to find out why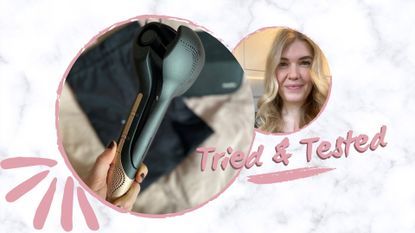 (Image credit: Future/Fiona McKim)
It sounds scary (and looks unwieldy) but Babyliss has really hit on something with the Wave Secret Air - a genuinely foolproof hair waver that does it all. You have to trust the process and relinquish control, which not everyone will be up for. But if you struggle with heat styling technique, this would be a real gamechanger.
Reasons to buy
+

Creates shiny beach waves

+

Zero skill required

+

Curls and sets the hair

+

Extremely efficient

+

Tangle-free with great safety features
Reasons to avoid
-

Heavier and bulkier than a wand

-

You can't choose the wave

-

A little noisy
Why you can trust Woman & Home Our expert reviewers spend hours testing and comparing products and services so you can choose the best for you. Find out more about how we test.
I'll admit I approached this Babyliss Wave Secret Air review with some skepticism. Being of the 'if it ain't broke' school of beauty, It took me a while to come around to even testing this device – because what's wrong with a good old-fashioned curling wand?
Then I thought about it some more and realized that, actually, quite a lot can be wrong with them. Even the best curling iron requires a level of skill and dexterity that a) some people just can't get the knack of, and b) some people have a much harder time even trying to get the knack of because of mobility challenges.
Specifications
RRP: £150 (UK only)
Temperature: 180°C, 200°C, 230°C,
Cable length: 6ft
Added extras: Heatproof mat, drawstring pouch
Cable length: 2.5m
Warranty: 3 years
Considering I'm relatively comfortable with how to curl hair with a curling iron but never have and probably never will nail how to curl hair with a straightener, I really should have been more sensitive to others' styling challenges. But hey, we're all just muddling through, trying to evolve as humans, aren't we? So in the interest of personal growth, and far more importantly providing a useful Babyliss Wave Secret Air review for anyone who's interested, I got stuck in.
Our beauty editor's Babyliss Wave Secret Air review
Babyliss Wave Secret Air design
The Babyliss Wave Secret Air has matte black casing and rose gold details. It comes with a heat mat, a nice little drawstring storage bag, and offers three heats (180°C, 200°C, 230°C) but that's where the similarities between this and any other hair curler end. Instead of the usual slimline heated prong and handle, this looks like a bulky hair straightener with a giant bulbous head.
There's a reason for that. This tool has been designed to take all of the work out of creating a wavy hairstyle via that circular chamber, which you hold a section of hair alongside and clamp the device shut over. It then sucks in the section, wraps it around a heated element inside, cools the hair, and releases a perfect wave.
If even reading that description makes you nervous, I'm with you. Having to cut tangled, singed strands free from the device flashed through my mind before testing (the same catastrophizing instinct that makes me briefly visualize every plane I ever board crashing) Plus, I won't name names, but my history of trying similar curling technology has ranged from frustrating to disastrous. 'Why reinvent the wheel?' is the theme of my hair tool testing adventures, so how did the Babyliss Wave Secret Air get on?
What's it like to use?
Here's how testing went – I sectioned off my hair, which is long and fine, into pieces about the width of two fingers. I held the Wave Secret Air at the top of each section, clamped it shut, and allowed the styler to smoothly slurp my strands in. Once my hair was fully immersed I heard four slow beeps, this means it's time to release, the styler then blasted the section with cool air, and let it go.
You can press a button on the side to choose the direction of the wave (away from the face is best near the front) but otherwise, everything is decided for you and every wave that popped out of the device was uniform, shiny, and not frazzled-looking. All that was left to do was brush though and mist with hairspray, although thanks to the cooling function I didn't need much Elnett to make the waves stick around, which was a nice bonus.
How well does it perform?
I'll cut to the chase: This tool performs very well indeed. It's easy to use, creates a nice head of waves extremely quickly, and after extensive testing (initially with plenty of care and instruction-following, then eventually in the most slapdash way possible) I'm going to make a bold assertion: Literally anyone could curl their hair with this. All that's required is an opening and closing of the clamp, your hands barely move and go nowhere near anything that could burn them. A six-year-old could probably do your hair with this while you apply your makeup. Although please, please don't give this or any hot hair tool to a six-year-old.
As for my fears, in several weeks of curling sections of hair in various sizes, I experienced zero tangling and nothing got stuck. Even if you were heading for disaster, the device somehow pre-empts a tuggy piece and spits it back out again. It also emits a series of frantic-sounding beeps if you get lost in thought and accidentally leave your hair clamped in the chamber, which is a great little safety feature for not overcooking your strands (something I routinely do with a wand)
What's not good about it
This Babyliss Wave Secret Air review may sit comfortably in rave territory, but I won't claim there are no downsides. That giant waving chamber makes this a chunky beast, so it wouldn't make one of the best curlers for short hair, isn't the most convenient for travel, and is significantly heavier than most hair curlers. That's because it has to contain the rotating mechanism that essentially replaces your own hands, so fair play.
With all the beeping and the hairdryer-like whoosh of the cooling function, it also makes a lot of noise compared with other curlers, which tend to be a silent bunch. If for some reason you need to style your hair quietly (a noise-sensitive partner who gets up later than you, perhaps) then this would be something to consider.
Finally, if you are more of a creative hair curler who likes to have a lot of control over the size and shape of your wave, or how long you heat each piece for, you'll have to give all of that power over to the Wave Secret. With the exception of direction, the wave is the exact same every time. That is kind of the point of this device.
Babyliss Wave Secret Air review: our verdict
No prizes for guessing if I liked this hair tool, me and my Wave Secret got on famously plus it benefitted from the element of surprise – I really didn't think I would enjoy using it as much as I did. It's fast and easy and I have kept up using it long after my testing sessions ended. I'd still pick one of my other curling tongs for weekends away, purely down to the weight and shape of the Wave Secret, but otherwise, it's my home styling go-to when I want some easy beachy texture.
If you're on the fence about whether to pick this or a traditional curling tong I'd liken it to driving an automatic car over a manual. It's the path of least resistance and gets you smoothly from A to B, just with a bit less control along the way. It may prove too simplistic for curling connoisseurs but if for whatever reason ordinary hair tongs just don't work for you, I couldn't recommend the Babyliss Wave Secret Air enough.
Beauty Editor, womanandhome.com
As woman&home's Beauty Channel Editor, Fiona Mckim has tried more products than she's had hot dinners and nothing makes her happier than raving about brilliant finds on womanandhome.com or her instagram grid (@fionamckim if you like hair experiments and cute shih-tzus). Fiona joined woman&home as Assistant Beauty Editor in 2013 under industry legend Jo GB, who taught her everything she needed to know (learn about ingredients and employ extreme cynicism). She has since covered every corner of the industry, from interviewing dermatologists and celebrities to reporting backstage at Fashion Week and judging the w&h Beauty Awards.