The 7 best curling irons for fine hair - tried, tested and ranked
Discover the best curling irons for fine hair that deliver bounce and body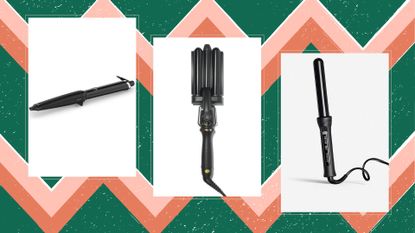 (Image credit: Future/Brand)
When it comes to curling irons, there's no one-size-fits-all. The best curling irons for fine hair will add body and bounce without frying fragile strands. How, I hear you ask? Adjustable temperature settings are key when choosing a curling iron for fine hair as, unlike our thick-haired friends, fine hair is especially prone to heat damage.
Having fine hair is both a blessing and a curse. While fine hair is typically manageable and malleable (making it a hairdresser's dream), it's also fragile and prone to damage from heat styling tools. To minimize damage, it's important to seek out the best curling irons that have been made with fine hair in mind. As well as adjustable temperature settings, ceramic barrels are a good pick for fine hair as they spread the heat evenly.
Consider the shape and size of the barrel, too. Thin barrels are ideal for creating tight, ringlet curls while large barrels will give you bouncy, beachy waves. Whatever your curl preference is, we've curated an edit of the best curling irons for fine hair that can create different curly hairstyles. Top tip? Use alongside your best hair dryer for fine hair for salon-worthy results.
How W&H tested the best curling irons for fine hair
Why you can trust Woman & Home Our expert reviewers spend hours testing and comparing products and services so you can choose the best for you. Find out more about how we test.
To whittle down our edit of the best curling irons for fine hair, our tester tried several top-rated tools, learning how to curl hair using various barrel sizes and shapes. Ranging in price point, each tool was rated on ease-of-use, design, number of settings and results. We tried each curling iron on separate days, styling hair in the morning, to see how well the curls lasted over the course of the day. Those that ranked highly and delivered long-lasting results are featured in our edit below.
The best curling irons for fine hair, chosen by our contributing beauty editor
1. Cloud Nine The Curling Wand
Best curling iron for fine hair overall
Specifications
RRP: $186/ £139
Heat settings: 3 settings, 125-175°C
Warranty: 3 years
Added extras: Heat-resistant case and heat protective glove
Reasons to buy
+
Long-lasting results
+
Mineral-infused coated barrel
+
Long barrel
While curling irons with clamps are great for holding the hair in place – my personal preference is a tool without a clamp. Why? Not only do I find them easier to use but you also avoid those unwanted kinks from the clamp. This wand, from Cloud Nine, gets our vote with its four-inch, clamp-less barrel that's ideal for curling fine, long hair. To use, select your preferred heat setting (there are three in total, low, medium and high, varying from 125-175°C). For fine hair, opt for the low or medium setting. We found that low was hot enough to create tousled beach hair waves on our fine hair.
As for ease of use, it took a little practice to lock down the best technique when using this wand. It comes with a heat resistance case (perfect for travel) and a heatproof glove. Make sure you wear the glove while styling hair as there's no cool tip with this curling iron. Once you have the glove on, we recommend holding the wand at an angle, facing downwards, before wrapping a section of hair around it. Hold for a few seconds before releasing. Alternate in opposite directions as you move from section to section to give fine hair lots of body. You'll notice that hair looks shinier after use too – which is thanks to the mineral-infused coating that helps lock in moisture. A big tick!
2. Beauty Works Professional Styler
Best affordable curling iron for fine hair
Specifications
RRP: $81 / £55.99
Heat settings: 80-220°C
Warranty: 1 year
Added extras: Carry case and heat protective glove
Reasons to buy
+
Creates Hollywood waves
+
Digital temperature control
+
Comes with a protective glove
This affordable curling iron strands up to those twice and even thrice its price point. Featuring a very long (18.5cm), ceramic-coated, large barrel – this tool is another great pick for creating curly hairstyles for long hair. Again, there's no clamp (our personal preference) and there's a choice of heat settings varying from 80-220°C. Start low and, if needed, gradually turn up the heat – but don't exceed 180°C on fine hair. Once hot, wear the heat protective glove (included) and wrap sections of hair around the barrel.
To create glamorous Hollywood waves, this is your styling must-have. The thick wand is the perfect size and shape to create uniform, bouncy waves. Our top tip? Curl hair towards your face for that Hollywood look and gently brush the curls out afterwards. While we found this tool really easy to use – it's worth noting that the extra-long (and wide) barrel may not be suitable for short hairstyles. Also, if you like to experiment with different curly looks, this tool is probably not for you. Due to the shape and size, we found that it's limited to Hollywood waves and loose curls.
3. Dyson Airwrap Multi-Styler Complete
Best luxury curling iron for fine hair
Specifications
RRP: $599 / £479.99
Heat settings: 3 settings
Warranty: 2 years
Added extras: 6 attachments, storage case and filter cleaning brush
Reasons to buy
+
Six versatile attachments
+
Blow dries hair
+
Low heat temperature
Yes, it's expensive. But the Dyson Airwrap Complete Styler is a multi-tasking mane-changer that, in our opinion, is worth every single penny. Suitable for all hair types, including fine and fragile, the high-tech tool comes complete with six different attachments that can curl, wave, smooth and dry hair – all without using extreme heat (up to 150°C) to minimise damage. At first, the tool may look intimidating, but follow our step-by-step guide on how to use the Dyson Airwrap and you'll quickly get the hang of it. Essentially, the Airwrap attracts hair and wraps it around the barrel using powerful airflow and heat (otherwise known as the brand's Coanda effect).
Depending on what attachment you use, you can create anything from tight curls to beachy waves. On fine hair, we love the 30mm Airwrap Barrel that delivers a voluminous curly blow-dry that will look as though you've just stepped out the salon. And while it is expensive, this high-tech tool can replace all your other tools – including your best hair dryer. What impressed us most with the Airwrap is how our hair felt and looked after styling – shinier, and softer than when we started. Bravo Dyson!
4. BaByliss 9000 Cordless Curling Tong
Best cordless curling iron for fine hair
Specifications
RRP: $200 / £180
Heat settings: 3 settings, 160°C, 170°C, 180°C
Warranty: 2 years
Added extras: Travel storage case, heat protection mat and heat protection glove
Reasons to buy
+
Travel-friendly cordless design
+
40-minute use
+
Long-lasting curls
In terms of convenience, this cordless curling iron from BaByliss gets top marks. A little like driving an electric car after years of using gears – this sleek, wireless design makes hair styling so seamless. Ideal for fine hair, the medium-sized barrel can be used to create loose, relaxed waves as well as tighter curls. If it's the latter you're after, use smaller sections of hair. There are three heat settings to choose from and the cordless wand gives you 40 minutes of wireless styling at maximum heat – which we found was more than enough for our fine, long hair.
In fact, we were able to get two styling sessions out of it before having to recharge. Note that charging takes three hours to reach full charge. This is a great travel-friendly tool for anyone who's always on-the-go, or for anyone whose best lighting (and mirror) happens to be placed in their bathroom. The ceramic-coated wand leaves hair feeling smooth, and we appreciate the clamp which does give you more control (and is favored by many). The only downside of this top tool is the weight – it's heavier than most curling irons we tried and it may give you arm ache after a while.
5. Amika High Tide Deep Waver
Best waver for fine hair
Specifications
RRP: $120 / £90
Heat settings: 50°c - 198°c
Warranty: 1 year
Added extras: Heat resistant, no slip handle and kickstand
Reasons to buy
+
Cool tip for controlled styling
+
Kickstand to rest safely on surfaces
+
Creates beauty waves
After watching countless video tutorials online showcasing Amika's High Tide Waver, we were extremely eager to give it a whirl. And we can confirm that it did not disappoint. Designed to create beautiful, beachy waves, this three-barrel tool is so easy to use and can quickly wave an entire head of fine hair is less than 20-minutes (we timed it). Start at the roots and hold the tool horizontally, clamping onto a large section of hair, before moving it slowly down the length of the hair until you reach the ends. The results are soft waves that add body and thickness to fine hair.
As someone who has naturally straight, fine hair – I was blown away by the results. To add more of a tousled texture, I recommend spritzing a texture spray or your best hair styling products through mid-lengths to ends before working it in with fingertips. As for the design, the waver uses far-infrared technology to lock in moisturise as well as negative ions to seal the hair cuticle. Double tick! If you adore wavy hairstyles and those deep S-bends, this is the hoot tool for you. It's probably the only tool that's even easier to use than our beauty editor's favorite, the Babyliss Wave Secret Air. Expect long-lasting, smooth waves that cheat thicker-looking hair.
6. ghd Curve Creative Curl Wand
Best curling iron for fine hair for long-lasting results
Specifications
RRP: $147.99 / £139
Heat settings: 1 setting, 185°C
Warranty: 2 years
Added extras: Heat proof gloves
Reasons to buy
+
Sleek, slim design
+
Tapered barrel creates waves and curls
+
Cool tip and heat resistant gloves included
Reasons to avoid
-
Only one temperature setting
Not only is ghd home to some of the best hair straighteners in the business, but the brand is also behind incredible curling devices too. Take the Curve Creative Wand, for instance. The award-winning, best-selling tool can create effortless beachy waves and big, bouncy curls on all hair types and lengths. What sets it apart from other curling irons we tested for this guide is the tapered barrel that has a wider base for creating looser waves and a narrow end for those tight curls. If you're looking to curl short hairstyles, we recommend using the narrower end.
Easy to use, this wand works like any other – simply wrap a section of hair around the barrel, hold for a few seconds, before letting go to reveal a bouncy curl. As with the best ghd straighteners, there's only one heat setting of 185C (the brand's identified optimum temperature for styling hair). It takes a few seconds for the styler to reach this heat and will alert you when it's ready for use. While this temperature is high for fine hair, it is monitored by technology that can recognize how thick your hair is – and adapt the temperature accordingly. Clever!
7. T3 Whirl Trio
Best versatile curling iron for fine hair
Specifications
RRP: $274.99 / £221
Heat settings: 5 settings
Warranty: 2 years
Added extras: Heat resistant glove, 3 interchangeable barrels
Reasons to buy
+
Creates different looks
+
Includes heat resistant glove
+
5 temperature settings
Love experimenting with different styles? Then say hello to the Whirl Trio styling wand from T3. Complete with three interchangeable barrels, there's everything you need to create countless looks from relaxed waves to bouncy curls. For uniform spiral curls, attach the small straight barrel. If it's undone beachy waves that you're after, go for the tapered barrel. And for full-bodied curls, opt for the large straight barrel. Whichever attachment you choose, note that they all boast a ceramic surface that glides effortlessly through hair, smoothing frizz and boosting shine.
When styling fine hair, we went for the tapered barrel and used the second heat setting (there are five in total). This combination was ideal for adding texture to fine hair along with relaxed, tousled waves. Overall, we found the design to be user-friendly (albeit a little chunkier than other curling irons) and soon got to grips with using the different attachments. And while it is expensive, it's essentially a three-in-one tool that allows you to streamline your hair styling kit. If you love to mix up your curls, this is a great choice for you.
How to choose the best curling iron for fine hair
There are several factors to consider when choosing the best curling iron for fine hair, as the experts outline below:
Temperature settings: Go for a tool with adjustable temperature settings as fine hair is more susceptible to heat damage. "Always try to curl fine hair with the lowest temperature setting," says Paul Percival, celebrity hairstylist and founder of Percy & Reed (opens in new tab). "If you don't feel that it's curling enough or holding long enough then go up a setting."
Barrel size: Consider what type of curl you're after when choosing the barrel size. "If you want to have super curly hair, obviously you need a really small wand or tong," says Percival. "If, on the other hand, you want a loose curl then go for a bigger barrel. I personally would go for a mid-size if you're not sure."
Material: Most curling irons are made with ceramic barrels that spread heat evenly and are good for fine hair. Titanium iron is better for thicker hair while tourmaline is a good option for damaged or frizz-prone hair as it emits negative ions that can help eliminate frizz.
Emma Stoddart is a freelance beauty journalist and self-confessed skincare aficionado with over five years' industry experience. Emma has worked for some of the UK's top women's titles including Net-A-Porter, Stylist and Grazia. Her experience spans online and print as well as producing editorial shoots with some of the industry's biggest artists, including Val Garland. Asides from working with them behind the scenes, she's also had the chance to interview the likes of Patrick Ta, Pat McGrath, and Sam McKnight for all their insider tips and tricks.