These are the 10 best hair dryers for fine hair, tried and tested by us
Our edit of the best hair dryers for fine hair – achieve volume and enjoy gentle blow drying at every budget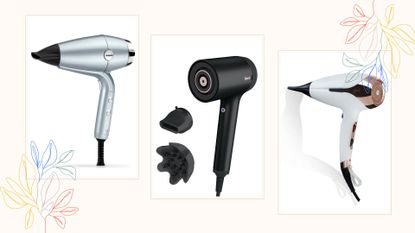 (Image credit: Future/Brands)
When it comes to scouting out the best hair dryers for fine hair, it's important to remember that not all dryers are made equal. Thinner hair types need something that won't frazzle delicate ends or leave locks flat or wispy.
The best hair dryers for fine hair should pay attention to hair health above all else. "Look for hairdryers that have adjustable heat settings and cool air buttons. That way you can lower the heat to cause less damage and use cool air to seal the cuticle once finished," advises hair restoration surgeon, Dr Munir Somji. The materials used count too. "If you have fine or dry hair, ceramic or metal nozzles give a consistent temperature and make the heat less harsh," explains Dr Somji.
With some of the industry's best hair straighteners under its belt, it follows that hair titan ghd made our list with the excellent ghd Helios. This dryer is kind yet powerful and comes in a gorgeous selection of colors. We also love the futuristic Zuvi Halo for supremely gentle high-tech drying and the pioneering Dyson Airwrap Styler, which makes achieving a variety of looks a cinch.
How we tested the best hair dryers for fine hair
Why you can trust Woman & Home Our expert reviewers spend hours testing and comparing products and services so you can choose the best for you. Find out more about how we test.
When it comes to investing in a hair dryer for fine hair, it's important to know that it will work for this specific hair type. That's why we've tried and tested each dryer to see how they compared on:
How the dryer feels in the hand
Usefulness of controls
Number of heat and speed settings
User experience
Technical specs including weight, power, and warranty
Whether attachments are included or have to be bought separately
Price
We've included traditional models and modern hair dryer brushes to help you select the best type of device for your styling needs, while taking care of fragile, fine hair and boosting volume.
The best hair dryers for fine hair, as chosen by our experts
Best overall hair dryer for fine hair
Specifications
Weight: 1.495kg
Power: 2200W
Speed settings: 2
Heat settings: 3
Cord length: 3m
Warranty: 2-year guarantee
Available colors: Black, neo-mint, powder pink, ink blue, white, plum
RRP: $279 / £179
Reasons to buy
+
Fast and powerful for a soft and shiny finish
+
Gorgeous design
+
Number of striking colors
Eight years after entering the hair dryer arena with the Air, GHD dropped the Helios. And it seems that the cult brand has stepped up its design game, as, just like the ghd Platinum+ hair straightener, the Helios hair dryer will take any vanity from bleak to chic. It tops our best hair dryers for fine hair list, as not only does it look fabulous in every one of the six stylish color options, but it also packs a serious punch when it comes to power. A mega-high wattage means that you're getting a forceful 120km/h shot of air through the concentrated nozzle, which goes a long way in adding volume to fine hair and left us with a shiny, bouncy look in minutes.
It is at the higher end of the price spectrum and we found that it is heavier than most of the others we tested, but this isn't such a problem for fine hair as it is thick or curly. Plus, the design is so streamlined that we didn't feel the difference when using it – its ergonomic shape, which makes giving yourself a bouncy blow dry very easy, made the minimal extra weight on this tool definitely worth carrying.
See our full GHD Helios hair dryer review
2. Shark STYLE iQ Ionic Hair Dryer & Styler
Best high-tech hair dryer for fine hair
Specifications
Weight: 730g
Power: 1600W
Speed settings: 3
Heat settings: 3
Cord length: 2.5m
Warranty: 2 years
Available colors: Black and rose gold
RRP: $229.80 / £179.99
Reasons to buy
+
Compact and easy to maneuver
+
Powerful
+
Very quiet
+
Ionic technology
Reasons to avoid
-
Only two attachments
-
Expensive
Following in Dyson's footsteps, technology giant Shark released a hair dryer that's high-tech, innovative, and delivers impressive results on fine hair. Granted, it's more expensive than most – but if you're after a hair dryer that cuts down on damage as well as drying time, this could be the hot tool for you.
Powered by something called iQ Technology, the dryer uses speed over force to generate a constant flow of ionized air that dries fine hair quickly with minimal damage. The results? We experienced smoother, shinier strands. You can also take control of the dryer with three temperature and airflow settings (low, medium, high) and even the highest heat doesn't feel searingly hot.
As for attachments, there may only be two, which feels a little minimal for the price point, but they're both intelligent. We found the attachments magnetically connect more securely than other models (Dyson included) at which point the Shark recognizes which attachment is on and alters the heat and speed settings accordingly to give you the best results. With the iQ dryer, choose between the concentrator for sleek results or the diffuser to turn this into the best hair dryer for curly hair. We also love how compact this dryer is and it's quieter than most hair dryers we've tried. For a slightly pricier alternative with even more styling attachments, our Shark FlexStyle review breaks down what the brand's other hero dryer has to offer.
See our full Shark hair dryer review.
3. Panasonic EH-NA9J Hair Dryer
Best damage reduction hair dryer for fine hair
Specifications
Power: 1800W
Speed settings: 3
Heat settings: 2
Cord length: 2.7m
Technology: Nanoe and double mineral to reduce damage
Extras: Diffuser, styling nozzle, quick dry nozzle
RRP: $160 / £139.99
Reasons to buy
+
Impressive technology
+
Very easy to use
+
Foldable handle
+
Perfect for damaged hair types
Designed to tackle signs of damage like lack of shine, frizziness, dryness, dullness, and split ends. this dryer's unique Nanoe & Double Mineral features work to add moisture back into strands, making for healthier-looking and feeling hair - a big win if you have fine hair that is also damaged.
When testing, we were seriously impressed by the range of speed settings that this drier has. The lowest gave a very soft blow that fine hair types really benefit from, but the highest setting packs a real punch if you want a quick dry. Plus, built-in sensors keep the dryer at the optimum temperature, so you're not at risk of using too much heat. There is also an alternating hot and cold air mode to lock in moisture, a scalp mode that works gently to encourage healthy growth, and even a skin mode that uses mini steam particles to moisturize your face – what can't this hair dryer do?
We loved using the Panasonic hair dryer on our dry and bleach-damaged hair, and it did a very impressive job at giving a smooth blow dry and diffusing our curls. Another big plus is that it has a foldable handle and a shorter barrel that can easily tuck away, so it makes one of the best travel hair dryers too.
4. Revamp Progloss Hydro Shield X Shine Hair Dryer
Best shine-boosting hair dryer for fine hair
Specifications
Power: 1800W
Speed settings: 2
Heat settings: 4
Cord length: 3m
Warranty: 3 year guarantee
Technology: Ionic technology to reduce frizz
Extras: Diffuser, two nozzles
RRP: $100 / £119.99
Reasons to buy
+
Promotes shine
+
Very easy to use
+
Three attachments
+
A good number of settings
Reasons to avoid
-
Attachments slightly fiddly
It can be a struggle to keep fine hair glossy, as heavy products like oils and conditioners can weigh down this hair type. So when we came across a hair dryer that could also provide shine, we were all ears. Revamp is known to make some of the best curling irons for thick hair, but the good news is that they cater to fine hair types just as well.
On testing, we loved how quick and easy this tool was to use. With three attachments, we achieved a sleek blow-dry finish plus it caters to curly hair types with the diffuser, so there's something for everyone. We did find it slightly fiddly to attach each one at first, but after a little practice, this was no issue. The combination of iconic technology and the essential oil infusion gave us gorgeously shiny results and a healthy appearance without weighing it down or looking greasy.
If you have fine, frizzy hair and you want to achieve a healthier look, you will love this hair dryer. The number of speed settings allows for a customizable experience so you can adjust to what your hair needs, with the option of a cold setting to lock in your style. Another drier with intelligent temperature sensors, there's no danger of overheating your fine hair.
5. BaByliss Hydro-Fusion 4-in-1
Best hair dryer brush for fine hair
Specifications
Power: 1000W
Speed settings: 2
Heat settings: 2
Cord length: 2.5m swivel cord
Warranty: 2 year guarantee
Technology: Advanced Plasma Technology with dual ionic system
Available colors: Blue
RRP: $83.75 / £80
Reasons to buy
+
Multiple attachments
+
Gentle enough for fine hair
+
Easy to switch between heads
+
Reasonably priced
If you are looking for a one-and-done hair tool that will cater to absolutely all of your needs, the new BaByliss Hydro-Fusion multi-use dryer is one of our favorites on the market. From mastering the flicky C-shape haircut to getting the ultimate salon-worthy sleek blow dry, this offers plenty of options for on-trend looks.
When we tried the blow dryer attachment on wet hair, we found the pressure to be fairly gentle. This is ideal for those who have fine hair and don't need huge amounts of power when drying or don't want to apply too much heat. If you have hair that tends to take quite a while to dry or requires maximum heat, the blow dryer attachment also works as a pre-styling step. We used it to get excess water out of the hair before following up with one of the three styling attachments for a sleek finish. There is only one-speed setting, so you can expect the same soft drying when using each of the brush heads.
The only downside to this dryer is that it is slightly bulky, and the multiple attachments mean that it isn't ideal for traveling. However, we love the versatility of this tool and how well it works for various hair types, especially fine hair. If you have hair that is prone to frizziness, the largest brush head works as a smoother to tame those pesky flyaways - and its results rival that of the best hair straightener brushes.
6. T3 Featherweight Compact
Best travel hair dryer for fine hair
Specifications
Weight: 394g
Power : 1200W
Speed settings: 2
Heat settings: 2
Cord length: 2.75m
Warranty: 2 year guarantee
Available colors: White & rose gold, black, hot pink, soft lavender
Extras: Folding handle
RRP: $150 / £125
Reasons to buy
+
Light and sturdy
+
Gorgeous design
+
Smooth finish List
Going away on vacation is all fun and games – until you have to brave the hotel-provided hair dryer or worse, the pitiful stock version hooked up to the bathroom wall. T3's Featherweight Compact is here to save you from the horrors of sub-par vacation styling with its light, portable design, effective performance, and enviable results. Oh, and it looks like something straight out of a five-star salon, so there's that too.
With a folding hinge that makes it a breeze to fit into your carry-on, the dryer has an unusually small barrel that can look slightly strange, but we found that it makes for painless styling. Despite being a bit slower than our other favorite hair dryers (as you would probably expect from a smaller, travel-friendly product), we found that it packs more than enough punch for finer hair types and is easily superior to most tools you'll find in a hotel room and comes with a cool-shot option and a concentrator nozzle for sleek styling. It's also great if you have a bangs hairstyle and need a tool to keep your fringe in check on the go.
It's up to you whether you want a whole separate dryer just for travel (if not, perhaps a relatively light, high-tech dryer such as the luxe Zuvi Halo might suit) But if you do, this would be the best choice for convenience and performance.
7. Remington Ionic Conditioning Hair Dryer
Best budget hair dryer for fine hair
Specifications
Weight: 1.05kg
Power: 2200W
Speed settings: 2
Heat settings: 3
Warranty: 2 years
Available colors: Black, purple
RRP: $19.16 / £23.99
Reasons to buy
+
Ionic technology
+
Adds shine and protects hair
+
Powerful cool-shot button
+
Affordable
You get serious bang for your buck with this bargain hair dryer. This one tool gives three different finishes thanks to the included smoothing nozzle and diffuser attachments, so whether you are after pin-straight locks or a natural, wavy style, this dryer will work for you.
Fine hair can often need some extra TLC when it comes to heated tools, which can cause the hair to become brittle or damaged. Despite the power of this Remington hair dryer (and trust us, it is very powerful), damage control is very much factored in. When we tested it, we found that our dry, bleached hair was left feeling hydrated and smooth with no frizz. This is thanks to the tourmaline, ionic and ceramic technologies that protect hair and also transfer micro-conditioners for a healthy finish.
This is one of the heavier hair dryers we tested, however thanks to its power and quick drying time, this wasn't an issue for us. From stepping out of the shower, a rough all-over blow dry only took about 10 minutes – about half the usual time our hair takes to dry and style from wet. For extremely quick heat styling that you can trust to look good, this is our go-to.
8. Zuvi Halo
Best luxury hair dryer for fine hair
Specifications
Power: 680 watts
Speed/heat settings: 3 modes
Cord length: 1.8m (standard) 2.7m (Pro)
Warranty: 2 years
Available colors: White
Technology: Infrarad drying
RRP: $349 / £329
Reasons to buy
+
Extremely gentle
+
Unique infrared technology
+
Stylish and lightweight
+
Energy-efficient
+
Intuitive attachments
Yep, she's expensive. This is our luxury pick of the best hair dryers for fine hair, so if you want something economical the Zuvi Halo won't be it. But if you want the absolute best, technology-wise, and have more to spend then step this way.
Aside from looking exceptionally slick, the USP of this self-dubbed 'Tesla of hair dryers' is that as well as heat and air, it uses infrared light to mimic air drying your hair in the sun. We loved how gentle and quiet it is, you can tell it is really caring for your hair and our fine, bleached strands never felt frazzled. The brand says it keeps hair up to 109% more hydrated and that the dryer is five times more energy-efficient than standard models, which is becoming increasingly important to a lot of us.
We also love this dryer's intuitiveness. Instead of figuring out heat and speed combos you choose from Care mode, Fast mode, and Style mode, which are programmed to be used with the included concentrator, diffuser, or gentle air attachment. This means instruction reading is necessary, but after that, all the hard work is done for you. Any downsides? It's a little slower than some – that's part of the kind-to-hair-package, but if you're a time-poor or impatient styler that might bother you. The same goes if you have very long, coarse, or thick hair (unlikely, given you're reading a guide to the best hair dryers for fine hair)
See our full Zuvi Halo hair dryer review
9. Dyson Airwrap Complete
Best multi-styling dryer for fine hair
Specifications
Weight: 660g
Power: 1300W
Speed settings: 3
Heat settings: 4
Cord length: 2.62m
Warranty: 2-year guarantee
Available colors: Grey & fuschia, black & purple
RRP: $549.99 / £374.99
Reasons to buy
+
Light, compact
+
Clever attachments
+
Allows for multiple styling options
+
Gentle on fine hair
Reasons to avoid
-
Expensive
-
Trickier to master
Professionals make achieving a bouncy blow-dry look effortless, most DIY blow dryers understand the perils of wrangling all those barrels and brushes. Enter the Dyson Airwrap with its attachments that claim to do all the hard work for you. The multi-functional tool does take some getting used to (although our step-by-step guide to how to use the Dyson Airwrap can help with that) But if you normally rely on a plethora of different hair tools to add volume and boost fine hair day-to-day, then this one is definitely up your alley.
While the Airwrap probably gives your mortgage payment a run for its money, its all-purpose attachments do represent bang for your buck. We found that the dryer attachment essentially transforms it into the Dyson Supersonic hair dryer, and it also comes with two different-sized barrel attachments to easily create bouncy waves and curls, two brush attachments for straightening and smooth drying, and a round brush to create a dreamy blow-dry.
When we tested it, we found that it's not quite powerful enough to leave a smooth, frizz-free finish on thick and curly hair – for that you might need to pair it with one of the best straighteners for curly hair – but for fine hair, it does the job in seconds, so it's definitely worthy to be classed as one of the best hair dryers for fine hair.
See our full Dyson Airwrap review
10. BaByliss Hydro Fusion Hair Dryer
Best hydrating hairdryer for fine hair
Specifications
Weight: 570g
Power: 2100W
Speed settings: 2
Heat settings: 3
Cord length: 2.5m
Warranty: 3 years
Available colors: Icy blue
RRP: £80 (UK only)
Reasons to buy
+
Affordable
+
Powerful
+
Boosts shine
+
Helps boost moisture
Spending ages doing your hair only for it to go frizzy and static is a disheartening problem that fine-haired types regularly face. If your hair's on the drier side, it's important to pick products specially designed for your locks to ensure it gets an extra boost of hydration. This affordable option by Babyliss is perfect for fine, frizz-prone hair.
Although maybe not as lightweight as some of the others that we tried, the benefits balance that out. 2100 watts makes for a powerful blast of air, and the three heat settings mean you can stick to the lower temperatures, to help prevent hair from getting fried. It comes with two attachments – a smoothing nozzle and a handy diffuser for curls, so really it works on almost all hair types. When we tested it on fine, curly hair, it left our coils looking shiny and soft without a hint of frizz.
The price point is brilliantly affordable too – we were really impressed with how smooth our hair was, especially when compared to other options several times its price. If you're looking for the best hair dryer for frizzy, fine hair - this is your best bet.