Dyson Airwrap styler: two new attachments added to give you your sleekest at-home blowdry yet
You'll be able to perfect a whole host of looks with the styler's latest features.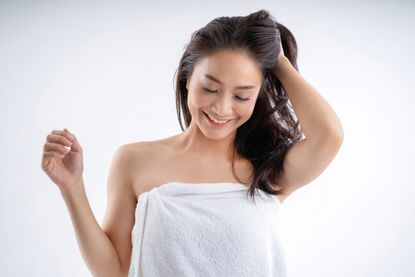 (Image credit: Getty Images/iStockphoto)
Dyson has launched two new attachments for its amazing Airwrap styler, meaning achieving the perfect finish without the help of your hairdresser has never been easier.
Calling all hair (opens in new tab) obsessives: Dyson (opens in new tab) have launched an additional two attachments for their amazing Airwrap styler, and we're just champing at the bit to try them out. Never mind that they already have the best (opens in new tab)hairdryer, this new hair tool is the answer to our styling prayers.
The new barrel and brush attachments will allow users to tailor the tool to suit their hair type and desired style – giving you the perfect salon finish at-home, every day.
Though best known for their technology in hoovers and fans (opens in new tab), Dyson have been making waves in the beauty industry over the past few years, beginning with the launch of their Supersonic hairdryer back in 2016. (opens in new tab)
SHOP NOW: Dyson Airwrap™ styler Complete, £449.99 (opens in new tab)
The innovative Airwrap styler, which was launched in 2018, is propelled by the Dyson digital motor V9 and uses Coanda technology (we'll get on to that one) to easily achieve voluminous curls, natural waves and smooth blow-dry finishes. As such, the Airwrap acts as curling iron, hair dryer (opens in new tab) and hot-air brush in one.
MORE: The popular hair trend that has changed after lockdown (opens in new tab)
And though retailing at the more expensive end of the styling tools market at around £450.00, (although, let's be honest, there's nothing else like it out there) the powerful styler is guaranteed to save you hundreds on blowdries in the longterm. (And garner you hundreds of compliments along the way.)
How does the Dyson Airwrap work?
According to Dyson, "At the heart of the Dyson Airwrap styler comes a radical idea: harness Dyson's digital motor to create a phenomenon known as the Coanda effect. The Coanda effect occurs when a high-speed jet of air flows across a surface and, due to differences in pressure, the air flow attaches itself to the surface.
Taking advantage of this principle Dyson's team of aerodynamicists created a way to style hair using only air combined with heat. The result, whether you choose to curl, wave, smooth or rough dry your hair, creates a natural look with a sleek finish, helping prevent extreme heat damage."
This is because, unlike most hair styling tools, the Airwrap doesn't rely on heat alone to change the bonds within the hair structure to reset them into a new style. By using air to achieve volume in a curl or blowdry, the Airwrap avoids extreme heat damage (opens in new tab). It also has an inbuilt heat control to measure and regulate heat – keeping temperatures below 150 degrees celsius. So no dull, frazzled hair here.
What's different about the new Dyson Airwrap attachments?
The Dyson Airwrap styler barrels are engineered with flow-vane geometry, which attracts, wraps and curls hair using the Coanda effect. The brand's newly launched 20mm barrels are longer and thinner than their 30mm sister barrels, and are designed to deliver tighter curl styles. The new 20mm barrels are also perfect for those with finer hair (opens in new tab), as they work to enhance curl retention and hold.
Meanwhile Dyson's newly-launched Small Round Volumising Brush is the perfect attachment for very short hair (opens in new tab) and fringes. The Dyson smoothing brushes use the Coanda effect to attract hair to the surface of the brush, propelling air along the hair strands to mimic a hairdresser's sleek blow-dry technique.
How much do the new attachments cost?
The Dyson Airwrap's new 20mm barrels and small round volumising brush attachments are fully compatible with the current Dyson Airwrap styler, and can be purchasedhere (opens in new tab)for£30.
Kate is a freelance contributor to woman&home, covering everything she loves most: fashion, fiction, and fancy face cream. If she's not working, she's probably reading, feeding her online shopping addiction, or judging the taste level of celebrity houses (10/10 for Dakota Johnson, 2/10 for Tan France).

She graduated from Central Saint Martins in 2020 with a BA in fashion journalism, and her byline has also appeared in British Vogue, The Times, and Marie Claire.