The best Dyson hair dryer deals available right now
Your one-stop destination for the best Dyson hair dryer deals we can find in the UK and US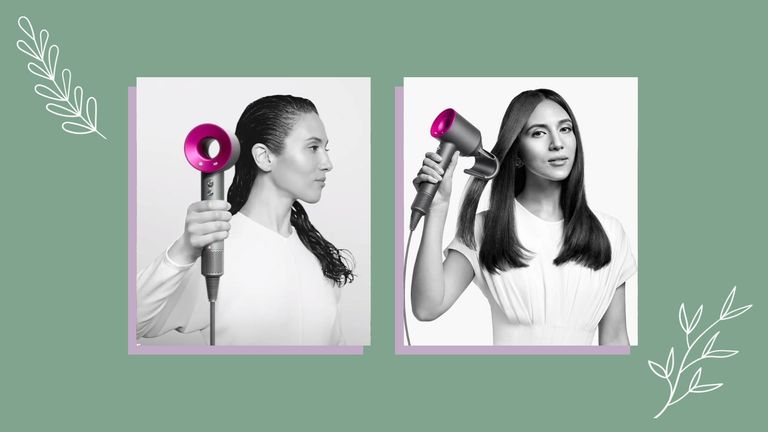 (Image credit: Future)
Contributions from
Trying to find the best Dyson hair dryer deals to give your summer locks a boost? We've got you covered. Right now is a good time to pick up a couple of limited edition bundles that are often hard to find, like Valentine's Day Red in the UK and 23.75 Karat Gold in the US.
Discounts on Dyson hair dryers are still incredibly rare. They only really emerge during major shopping periods like Prime Day or Black Friday, and unsurprisingly, those deals are usually short-lived. However, a handful of offers can still appear throughout the year, and while they may not be huge slashes in price, they are still your chance to get your hands on this otherwise hard-to-find item.
Scroll down for the best Dyson hair dryer deals we're seeing right now in the UK and US. We also have some advice on how you can further your chances of scoring a stellar Dyson Supersonic hair dryer deal in 2022. Meanwhile, check out our Shark vs Dyson hair dryer showdown to see which of these two popular styling tools is right for you.
Where to shop Dyson hair dryer deals in the UK
Current Dyson hair dryer deals and bundles in the UK
Dyson Red Supersonic Hair Dryer & Travel Bag: £329.99 | Dyson UK (opens in new tab)
This elusive Red and Nickel Dyson Supersonic Hair Dryer bundle is back in stock at Dyson UK. This color scheme was released in February 2021 as a special Valentine's Day edition, but we think it'll be lovely to use for any time of year.
Dyson Supersonic Gift Edition Hair Dryer & Travel Bag £328.92 | QVC
(opens in new tab)Here's a cracking deal for a Dyson Supersonic in Fuchsia with the coveted Prussian Blue travel bag. In trendy clashing colors and sturdy materials, if you intend to take your Dyson hair dryer and its myriad of attachments on the road often, you'll be grateful to have this stylish bag.
Dyson Supersonic Hair Dryer Fuchsia & Nickel £329.99 | Curry's (opens in new tab)
This color combo is rarely seen on the Dyson Supersonic and would really make a statement on any dressing table. Included styling attachments are a gentle air attachment, diffuser, concentrator, wide-toothed comb, and the brand new flyaway attachment for sleek frizz-free blow-drying. Also available in Black or Iron for the same price.
Where to shop Dyson hair dryer deals in the US
Current Dyson hair dryer deals and bundles in the US
Dyson Supersonic Hair Dryer 23.75 Karat Gold: $499.99 | Dyson US
(opens in new tab)About four years after its release, we're still blown away by the gold leaf-finished edition of the Dyson Supersonic Hair Dryer. It comes with a bold red Gesso presentation case if you'd prefer not to have this eye-catching hair tool out on display. We don't see this version in stock often here so if you're keen to spend $500 on a hair dryer, make it this one.
What you need to know about Dyson hair dryer sales
How can I find the best Dyson hair dryer deals in 2022?
The Dyson Supersonic hair dryer is consistently praised as being one of the best hair dryers and best hair dryers for fine hair in the world.
This much-hyped hair tool was Dyson's first venture into hair care and our Beauty Editor even rated it four-and-a-half stars out of five in her Dyson Supersonic hair dryer review. We found it reduced hair damage, was fast, powerful, quiet, and provided an excellent user experience.
But, with an RRP of $429.99 / £329.99 it's definitely an investment, so it's worth seeking out a deal when you want to snap it up.
However, finding the best Dyson Supersonic hair dryer deals is akin to finding a unicorn. Okay, maybe not that tricky, but these deals are still elusive. So, what can you do to save some extra cash on Dyson's premier hair styling tool? Here are some of our top buying tips:
Take advantage of Dyson Owner Rewards: Dyson runs occasional promotions for its loyal customers. During Black Friday, shoppers who previously purchased a Dyson product and registered it were able to enter a one-time promotional code for 20% off a new Dyson product of their choice including the Supersonic. There's a possibility this offer will return at some point during 2022, so stay tuned.
Shop around: To ensure you get the most for your money, look at more than just discounted prices and seek retailers offering free shipping, loyalty card points, or extra accessories when considering where to purchase your hair dryer. Also, be sure to search for coupons that'll shave some extra money off. For instance, Sephora's VIB coupons are often valid on Dyson hair tools.
Keep an eye on major shopping holidays: The best Dyson hair dryer deals tend to happen around the year's biggest shopping holidays - namely Amazon Prime Day in mid-summer and Black Friday in November. These offers tend to yield significant savings, which also means they often go out of stock quickly. You'll have to act fast as the competition is deadly fierce.
Consider gift sets: Dyson already has a range of hair dryer gift sets on offer with limited-edition colors and cases for your product. Keep this in mind when deciding whether to invest in a discounted hairdryer or pick up a limited-edition gift set on offer.
Snap up a refurbished hair dryer: If even discounted hairdryers are out of your budget, don't worry, there's another way you can get your hands on a Dyson Supersonic hairdryer for less. Check out the brand's refurbishment center and pick up a hairdryer that has been refurbished by a Dyson engineer with genuine Dyson parts. Unsurprisingly, they are often sold out, but you can sign up for updates (opens in new tab) to keep you in the loop with restocks.
If you're really at a loss when it comes to buying a Dyson hair dryer, consider an alternative. The GHD Helios is a more affordable option that's much easier to find in stock. And as we note in our Dyson Supersonic vs GHD Helios showdown, the Helios offers impressive results at a lower cost.
How much does Dyson delivery cost?
Shipping costs for Dyson hairdryers will vary depending on your region and the retailer you purchase with.
If you're shopping via the Dyson website in the US, shipping is free for select zip codes and takes 1-2 working days.
In the UK, shipping is free for Standard Next Day Delivery. For scheduled delivery before 9am on a weekday, there's a delivery charge of £5, while Saturday delivery before 9am comes with an £8 charge.
When shopping for Dyson products via another retailer, check the retailer's website for more information on shipping prices and timelines. Many offer free shipping via coupon or with a minimum spend requirement.
---
Dyson Supersonic hair dryer deals are hard to come by, which is why we'll be updating this page as soon as any catch our eye. Bookmark this page and check back often as we'll be keeping it fresh with the best Dyson hair dryer deals on either side of the Atlantic.
Alison Barretta is a freelance writer and editor from Philadelphia, USA who specializes in home and lifestyle, skincare, and tech. For the last 15 years, she has been sharing buying advice and product reviews with curious, cost-conscious shoppers from around the world. Alison's work has been featured in Forbes, Business Insider, Tom's Guide, TechRadar, and Creative Bloq.
When she's not reviewing mattresses or waxing poetic about her favorite face cleansers, Alison can be found teaching/training in martial arts, streaming underrated TV series, trying new recipes, and singing karaoke until her throat is hoarse.
With contributions from