A beauty editor's Dyson Supersonic Hair Dryer review: is it worth the hype?
Our Dyson Supersonic review breaks down why this tool is such a game changer – and if it's really worth the money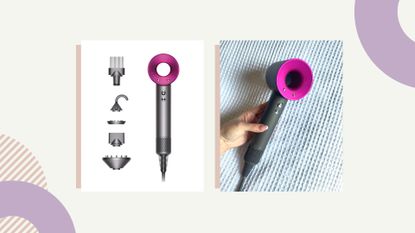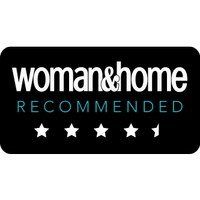 (Image credit: Dyson/Lucy Abbersteen)
The ultimate wishlist dryer with a price tag to match, the Dyson Supersonic is one of the most impressive tools we've been lucky enough to test out. There's no denying the price tag is incredibly high, so it isn't accessible to all, but we do think it's worth the investment for impressive at-home blow dry results
Reasons to buy
+

Nimble, stylish design

+

Fast, powerful and quiet

+

Reduced hair damage

+

Excellent user experience
Reasons to avoid
-

High price

-

Magnetic nozzle can be unstable
Why you can trust Woman & Home Our expert reviewers spend hours testing and comparing products and services so you can choose the best for you. Find out more about how we test.
woman&home newsletter
Sign up to our free daily email for the latest royal and entertainment news, interesting opinion, expert advice on styling and beauty trends, and no-nonsense guides to the health and wellness questions you want answered.
Thank you for signing up to . You will receive a verification email shortly.
There was a problem. Please refresh the page and try again.
If there's one hair dryer everyone wants, it's a Dyson Supersonic. This game-changing tool first launched in 2016 to much fanfare, and has been the talk of the town ever since. So, how did a British brand previously best known for its (admittedly, equally desirable) cordless vacuum cleaner create one of the most coveted beauty tools of the last 10 years?
Specifications
Added extras: Five attachments, plus non-slip heat mat and storage hanger
Watts: 1600W
Cord length: 9ft (2.8m)
Warranty: 2 years
RRP: $429.99/£329.99
From the way it looks to the user experience and its technology, the Dyson Supersonic is completely unique and deserves its place at the top of our best hair dryer list. The digital brushless motor is about six times faster than average and is positioned in the handle of the dryer, not the head, making it far easier to control the tool. The air released is then temperature-checked over 40 times per second and multiplied, meaning hair is dried by a concentrated air stream rather than excessive heat.
Aside from being speedy, powerful and gentle, the Dyson Supersonic is also one of the quietest hair dryers on the market. Plus, it manages to pack in plenty of bells and whistles that make hair styling an experience to look forward to – something the team went on to replicate with their impressive take on the best hair straighteners, the Dyson Corrale. If you're still on the fence about investing in this snazzy dryer, our beauty editor has shared a detailed, honest review to help you make your decision.
Our beauty editor's Dyson Supersonic Hair Dryer review
Dyson Supersonic Hair Dryer design
Before the Dyson Supersonic came along hair dryers had looked and been built in much the same way since the 1950s. Technology had ticked along, with better motors, ionic elements, smaller sizes, and sleeker designs popping up from time to time, but essentially, if you knew how to blow-dry hair, you were getting something of roughly the same shape and motor design that used a combination of heat and force to break down water particles.
You only have to look at the Supersonic to know that it is different, with a nimble handle and tubular head that clearly does not contain a clunky motor. By housing a small, powerful digital motor in the handle (which is complete with a silencer), the ergonomics of the whole experience shift. There is no ungainly weight tipping the head forward as you try to style; instead, the device feels exceptionally well-balanced and, in turn, light and easily controlled.
Aesthetically, she's a beauty too: a classy slate gray barrel with that pop of pink at the back and sleek gunmetal buttons – though new colorways have since emerged including nickel and copper, and, most recently, a limited edition vinca blue and rosé combo. The matching nozzles are made of the same pleasingly robust satin-finish material, a change from the usual plasticky attachments we were used to. With the honeycomb-style vent at the base of the cord and neat LED heat and speed displays, the entire device wouldn't feel out of place in Kubrick's 2001: A Space Odyssey (minus the murderous AI personality, of course).
Small and perfectly formed, the Dyson Supersonic measures up at 10in (26cm) from top to bottom, and a diminutive 4in (10cm) across (without hair styling attachments). It weighs 1.5lbs (659g), which isn't at the very bottom of the weight spectrum, but, thanks to clever design, it feels extremely agile and easy to maneuver in the hand.
One of the joys of the Supersonic's size is its travel-friendliness. The neat tubular head, magnetic attachments, and right-angle shape of the handle and head make it easy to nestle into a suitcase and double up as your best travel hair dryer. This certainly solves that age-old holiday dilemma of either settling for sub-par hair styling or packing one less pair of shoes while you're away.
What attachments come with the Dyson Supersonic?
Dyson's approach with the Supersonic controls appears to be keep it simple but also make it enjoyable. This means we get three heat and three speed options, but instead of the usual flick-switch, you press a tiny silver button on the rear of the head to move up and down the temperature and speed scales. There's a button each for heat and power and you can tap away on both until you're happy, with your combination displayed by LED lights as you dry.
The cool shot sits on the back of the handle, about where your thumb naturally sits, making it handy for a mid-dry blast without having to pull the dryer away and check where to press.
The standard Dyson Supersonic, which retails at $429 (£329), comes with a great selection of hair styling attachments, including a styling concentrator, an (incredible) flyaway attachment, a diffuser, a wide-tooth comb, and a gentle air attachment – which is ideal for sensitive scalps or very fine hair. As with any dryer, It's a good idea to use one of these attachments for styling, as we found that drying without any tends to make the hair a little fluffy and generate flyaways. The diffuser attachment gets a special shout-out here as it's widely considered to be the holy grail of styling combinations for curls, which is why it's name-checked in our edit of the best diffusers for curly hair.
All of the hair styling attachments are magnetic, meaning they essentially attach themselves. This makes for a smooth (and very satisfying) experience when popping them on – no fiddling around with bits of plastic. However, they do sometimes knock themselves off during drying more easily than a traditional clipped-on nozzle would.
How well does the Dyson Supersonic perform?
One of the most pleasing things about the Dyson Supersonic is the way it takes you by surprise. You pick up this light, slightly unusual-looking device, flick up the power button, and, whoosh, it stands to attention instantly. Most of us have no idea that we are even waiting a few seconds, or milliseconds, for our hair dryer to get itself going. But when we tried the Supersonic and that time is suddenly cut out of the equation, our eyes were opened.
To get technical, this speed is the result of an extremely powerful digital motor, which is around six times faster than the average hair dryer. This creates 13 liters of air per second and sends it to the head, which then multiplies the air by three, measures the air temperature over 40 times per second, and propels a jet of air out onto your hair. We told you it was technical.
The idea here is using force over heat, so your hair dries quickly and with precision but without the extreme temperatures that cause hair damage. This is another way in which the dryer took us by surprise, as it doesn't actually feel like it's all that powerful. It didn't blast our hair or get extremely hot, it isn't noisy and is so light in the hand that it might have you wondering how exactly it's going to revolutionize your drying experience. But the Supersonic takes quiet control and cuts drying time every single day, meaning over time you maintain a healthier head of hair.
What's not good about it?
Now, to address the elephant in the room: the main major downside of this hair dryer is its lofty price tag. That's not to say that the Dyson Supersonic isn't a worthy investment, particularly if a seamless blow-dry experience is your top priority. But, either you can justify spending upwards of $400/£300 on a hair dryer or you can't, and this doesn't fall within many people's budgets. If this cost isn't prohibitive, there are occasional Dyson hair dryer deals to be had with extra attachments and bundles. And we truly believe if you can shell out the full retail price we can think of few better investments in your hair.
If we're being super picky, we'd also suggest that an even lower speed setting might be beneficial for those with frizz-prone hair (though if your hair can be frizzy because it's naturally curly, this isn't an issue when using the diffuser attachment). But for us, this really isn't a dealbreaker.
Dyson Supersonic Hair Dryer review: the woman&home verdict
It's undeniably expensive, and might not be the new kid on the block anymore (hello, Zuvi Halo hair dryer) but the Dyson Supersonic is worth every penny in our opinon. From the comfort you're given while you're using it to the sleek and shiny results and the healthy hair that follows (we've never had a bouncy blow-dry quite as shiny and healthy-looking!), Dyson has put thought and consideration into every aspect of this dryer. You don't need to be an engineer to understand that some incredible science is inside that handle.
The array of attachments available to use also make this a great pick for all sorts of different hair types, particularly because there is a wide-tooth comb attachment available as well as a diffuser. The newer flyway attachment is sheer genius, and like nothing else we'd ever seen before, flattening any excess frizz or stray hairs with unprecedented ease.
It's hard to fault the sleek finish, which speaks to the luxury of the device. It's not the cheapest out there, so if you're looking for something a bit more affordable, we also love and recommend the ghd Helios Hair Dryer. When it comes to the Dyson Supersonic vs ghd Helios, however, there are a lot of similarities in terms of quality and hair health, but ultimately the ghd offering is a little more traditional and less comfortable to use. That being said, it is definitely worth your turning your attention towards if you can't or don't want to spend quite as much much money as the Supersonic demands.
But if you can spare the few hundred that the Supersonic will set you back, then investing in this dryer is really a no-brainer. We don't think you'll look back!
Beauty Editor, womanandhome.com
As woman&home's Beauty Channel Editor, Fiona Mckim has tried more products than she's had hot dinners and nothing makes her happier than raving about brilliant finds on womanandhome.com or her instagram grid (@fionamckim if you like hair experiments and cute shih-tzus). Fiona joined woman&home as Assistant Beauty Editor in 2013 under industry legend Jo GB, who taught her everything she needed to know (learn about ingredients and employ extreme cynicism). She has since covered every corner of the industry, from interviewing dermatologists and celebrities to reporting backstage at Fashion Week and judging the w&h Beauty Awards.