The best diffusers for curly hair to keep curls and coils looking defined
Our reviews of the best diffusers for curly hair to dry curls gently every time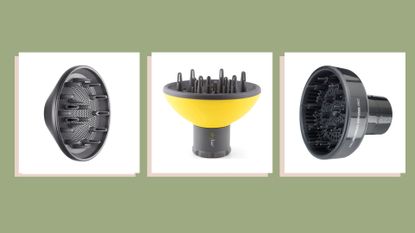 (Image credit: Dyson / Drybar / Diva Pro)
Embracing your natural curl pattern? Investing in one of the best diffusers for curly hair is a great place to start when perfecting your styling regime.
When paired with the best hair dryer, these usually megaphone-shaped tools are a one-way ticket to bouncy and more defined curls. They disperse the air generated by your dryer across a much wider surface area, which in turn distributes it more evenly through sections of your hair, making the drying process much gentler on your strands. This in turn helps to maintain curly hairstyles' shape and keeps excess frizz to a minimum, so they really are a worthwhile investment.
By and large, many of the best hair dryers for curly hair include diffusers, or at least the option to buy an attachment. "A diffuser is a brilliant tool to use for those looking to add definition to their curls, even out their curl pattern, and add volume," says top hairstylist and salon owner Charlotte Mensah. "Using one ensures that the air doesn't disrupt your curl pattern or cause breakage. Diffusers can be used on a variety of different hair textures and patterns. It's just about finding the right accessory attachment and technique for you."
Not only am I a beauty editor who tests hair tools for a living, but as somebody with curly hair – loose ringlets, or a mix of types 3A and 2C, for those familiar with the curl types system – I always dry my hair with a diffuser when I want to wear it curly, which means I know a thing or two about what to look for in a good one. Namely a good number of holes for even air flow that will keep curls defined and not generate excess frizz. These are my tried and tested picks of the best.
The best diffusers for curly hair, chosen by our beauty team
Why you can trust Woman & Home Our expert reviewers spend hours testing and comparing products and services so you can choose the best for you. Find out more about how we test.
Image 1 of 2
1. Drybar The Bouncer Diffuser
The best diffuser for curly hair overall
Specifications
RRP: £29 / $34
Width : 5.5 in/14 cm
Fits other brand dryers: Yes
Reasons to buy
+
Adjustable air flow
+
Bowl has some depth to it
+
Works with non-Drybar dryers
Reasons to avoid
-
Attachment end is quite narrow
To help you create a salon-worthy style at home, US blow dry bar chain Drybar has its own range of tools and hair styling products including a great diffuser, The Bouncer. Inside there's an adjustable ceramic layer that allows you to reduce the airflow for an even gentler dry, which is a nice personalized touch. About half of the prongs of the diffuser extend well past the bowl, meaning you're able to lift sections easily if you want to create more of a volumized look.
Plus it really lives up to its name: bouncy is exactly how it left our curls when we used this with Drybar's Buttercup Dryer. The Bouncer also works with the travel Baby Buttercup as well as some non-Drybar dryers, but the nozzle is quite a narrow one, which is something to bear in mind if you're hoping to use it on your existing dryer. It's a good all-rounder and reasonably priced, which is why we chose it as our overall top pick of the best diffusers for curly hair.
Image 1 of 2
2. Bio:Ionic Universal Diffuser
Best diffuser for curly hair that fits most dryers
Specifications
RRP : £30 / $30
Width : 5.9 in/15 cm
Fits other brand dryers: Yes
Reasons to buy
+
Adjustable airflow
+
Fits other brand dryers
+
Long prongs
Another universal diffuser option, Bio:Ionic's attachments work both with a selection of its own dryers and those of other brands with a traditional shape – even smaller travel-friendly options. So if you've not been able to find one from your current hair dryer's brand, this sturdy and premium-feeling attachment could be the winning ticket.
The prongs are also a generous length and can reach the scalp, while the surface of the diffuser is covered with a good amount of holes. It also features adjustable airflow, meaning you can adapt the amount of air that comes through the dryer to suit your styling needs and preference.
With the adjustable fitting, it secures well to many standard-size dryers for a nice, snug fit – as well as smaller designs like those often associated with the quietest hair dryers – so it's a great universal buy. Not only did it impress us enough to earn its place here as one of the best diffusers for curly hair, but with hundreds of five-star reviews it's clearly a hit with the masses!
Image 1 of 2
3. Dyson Supersonic Diffuser
The best high end diffuser for curly hair
Specifications
RRP: £40 / $39.99
Width: 13.5 cm
Works with other brand dryers: No
Reasons to buy
+
Magnetic attachment
+
Excellent even and gentle air flow
+
Nice bowl shape
Reasons to avoid
-
Only works with the Dyson Supersonic dryer
With its diffuser, the Dyson Supersonic is many hairdressers' go-to for drying curly hair, including Jonny Eagland, senior stylist at John Frieda Salons, whose advice would be to go for it if your budget allows. "The airflow is so gentle and it has three different heat and speed settings, but it's also super lightweight, so it won't stress your shoulders when holding for a fair amount of time," he says. If hair health is a huge priority for you and your curls, this could be just the thing when combined with hair repair products (our K18 review is an ideal treatment for fragile curls).
On testing, we found the tiny holes and Dyson's advanced technology made for really gentle, frizz-free drying, but do bear in mind that the bespoke magnetic design will not work with other dryers, so you have to own the Supersonic to get the benefits. Although it's always come in the box, the diffuser has been re-engineered since the Supersonic first launched for more even drying. If you're not yet a Dyson owner, you can afford it and you've been on the fence about it until now, it really is that good for curly hair. At the time of writing, the attachment on its own is out of stock, so if you're looking for a sign...
Read our full Dyson Supersonic Hair Dryer review for more in-depth analysis of this tool (and keep an eye on our Dyson Hair Dryer deals to save yourself some money).
4. ghd Professional Hair Dryer Diffuser
The best luxury diffuser for curly hair
Specifications
RRP : £29 / $30
Width : 5.7 in/14.5 cm
Fits other brand dryers: No
Reasons to buy
+
Very sturdy
+
Long fingers
+
Loved by hairdressers
Reasons to avoid
-
Only works with ghd Air and Helios dryers
Most people know about the best ghd straighteners, but the brand's hair dryers and attachments are also loved by industry experts all over the world. Compatible with both the ghd Helios hair dryer and Air hair dryers, the prongs of this diffuser are nice and long, allowing you to separate and move around sections of your hair while you style, and it feels very well-made and durable.
It is on the larger size as diffusers go, so fits a good amount of hair in one go and is great for creating a nice bit of volume. It's also a flatter diffuser rather than a slightly concave bowl shape, and Mensah says it's "perfect for those who want to keep their settings on low heat and just add a smaller lift to curls". If you're a ghd dryer owner we think you'll be pleased with the results you can achieve with this.
5. Diva Pro Styling XXL Diffuser
The best universal diffuser for curly hair
Specifications
RRP : £24.99 (UK only)
Width : 6.9 in/17.5 cm
Fits other brand dryers : Yes
Reasons to buy
+
Very wide and deep bowl
+
Fits on many different hair dryers
+
Larger than average
Of all of the diffusers we tested out, this one truly lives up to its universal credentials as it fitted on all the non-Diva Pro dryers we used to test it. This is mainly for two design reasons: firstly, the end of the XXL Diffuser is really big, which allows it to fit right over the nozzles of most hair dryers. Secondly, the inside also features flexible padding that adjusts around your dryer of choice, ensuring a really secure fit that helps to stop it from sliding off mid-dry.
The cup itself is nice and wide and more than an inch or so deep, lending itself well to those with very long hairstyles and/or lots of curls, and it dries nicely. We found that the prongs, although flexible, are a little thin, which could be an issue for those with denser hair. But overall this is a great universal diffuser that'll work with most dryer models.
6. DevaCurl Devafuser
The best diffuser for curly hair with 360 drying
Specifications
RRP : £46 / $55
Width: N/A
Fits other brand dryers : Yes
Reasons to buy
+
Unique design
+
Wide elastic band to help secure on to non-Deva dryers
+
Dries from multiple angles
Reasons to avoid
-
Expensive compared with others on the list
Don't be put off by the unique and unusual shape here, as this diffuser is easier to use than it might look. It's extremely light, features a ceramic core to improve shine and moisture retention, and the fingers can dry your hair from multiple angles. The shape also lends itself to different desired results: the fingers can get into the roots to lift and boost volume, as well as feed through the lengths and dry at a downward angle.
The hand shape can also be used to cup the hair in a similar way to a regular-shaped diffuser (the "palm" side has more holes). We love that, thanks to the thick elastic band around the attachable end, the DevaFuser can fit onto lots of hair dryers by other brands as well as the DevaDryer. Although if your hair dryer's nozzle is particularly wide it will obviously be more of a strain and you may need to hold it in place while you dry, which isn't completely ideal.
7. Bellissima Italia Diffon Ceramic Diffuser
The best all-in-one dryer and diffuser for curly hair
Specifications
RRP: £60 / $99
Width: 5.3 in/13.5 cm
Works with other brand dryers: N/A
Reasons to buy
+
Combines a dryer and diffuser in one tool
+
Compact and lightweight
+
Great for travel
If you know you're going to diffuse your hair after every wash because you wear it curly most or all of the time, then you could just buy a dryer that's always got a diffuser attached to it. As its name suggests, Bellissima Italia's Diffon Ceramic Diffuser features ceramic technology for a gentler heat, two-speed settings, and nice long fingers. But perhaps more importantly we found it really easy to use, surprisingly light at just over 700g (about 1.6 lbs), and gives curly hair a nice bounce boost.
If you're going to the gym or on a trip and you're only planning wash-and-go curls, this is also much more space-friendly than packing a bigger hair dryer and separate diffuser. The downsides are that you can't adjust the heat and speed separately, there's just one switch, and there's no cool shot function. But although there are more advanced models out there, when you consider the technology of this compact model versus its price tag it's a pretty great deal.
8. T3 Soft Curl Diffuser
The best diffuser for low-frizz curly hair
Specifications
RRP: £25 / $30
Width : 5.3 in/13.5 cm
Works with other brand dryers : No
Reasons to buy
+
Covered with smaller holes for truly even drying
+
Comes in two colours to match your dryer
+
Really keeps frizz to a minimum
Reasons to avoid
-
Only works with T3's Cura and Cura Luxe dryers
If your main hope for your new diffuser is to reduce frizz in your hair, the T3 Cura or Cura Luxe dryer paired with the Soft Curl Diffuser is a brilliant styling choice. The base of the diffuser is covered with small holes to really evenly distribute the air for gentler drying, and it clips onto the dryer securely so that there's very little chance of it coming off while you diffuse.
This is another diffuser that's been designed to only work with its brand's dryers, and it's actually only compatible with two specific models, so unfortunately it's not a universal buy. But we do rate the combination of the two for nice soft curls – especially if your hair is prone to frizzing while drying as it really does keep that to a minimum. Our experience is that it leaves your curls looking soft and healthy after using it.
9. Cloud Nine The Airshot Diffuser
The best diffuser for thick curly hair
Specifications
RRP : £25
Width : 5.9 in/15 cm
Works with other brand dryers : No
Reasons to buy
+
Long fingers
+
Nice domed bowl
+
Very sturdy
Reasons to avoid
-
Only compatible with Cloud Nine Airshot dryer
Cloud Nine is another hairdresser-founded brand that makes great, quality tools, including some of the best hair straighteners on the market. So if you like the look of The Airshot dryer (or you already own one) then you'll be pleased to hear that the brand also offers a matching diffuser.
It is, as you'd expect from Cloud Nine, very sturdy and well made and, because the bowl is a nice dome shape and the prongs of the diffuser are very long, it would work particularly well on somebody with a lot of thick curly hair. Because it doesn't clip onto the dryer, sliding over the nozzle instead, we found that it's important to push the diffuser on as tightly as possible to secure it in place. But all in all, it's a very good quality attachment and a great addition to The Airshot dryer.
10. Mermade Hair Diffuser
The best cheap diffuser for curly hair on a small budget
Specifications
RRP : £6 / $8
Width : 5.3 in/13.5 cm
Fits other brand dryers: No
Reasons to buy
+
Very affordable
+
Feels sturdy despite the small price tag
+
Lots of holes
Reasons to avoid
-
Only fits with the Mermade Dryer
We're reluctant to use the phrase "cheap and cheerful", but this attachment from millennial pink Aussie haircare brand Mermade Hair does have the lowest price tag of all of the diffusers in our edit. It's easy to clip on to the Mermade Dryer – which, it's important to note, is the only tool that it's compatible with – plus it felt extremely secure once attached and stayed put throughout our blow drying session. Results-wise, it did its job of keeping frizz levels down and retaining curl definition.
Sure, there are diffusers whose results we prefer to this one, but the accompanying dryer is reasonably priced and, of the options that have to be bought separately from a dryer, it's one of the cheapest diffusers for curly hair on the market. Overall we rate it a decent combo if you want to spend less than $100 or £100 all in on a new dryer and diffuser. And who are we to argue against a nice bit of millennial pink?
How we tested the best diffusers for curly hair