The 8 quietest hair dryers for a peaceful at-home blow dry
Want less noise when you dry your hair? We've tried dozens of tools to find the quietest hair dryers on the market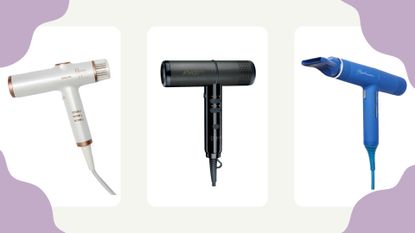 (Image credit: Beauty Works, Diva Pro, Hershesons)
woman&home newsletter
Sign up to our free daily email for the latest royal and entertainment news, interesting opinion, expert advice on styling and beauty trends, and no-nonsense guides to the health and wellness questions you want answered.
Thank you for signing up to . You will receive a verification email shortly.
There was a problem. Please refresh the page and try again.
Forgive us for pointing out the obvious, but hair dryers can be loud. Like, really loud. If this bothers you, shopping for the quietest hair dryers with the help of our tried and tested edit is the way to go. With one of these in your hair styling arsenal, you'll be able to hold a conversation or hear the radio (for the most part) while you blow dry.
The best hair dryers are easily the widest-used hair gadgets on the market, but even top tools aren't guaranteed to be quiet. If you can't try before you buy, how do you know which dryers are likely to make less of a racket without getting stuck in a buying-and-returning loop? Apart from being marketed as quieter, celebrity hairdresser Michael Douglas (opens in new tab) notes that opting for a brushless motor over a traditional AC motor is a great way to ensure your dryer-of-choice will make less noise.
"What that means is that there are fewer moving parts in the engine of the hair dryer, so there's less friction and therefore it creates less noise," he tells us. "I think on average it makes it about 12 decibels quieter, which is quite a big deal. A direct current (DC) motor also consumes less energy, so it's more energy efficient and it costs less money to blow dry your hair." If that hasn't piqued your interest, we don't know what will! These are the quietest dryers on the market that get our seal of approval.
How we tested the quietest hair dryers
Why you can trust Woman & Home Our expert reviewers spend hours testing and comparing products and services so you can choose the best for you. Find out more about how we test.
We tested a range of hair dryers whose manufacturers billed their tools as being particularly quiet, comparing them against each other to find the quietest of the bunch. But volume wasn't the only category we required these dryers to score highly in (or low, if we're being technical) – we required them to be all-around excellent dryers and assessed the following factors:
Volume (in decibels if provided)
How loud it sounded at the lowest and highest speed settings
Price
Number of heat settings
Number of speed settings
Attachments that come as standard
Any outstanding advanced technology or features
Just before we dive into our curated edit of the tolls that performed best, it's worth pointing out that the quietest hair dryers tend to be a little pricier because of the advanced technology involved to make them so. But on a more positive note, they're also often lighter and more compact, which means they double up as the best travel hair dryers, which ups the value-for-money factor.
The quietest hair dryers, chosen by our beauty team
1. mdlondon BLOW Hair Dryer
Best quiet hair dryer overall
Specifications
RRP : £195 (UK only)
Volume : 76 dB
Warranty: 3 years
Reasons to buy
+
Comes with two magnetic attachments
+
Switches between heat settings very quickly
+
Two color options
+
Self-cleaning feature
Reasons to avoid
-
Diffuser has to be purchased separately
The competition for the top spot in our edit of the quietest hair dryers by ear was a very, very close call, but objectively, of those dryers that include a volume rating in their specs, this came in at the lowest at just 76 decibels. Created by celebrity hairdresser Michael Douglas, this dryer looks and feels seriously premium; even the color options are trendy, with both dark teal and olive green on offer.

But let's get into the details of how well (and how quietly) it performs. First of all, when used on the lowest speed setting it is impressively hushed thanks to that brushless motor. And as well as being compact and very light, another standout for us is how quickly it switches between the hottest and coldest heat settings.

~One minor quibble is that you have to press and hold the button for a little while to turn it on and off, and, though a diffuser is available to buy separately, we always like it when this is included as standard. But, really, neither of these things makes a dent in our overall opinion of it. It leaves your hair feeling great and is pretty brilliant, as you'd expect from a top hairdresser.
2. Beauty Works AERIS Hair Dryer
Best quiet hair dryer with no obvious whistle tone
Specifications
RRP : $260/£180
Volume : 82 dB
Warranty: 1 year
Reasons to buy
+
Very light at just 300g
+
LED temperature display
+
Magnetic attachments
+
No distinct whistle tone
Reasons to avoid
-
Diffuser has to be purchased separately
Beauty Works' offering is very quiet as well as extremely lightweight, kitted out with a classic white and gold color scheme. As well as its low volume, what really stood out for us was the lack of a clear whistling sound that's common with quieter hair dryers, a plus if you usually find this irritating.
When it comes to the user experience, the circular LED display at the top of the tool is a nice touch as you can see the dryer's exact temperature (60, 90, or 120 degrees celsius) and speed setting while drying – though be warned that once finished the dryer will continuously display "OFF" unless it's unplugged. A couple of useful safety features are that the dryer automatically shuts off if the rear vent is blocked or if it exceeds 150 degrees.
The dryer comes with two nozzles and a handy dust bag for storage, but the compatible diffuser has to be bought separately, which does let it down a little when you consider the more premium price tag. But all in all, this ultra light, ultra quiet hair dryer didn't disappoint us on a styling front, yielding a pretty smooth finish as well as drying quickly, and we'd also vote it one of the best hair dryers for fine hair.
3. Bio:Ionic SMART-X High Efficiency Dryer
Best quiet hair dryer with a long warranty
Specifications
RRP : $329/£204
Volume: 77.2 dB
Warranty : 10 years
Reasons to buy
+
Moisturizing Heat™ technology helps hair retain softness
+
Self-cleaning function, complete with light that indicates when it's time to clean
+
Generous 10-year guarantee
Reasons to avoid
-
Diffuser has to be purchased separately
Another super quiet dryer, Bio:Ionic's Smart-X model piqued our interest from the off thanks to its impressive credentials. It claims to dry hair 75% faster than competitors, though it employs enhanced air pressure rather than excessive heat to do so (although the highest heat setting is still pretty hot in our book). Not only that, but it works to balance the air and temperature 100 times per second to ensure consistent quality drying.
As for the user experience? It's noticeably powerful and certainly leaves your hair feeling soft, although we're not sure that the overall drying time felt dramatically faster than other top-tier dryers, though it is quicker than average. Either way, it feels like a premium tool – and one that we enjoyed using at that.
Other nice, techy touches include a lock function once you've programmed in your desired settings and the tool also remembers them the next time you fire up your dryer. And not only is it equipped with a self-cleaning feature, but a light indicates when it's time to do so. This dryer will also go the distance: in the US, the guarantee is a whopping 10 years, so you're covered for a long old time if you do choose to invest.
4. Hershesons The Great Hair Dryer
Best quiet hair dryer loved by hairdressers
Specifications
RRP : £295 (UK only)
Volume : 78 dB
Warranty : 2 years
Reasons to buy
+
Comes with three attachments and a stand
+
Oxy active technology for added shine
+
Settings lock feature
+
Self-cleaning function
The family name behind one of London's most luxurious salon destinations, as well as a line of great hair-styling products Hershesons also offers The Great Hair Dryer, a pleasingly stylish electric blue number. It comes in a snazzy metal case complete with leather-look handle, along with three attachments: two concentrated nozzles and a small diffuser.
We'd dub it small and mighty as, although it's nice and quiet and weighs less than 300 grams, making it ideal for travel, this tool packs impressive blow-dry power. There are three heat settings, plus a cool shot, and three speed settings to choose from, and the tool is powered with oxy active technology which boosts shine and help to preserve color.
With smaller dryers, it's even easier to knock buttons and change settings, which is addressed (and fixed) with the addition of a lock button. Simply program your desired settings and forget all about it til you're done. As you'd expect from a brainchild of hairdressers, it performs brilliantly, and hairdressers and beauty editors alike have been raving about it – our senior beauty editor has dubbed it one of the best hair dryers for curly hair.
5. Dyson Supersonic Hair Dryer
Best quiet hair dryer for curly hair
Specifications
RRP : $429.99/£329.99 (£359.99 for vinca blue/rosé)
Volume : Not known
Warranty: 2 years
Reasons to buy
+
Comes with five different attachments, including a diffuser
+
Quiet Mark certified
Easily one of the most famous hair dryers on the planet, the Dyson Supersonic changed the game with its expert engineering when it hit the market back in 2016. It's famous for a number of reasons, including that it's quieter than your standard dryer at even its highest speed setting. A Dyson engineer tells us that the motor, which is at the base of the handle thanks to its unique design, is made quieter thanks to the inclusion of a silencer in the handle. The V9 Digital Motor's fan was also tweaked slightly to reduce high-pitched whistling.
The Supersonic is great for all hair types, but we wanted to give it a particular shout-out for curly hair because the expertly engineered airflow is so gentle on curls when paired with the accompanying diffuser (which is one of a whopping five attachments that come with this dryer as standard). The attachment could be bigger, but it has lots of tiny holes to evenly disperse air for excellent definition and added volume if you need it, so it's easily one of the best diffusers for curly hair. We can speak from firsthand experience that it's the best pairing for styling all types of curly hair – think defined, frizz-free curls with the right amount of volume. And we've really never seen flyaways flattened as well as the unique flyaway attachment can.
See our full Dyson Supersonic hair dryer review
6. Zuvi Halo Hair Dryer
Best quiet hair dryer for energy efficiency
Specifications
RRP : $349/£329
Volume : Not known
Warranty: 2 years
Reasons to buy
+
Very energy efficient
+
Gentle on hair and scalp
+
Dries with light as well as heat
+
Chic, faux leather handle
Reasons to avoid
-
Very expensive
-
Only one heat setting, excl. cold shot
The Zuvi Halo is eerily quiet, largely down to the fact that it uses light technology as well as gentle airflow to dry your strands. This leaves strands feeling seriously soft, whether you blow dry into a sleek style or make use of its accompanying diffuser (there's also a gentle air attachment for an even softer drying experience).
A must-mention that really makes it stand out from the crowd is this dryer's energy efficiency. While most models' exceeds 1000w, some even 2000w, the Halo's is remarkably low at just 680w – meaning it will have far less of an impact on your electricity bill. This money-saving in the long run slightly softens the blow of its price tag which, like the Dyson's, isn't feasible for a lot of people.
As for the actual user experience, there was no denying that it left our hair soft, quite possibly because, for the most part, it dries at one note – you can't crank things up too much hotter or faster. But we'd say it's proof that you can put a price on healthy hair.
See our full Zuvi Halo Hair Dryer review
7. Diva Pro Atmos Atom Hair Dryer
Best quiet hair dryer for storage
Specifications
RRP : £199.99 (UK only)
Volume : Not known
Warranty: 1 year
Reasons to buy
+
Comes with two narrow nozzles and a diffuser
+
Attachments are magnetic
+
Features Ultra Conditioning System for smoother hair
+
Stylish storage tin
+
3m cable
Reasons to avoid
-
Only available in the UK
Next up is another super compact dryer, Diva Pro's Atmos Atom. Like most of the quietest hair dryers that made it into our round-up, it's very small in size and therefore lends itself well to travel. The dryer and its attachments also come in a stylish metal tin, which is great both for general storage and keeping all of the parts together when traveling.
All of the attachments are magnetic, which is both satisfying and secure, and you get two different lengths of narrow nozzles as well as a diffuser to play with. Not only that, but the cord length is very generous at 3m (more than 9.5ft). It makes a nice job of drying, and we didn't notice an excessive amount of frizz afterward. The plug, although adaptable for EU use, is quite chunky, and it's not the most premium-feeling hair styling tool we've ever picked up, but there's no denying it's a quiet device that provides a pleasant drying experience.
8. Bondi Boost Sonic Dryer
Best quiet hair dryer with stylish design
Specifications
RRP : $199/£199
Volume : Not known
Warranty: Not specified
Reasons to buy
+
Advanced ion technology for a smoother finish
+
Very light; weighs less than 350g
+
Comes with a narrow nozzle and diffuser
+
Self-cleaning function
Reasons to avoid
-
No clear setting display
Last but not least in our edit of the quietest hair dryers is this tool from cool Aussie brand Bondi Boost, with an equally cool black and white color scheme. There are two useful attachments in the box, a narrow nozzle, and a decent-sized diffuser.
When firing up this tool we did notice that it's ever so slightly noisier than a number of the other dryers we selected for this roundup, but it's still noticeably quieter than your traditional roaring hair dryer motor. What followed was a nice drying experience, with our hair left feeling nice and soft without excess frizz – two things that scored a lot of points with our testers.
As for downsides? There's only one real quibble for us, which is that there's no way of knowing what setting you're on just by looking at the dryer, you have to cycle through the settings to work out where you're at. It could also perhaps have done with a slightly lower speed setting than the lowest offered, however, it's still a nice, lightweight, and undeniably quiet tool.
Lucy is a UK-based beauty journalist who has written for the likes of Marie Claire, Cosmopolitan, OK!, Women's Health and more, as well as contributing to woman&home. Her work covers everything from expert skin and haircare tips to the latest product launches and the show-stopping beauty looks spotted backstage at London Fashion Week. During her career she's interviewed some seriously famous faces, from Little Mix to Drag Race royalty The Vivienne, as well as chatting to the industry's leading hairdressers, dermatologists and make-up artists.