How to blow dry hair: 12 simple steps to achieve a glossy salon blow dry at home
Always wanted to know how to blow dry hair? These tips could come in handy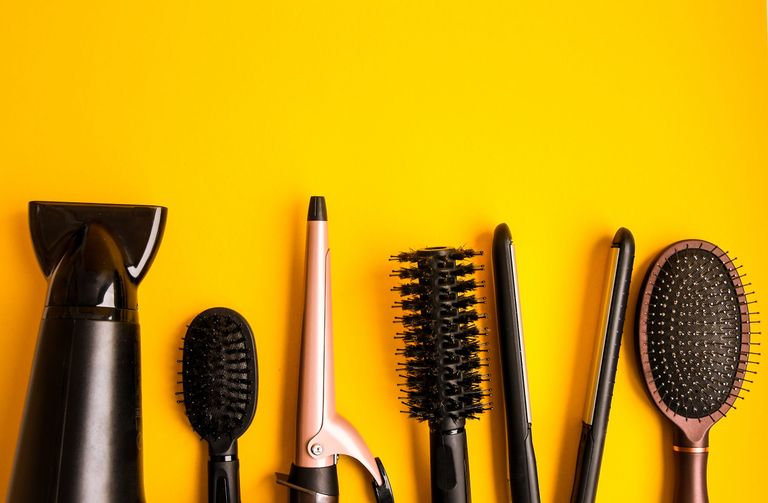 Ever wondered what's the quickest, most foolproof way how to blow dry hair at home and get pro results? Careful prep is everything. Before you do anything else, ensure your hair is clean, damp and you have the best hair dryer for the job. It's also a good idea to pick up a few other bits of kit that will make home blow drying far easier. This includes a detangling brush, sectioning clips, a round brush and gentle hairspray.
If you have fine hair and wonder why it always struggles to hold a blow dry, don't fret. The professional secret to creating a bouncier blow dry is to cheat with heat - here's how.
How to blow dry at home – step-by-step technique
Ready to learn how to blow dry hair like a pro? We've consulted celebrity hair stylist Lyndsey Harrison to share her expert wisdom.
Start by rough drying your hair on a medium speed setting to approximately 80% dry. You can also add a heat-protecting spray or serum at this stage to work in conjunction with a hair dryer, such as the Panasonic Nanoe + Double Mineral Advanced, to maximise hair health when styling.
Next, prep the hair by brushing through and putting your parting in place.
You then need to dry the front sections and pin with "no dent" clips to hold in place. I tend to recommend drying the fronts first because these are the sections that will naturally dry quickest, so we need to style them before they completely dry.
Then, part the hair from ear to ear, split into two sections and dry the hair with a large round brush.
Roll the large brush at the ends to create a smooth curl at the bottom of the hair sections.
From here, you'll need to create a section from the top of the forehead all the way around to meet the other side of your forehead. This is the largest section and, depending on hair thickness, you could typically dry in four to six sections, working horizontally.
When drying, always make sure your hairdryer is angled down, as this will make the hair cuticle smooth and shiny. The Nanoe + Double Mineral Advanced hair dryer is also helpful for this, as the Double Mineral technology flattens the cuticle, too, making the blow dry easier.
Finally, finish off with the top section by splitting into two, along the parting, and blow dry either around towards the face or away from it, depending on the finish you want to achieve.
Remove clips and spritz with a flexible hair spray.
Dos and don'ts for blow drying hair at home
1. Pre-treat dry hair with a nourishing mask
Before attempting a blow dry at home, it's a good idea to pre-treat hair with a hair mask. Exposure to high heat can leave your strands looking stressed and feeling parched, and if your hair is already dry or damaged, you'll struggle to get that shiny, healthy-looking finish.
Apply as much of Macadamia Natural Oil Deep Repair Masque as you need, paying close attention to the ends. Leave it to work its magic for five to ten minutes and rinse. Not only will your hair feel softer and smoother, it also helps to reduce drying time by up to 50%.
2. Always use a heat protector
Heat is a necessary evil to create a beautiful hairstyle, but if you want your hair to feel – as well as look – great, then heat protection is a must. These generally come in spray or cream form and usually coat the hair in an invisible protective layer. They won't completely undo damage, but they certainly help.
Moroccanoil Perfect Defence is a protective spray with a vitamin-infused formula, which adds amazing shine to the hair.
3. Try a new tool
If you struggle using brushes and a dryer, you're not alone – there's a reason we visit hairdressers for a blow dry after all, as they are trained experts. If you are all fingers and thumbs try a hot rotating brush.
The BaByliss Big Hair will change your life. Essentially, it's a rotating round brush, which blasts out hot air and emulates the nifty rotations and flicks of a hairdresser's hands. After sectioning your hair into manageable sections it grabs them, rolls them up and dries them, releasing beautiful volumised hair with more flicks and kicks than Strictly!
4. Tame flyaways and frizz with a hair oil
If your hair is fine, flyaway, dry or frizzy, you'll want to reach for a hair oil either before and after your blow dry. Try Kérastase's Discipline Oléo-Relax Oil. Fine types should use oil sparingly on damp hair to lightly smooth, while thicker, curly or textured hair will benefit from a post-dry drop or two to make the hair more manageable and give it a gorgeous, professional-looking shine.
5. Boost volume with a thickening spray
Who doesn't want a bit of extra volume and oomph? Help your blow dry skills along by using a weightless styling spray that bulks up your roots with lasting volume.
Aveda Pure Abundance Style-Prep thickens strands from root to tip and smells amazing. Its lightweight formula is perfect for those with finer hair as, unlike many volume-boosting products, it won't weigh hair down. Spray liberally on to damp hair after rough drying and before you get the round brushes out.
6. Relax and let it air dry
Don't go in all guns blazing straight after you've washed your hair – if you have time, wait for a while and let it air dry. This will reduce the amount of heat exposure and save you some effort, too. Section your hair into two and, depending on how thick it is, leave it until it's about 80% dry before picking up your hairdryer.
7. Give your roots extra lift
To stop your hair from falling flat and to achieve that big, bouncy blow dry, you need to create height at the crown. Do this by keeping the brush as close to the roots as possible and, following it with the hairdryer, pull the hair upwards. Make sure you use small sections and thoroughly dry every section from the roots to the ends.
8. Use light styling products for a power dry
If you have a big night out and you need a power blow dry to last, Sian Quinn, hair expert at Headmasters, suggests using a light volumising shampoo and conditioner instead of a super-nourishing one, which could weigh your hair down. This will keep your hair feeling light, so it won't have any barrier to products.
9. Give your hair blow-dry "memory"
"Use a blow dry lotion like L'Oréal Professionnel Tecni.ART Pli," says Sian. "This will give your hair 'memory' once it's been blown into shape, and will stretch your blow dry out for a few extra days."
10. Twist hair to help your blow-dry survive the night
Sian's top tip for making sure your blow dry lasts during the night is to loosely twist it into a bun and use a light-hold grip to pin it up. Don't use a hair band or strong clip, as this can leave a dent the hair. When you wake up and let your hair down, give it a loose shake and it should maintain that voluminous bounce for an extra few days.
11. Cut frizz with a silk pillowcase
"Sleeping on a silk pillowcase will reduce friction between your hair and pillowcase, and prevent unwanted frizz from forming," says Sian. It'll also ensure your blow dry is left nice and smooth when you wake up.
12. Avoid strong-hold hairspray
Avoid strong-hold hairspray and instead use flexible, medium-strength hairspray. This will keep your blow dry in place but minimise build-up, so your hair won't need a wash so soon after your blow-dry.