How to make your blowout last longer so you can skip wash day
Three hairdressers reveal how to make your blowout last longer to save time and energy on styling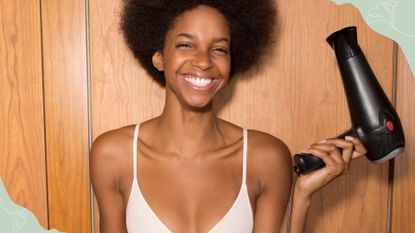 (Image credit: Future/Getty images)
Want to learn how to make your blowout last longer? A brilliant blow dry can be a rare thing, and when you do hit the good hair day jackpot then, like a particularly delicious dessert, you want to prolong it for as long as possible.
How many days you can (and should) make your blowout last before picking up your best hairdryer again is up for debate. "A blow-dry usually lasts up to two days, and expecting more can lead to disappointment," explains Michael Douglas (opens in new tab), pro hairdresser and creator of the BLOW Hair Dryer. "Fine hair is prone to becoming greasy and the blow dry breaking down sooner so often has to be shampooed every day, while slightly thicker hair can get away with less often."
"I think it's all about personal preference," says pro hairdresser and ghd ambassador Patrick Wilson (opens in new tab). "Generally, wavy or curly hair types last the longest as they hold the shape better for longer. I have some clients that can make their style last for a week, then others that maybe suffer from dandruff or psoriasis and feel they need a refresher earlier on. Personally, I can't go longer than four days, but it depends on your lifestyle, like if you've been working out or swimming." Want to eke things out a bit? Our pros have some tricks that'll help.
How to make your blowout last longer
1. Don't brush
Brushing your hair is normally a good thing. It helps to avoid tangles, sweeps away hairs that are ready to be shed, and distributes natural oils from the scalp through the lengths of your hair. If you're trying to work out how to make your blowout last longer though, you'll need to part ways with your brush for the time being. "Try to avoid brushing your hair, as this could result in losing the shape of your blow-dry," advises Ryan Wilkes (opens in new tab), hair stylist at Hershesons. This is especially true if you've had a curly or wavy blow-dry, as brushing the hair can knock out spirals and ruin the finish.
2. Consider your sleep style
It's easy to take care of your hair when you're awake, less so when you're snoozing. How you style your hair before bed has a big impact on how your blowout looks in the morning, but the experts are divided on the best way to do so. Wilson recommends keeping "the hair up high" while Wilkes suggests "tying hair in a loose bun." According to Douglas, "the key to tying your hair is to do so loosely, so as not to mark the hair with the ponytail band." If you knot it too tightly this can distort a bouncy blow-dry. "My recommendation would be not to tie the hair up at all," says Douglas. "You're more likely to get a better day-two look if the hair is left untied."
3. Pop on a bonnet
Want an easy solution to the question of whether you should tie your hair or leave it loose when learning how to make your blowout last longer? Silk is the answer. "A silk bonnet can really help to make your blow dry last longer, as it will keep your head cool and cause less frizz overnight," suggests Wilson. "Simply wrap your hair in a circular motion on top of your head and keep it all contained in the silk bonnet to protect the style."
Our beauty editor recommends...
4. Swap bands for scrunchies
Thin, firm hair bands are great for tying hair up in a chic way but can be bad for blow-dries as well as the all-around health of your hair. They hold the hair very tightly, which causes friction and breakage, as well as the potential for marking your style. That gorgeous blow-dry isn't going to look quite so good with one big line across the back. "A silk scrunchie is a good idea rather than a hairband," says Douglas.
5. Sleep on your back
Sleeping on your back is generally considered to be the best position for both your skin and hair. Lying on your front can cause wrinkles to form on the chest, as as well as on your face, and can aggravate and drive blemishes too. If you sleep on one side, you're likely to notice that the lines are deeper on this side of your face compared to the other. The same goes for making your blowout last longer.
"Sleeping on your back with a parting going down the back of your head would be the best way to sleep," advises Douglas. "But people often roll over in the night, making one side of the hair flatter. If one has any control over how they sleep then on their back is a good idea." Nodding off on your back, even if you know you'll move in the might, will still help.
6. Invest in a silk pillowcase
Cotton is a lovely fabric to sleep on. It's breathable, soft, and lightweight, which makes for a comfortable snooze in all seasons. But, compared to silk, it's not so good at maintaining your blowout. "A silk pillowcase will not just maintain your blow-dry, but it will also help with the condition of your hair and prevent breakage while you sleep," explains Wilkes. This is because silk creates less friction compared to other fabrics, which means the hair isn't likely to become frizzy or tangled when you're moving around at night. "It's also good for your skin, creating fewer wrinkles on the face," adds Wilson.
7. Stock up on dry shampoo
"Dry shampoo is fantastic at refreshing a blow dry," says Douglas. "I use this both as preventative and to maintain a blow dry. Use it on day one after blow drying and styling your hair, and then again on day two to maintain the blow-dry." The best dry shampoo is especially good for fine hair that becomes greasy quickly, or straight hair that struggles to hold a style. As well as soaking up excess oil, the powders in the formulation will add grip to the hair too.
Our beauty editor recommends...
8. Pick products wisely
Anything you use on your hair will need to stay there until your next shampoo, so think about that when topping up products. "Avoid anything greasy or oil-based, as this will work against a blowdry and give it a shorter lifespan," suggests Douglas. Those with thick or curly hairstyles may be able to use oily products but should still do so sparingly.
"Anything too watery that may cause the hair to drop or create frizz should also be avoided," adds Wilson. "Stay away from gels too as the only way to remove this is by washing the hair." Focusing any smoothing or taming products you do use on the ends of the hair, where it's naturally driest, is better than going near the roots.
9. Boost with heat
Does your blowout lose its oomph by day two? Instead of reaching for your best hair straighteners or best curling iron, it's your hair dryer or hair dryer brush you want. "A hot brush is a great way for reviving a blowdry," explains Douglas. "Or, team up the hairdryer with a brush containing fewer bristles will revive hair just as well. Remember, using too many bristles on dry hair can create friction and therefore static electricity."
Find brushes too fiddly to use? No problem. "If your blow-dry needs an extra pick-me-up, a great tool I always recommend is the ghd Glide," says Wilson. "It's great for next-day hair when you just need to go over the style without causing further damage."
Our beauty editor recommends...
10. Steer clear of steam
If your hair is prone to frizz, mastering how to make your blowout last longer means keeping moisture out of the mix. That means wearing a shower cap when having a shower or a bath, and steering clear of swimming pools, saunas, and steam rooms. All of these can transfer moisture into the hair, causing your style to expand, fluff, and frizz.
Depending on how porous your hair is, smells may be a problem too. Some people find that their hair absorbs food smells from cooking more than others, which can be off-putting (unless you love hair with a vague scent of onions) If this is an issue for you, wear a shower cap when cooking too to protect your hair. It may feel silly, but perfecting a pristine three-day blow dry will make it all worthwhile.
Jess Beech is an experienced fashion and beauty editor, with more than eight years experience in the publishing industry. She has written for woman&home, GoodtoKnow, Now, Woman, Woman's Weekly, Woman's Own and Chat, and is a former Deputy Fashion & Beauty Editor at Future PLC. A beauty obsessive, Jess has tried everything from cryotherapy to chemical peels (minus the Samantha in Sex and The City-worthy redness) and interviewed experts including Jo Malone and Trinny Woodall.