The best heat protection sprays for healthy, strong hair
Get the lowdown on the best heat protection sprays that *actually* work with our tried and tested guide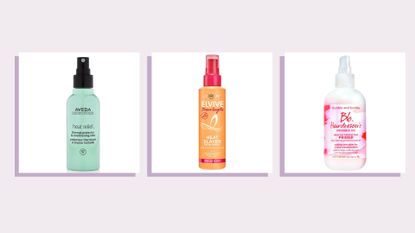 (Image credit: Future/Canva/Aveda/L'Oreal/Bumble & Bumble)
woman&home newsletter
Sign up to our free daily email for the latest royal and entertainment news, interesting opinion, expert advice on styling and beauty trends, and no-nonsense guides to the health and wellness questions you want answered.
Thank you for signing up to . You will receive a verification email shortly.
There was a problem. Please refresh the page and try again.
An essential part of your haircare routine rather than an optional add-on, the best heat protection sprays are the difference between healthy, glossy hair and fragile, frazzled locks dotted with split ends.
"Heat protectors add a thin, invisible protective layer over the hair which means increased glide when using electricals, as well as adding hydration and increasing the longevity and shine in your style," explains Zoe Irwin, Creative Director at John Frieda Salons (opens in new tab). "I always think of using heat protectants like using a moisturizer on the skin – you wouldn't use foundation without a moisturizer as it won't sit on the skin as well. I would never use styling tools on the hair without protecting it first."
Heat styling hair without protection is, unfortunately, going to impact how your hair looks and feels. "The tell-tale signs of heat-damaged hair are dry, brittle texture and a lack of shine," says Michelle Sultan (opens in new tab), Creative Director at Imbue." It could even get so bad that it alters your hair type. "You'll often be able to notice the damaged parts of curly hair where the curls don't form properly and are flat and limp," Michelle adds. It's not just your best straighteners, hair straightening brushes or other tools that can be a problem, but UV exposure too. Most of us wouldn't dream of sunbathing without sunscreen (we hope) but don't think twice about exposing our hair to the sunshine.
If you're not using heat protection already, we're wondering why. Do you find them too heavy? Too greasy? Too expensive? The good news is our round-up includes products that debunk all your negative preconceptions about his important step in your routine, to help you find something to keep your hair happy and healthy.
How we tested the best heat protection sprays
Why you can trust Woman & Home Our expert reviewers spend hours testing and comparing products and services so you can choose the best for you. Find out more about how we test.
For each heat protection spray, we tested them on either wet hair, dry hair, or both, depending on what the instructions advised. To keep things fair (and to stop any other products from swaying the results) we used the same shampoo, conditioner, and other hair styling products with all the different heat protection sprays we trialed. And of course, there's no point using a product designed to ward off damage unless you're using heat on your hair, so we followed each one with the same hairdryer and straighteners too.
We assessed how well each product defended our hair against heat damage but also how they felt on our hair; how they smelled and if they added any additional benefits. Finally, we kept each product's price point in mind throughout and whether or not we felt they were genuinely worth spending your money on.
The best heat protection sprays as chosen by our beauty team
1. Hair by Sam McKnight Save The Do Heat Protection Style Starter
Best heat protection spray for flat hair
Specifications
RRP: $34 / £26
Can it be applied to damp or dry hair?: Damp
Protects up to: Not specified
Reasons to buy
+
Multi-tasking
+
Helps keep styles in place for longer
Reasons to avoid
-
Can only be used on damp hair
This isn't a problem I have personally experienced, but I know that those with finer hair can find that applying a cocktail of serums and sprays leaves their hair flat and lifeless. If that sounds like you, this does-it-all spray might just be the perfect solution. Not only will it protect your hair from heat damage (stopping it from becoming dull and dehydrated) but it'll also increase softness and help your styles to stay put for longer with no need to reach for the best hair thickening products.
On the first spritz, this clear spray feels very wet, which is probably part of the reason why it's recommended for damp hair only. It is watery in texture but with a bit of stickiness to it, which is what's going to grip onto any bouncy curls or waves you add when heat styling. I normally find that my hair struggles to keep a wave on wash day, but this definitely helped hold them for longer. The brand's signature scent is a welcome parting touch, with a grown-up blend of frankincense, juniper wood, and water lily that lingers until your next shampoo. Gorgeous.
2. Bumble & Bumble Hairdresser's Invisible Oil Heat/UV Protective Primer
Best heat protection spray for preventing color fade
Specifications
RRP: $27 / £27
Can it be applied to damp or dry hair?: Both
Protects up to: 232°C
Reasons to buy
+
Extra UV protection
+
Really nourishing
+
Perfect for summer
Reasons to avoid
-
May be too oily for fine hair
In my opinion, Bumble & Bumble's heat protection spray is the definition of an over-achiever. Not content with creating a barrier between heat tools and your hair, it also helps to reduce frizz, smooth hair, and increase shine. All while reducing damage from hair straighteners. If that wasn't enough, it's also formulated with UV filters to stop hair from drying out in the sun and prevents color fading too. No wonder it's the brand's number-one bestseller.
When I first got my mitts on this a few years ago, the first thing that impressed me was the size of a bottle. Premium brands can garner an unfair reputation for small sizes, but this chunky bottle will genuinely last you for months on end. The product itself is oil-based (coconut, argan, grape seed, macadamia, sweet almond, and safflower if you're interested) which helps to replenish any moisture lost through styling or sun exposure. My thick and almost perpetually thirsty hair absolutely laps it up, but if your hair is finer, you may want to just stick to applying to the mid-lengths and ends. A must-try for the summer, if not all year round, especially if you regularly use hair tools, as even the best hair dryers and best curling irons can wreak havoc on your hair.
3. Aveda Heat Relief Thermal Protector & Conditioning Mist
Best heat protection spray for all air types
Specifications
RRP: $35 / £26
Can it be applied to damp or dry hair?: Dry
Protects up to: 232°C
Reasons to buy
+
Lightweight
+
Conditioning
+
Lovely scent
One of my main gripes about heat protection is that it can weigh my hair down and make it feel greasy. And, as my hair is naturally thick and curly, I don't want to have to go through the rigmarole of washing it any more than I have to. Enter this little green bottle of goodness. The texture is a dry mist that seems to instantly melt away into nothingness on my hair, so it doesn't lose any of that just-washed bounce or freshness. That being said there are still conditioning elements within the formula, with jojoba and sunflower seed oils for extra nourishment, so hair doesn't feel crispy and dry either. Better still, there's no tell-tale "hiss" when you pass the irons over the top of it - even when you're curling your hair with straighteners.
If you're anything like me then getting ready in the morning involves throwing 80% of your wardrobe on the floor and straightening your hair against the clock, so the addition of Aveda's Shampure Aroma is a welcome one. It essentially smells like a soothing pillow spray and comes as a welcome reminder to breathe every time I spritz it. An extra bonus.
4. GHD Bodyguard Heat Protect Spray
Best heat protection spray for in-between washes
Specifications
RRP: $25 / £18.95
Can it be applied to damp or dry hair?: Dry
Protects up to: Not specified
Reasons to buy
+
Non-sticky
+
Generous spray
+
Leaves hair shiny
Reasons to avoid
-
Bottle doesn't last very long
When it comes to heat styling, GHD is probably the brand I trust the most. I've been loyal to their tools since the early 00s, so they have my faith when it comes to styling products too. GHD's heat protect has had a few different identities over the years, but their latest version, the Bodyguard Heat Protect Spray, might be their best yet.
A great product for the time-poor, I find that one spritz is far-reaching enough to cover one side of my hair, so I only really need about 9 sprays to work through three layers. It's fine, lightweight, and not even a little bit sticky, so even if you do go overboard and apply too much, you barely notice. The formula is duo-action, so it doesn't just coat the hair to shield it from the heat, but it also helps to flatten the cuticles for shinier, smoother hair that's less likely to become damaged. GHD doesn't specify the temperature this protects to, the fact that their straighteners are set to 185°C makes me think the number here is similar. A great choice for anyone with fine hair. If you're planning on investing in a pair of the best GHD straighteners, we highly recommend also throwing in a bottle of this nifty spray too.
5. Ouai Heat Protection Spray
Best heat protection spray for fine hair
Specifications
RRP: $28 / £25
Can it be applied to damp or dry hair?: Both
Protects up to: 232°C
Reasons to buy
+
Can be used wet or dry
+
Gentle mist
+
Fancy fragrance
I don't know if it's because it comes in a simple silver can with a straight-talking name, but there's something that feels quite no-frills and functional about Ouai's Heat Protection Spray. To some, that might sound negative, but at a time when beauty feels very complex and every product seems to boast a list of seemingly never-ending benefits, there is definitely something refreshing in a more back-to-basics approach.
What doesn't feel basic is the formula. The spray nozzle means it comes out like hairspray, gently misting your hair with a shower of tiny shielding particles. It can be used on wet or dry hair, and although the brand recommends you comb it through for even application, I didn't feel I needed to. I'm not sure if it was a placebo effect, but I definitely felt this made my hair shinier than the others I've tried, which is certainly part of the appeal. My only gripe would be that it can get a little bit crunchy if you apply too much. It is up there with some of the pricer products on this list, but as the spray is so fine one can lasts for ages.
6. Redken Thermal Spray Iron Shape Heat Protection Spray
Best heat protection spray for damaged hair
Specifications
RRP: $19 / £20.50
Can it be applied to wet or dry hair?: Both
Protects up to: 230°C
Reasons to buy
+
Helps with hold
+
Nice nourishing texture
+
Conditioning
Reasons to avoid
-
Might be too heavy for some
The Redken Iron Shape Thermal Holding Spray and I nearly fell at the first hurdle, as it took a good couple of minutes of shaking and spritzing to finally persuade any of the formula up the spout and out of the nozzle. So, if the same happens to you keep persevering. I can only imagine our rocky start is down to the consistency of the formula, as the texture is not dissimilar to a milky serum. It's heavier than I expected, so while I could spray with abundance on wet hair, I had to spray it onto my hands first when it was dry to avoid ending up saturating small sections.
The recently updated formula smells like a salon, and you can tell it's a professional product as it is designed with styling in mind as opposed to just protection. It adds light yet flexible hold to the hair to keep your style in place for longer. I did find that my hair held better when using it, which meant I ultimately used less heat in general as I didn't have to keep going over it in-between washes. Win-win.
7. L'Oreal Elvive Dream Lengths Heat Slayer Iron Spray
Specifications
RRP: $10.90 / £10
Can it be applied to damp or dry hair?: Both
Protects up to: 230°C
Reasons to buy
+
Affordable price
+
Good for long hair
+
Sweet scent
Unless you've been living quietly beneath a rock for the past two years, you'll probably have heard the hype around L'Oreal's Dream Lengths Wonder Water. If you haven't, let me catch you up quickly. It's essentially a super speedy treatment that adds shine and gloss to the hair in just 8 seconds. My favorite bonus side-effect is the smell, to the point that I have (to my shame) been known to sniff my own hair.
So, as a long-time fan, I was keen to try more of the range. The first thing to say about the Dream Lengths Heat Slayer Iron Spray is that it's brilliant value for money at just over $10 for a 150ml bottle. With daily use on mid-length hair, it should last you between 6 to 8 weeks, meaning there's no excuse for skipping your heat protection spray. The formula itself is slightly milky, with an initially sticky texture that's quickly absorbed into the hair. Just be wary of the spray function. It's quite punchy, so I found that unless I sprayed from quite a distance (and even when I did) that some areas were wetter than others. Another way around this is to spray onto your hands first and then smooth through your hair. Oh, and it's got the same signature scent too.
8. John Frieda Frizz-Ease Heat Defeat Protecting Spray
Best heat protection spray for frizzy hair
Specifications
RRP: $8.39 / £7
Can it be applied to damp or dry hair?: Damp
Protects up to: Not specified
Reasons to buy
+
Kept frizz at bay
+
Hydrating
+
Good for dry hair
Frizz is my number one nemesis when it comes to taking care of my hair. In fact, it's the reason I'm so committed to my heat tools, as I wouldn't mind my natural curls so much if they weren't constantly coated in a halo of fluff.
John Frieda is the first name in frizz. And, as part of the same range as the iconic Frizz-Ease serum, this heat protection spray gave me high hopes for a fuzz-free finish. Frizzy hair forms when thirsty hair reaches out into the atmosphere in search of water, so it makes sense that the more moisture it has, the less it needs to look elsewhere. It's true that the more I straighten my hair, and the more dehydrated it becomes, the harder I find myself fighting to ward off the frizz. Lucky for me this spray is packed with humectants, which draw in and seal that much-needed hydration. I found that a little went a long way (making the bottle a total bargain) and my hair definitely looked and felt smoother after use without compromising on volume and movement. I just wish I could use it on dry hair too, but it's far too sticky (I tried).
9. Sol de Janeiro Milky Leave-in Conditioner
Best heat protection spray for dry hair
Specifications
RRP: $28 / £28
Can it be applied to damp or dry hair?: Damp
Protects up to: 232°C
Reasons to buy
+
Intense fragrance
+
Very nourishing
+
Doesn't need to be used with heat
Reasons to avoid
-
Too heavy if your hair is fine
Is it just me or is clean hair always better on holiday? I think it's the combination of the satisfaction of washing away a day's worth of sand and salt along with the deliciously sweet scents of summer hair products that makes hair feel extra swishable. So, it won't surprise you that what I loved most about Sol de Janeiro's Milky Leave-In Conditioner was that it made my hair feel (and smell) like I'd just wandered out for dinner on a gorgeous far-flung island. Potentially OTT? Maybe. But you can't help how scents and products make you feel.
The aroma is the same as the brand's cult Brazilian Bum Bum Cream, with notes of pistachio, salted caramel, and vanilla in the mix. And, similarly to the body cream, the leave-in conditioner also puts the focus on hydration. Although it comes out like a spray, the texture is a lightweight serum, which will appeal to those (like me) whose frazzled ends are in near-constant need of TLC. Not only did it leave my hair super soft post-styling, but it also helped to keep frizz at bay – even on some very rainy days. Although the aim here is heat defense, I liked that this was more than just a heat protection spray, and there's no reason why you couldn't use it to tame and smooth hair before air-styling too.
10. Imbue Curl Defending Heat Protection Mist
Best heat protection spray for curly hair
Specifications
RRP: $9.99 / £7.99
Can you apply it to damp or dry hair?: Both
Protects up to: 220°C
Reasons to buy
+
Conditions curls
+
Defends from UV too
+
Made without silicones to weigh down
Reasons to avoid
-
Spray is quite wet for dry hair
Curly hair needs protecting too you know. Not everyone who's lucky enough to be sporting kinks and coils can wash and go, so if you do tend to use a diffuser on your curls, or want to straighten and wave without the risk of disrupting your natural curl pattern, this is worth a try. I'm not big on leaving ingredients out (unless they're dangerous) but Imbue makes a point on their packaging and website that this is of being alcohol and silicone free, the first of which can dehydrate hair, and the second which can weigh hair down, which makes sense for curly hair which tends to be naturally dry.
One spray lets out a lot of product – which is great if your hair is thick like mine but I imagine less ideal if it's fine. For that reason, I'd say don't spritz directly onto the hair when it's dry (smooth with your fingers), and comb through when it's damp with a wide-tooth comb. It smells delicious (kind of like a kid's shampoo from the 90s) and has just enough stickiness to help encourage and hold your curls into spirals as an added extra. Team with a set of the best straighteners for curly hair and your tresses will thank you.
Jess Beech is an experienced fashion and beauty editor, with more than eight years experience in the publishing industry. She has written for woman&home, GoodtoKnow, Now, Woman, Woman's Weekly, Woman's Own and Chat, and is a former Deputy Fashion & Beauty Editor at Future PLC. A beauty obsessive, Jess has tried everything from cryotherapy to chemical peels (minus the Samantha in Sex and The City-worthy redness) and interviewed experts including Jo Malone and Trinny Woodall.