How to curl hair with a straightener in 4 easy steps
Want to learn how to curl hair with a straightener? It's easier than you think.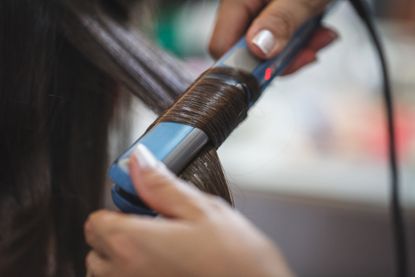 (Image credit: Getty Images)
Knowing how to curl hair with a straightener is one of the life hacks you can learn that can totally change the way you approach your day-to-day hair routine. Chances are, if you've spent considerable time and money investing in straighteners for your hair type—whether it be for curly, wavy, or straight hair—you'll want to know how to get the most out of them. Eliminating frizz is one thing, but what about using them to create curls?
As you'll know from ever having seen someone do it, it's mesmerizing to watch: A seemingly simple glide and twirl of the flat iron, and within seconds, straight locks have transformed into a glossy, pristine swirl.
Trying to emulate it is another story, though—arm cramping, rotation confusion, uneven sectioning, and unwanted crimping are common complaints, resulting in many of us throwing in the towel and learning how to curl your hair with a curling iron instead.
However, by keeping our straighteners strictly in their lane, we may be missing out on the shinier, smoother, and even trendier curl results they afford, in addition to the wider variety of shapes these best straighteners can be used to create. Whether you're team Dyson Corrale vs GHD Platinum or rate the L'Oréal Professionnel SteamPod 3.0, These tools are incredibly versatile, so why miss out on the opportunity to streamline your tool collection by getting an iron that can do both?
That being said, it all comes down to nailing the technique. We asked Craig Taylor, creative director for Hari's Hairdressers, for foolproof tips for achieving professional-looking results at home. Read on:
Curling hair with a flat iron: what you'll need
When learning how to curl hair with a straightener, you'll first need a kit. Sectioning clips are handy, as well as a wide-toothed comb and the best hair dryer (opens in new tab) you can afford for your hair type. As for products, heat protection spray and hairspray are essentials.
Choose your straightener according to your desired style and type of curl. As a general rule of thumb, the narrower the plate, the tighter the curl.
Hair length is also a factor to consider. For short hair, Craig recommends a straightener with a small narrow profile with narrow plates. "Too big, and you won't get enough movement into the hair," he cautions.
Having said that, tweaking your rotation technique (more on that after the jump!) and/or the section size of the hair fed through the plates can provide a greater range of options with your existing straighteners.
How to curl hair with straighteners
1. Prep hair.
"The main thing is to make sure your hair is completely dry before starting the styling process," says Craig. "Using straighteners on wet hair can cause hair damage."
A good heat protection spray or balm is also key. For added volume, try a root lift spray, and to give your efforts extra longevity, a curl hold spray (we love ghd Heat Protect Spray for keeping our curls in place).
If you have naturally curly or tightly coiled hair, try a home blow dry (opens in new tab) first, for as even a finish as possible. "Not doing so would result in irregular texture and movement," explains Craig.
After applying your products, use sectioning clips to divide your hair into two sections horizontally, from ear to ear.
2. Experiment with section size.
The wider the section of hair used, the looser the curl (and vice versa). Aim for between one to two inches, but don't be afraid to experiment a little to find the most effective size for your desired style. Ed's tip: Experts recommend that hair should be spread out evenly onto the plates, so if you're seeing too much "bunching," you probably sectioned off too much hair.
For longer locks, Craig recommends keeping sections a bit bigger underneath, so that curls don't look too tight.
3. Twirl straighteners in a smooth, fluid motion.
The secret to the perfect straightener curl is a continuous motion, says Craig.
"When the hair is in the straighteners, straighten the roots by doing a quick but fairly firm tug, then, as you move through to the mid-lengths, give the straighteners a turn by rotating your wrist," he says.
Continue through in this twirled direction until you run out of hair—some even like stopping an inch before the ends for that trendy, slightly tousled look.
For short hair, aim for half a turn, then tug hair downwards the rest of the way keeping that half-turn.
For long hair, try one complete turn. The greater the rotation, the rounder the curl. You can also try clamping the iron shut with hair in between, then wrapping the rest of your long hair around the closed plates as you tug downwards.
The shape of most straighteners affords a more modern curl than your typical barrel-shaped curling iron, which is the texturized, modern, slightly worn-in natural effect a lot of us have been looking to emulate.
To keep things as snag-free as possible, hold the straighteners with your fingers and not grasped in the palm of your hand. "Using your fingers means that you can turn the straightener between your hands more carefully—one holding the bottom of the straightener and one at the top near the hot plates," explains Craig. "If held in the palm of the hand when you turn the straighteners, your hand will get stuck in the turn and won't be able to complete the action down the hair."
As for the direction of rotation, curling the hair nearest to the face in an outwards direction is more flattering and yes, does wonders for opening up your countenance! For the rest of the hair alternating directions for a more textured, natural finish and avoid clamping down hard to prevent any bend marks or crimping.
4. Fix and finish.
For a more natural finish, shake out curls and and break them up with a wide-toothed detangling comb, or lightly brush out the spirals with a soft boar-bristled brush. Finally, spritz with hairspray to give your handiwork extra staying power. You're done!
woman&home thanks Craig Taylor (opens in new tab) of Hari's Hairdressers (opens in new tab) for his time and expertise.
Ayesha is a freelance beauty writer and when she's not contributing to woman&home she can be found writing about all things cosmetics, hair and self-care in her role as Senior Features Writer for Get The Gloss. She also writes a monthly hair column called 'Who, What, Hair' (which combines her love of puns and buns perfectly), in addition to a column exploring the new and exciting options now available for women of darker skin tones called 'Not Fair'. She's also been shortlisted for a number of awards including Best Online Beauty Journalist at the Johnson and Johnson Journalism Awards.