Tangle Teezer vs Wet Brush: Which cult hairbrush is best for gentle detangling?
Weighing up Tangle Teezer vs Wet Brush? We've tried and tested both to comb through the pros and cons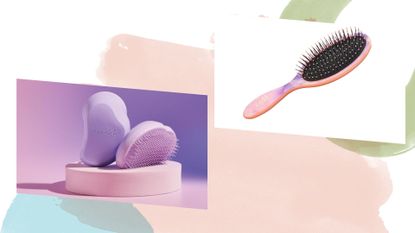 (Image credit: Future/Tangle Teezer/Wet Brush)
woman&home newsletter
Sign up to our free daily email for the latest royal and entertainment news, interesting opinion, expert advice on styling and beauty trends, and no-nonsense guides to the health and wellness questions you want answered.
Thank you for signing up to Woman & Home. You will receive a verification email shortly.
There was a problem. Please refresh the page and try again.
Tangle Teezer vs Wet Brush is a bit like the debate between Pepsi and Coca-Cola. People feel very strongly about the side they've picked, and once you've pledged your allegiance to one, you're unlikely to stray to the other.
Are you yet to pick a side in the battle of the cult detangling brushes? We've done the hard work for you, trying, testing, and comparing the Tangle Teezer vs Wet Brush in detail.
Our trial looked at the design, quality, and choice of products each brand offers (plus whether they can be used with your best hair dryer or on wet hair only) to help you make an informed decision about which one you should choose to tame your strands. Both the Tangle Teezer and the Wet Brush have various designs within their ranges, so, to keep things simple, we're comparing the original stylers from each to begin with.
Tangle Teezer vs Wet Brush: Your Beauty Editor-approved guide
Design
Wet Brush design
If we asked 100 people to draw a hairbrush, the majority would look like The Wet Brush Original Detangler. It has a typical oval shape body where the bristles sit, and a curved handle to hold it by. What makes it unique though are the patented soft IntelliFlex bristles which have been designed to glide through tangles on all hair types without dragging or snagging. The brand claim that they cause 45% less damage and require 55% less effort versus a traditional hairbrush.
The Wet Brush was originally only available in simple block colors, but the brand has really run with the design options over the years. Now you can find prints, sparkles, and collaborations with the likes of Disney and Hello Kitty on the back of your brush.
Tangle Teezer design
At the opposite side of the spectrum, one of the ways in which Tangle Teezer shook up the hair category was by challenging how we expected a hairbrush to look. Tangle Teezer The Original does away with a handle and can be held in your palm to give you more control over the brush and help you to feel any niggling knots you encounter. Like The Wet Brush, Tangle Teezer also uses patented technology. The teeth are double layered, with a long, flexible set to remove tangles and reduce breakage, as well as a shorter set to smooth the hair and banish frizz.
In terms of a choice of finishes, Tangle Teezer has stayed pretty true to its original branding with mono or double color options (where the teeth are a different shade to the back). You can keep it classic with standard black, or choose something a little more playful with brighter shades.
Tangle Teezer vs Wet Brush: Quality
When you're weighing up Tangle Teezer vs Wet Brush, neither is very expensive. You can pick up a Wet Brush for around $12/£8 and a Tangle Teezer are around $14/£14, so we're not talking Maison Pearson prices. That being said, both are made from plastic, and we want to be as responsible and sustainable as possible with our purchases, so you don't want to invest if it won't last.
The good news is that in woman&home's beauty team, every one of us has Wet Brushes and Tangle Teezers that we use almost every single day and all are just as good now as the day we got them. The only mishap we've had is one snapped handle on a Wet Brush – but that was probably the fault of a very over-packed suitcase.
Although both Wet Brush and Tangle Teezer are durable, their appearances do fade slightly. The coating on the Wet Brush is prone to distorting or chipping (depending on the design) and the plastic of the Tangle Teezer can lose its color from exposure to things like hair products and sunshine over the years.
Both have a tendency to collect dirt too. Tangle Teezers can be cleaned using warm water and a little shampoo (plus an old toothbrush to really get between the bristles). You can do the same with Wet Brush, but just be careful not to submerge the brush fully in water as you could damage the finish on the back. It's also worth removing loose hairs every week or so to keep your brush gliding through the hair as seamlessly as it should.
Which brush is more sustainable?
If your brush is beyond saving you can recycle your old Tangle Teezer (or plastic hairbrushes from any other brand) by sending it back to the brand's HQ. This is a nice idea for sustainability and you'll get a 15% off voucher to use on your next purchase as an incentive.
As part of Wet Brush's commitment to using less virgin plastic, much of the brand's offering is also available in a Go Green version. They're the same brushes, with all the same features, plus the added benefit of being made from at least 50% plant-based plastic for eco-brownie points.
Tangle Teezer vs Wet Brush: Suitability for all hair types
If the length of the lists at the end of this article isn't enough to convince you that both Tangle Teezer and Wet Brush cater to all hair types, then we don't know what will. Among both ranges, there are brushes that are suitable for fine hair through to thick, short hairstyles through to long hairstyles, and poker-straight hair through to afro. The names of the brushes are all pretty self-explanatory too, so it's easy to navigate and shop by concern. Both brands understand that hair is most fragile when wet and that, whatever your hair is like, it needs extra care to avoid breakage, snagging, or split ends.
Tangle Teezer vs Wet Brush: The w&h verdict
Our verdict on Tangle Teezer vs Wet Brush? It's six of one and half a dozen of the other. Both brands make good quality brushes at affordable prices, and the one you choose will depend on the kind of brush you like. For example, if you prefer to detangle with a handle, go for the wet brush, it also depends how you like your brush to look (Tangle Teezer is more modern), and the type of hair you have (although both cater to straight hair through to curls).
Whether Wet Brush or Tangle Teezer is best for you will also depend on factors how you like to wear your hair and the condition it is currently in. They're pretty much the same price, although Wet Brush is often found ever-so-slightly cheaper if that swings it.
When it comes to sustainability, the fact that both Tangle Teezer and Wet Brush make their brushes from plastic means neither brand scores top marks in this area. But, both have acknowledged this and are taking steps in the right direction by rethinking the materials they use and investing in recycling programs.
What choice of products does each brand offer?
Both Tangle Teezer and Wet Brush have expanded way beyond their original brushes, and now have extensive (almost overwhelming) collections to choose from.
At the time of writing, Tangle Teezer offers the following brushes in its range:
Plant Brush - a replica of the original but now made from 85% sustainably sourced castor beans.
The Wet Detangler - find your Tangle Teezer slips out of your hand in the shower? The ergonomically designed handle is made for a steady grip even when covered in conditioner.
The Wet Detangler Fine & Fragile - the same shape as the above but with softer flex teeth for extra gentle brushing.
Naturally Curly - a handled brush made with curl types 3C to 4C in mind. This has longer and firmer teeth to allow you to really get into tangles and reduce frizz.
Thick & Curly - a version of the original for hair that needs a little more taming. The teeth are longer and stronger to define and tame curls.
Fine & Fragile - if the original Tangle Teezer is too full-on for your hair, this has been made with teeth that are 30% softer for absolutely no pulling.
Compact Styler - great for on the go, this styler comes with a click-on cover to protect your brush in your bag.
Smoothing Tool - designed to take your hair from wet to dry without frizz. The overlapping teeth provide just enough tension for a smooth finish without pulling too hard. It comes in a full-size option or half-size for shorter hair.
Round Tool - The same bristles as the Smoothing Tool but arranged in a round brush for adding volume and bounce to the hair. Again, it comes in two sizes. Great for creating a bouncy blow-dry.
Easy Dry & Go - a handle brush with vents that allow the heat of your hairdryer to travel through to the hair for speedy styling.
The Ultimate Styler - this brush has a narrow handle for maximum control and unique bottle-shaped teeth designed to brush out curls, maintain weaves and blend extensions.
The Original Mini - taming a little one's hair? This has been designed with smaller hands in mind so they can take control of their own routine.
The Back-Combing Brush - a super narrow brush with two-tiered teeth to allow you to get right up to the roots to add volume.
Hair Pick - simple yet effective, the long teeth allow you to add serious volume to natural 3C to 4C hair.
Wide-Tooth Comb - not strictly a brush, this two-sided comb is also for 3C to 4C hair. Use the longer side for a light detangle, and the two-tiered teeth for a deeper one. Good for anyone embracing natural hairstyles.
The Scalp Exfoliator and Massager - with a clever winged design that fits all hand sizes, this tool is designed to remove product build-up and dead skin cells from the scalp to create a better, healthier environment for hair growth.
From Wet Brush, you can choose between:
Shine Enhancer Brush - combining the brand's IntelliFlex bristles with boar ones, this brush helps to distribute your hair's natural oils through the lengths for smoother, shinier hair.
Argan Infused Shine Enhancer Paddle Brush - an upgrade on the Shine Enhancer, this one has argan oil infused into the cushion for added moisture. The paddle shape means it's wider too.
Mini Detangler - a handbag essential, this teeny weeny detangler is a smaller version of the original.
Thin Hair Detangler - the bristles on this brush are carefully spaced to put less stress on fine or thinning hair.
Thick Hair Paddle Detangler - with a 20% larger surface area than the Original Detangler, it makes taming long, thick hair a less time-consuming task.
Thin Hair Detangling Comb - a wide-tooth comb with flexible bristles that glide through hair without snagging.
Paddle Detangler - similar to the Thick Hair Paddle, this also has a large surface area for speedy styling.
Refresh & Extend Paddle Detangler - no time to shampoo? The bristles tease out between-wash tangles while the charcoal-infused pad helps soak up excess oil.
Refresh and Extend Speed Dry Brush - the open-vented design helps make blow-drying faster on wash day, while the charcoal-infused bristles and frizz-reducing strips keep hair soft, fresh, and manageable between shampoos.
Pure & Clean Detangling Hair Brush - worried about germs? The bristles of this brush have an antibacterial coating and are infused with silver ions to repel microbes and bacteria. The cushion can be removed for a deep clean between uses too.
Shower Detangler- designed for use in the shower, this has a fully flexible design that contours to your scalp to avoid snagging. The handle means it can be hung in the shower too.
Speed Dry Brush - vents stacked across the back of the brush allow the majority of the hot air from your hairdryer to pass through at the same time as blocking some to reduce heat exposure. A great tool for anyone who struggles with how to blow-dry hair.
Volume & Body Round Brush - this round brush uses two bristles – HeatFlex nylon to bend and flex in the hair, as well as synthetic boar bristles for increased tension. For best results, use with the best hairdryer for fine hair
Smooth & Shine Round Brush - a brilliant brush for fine to medium-thickness hair, the bristles have been arranged in a spiral helix design for maximum tension without tangles. A good alternative to the best hairdryer brushes.
Straighten & Style Round Brush - the open barrel design makes space for air to pass through, with vents in the center to speed up drying time for straight hair fast.
Lift & Shape Round Brush - use the rounded sides of this triangle-shaped brush to lift the hair, and the flat sides to smooth and straighten.
Beach Waves & Tight Curls Round Brush - a narrow brush with a rectangular-shaped barrel, bendy HeatFlex bristles, and a VitaBoost complex to enhance your hair when creating loose waves and tight curls.
Custom Style Vented Round Brush - allowing for a fully customizable experience, turn the top of the brush to allow more or less airflow to pass through. Keep them open for speedy styling, or closed for maximum heat on the hair.
Head Start! Exfoliating Scalp Massager Brush - ergonomically designed to nestle neatly in the palm of your hand, the flexible antimicrobial bristles help to remove build-up from the scalp and promote healthy hair from the root.
Pop and Go Speed Dry - reminiscent of an early '00s mobile phone, this foldable brush flips up into a mini version of the Speed Dry Brush.
Detangling Comb - the unique WaveTooth design not only means no painful pulling but helps to evenly distribute product across the hair too.
Thin Hair Detangling Comb - kind to fine, delicate hair, the IntelliFlex Bristles offer a gentler alternative to a traditional comb.
Are Tangle Teezers good for wet hair?
Tangle Teezers are great for wet hair – especially The Original, The Wet Detangler, and The Wet Detangler Fine & Fragile. Our hair is most prone to damage when it's wet, so it's important to be extra careful with your styling to avoid breakage. The teeth on these three types of Tangle Teezer have been perfectly spaced to allow them to slide through the hair without dragging or snagging. They're flexible too, which means they bend with the movement of your hair.
You might also notice that the teeth sit at two different heights, and that's thanks to Tangle Teezer's patented two-tier teeth technology. The idea is that the longer top set will get closer to the scalp to tease out knots from the hair, while the shorter set work more on the surface to encourage shine and reduce frizzy hair in your finished style.
Is Tangle Teezer the same as Wet Brush?
Tangle Teezer is not the same as Wet Brush, they are different companies. There are notable differences between the products, including the fact that Wet Brushes have more flexible bristles than Tangle Teezer and are topped with ball tips. There are plenty of similarities though, as both brands have an original detangling hairbrush that can be used on wet or dry hair, as well as a range of other brushes for styling different hair types.
Sign up to our free daily email for the latest royal and entertainment news, interesting opinion, expert advice on styling and beauty trends, and no-nonsense guides to the health and wellness questions you want answered.
Jess Beech is an experienced fashion and beauty editor, with more than eight years experience in the publishing industry. She has written for woman&home, GoodtoKnow, Now, Woman, Woman's Weekly, Woman's Own and Chat, and is a former Deputy Fashion & Beauty Editor at Future PLC. A beauty obsessive, Jess has tried everything from cryotherapy to chemical peels (minus the Samantha in Sex and The City-worthy redness) and interviewed experts including Jo Malone and Trinny Woodall.