Best hair straighteners for thick hair that make styling easy
Our beauty editor's tried and tested guide to the best hair straighteners for thick hair that deliver on style and substance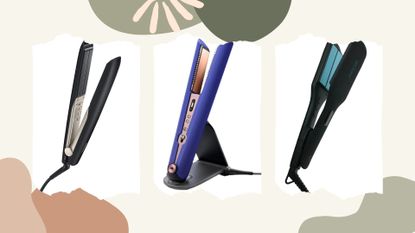 (Image credit: Future/Canva/Panasonic/Dyson/BioIonic)
The best hair straighteners for thick hair make light work of dense locks for sleek results you don't have to work too hard for.
In my opinion, straightening thick hair can be as strenuous as a 45-minute gym class. Both have the potential to leave me a sweaty, melty mess, and only one of them is doing anything for my cardio fitness. The key to taking smoothing your hair from intermediate back to easy? Having the right tools for the job (and no, I'm not talking about sweatbands and a water bottle).
The secret to straightening thick hair fast is in the plates, and the best hair straighteners for thick hair tend to be wider or longer than your average straightener. "Using a wider plate straightener can make it easier to style thick hair as it's faster to straighten large sections," says Tyler Moore, Expert Stylist at Live True (opens in new tab). "While it's possible to style with regular straighteners, beginners to styling their hair may find wider plates easier to use."
The length of your hair has an impact too. "For long hair, wide plates are super effective as they capture more stands in one go and remove frizz fast," says Belle Cannan, founder of Salon Sloane (opens in new tab). If your hair is very short, or you have a lot of breakages (which is common if you're addicted to your irons) narrow straighteners are still best. In this case, you'll need to rely on glossy coatings and variable heat temperatures to supercharge your styling.
How we tested the best straighteners for thick hair
Why you can trust Woman & Home Our expert reviewers spend hours testing and comparing products and services so you can choose the best for you. Find out more about how we test.
To make sure the straighteners in this guide were the best on the market, all of them were tested on my exceptionally thick, curly hair. My hair is dense in two different senses. Not only is there a lot of it, but the individual strands are so thick that they wouldn't be entirely out of place in a horse's tail. I used the same shampoo and conditioner for my hair type throughout the testing, and blow-dried my hair in the same way, with my best hairdryer, to give each pair of straighteners a fair chance. For each pair of straighteners, I took note of the following factors:
Price
Number of heat settings
Size of the plates
What the plates were made from
Cable length
Option to go cordless
How well they glided through the hair
Additional technology e.g. floating plates
The best straighteners for thick hair, chosen by our beauty team
1. Cloud Nine The Wide Iron
Best hair straighteners for thick hair to minimize damage
Specifications
RRP: $200 / £169
Adjustable temperature?: Yes
Cordless?: No
Reasons to buy
+
Works well at lower temperatures
+
Reduces breakage
+
Glides through hair seamlessly
Reasons to avoid
-
Not always easy to get to the root
Cloud Nine's The Wide Iron completely converted me to wide-plated straighteners a couple of years ago. Before then, my only previous experiences with wide plates had been at the hairdressers, where I always left with tell-tale signs of my natural curl type at the hairline and at the roots as the stylist (I assume) had been too worried about burning my scalp to get too close. I thought (wrongly) that they'd only work on long hair that just required taming on the mid-lengths to ends.
Although the plates on Cloud Nine's The Wide Iron are (as you can guess by the name) wider than average, they're set very close to the edge – making it easy to create a convincingly sleek look from root to tip. The reason I really love this styler though is that it has completely changed the health of my hair. Full disclosure – I use heat on my hair almost every day because, for me, the answer to how to straighten hair without heat is, I can't. I'm also not averse to a salon smoothing treatment (my botox hair treatment review has more info on that) But since using these my split ends are fewer and further between and my hair grows faster too. In fact, I really noticed a change to the texture of my hair – it's been drier and frizzier – since testing other straighteners for this round-up.
The other key benefits to know are that the plates are infused with minerals for improved shine, the floating plates minimize drag and friction and the heat settings can be adjusted from 100-200°C. I tend to use 180°C when my hair is particularly stubborn or I've blow-dried it lazily, and a cooler 150°C between washes.
2. L'Orėal Professionel Steampod 4
Best hair straighteners for thick hair that's dry
Specifications
RRP: $356 / £299
Adjustable temperature?: Yes
Cordless?: No
Reasons to buy
+
Re-hydrates hair
+
Combs and straightens
+
Smoothing results last well
Reasons to avoid
-
Adding water is time consuming
If you were to divide all the hair straighteners on this list into neat little subcategories, the Steampod would have to sit all on its own. Thanks to L'Oreal's patented steam technology, it works in a completely different way from others on the market. When you use a normal straightening iron, moisture is lost from the hair. This is why you sometimes notice steam escaping as you style and hair can feel dry and a bit crispy after straightening. The difference with the Steampod is that it uses steam to replace that lost moisture, so hair is less likely to break and snap.
I was initially skeptical about this. I only need to look at the rain out the window and my hair starts to frizz. I never knowingly leave home without an umbrella, I wear a shower cap when I'm cooking and a spa steam room is my idea of hell. Surely the steam would just make my hair frizzier? Impressively, it didn't. Probably as the steam is dry, not wet. I did find that my hair felt a bit tackier after using the Steampod than it does with other stylers (I do tend to use quite a lot of hair products) but it was nice and smooth to the touch, and there was no fluffy halo to contend with.
The results do come with a caveat, as although the Steampod 4 is the most improved version yet, it's still not seamless to use. The tank needs to be filled with demineralized water (tap won't do), it needs to be used a certain way up for the comb attachment to pass through the hair (I learned this the hard way) and it makes a loud humming noise when using. That being said it is lighter than its predecessors, reaches closer to the roots, and has the benefit of curved, heated outer plates to lock curls in place.
3. GHD Max Hair Straightener
Best hair straighteners for thick hair that's long too
Specifications
RRP: $249 / £199
Adjustable temperature?: No
Cordless?: No
Reasons to buy
+
Speedy to use
+
Reduces frizz
+
Shuts down automatically after 30 minutes
The GHD Max Hair Straightener was one of, if not the actual first, pair of wide-plated irons on the market. It's moved on over the years though, with new added features and functionality. Of the GHD family, the Max is more closely related to the GHD Gold than it is the Platinum (the brand's most premium styler) so does lack some of the more high-tech features found in other straighteners on this list. For example, the heat settings aren't adjustable, and it'll only work at 185ºC. But, there are plenty of pros.
What GHD is very good at is giving you options for the different ways to use your styler. And with curved edges, this is the perfect tool for learning how to curl hair with straighteners. You can create big bouncy curls on long hair or a subtle wave on shoulder-length hair (like mine). I personally like using a wider styler for curls and waves as narrower ones not only take a long time but can make my hair look twice as thick as it actually is. The plates feel satisfyingly hot when you use them (controversial I know, but I do like feeling like my straighteners are working) and automatically shut off after 30 minutes of not being used. The plates are glossy and ceramic, with floating functionality which allows them to adjust to your hair thickness and avoid snagging. It's worth adding this brand also makes one of our best curling irons for thick hair, too, should you be in the market for one.
4. Bioionic OnePass 1.5 Inch Straightening Iron For Thick Hair
Best hair straighteners for thick hair that's hard to style
Specifications
RRP: $199 / £119
Adjustable temperature?: Yes
Cordless?: No
Reasons to buy
+
Silky, shiny hair in one pass
+
Makes you move slowly through the hair
+
Good temperature range
Reasons to avoid
-
Hard to get close to the root
I'm always in a hurry, which means I do have a tendency to move the straighteners through my hair at a speed that probably doesn't do it any good. Enter the Bioionic OnePass 1.5 Inch Straightening Iron For Thick Hair. Where a straightener would normally slide down my hair like silk, this doesn't. It sort of drags as if there was something holding it back (without pulling) and forces you to slow down. On closer inspection (and a look at the description) I realized that this was due to the silicone strips in the center of the plates. They gently grip the hair, instead of clamping it together in the plates, to let you smooth and straighten without snagging.
This feeling took a bit of getting used to, but it is clearly how the straightener lives up to its "one pass" title. If you're moving slowly and deliberately through the hair, you're going to smooth much better than you would with one speedy pass. The temperature is adjustable from 130°C to 230°C, with a little gage on the screen that goes up celsius by celsius so you can track the progress – and it beeps when it's ready. I used the styler at 180°C which was more than hot enough to efficiently straighten my hair. My only gripes with this styler are that it is a bit clunky, and I couldn't get too close to my roots.
5. Diva Pro Styling Wide Digital Styler
Best hair straighteners for thick hair to add shine
Specifications
RRP: $220 / £115
Adjustable temperature?: Yes
Cordless?: No
Reasons to buy
+
Good size plates
+
Can style large sections at once
+
Wide range of adjustable settings
Looking to invest in a slightly less expensive styler? At a quick glance, the Diva Pro Styling Wide Digital Styler is almost impossible to tell apart from the GHD max. On closer inspection though, you can see that the plates are slightly narrower, so, although they're wider than average, they will cater to that middle ground.
The Diva Pro Styling Wide Digital Styler heats up in just seconds and moves quickly between heat settings without taking much time out to readjust. From the choice of temperatures between 110°C and 230°C, I went for 190°C. I could have gone higher, but I feel like once you go over 200°C you're reviewing the level of heat more than the qualities of the styler.
For a poker-straight finish, I did have to move the styler through my hair quite slowly to ensure I was capturing every strand. This might put some people off, but I don't mind being forced to be a bit more mindful with my styling. It's worth noting that this is slightly heavier than other tools on this list, but not so cumbersome as to give you arm-ache. I'm always carrying my straighteners around with me, so liked that this came with a felt heat mat and bag so I don't have to wait for them to cool down before transporting.
6. Revamp Progloss Ultra X Shine Wide Ceramic Hair Straightener
Best hair straighteners for thick hair for fast styling
Specifications
RRP: $119 / £99.99
Adjustable heat settings?: Yes
Cordless?: No
Reasons to buy
+
Extra long plates
+
Adjustable temperature
+
Easy to get good results
Revamp might not be a household name in hair styling, but these are a perfect fit for long, thick hair. What I like the most about them is that the plates are extra long (more than a quarter longer than your average styler) which lets you work through the hair faster and more efficiently.
The temperature options are the broadest I've seen, from 80ºC right up to 235ºC. Personally, I'm not convinced that anyone with thick hair is going to see much of a difference using them at 80ºC, but if your hair is super fragile from bleaching (maybe you've used a home highlights kit) this is a great entry point. On the note of damage, the Revamp Progloss Ultra X Shine Wide Ceramic Hair Straightener uses ionic technology. This means that it cancels out positive ions (which can form when hair is over-heated, over-colored, or over-processed) and replaces them with negative ones that reseal the cuticle. These negative ions are what gives hair shine and a silky texture. Even better, the plates are also infused with hair-loving keratin, argan oil, and coconut oil.
I did find that the longer plates took a bit of getting used to, a bit like driving a 4x4 when you're used to something smaller, but once I mastered it they definitely helped to speed up styling time. My only other criticism would be that even at 170ºC my hair felt very hot, which makes me inclined not to trust the temperature settings implicitly.
7. Revlon Double Straight Copper Ceramic Dual Plate Straightener
Best hair straighteners for thick hair for a sleek finish
Specifications
RRP: $64.99 / £60
Adjustable temperature?: Yes
Cordless?: No
Reasons to buy
+
Sleek results
+
Works well at low temperatures
+
Adds shine
The Revlon Double Straight Copper Ceramic Dual Plate Straightener is a funny-looking thing. Instead of your average two plates, it has four narrow ones which are joined together by a bridge at the top of the styler. The idea is that the first plate passes through and straightens the hair, followed by the second which reinforces its results. The skeptic in me thought it was a bit of a gimmick, and that some of my thick hair would escape through the gap in the middle when styling, leading to snagging, but actually, it works really well.
The styler passes seamlessly through the hair, and, even though the plates themselves are narrow, it actually covers quite a large surface. I managed to straighten chunky sections at once, and I'd say overall it knocked a good 5 minutes off my average styling time. The temperature options span from 140°C to 235°C, which is nice and broad, although 170°C was enough for me, so I think most people with thick hair wouldn't need to climb too high. What really impressed me was how soft and shiny my hair felt after using it. It was seriously glossy and stayed that way until my next wash.
8. Dyson Corrale Hair Straightener
Best hair straighteners for thick hair prone to frizz
Specifications
RRP: $499.99 / £399.99
Adjustable temperature?: Yes
Cordless?: Yes
Reasons to buy
+
Cordless
+
Fast charging
+
Kind to hair
A lot of technology has gone into the Dyson Corrale. The first, and most impressive thing, is that it's cordless. And, unlike other cordless stylers, it doesn't need a huge amount of charge before you go wire-free. 70 minutes of charge will reward you with 30 minutes of cordless use. If you have forgotten to top up the battery in advance, you can use it with the wire too.
The second thing that's different is the plates. They're flexible, which means they move with your hair to hold tight where needed and loosen up where it isn't. They do make a slightly disconcerting crunching noise as you style, but you soon get used to it. The benefits for the hair are huge, allowing you to reduce the heat (and breakage as a knock-on effect). There are also heat control sensors to ensure optimum temperature across the plates at all times, and a flight-ready feature for travel.
Now, for all those reasons, the Dyson is a brilliant tool, and certainly one of the best cordless straighteners on the market. But for me, I didn't love everything about the results. It certainly smoothed my hair and knocked out curls and kinks, but it didn't leave it as poker-straight as I'm used to. It still had a fair amount of body to it and looked more like I'd just blow-dried it smooth rather than straightened it. While this was a downside for me, I know it will be a plus for many. If you love having thick hair and the oomph that brings, you'll be pleased to know that the Dyson certainly isn't going to leave your locks looking flat and lifeless.
9. Panasonic Nanoe EH-HS0E Enrich + Advanced Care Hair Straightener
Best hair straighteners for thick hair prone to breakage
Specifications
RRP: $230 / £199.99
Adjustable temperature?: Yes
Cordless?: No
Reasons to buy
+
Gentle on the hair
+
Adjustable temperature
+
Glides through easily
I always feel a little bit guilty when I'm using my straighteners. I know it's the only way to get my unruly hair under control (trust me, I've tried everything) but it does obviously come with the risk of damage. So, I'm interested in any tool that promises to minimize this.
Panasonic has taken a number of different routes to help support hair health with the Nanoe EH-HS0E Enrich + Advanced Care Hair Straightener. Firstly, it aims to balance moisture in the hair, which I'm inclined to say it does pretty effectively, as my hair definitely didn't feel stripped or crispy to the touch after using it. There's also the option to adjust the temperature between 150ºC and 230ºC. I stuck to 170ºC and even really large chunks of hair came out sleek and smooth. At all temperatures, the straightener is busy behind the scenes, with intelligent thermal sensors continuously measuring and maintaining the plate temperature, so there's no risk of damaging hot spots.
I was fiddling with the floating plates before I used the tool (and before heating it up, obviously) and they seem to have much more bounce, and move side-to-side more, than others I've tried. This pays off when using the iron, allowing it to hold onto hair firmly, even if strands are darting off in all directions. As the grip is increased, the styler does a better job of taming hair without the need to resort to scorching temperatures.
10. GHD Platinum+ Hair Straightener
Best hair straighteners for thick hair that's shorter
Specifications
RRP: $279 / £219
Adjustable temperature?: No
Cordless?: No
Reasons to buy
+
Work well for a narrow styler
+
Smooth results in one pass
+
Hair stays sleek between washes
Reasons to avoid
-
Can't adjust the temperature
Not keen on wide plates? We get it. Even if your hair is thick, it might not be long enough to justify the extra width. Lucky for you, the GHD Platinum+ works wonders on short hairstyles for thick hair. It heats up fast to 185ºC (the temperature GHD recommends for optimum hair health) and is good to go in a matter of seconds.
What I love is how effortlessly the Platinum+ smooths my hair. I find that it turns my coarse, frizzy hair into something resembling silk without much thought or precision on my part. It works fast and the results last, so I don't have to keep tracing the same section over and over again either. This is thanks to the ultra-zone predictive technology, which recognizes the thickness of the hair and adjusts accordingly for personalized results. If you're keen to go beyond styling straight hair to resemble a poker, the rounded sides and 360º swivel end on the cord makes it easy for even styling novices to create curls and waves without tying yourself in knots in the process.
If you're anything like me and have the potential to spend a lot of your working day worrying about whether or not you turned your straightening irons off, the Platinum+ has you covered there too. They automatically switch off if not used for 30 minutes.
How to choose the best straighteners for thick hair
Choosing the best straighteners for thick hair requires some research to find the right one for your needs. Here are a few things to consider before choosing a pair:
Plate/width: The best straighteners for thick hair are wider and longer than average straighteners, especially if you have long locks. If you have shorter hair, you'll need narrower plates, however, as wide plates won't be able to reach your roots.
Accessories: If you travel regularly with your straighteners, then extras like a heat matt could come in useful.
Price: Consider how often you use your straighteners before investing in an expensive pair. Most of the best straighteners for thick hair are admittedly a little more expensive than their narrow-plated counterparts, but if you're on a budget, we recommend the Revlon Double Straight Copper Ceramic Dual Plate straighteners.
Temperature and heat-up time: When you're styling thick hair, you need a pair of straighteners that can heat up to a good temperature - and fast. If you have different styling needs you might also be best going for a model that allows you to adjust the temperature.
Jess Beech is an experienced fashion and beauty editor, with more than eight years experience in the publishing industry. She has written for woman&home, GoodtoKnow, Now, Woman, Woman's Weekly, Woman's Own and Chat, and is a former Deputy Fashion & Beauty Editor at Future PLC. A beauty obsessive, Jess has tried everything from cryotherapy to chemical peels (minus the Samantha in Sex and The City-worthy redness) and interviewed experts including Jo Malone and Trinny Woodall.