How to fix and prevent split ends, according to the experts
Break up with split ends forever, with these top tips from the pros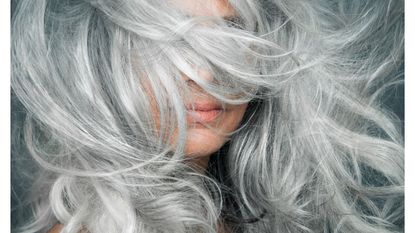 (Image credit: Getty Images)
woman&home newsletter
Sign up to our free daily email for the latest royal and entertainment news, interesting opinion, expert advice on styling and beauty trends, and no-nonsense guides to the health and wellness questions you want answered.
Thank you for signing up to . You will receive a verification email shortly.
There was a problem. Please refresh the page and try again.
Split ends leave hair looking less than healthy and, when you're trying to grow your hair, they're beyond frustrating. There's nothing worse than having to chop inches off locks you've been painstakingly trying to grow. To save you from an emergency cut, we've asked the experts for their top tips on split ends treatments, and how to prevent them in the first place.
Regardless of your hair texture, regular styling with even the best hair dryer can cause heat damage, while keeping up with beauty trends—such as styling straight hair at 200º until every kink is gone—can zap your hair of its natural oils and moisture.
What do split ends look like?
Split ends can make hair look straw-like, dry, and frizzy. And the higher they split, the more you end up needing to chop off.

Splits ends are pretty obvious when you know what to look for. Instead of a single hair strand that's smooth and intact from root to tip, a split end looks just like how it sounds: two separate strands of hair at the bottom, forming a V shape.
Once a hair strand has split, sadly the damage will continue to creep up the strand. Because split ends no longer have a smooth cuticle covering them, they are more prone to snagging and catching on things. This causes tangles, which in turn cause more split ends!
Split ends break more easily that healthy strands, so it can feel like your hair isn't growing if you have a lot of split ends because you're not retaining the length.
Causes of split ends
There are a few ways to prevent—and even fix and treat—the appearance of split ends. But first, you need to understand what causes them:
Overuse of straightening irons
Frequent heat styling
Brushing too aggressively
Not using heat protection
Ponytails
"Split ends are a result of damage to the hair," says celebrity hair stylist George Northwood, whose clients include The Duchess of Sussex, Julianne Moore, and Rosie Huntington-Whiteley.
"In the salon, I see the most split ends from overuse of straightening irons. To avoid damage, don't brush too aggressively, and use a heat protection product with the best hair straighteners for your hair. Look for thermal heat protection on the label—some heat protection products only protect against hair dryer heat, rather than that of straighteners and curling irons, so make sure you get the right one."
According to George, it's not only heat styling that can cause hair significant damage though—how you're wearing your hair is also a factor. "Ponytails are the worst. Especially when people use elastic bands, or those hair bands with the metal section, which snags the hair."
How to prevent split ends
Use less heat
Keeping your hair hydrated is key to avoiding split ends, so lay off the heat styling every once in a while. "Give everything a break," says hair styling expert Luke Hersheson, who's looked after the locks of Victoria Beckham, Sienna Miller, and Keira Knightley. "That doesn't mean not doing anything, but instead experimenting with using less heat and allowing your hair's condition to improve."
Try fortifying haircare
A fortifying or strengthening treatment, such as bond builders for hair like Olaplex can help repair damage within strands, although not specifically the ends. the best shampoo and conditioner will also be a bond repair formula, to reduce the chances of your ends splitting. Avoid anything too harsh, as this can dry out the hair rather than replenish it. It is also incredibly important to keep your scalp clean to promote healthy growth.
Take care of your scalp
Scalp care is something we should all start incorporating into our beauty routines, as scalp is skin after all. Whether you wash your hair once a week or daily, keep an eye on what your scalp needs. Oily roots and a spotty scalp? Don't be afraid of washing your hair too much. "The scalp is like the foundation of a building; without a strong foundation the building will crumble and fall… so in order to have long-lasting, healthy, luxurious hair you should always remember to take care of the foundation," says celebrity hair stylist Kieron Lavine.
Air-dry your hair
It's best to air-dry hair after you've washed it but, if you're worried about texture, the best products for frizzy hair are a styling cream or oil applied to the mid-lengths and ends to smooth down the hair shaft. "Experiment with conditioning oils and masks," says Luke. These will keep your hair hydrated and replenish its natural oils.
Stand directly under the shower
You may want to look at your shower head too. "If you can, make sure the shower head is directly above you so that the water flows in the direction of hair growth, rather than angled at you from the back," says George. "It sounds silly, but it does make a difference—especially with very powerful showers."
Use a Tangle Teezer
"To save on detangling later you can comb your conditioner through in the shower, too. And when you're done I'd recommend towel drying and using a Tangle Teezer brush if you need it. Start at the tips and work up so you don't pull the hair."
Use a daily moisturizing product if you have afro or curly hair
Afro hair should always be kept hydrated, as it's particularly vulnerable to drying out, so use daily moisturizing sprays or oils and opt for simple styles. "You could put your hair in cornrows, or try a slicked-back bun or ponytail," says Winnie Awa, cofounder of Antidote Street. "Do this at the beginning of your week and keep it in until wash day. For those with shorter curls, opt for keeping hair wrapped in one of your favorite silk hair wraps."
How to fix split ends
Once the hair has split, you can't actually repair the hair strand. A cut is the only solution, so head to the salon for a trim. Or, if you're confident enough, and know how to trim your split ends at home.
To avoid chopping inches off every time you go for a cut, little and often is best practice; try out an "invisible trim". By going to the salon every 6 weeks or so and only having the very ends snipped off, hair will stay healthy and split-end free.
"I find that often when someone says they don't want a haircut, they mean they don't want to lose the length," says George. "So I do what I call an invisible trim, which involves simply dusting off any split ends. I'll give every single strand of hair a trim, but it will literally be the tiniest trim ever." The results? Healthier, shinier hair that you can easily grow out, without needing a complete restyle.
How to disguise split ends
If you're not able to get to the salon as regularly as the pros suggest, there are a few ways you can disguise split ends. "Sealing split ends with oils, serums, and creams is the best way to hide them—these products act like glue, smoothing them down and giving a much more nourished appearance," says George.
The best products for treating split ends
Undone by George Northwood Unparched Shampoo
Specifications
RRP: £12 for 250ml
Key Ingredients: Kale protein blend
Targets: Dry, parched hair in need of moisture
Flora & Curl Jasmine Oasis Hydrating Hair Mist
Specifications
RRP: £16
Key ingredients: Organic rose flower water, aloe vera, bioactive flower oils
Targets: Brittle, dry, damaged hair
Hershesons Almost Everything Cream
Specifications
RRP: £10
Targets: Flyaways, frizz, hair that needs taming
Aquis Lisse Luxe Hair Turban
Specifications
RRP: £30
Targets: Damaged, treated, fine hair
Larry King Hair Care Liquid Hairbrush Conditioner
Specifications
RRP: £42
Key ingredients: Strengthening pea protein, avocado oil
Targets: Weak, damaged, and dry hair
Moroccanoil Original Treatment
Specifications
RRP: £32.86
Key ingredients: Argan oil, linseed extract
Targets: Frizzy, dry, and brittle hair
Oribe Gold Lust Transformative Masque
Specifications
RRP: £62.50
Key ingredients: Oribe signature complex (watermelon, lychee, edelweiss flower), bio-restorative complex, pea protein
Targets: Dull, dry, or damaged hair
Kerastase Nutritive Bain Satin 2 Shampoo
Specifications
RRP: £21.10
Key ingredients : Iris rhizome extract, Bejoin Resin
Targets: Extra-dry, dehydrated hair
Virtue The Perfect Ending Split End Serum
Specifications
RRP: £38 for 50ml
Key ingredients: Alpha keratin, pea protein, hydrolysed quinoa
Targets: Dry, damaged split ends
Emma North is a Beauty Writer who works for digital titles including woman&home, Woman, Woman's Weekly, Woman's Own, Chat and GoodtoKnow. Emma's career in beauty journalism began with internships at publications including Vogue, Elle, The Telegraph and Glamour. She was then taken under the wing of Funmi Fetto, Contributing Beauty Editor at Vogue where Emma assisted with Funmi's debut beauty book, Palette.