The best silk hair wraps and accessories to care for your hair
Keep curls safe and transform frizz overnight with silk hair wraps and accessories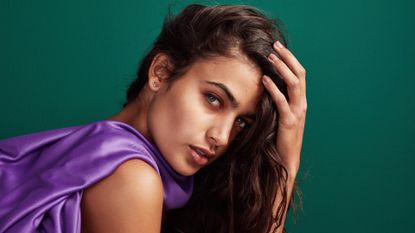 (Image credit: Getty Images)
Silk hair wraps, accessories, and pillowcases have been popping up all over the place, and for good reason. They're the frizz-fighting bit of luxury everyone should know about.
Frizzy hair happens to us all but when you've splurged on the best hair dryer and mastered how to blow dry your hair, waking up to frizz the next day is pretty disheartening.
If all the expert tips and buys for frizzy hair don't seem to be working on your out-of-control 'do, there may be something missing in your beauty routine. But have you ever tried a silk hair wrap, silk, or satin pillowcase? They're the smoothing secret behind every good hair day.
How silk hair wraps and accessories can help your hair
Silk hair wrap for sleeping
There are lots of great reasons to indulge in a silk hair wrap. Apart from the luxuriously soft feeling of silk, hair accessories and pillowcases made from this naturally derived material really look after your hair.
Silk hair wraps have a similar effect, "Sleeping in a silk hair wrap cocoons hair in amino-acid rich silk, which nourishes hair and smooths the hair shaft," says Founder of This is Silk, Sonal Keay. "All the natural hair oils are distributed throughout the hair and kept there, rather than leaching out onto the pillowcase. The next morning, hair is noticeably smoother and less frizzy."
Other silk accessories that do wonders for hair include silk hair ties, scrunchies, and eye masks. Unlike cotton or manmade fibers, hair accessories made from silk glide through the hair without snagging. They don't pull or cause knots, split ends, and breakage, which is common with coarse or fragile hair types.
Benefits of silk pillowcases
If you've ever gone to bed with smooth, freshly styled hair but woken up with a frizzy haystack, your cotton pillowcase may be the culprit. Sonal Keay explains, "A silk pillowcase reduces split ends by minimizing the friction between your hair and a regular cotton pillowcase. With a silk pillowcase, the risk of breakage is vastly reduced. This, in turn, means fewer split ends, enabling hair to grow longer."
The other benefits of silk? Not only is it fantastic for preventing wrinkles (a silk pillowcase won't leave crease marks on your face and doesn't absorb moisture from your skin), it's also a natural, breathable fiber meaning it's brilliant for regulating temperature. "Using Silk, whether in the form of pajamas or a pillowcase, when you sleep can be a godsend when it's hot, and to women of a certain age, it can help reduce temperature and control hot flushes," says Sonal. "While it helps to cool in summer, in winter, it is great at retaining warmth so will regulate your temperature all year round, giving you a better night's sleep."
Silk on hair-which types benefit?
All hair types can benefit from using silk hair scrunchies, wraps, and pillowcases, but if you have coily, curly, or textured hair, they're particularly great as they keep the hair shaft smooth, meaning less frizz and more defined curls.
If you had a look under a microscope, the natural structure of a hair strand looks a little bit like a snake with overlaying 'scales' that lie flat. When these scales are disturbed with, for example, a cotton pillowcase being rubbed over the hair, the scales no longer lie flat, which is how frizz can happen. A silk pillowcase has very close-knit, smooth fibers, and these fibers help to keep the scales lying flat so, when you wake up, you'll see much smoother, shinier hair!
Brittle, fragile hair or hair that's been styled into braids will see some huge benefits of wearing a silk hair wrap to bed. Black women have been wrapping their hair or wearing bonnets while they sleep for centuries to maintain their curls and keep styles protected. But even a blow-dry on naturally straight hair will stay looking fresher and smoother for longer when it's been wrapped overnight.
10 of the best silk hair wraps, pillowcases and accessories
One of the most comfortable silk hair wraps we've tried. This gorgeous, 100% silk hair wrap keeps your hair neat and tidy until morning. The elasticated wrap fits snuggly over your head and will stay in place—great if you tend to toss and turn during the night. The pretty pink silk (it comes in other colors too) keeps your hair's natural oils where they should be, nourishing your scalp rather than absorbing them into your cotton pillowcase. This makes it a must-have if your hair is dry and prone to breakage.
This Is Silk Gainsborough Pillowcase in Blue
This award-winning brand has some of the softest silk pillowcases money can buy. This muted grey/blue makes for some super chic bedding and feels gorgeous on the skin and kind to hair, making it a great alternative to a silk hair wrap. It makes flipping the pillow to the cool side a really luxurious experience.
Lilysilk Silk Night Sleep Bonnet
Extend the life of your hair style with this cute bonnet-style silk hair wrap. As silk is naturally rich in amino acids, it does a great job of stopping curls from drying out overnight, and the elasticated band keeps your chosen natural hair look in place, so you don't have to worry about constantly re-styling.
Gingerlily Mulberry Silk Pillowcase in White
For the ultimate in luxury bed linen, try this 100% mulberry silk pillowcase. The texture is well, like silk. Smooth, cool, ultra-soft, and makes bedtime a much-anticipated part of the day. This pillowcase comes in a variety of colors, but the white blends in easily with any white bedding, so you don't need to fork out hundreds for the whole bedding set. Simply replace your regular pillowcase with this one to get smoother, shinier, healthier hair when you wake up.
If you've ever tied your hair up too tightly or had to resort to using an elastic band, you'll know the pain and damage pulling at hair ties can do. But these silk skinny scrunchies have changed the game. Covered in a layer of soft mulberry silk, they keep hair in place but won't snag or pull at ponytails. If you get dents from tying your hair up, too, give these a try. They don't leave ridges at all, so no need to re-style!
Boucléme Silk Headband in Black
Silk hair wraps and accessories aren't just for bedtime. This super-soft silk headband is great for styling your curls during the day. The silk material is really gentle on hair and comes in two stylish shades—black or grey.
Aldi Kirkton Silk Pillowcase in Off White
Thanks to Aldi, you can buy 100% silk pillowcases without breaking the bank. This plain off-white case will blend into any white bedlinen and will keep hair smooth and shiny. It's perfectly fine to wash it at 40º with the rest of your whites too.
Golden Hour Silk Scrunchies in Wine
This year, scrunchies made a comeback. But these are no ordinary scrunchies; they're pure luxury. Made from 100% sustainably sourced silk, these gorgeous silk scrunchies keep hair out of your face without pulling or snagging delicate strands.
Slip arguably has the widest range of pillowcase colors, so no matter what your decor, there's a silk pillowcase to suit! The high-grade silk feels so lovely on skin and will keep hair smooth and shiny, your skin wrinkle-free, and promote a great night's sleep. What's not to love?
Drowsy The Mulberry Silk Eye Mask
If you struggle to sleep during the summer months, a pure silk eye mask could be the answer. This luxury, squishy eye mask not only saves your hair from snagging on traditional eye mask bands but gives a completely blackout experience, perfect for a restful night's sleep.
Emma North is a Beauty Writer who works for digital titles including woman&home, Woman, Woman's Weekly, Woman's Own, Chat and GoodtoKnow. Emma's career in beauty journalism began with internships at publications including Vogue, Elle, The Telegraph and Glamour. She was then taken under the wing of Funmi Fetto, Contributing Beauty Editor at Vogue where Emma assisted with Funmi's debut beauty book, Palette.