Hairstyles With Bangs: Get inspired by these celebrity bangs for every hair type
Thinking about bangs? Find the most flattering bangs and expert advice right here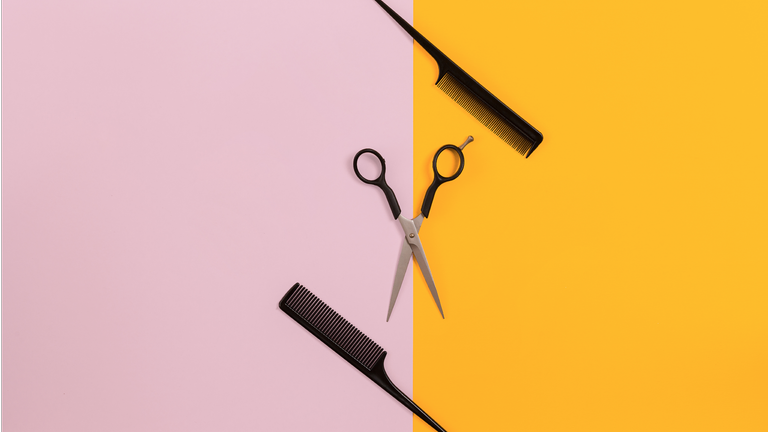 (Image credit: Getty Images)
There are as many hairstyles with bangs out there as there are faces to frame with one. So if you're thinking about getting bangs, now's the time to do your homework.

Not only are bangs on-trend, but they're also incredibly flattering. Having bangs is a great way of giving your usual style an update without losing length, plus they are fabulous for accentuating your best features, whether that's your eyes, cheekbones, or jawline.
Whether you opt for bangs that are blunt, side-swept, cropped, choppy, or relaxed, we've got all the inspiration you need with our pick of the best celebrity hairstyles with bangs. The great thing about these styles is they can be added to just about any cut.
Long hairstyles look beautiful with heavy bangs, while medium hairstyles get an extra boost of volume and texture with the addition of a side-swept bangs, though it's still worth having the best hair dryer to give yourself a professional blowout at home. If you have short hair, like actor Anne Hathaway, then soft bangs can be especially flattering.
There's no need to dramatically change your hair length or color if you want to update your look. Take a look at these celebrity hairstyles with bangs and find one that best suits you.
Will bangs suit me?
"Pretty much everyone suits bangs, as long as it fits the face shape, jawline, and haircut," says Belle Cannan, Co-Founder of Salon Sloane. "Long bangs are brilliant at accentuating the cheekbones or for brow skimming, whereas super short bangs work great on a French bob."
"Although a bold cut, sharp and blunt bangs can work well with either poker straight and sleek styles or can be softened with tousled waves. Blunt, eye-grazing bangs are also perfect for those who want to accentuate their eyes and bone structure."
Do bangs work on curly hair?
"Textured hair works well with shaggy, messy bangs and compliment a tousled hairstyle," says Belle. "With curly hair, you need to work with the natural spiral of curls, it has to be the right length to balance and frame the face."
"For clients who have curly hair, I often cut bangs a little longer so they can see how their hair responds and how manageable it is for them day-to-day. Bangs are a commitment, so I always advise my clients, especially those with curly or textured hair that it's best to start longer and from there they can go shorter."
How should I maintain my hairstyle with bangs?
If there's one thing that puts a lot of women off having bangs, it's their high maintenance reputation. So we asked Belle how much trimming bangs really requires (and is it evert ok to do it yourself?)
"I would always advise going to your hairdresser in between salon visits for your regular cut and color," says Belle. "At Salon Sloane we offer this service complimentary to our regular clients. However, if you cannot get to a salon, and want to trim your bangs at home, I would advise doing this on clean, dry hair and making sure you have the right tools (clean scissors and a comb for sectioning)."
"Start by sectioning the rest of your hair back to keep it off your face and out the way, then section the bangs hair from the corner of your eyebrows up to the parting to create a triangle section. Determine the length, but leave it a fraction longer – you can always go shorter. Point the scissors carefully into the ends – this creates a softer line as opposed to a blunt line which can be quite challenging to achieve at home."
Are you ready to find your next hairstyle with bangs? Read on and get inspired with our pick of the best celebrity bangs today...
Catherine, Duchess of Cambridge
If you're hoping for something low-maintenance, look no further than Catherine, Duchess of Cambridge's freshly trimmed bangs, which feature a center parting and a longer, face-framing length.
These grown-out bangs are a seventies-inspired style that will transition seamlessly if you do decide to grow it out later on.
Viola Davis
Multi-award-winning actor Viola looks amazing with a stylish blunt bob and bangs. The trick to this flattering style is the 'broken' pieces at the front of the bangs, which help prevent them from looking too heavy.
Have the best hair straighteners and smoothing serum on standby if you want to emulate Viola's sleek style.
Meghan, Duchess of Sussex
Meghan Markle, Duchess of Sussex's face-framing strands are a great example of how longer grown-out bangs can still look super classy and elegant.
This is a good choice if you are bangs-curious but don't want to commit - ask for parted curtain bangs that hit from the cheekbones to the jaw level.
Dame Judi Dench
Dame Judi has worn her signature gamine crop with micro bangs for years, and no wonder - it looks timelessly beautiful. Judi's killer bone structure and striking features really help this style work for her, if you're tempted to go for a similarly short hairstyle book in a consultation first and your stylist can help you find the right shape.
Regina King
Acting star Regina King regularly switches up her style, and these side bangs are one of our personal favorites. With lots of shine and soft waves, this is a super glamorous style that flatters her beautiful face shape.
Dame Helen Mirren
Helen Mirren's deep side parting with choppy layers in her signature silver shade is as sophisticated as the lady herself. Sweeping the hair over one eye and tucking the other side behind the ear adds a special touch to shorter hair for an occasion and gives this style a flattering asymmetry that shows off her lovely bone structure.
Susan Sarandon
Proving that bangs can suit any hairstyle, Susan Sarandon's eye-skimming side-bangs cut accentuates her curly shoulder-length hair. These soft bangs suit all face shapes and are more forgiving to grow out than heavier styles. Bonus!
Dawn French
Dawn French's sleek bangs with a bob hairstyle is elegant and timeless. The graduated bob hairstyle is swingy and sleek while subtle low lights keep her shade flattering.
Claudia Winkleman
You can't talk about bangs without mentioning Claudia Winkleman. The Broadcaster's raven tresses are instantly recognizable with super-blunt bangs and a long bob that suit her brand of modern, laid-back glamour to a T.
Michelle Obama
The former First Lady, author, and businesswoman's do was the talk of the w&h office when she debuted her new bangs. This sophisticated style is perfectly fitting for a busy and powerful woman like Michelle, we love the flicks through her layers which keep it feminine and soft.
Zooey Deschanel
Heavy bangs are actor Zooey's trademark look and she is a great example of how to wear a hairstyle with bangs. Softer, longer pieces at the sides are shaped to flatter Zooey's eyes and cheekbones.
Marion Cotillard
Definitely a tricky one to pull off, this. We are big fans of Marion's style, but the French beauty is probably one of the only people who could get away with these elfin bangs. Go for it if you have petite features and fine bone structure, but avoid it if you have a round face shape.
Anna Wintour
Anna has worn her in a classic bob with blunt bangs for decades, and it works brilliantly. Her thick, sleek hair hits right below the jaw, while her full unbroken bangs look like they means business. We imagine regular blow dries are the secret to this level of perfection - try using a round brush when you blow-dry at home.
Kate Moss
Ever the trendsetter - be it with her wardrobe or her looks - Kate Moss spearheaded a bangs craze when she had one cut into her trademark blonde bed-head locks. These relaxed parted bangs are great for fine hair types and very low maintenance, leaving Kate free to change between styles, grow her bangs out, and then cut them back in whenever the mood takes her.
Jessica Biel
Actress Jessica Biel wears her bangs with a vintage twist. The perfect eye-grazing length, these blunt bangs require regular trims to stay looking so neat.
Liv Tyler
Lucky Liv Tyler has naturally thick hair and striking features. These blunt bangs highlight her feline eyes, lustrous hair, and glowing skin.
Anne Hathaway
Anne's brave crop is a world away from the long, straight locks we're used to seeing on her. Cutting in light, broken bangs has added a softer dimension to her hairstyle, and whilst the actor may have grown her hair out now, we think she really suits this shorter style.
Renee Zellweger
Renee Zellweger's soft bangs swoop down either side of her face from her center part, framing it and accentuating her bright blue eyes. This style of bangs is also very easy to grow out as the longer it grows, the more you can incorporate it naturally into the rest of your hair as it continues to frame the face beautifully.
Dakota Johnson
Curtain bangs have become more popular in recent years and Dakota Johnson's bangs are the perfect example. The different lengths that make up these bangs make them flexible, as Dakota can wear it pushed gently to either side of her face, or smooth and straight in a center part, without it being too heavy.
Halle Berry
If you're tempted to try out bangs, but you're not quite sure about one of the sharper, sleek cuts, then why not give whispy bangs a go? These softer, more beachy style bangs have been pulled off brilliantly by Halle Berry. It may only be a small change, but it will give you that impact you're looking for.
Mindy Kaling
When it comes to showcasing the perfect smooth side bangs, actor Mindy Kaling gets it right. Her long dark hair is glossy and glamorous and the addition of these swooping side bangs to her hairstyle adds an extra elegant touch.