Our favorite bob with bangs looks for the ultimate cool-girl hair
We've got all the bob with bangs inspiration you need, for every hair type and texture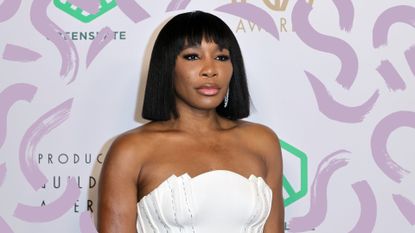 (Image credit: Future/Getty images)
If you're thinking about getting a bob with bangs, or currently have either of the elements of this hairstyle and want to tie them together, you're in good company. More and more stylish women are choosing to wear this look and it's no great mystery why.
For those that want to look effortlessly chic, you'd be hard pushed to find a style that beats a bob hairstyle with bangs. It can be adapted to suit almost any face shape and hair texture as proven by the countless celebrities who rock this style, from Venus Williams to the iconic Anna Wintour. It's one of the most flattering short hairstyles for women. Whether you have a curly hairstyle, natural hairstyle, or are tired of your long hairstyle and fancy going for the chop, a bob with bangs is a perenially sophisticated choice.
It's important to keep in mind that combining a bob style and bangs hairstyle is a statement look that requires a bit of upkeep. If you're not keen on getting a trim every few months or getting your best hair straighteners out for a daily styling session, this might not be the look for you. Otherwise, welcome! Let's find your perfect bob with bangs today.
How to choose the best bob with bangs style
Have a thorough consultation: "For me, anyone can pull off most styles," explains Indola's Global Ambassador, Paddy McDougall. "Speak with your hairstylist to discuss not only the best shape for you but also the shape and style you are able to maintain in your day-to-day life." Communication is key—let your stylist know if your best hair dryer barely leaves the drawer or you don't know how to style layered hair. They can tailor your cut to suit.
Keep it modern: If keeping up with trends is important to you, one particular medium haircut with bangs will tick that box. "Curtain bangs for me is definitely still one of the biggest trends around," says McDougall. "They are so universal; by varying the amount of hair and the length of the bangs, they can be cut to tailor any face shape."
Consider length: The eternal question when it comes to bangs is, how low should you go? "To keep bangs on-trend, ensure that the length is somewhere between the bridge of the nose and the top of the lip to get that '70s feel," says Mcdougall. "Listen to your hairstylist's advice in terms of density and length and resist the urge to go too short for longevity. Just arrange to pop back for a fringe trim."
Bob with bangs—28 looks we love now
1. Medium bob with feathered bangs
Hair Type: Fine to medium hair
Styling Tips: A medium bob grants more options for your hair as it can be styled into an updo or left down. The medium bob and feathered bangs combination is hassle-free as it achieves the desired effect when left to air dry or heat styled. If styling, we recommend using a round brush to pull your bangs forward when blow-drying your bob and setting with some light hairspray.
2. Short stacked bob with blunt bangs
Hair Type: Fine hair
Styling Tips: To add volume to thin hair, the stacked bob is the optimal haircut to create an illusion of texture. As the front pieces end at chin level, this cut draws attention to the jaw line and facial features. And how often should you cut your hair in this blunt style? You will need to pop in every six weeks or so to keep it really sharp.
3. Swing bob with side bangs
Hair Type: Fine hair
Styling Tips: A swing bob with side bangs is the perfect hairstyle to add volume to finer hair. By building layers at the back, the style creates movement and adds body. This bob with side bangs emphasizes the eyes and cheekbones creating a sharp, chic hairstyle.
4. Blunt lob with heavy bangs
Hair Type: Thick, straight hair
Styling Tips: Manage thick hair with a blunt long bob, a striking style to frame the face in a hassle-free manner. This Italian bob style requires minimal effort, resting on the shoulders to give you the look of a bob, without such regular trips to the hairdressers. Paired with blunt bangs, this style will draw attention to your eyes and cheekbones whilst thick hair will ensure your bangs have body and depth
5. 90s 'Heartthrob' bob with bangs
Hair Type: Fine, wavy hair
Styling Tips: Made famous in the 90s by A-list celebrities including Winona Ryder, the heartthrob bob makes a return. This is a chic way to style fine, wavy hair, with a choppy texture. Customize this haircut by opting for longer curtain bangs for a delicate look, or cut shorter at the back for an edgier style. We recommend using a texturizing spray after air drying to secure the choppy texture.
6. Textured bob with curly bangs
Hair Type: Thick, curly hair
Styling Tips: A haircut that can help manage thick hair and excess weight, this style is perfect for textured and curly hair. A textured bob works best when air dried, focusing on coiling the curls with your finger, or gently dry with one of the best diffusers for curly hair. We also recommend nourishing your hair with argan oil or one of the best hair masks for curly hair, to encourage maximum shine.
7. Bob with micro bangs
Hair Type: All hair types
Styling Tips: Channel your inner Audrey Hepburn by pairing your bob with micro bangs. We recommend a boar bristle brush to smooth your bangs and running a pair of straighteners through them will also help you achieve a smooth look. For textured hair, you will want to opt for a more choppy cut, letting the bangs air dry for maximum volume. Hairspray will also be your best friend for all hair types to secure your style.
8. Sleek rounded lob with side bangs
Hair Type: Thick hair
Styling Tips: For a sophisticated look, opt for this sleek long bob with side bangs to frame the face and add some contrast to the rounded cut. Maximize this style by using products to ensure your hair is healthy and hydrated. We recommend using a hair mask or overnight oil to encourage shine before blow drying, for the desired sleek effect.
9. Hollywood styled bob with bangs
Hair Type: All hair types
Styling Tips: Achieve the ultimate celebrity look by styling your bob with bangs in voluminous waves. These deep waves can be achieved easily if your hair is prepped correctly. We recommend sectioning the hair and using one of the best curling irons on each piece, rolling the hair around the barrel of the curler for five seconds before releasing.
10. Choppy bob with side bangs
Hair Type: Thick hair
Styling Tips: If you are looking for a hassle-free bob that offers a variety of styling options, the choppy bob with side bangs is the perfect option for you. Whilst the cut will emphasize the texture and dimension of your hair creating a shaggy effect, keeping it short around the ears will keep the cut clean. Side bangs will draw attention to your facial features, without being too high maintenance.
11. Curly bob with bangs
Hair type: Curly or coily
Styling Tips: For an effortless, easy look, this curly bob requires no heat to achieve the desired look. Maximize shine by ensuring hair is hydrated with hair masks, and you could try following the curly girl method for the ultimate in hair health. We recommend using curl cream when drying curls around your finger for a natural way to keep your curls in place whilst maintaining their sheen.
---
12. Blunt bangs with a short bob
Hair type: Fine to medium
Styling Tips: Maximise the effect of this style by cropping the hair close to the ears. The blunt bangs will add dimension to your cut, framing your face to draw attention to your eyes. We recommend blowdrying your hair with a round brush to ensure that the ends of your bob are clean and sleek.
---
13. Sleek straight lob
Hair type: Any thickness, straight
Styling Tips: To achieve this look, we recommend a blunt cut to ensure a sleek, smooth overall image. Prep your hair by using hydrating treatments, then create a sleek blow dry by dividing the hair into sections and drying with one of the best hair dryer brushes to create a smooth texture. For extra shine, run a straightener over your hair once you've finished.
---
14. Blow dried bob with grown out bangs
Hair type: Medium to thick
Styling Tips: Grown-out bangs are an effortless way to achieve a casual look, especially when styled with a relaxed blowout. Use a round brush when blow drying to achieve a neat shape, curling the brush underneath your bangs to add volume and texture. We recommend using heat protection for hair when styling your bangs daily to keep your locks healthy and hydrated.
---
15. Super short bob and side bangs
Hair type: Fine-medium, wavy
Styling Tips: A super short bob can be straightened to achieve a sleek look, or emphasize a wavy hairstyle with a rough blowout to achieve a choppy style. If you are looking for waves, we recommend using a mousse as a prep product, whilst for a glossy look, blow dry with a little shine-enhancing oil such as argan oil, then straighten.
---
16. One length bob and choppy bangs
Hair type: Fine, straight
Styling Tips: These choppy bangs will add texture to a one-length look, whilst keeping your overall style sleek and glossy. Build volume into your bangs by brushing forward when blowdrying and finally hold the look with some hairspray to keep your style secure for the day.
---
17. Sleek lob and wispy bangs
Hair type: Medium to thick
Styling Tips: To manage thick hair in this style, dry sections of your hair, creating tension from the roots to straighten in a downwards motion. As thick hair will take longer to straighten and require more heat, ensure you are using heat protectants to keep your hair healthy. Finally, run some serum through the ends of your hair to help you nail how to get shiny hair.
---
18. Layered bob with fine curtain bangs
Hair type: Fine
Styling Tips: The overall choppy look of this bob with bangs style can be achieved by letting it air dry or with a rough dry. To expertly navigate the layers, start by drying with a smaller brush for shorter strands, then build up to a larger brush to finish the look with volume. To manage fine hair, you can also use a curling wand to create waves in the front pieces as you wish.
---
19. Feathered tousled bob
Hair type: Fine to medium
Styling Tips: This look is great to build volume into fine hair. We recommend running some hair mousse through your waves to hold the shape and volume. Try scrunching the ends of your hair to form the waves and then shake your hair out gently with your fingers, to achieve the desired choppy look.
---
20. Coily long bob with bangs
Hair type: Curly, coily
Styling Tips: This look is best achieved by prepping your hair when wet. Emphasize natural coils by separating your hair into sections before using styling gel and scrunching as you move up towards the top of the head. We recommend learning how to use a diffuser then refrain from brushing your hair through once it has dried for definition.
---
21. Rounded bob and bangs
Hair type: Fine to medium
Styling Tips: To achieve a sleek rounded bob, prepare your hair with one of the best hair styling products for hold and smoothness, such as a blow dry cream. Next, divide into sections and blow dry using a round brush, pulling the hair out and curling the ends under the achieve that rounded look. Bangs will also add contrast to this style, building dimension, and texture.
---
22. Shaggy bob and heavy bangs
Hair type: Thick, textured
Styling Tips: Shaggy bobs are a great hairstyle as they require minimal styling effort and give off a cool, choppy effect. Either leave to air dry for the ultimate relaxed look or tip your head upside down when blowdrying to maintain the volume and dimension of thick hair. Focus your attention on your bangs, blow-drying them first and pulling them forwards and upward to build volume.
---
23. Curtain bangs and bob
Hair type: Fine to medium
Styling Tips: Curtain bangs look their best when blow dried using a round brush. Divide the curtain bangs into two and then pull the hair out in front of you, using a round brush to curl the hair up before brushing the piece of hair all the way through so they frame your face and enhance your facial features.
---
24. Blunt bob with bangs
Hair type: Medium to thick
Styling Tips: To achieve this look on thick hair, use the best shampoo and conditioner to fight frizz then gently detangle your curls before styling. We recommend using heat protectants to keep your hair healthy and hydrated. For a wavy look, opt for a quick blow dry and spritz of salt spray to encourage tousled hair.
---
25. Curly French crop
Hair type: Medium, curly
Styling Tips: Maximise any natural curls by opting for this curly French-girl bob, a style that perfectly frames the face and draws attention to your facial features. This hairstyle is incredibly low maintenance, perfect for anyone looking for a change without lengthy daily styling. For the evening, try slicking this style back with gel for a striking look.
---
26. Rounded lob and blunt bangs
Hair type: Medium to thick
Styling Tips: For a rounded finish on your lob, use your blowdryer and straightener to achieve the desired sleek effect, working in sections to ensure an expert finish. Use the same motions to style your bangs, using a round brush to pull the hair out in front of you, curling forward to build volume and texture.
---
27. Choppy lob and long bangs
Hair type: Fine to medium
Styling Tips: For a casual, effortless look, let your hair air dry then learn how to curl hair with straighteners, to create cool-girl waves throughout. We recommend using dry shampoo to improve the longevity of the look. A light, feathered fringe is always a good option to pair with a lob to add face-framing texture to fine hair.
---
28. Thick lob
Hair type: Thick, straight, or relaxed
Styling Tips: A lob is perfect to showcase thick hair. For a voluminous look, use a blow dry cream when drying your hair, tipping your head upside down to build texture. Then, divide into sections and use your curler to style each piece before using your fingers to rake through the curls.
---
How to maintain a bob with bangs hairstyle
If you're opting for a classic look, full bangs are always a crowd-pleaser and is one of those youthful hairstyles that rarely goes out of style. A full bangs style can be as thick as Zooey Deschanel's or a wispier, choppier look on fine hair.
The styling required for full bangs is less than curtain bangs, but it of course does need a little bit of maintenance. Paddy McDougall says, "As the oils from your face are likely to make your bangs greasy faster, washing with the best shampoo and conditioner or a blast of the best dry shampoo to freshen up your fringe is essential to keep it looking nice."
What does he recommend? "When styling, I heavily favor Indola Act Now Setting Spray to create that little bit of soft hold you need. Take the nozzle of your hair dryer and use your fingers, working the hair forward and side to side, then only push it back once the bangs are dry. I then finish the look with hairspray to set the bangs in place but still with movement." Need more guidance? Learn how to blow-dry hair like a pro to achieve this look.
Our beauty editors recommend...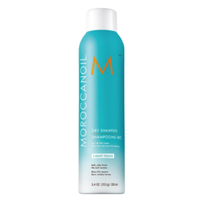 (opens in new tab)
Moroccanoil Dry Shampoo (For Light and Dark Tones) | RRP: $26 / £16.45
This dry shampoo is infused with argan oil to prevent any possibility of chalkiness upon application. Containing rice starch to absorb oils, this product leaves your hair with a shiny finish with two tone options to accommodate all hair colors.
---
woman&home thanks Paddy McDougall for his time and expertise.
Keeks is a London-based beauty writer and content creator. She has worked with titles including Cosmopolitan, VOGUE, Refinery29, Red, Elle, OK! and woman&home. While she has a well-rounded beauty obsession, her specialism is all things hair.
When she's not testing the latest hair tool on camera or waxing lyrical about styling tips, you'll find her re-watching old episodes of Real Housewives of Beverly Hills (or New York or Atlanta). She loves a social scroll as well as a romantic book, but nothing beats Sunday afternoon lunches with her friends and family. You can catch Keeks on all social platforms @keeksreid.