Italian bob explained: the chic, '60s-inspired haircut that's everywhere
Say au revoir French bob and ciao Italian bob! Pro stylists reveal how to make this 'do work for you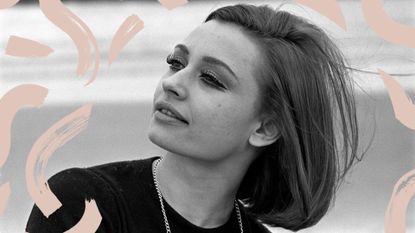 (Image credit: Future/Getty images)
Let's discuss the Italian bob. One of 2022's hottest hair trends, the Italian bob has been spotted everywhere - both on and off the runway. This chunky hairstyle, originally sported by '60s star Raffaella Carra (above) has become TikTok famous after hairstyling duo Nick Lathan and Seán Paul Nother, AKA The Hair Bros, shared a video showcasing the long bob cut.
You'd be forgiven for thinking the bob is one specific style. But there are in fact endless bob hairstyles to choose from. There's the famous French bob, the boyfriend bob the box bob, and now, the Italian bob. Coined by The Hair Bros, the Italian bob is a neck-grazing, chunky cut that's full of volume and heaviness at the ends that, much like the U-shape haircut and butterfly haircut, has risen to prominence on social media.
"The Italian bob is popular for several reasons," says Adam Reed, UK editorial ambassador for L'Oréal Professionnel, "it's fun, dynamic, and chic – while being easy to style day-to-day." Extremely versatile and flattering for all, "it's great for anyone after a standout style that requires minimum upkeep," continues Reed. Here we break down the Italian bob and why it could be your next signature haircut.
Italian bob: what you need to know
What is the Italian bob?
"The Italian bob is a heavy, one-length bob that sits just above the shoulders and slightly below the chin," explains Ryan Forsythe, artistic education director for Trevor Sorbie Covent Garden. "Typically, the hair rolls under at the ends," continues Forsythe, "or, it can be worn with subtle, natural movement." It was famously donned by the iconic Italian singer and actor Raffaella Carra in the 1960s.
What separates the Italian bob from other trending bob styles such as the slob haircut is, according to Reed, volume. "The key to this style is volume – it requires lots of body and movement as well as heavy, chunky ends." But this doesn't mean the Italian bob is only suitable as a short hairstyle for thick hair. To achieve said volume in finer types, Reed recommends asking your stylist for "a super strong cut that avoids lots of layers." This is one of the reasons the Italian bob makes one of the best short hairstyles for women over 50 - it adds body and definition to hair that may have thinned a little with age.
Who does the Italian bob suit?
The main selling point of the Italian bob is that it's super versatile and flattering for all, so it's quite tricky to make any bob mistakes with this one. "It's an elegant style that suits people of all ages and can be worn for both a professional and casual look," says Forsythe.
If you are thinking of trying the Italian bob, Reed recommends speaking to your stylist first. "It's a great style for a number of face shapes and hair types – but by having a conversation with your stylist, they'll be able to tailor the cut to suit you," says Reed. "For instance, the length can be adjusted to flatter different face shapes," adds Forsythe.
Italian bob vs French bob: what's the difference?
While they may look similar, the French bob and the Italian bob are in fact very different. "In my opinion, the main difference between the Italian bob and the French bob is volume," says Reed. "The Italian bob isn't afraid to be big with lots of body and movement," he continues, "it showcases texture while still being chic and polished."
In terms of length, "a French bob is much shorter than an Italian bob," says Forsythe, "sitting along the jawline or above." It's also common for French bobs to be paired with bangs hairstyles and lots of layering to create a textured chopped bob style, whereas the Italian bob is more of a medium haircut with bangs - or without - so is "longer and heavier," according to Forsythe.
How to style the Italian bob
"With a really great haircut, the Italian bob should almost style itself," says Reed. "However, there are a few key products I always use on my clients to help manipulate this style," he continues. L'Oréal Professionnel Techni-Art Pli is Reed's go-to, "the formula activates with heat to ensure the style holds all day." Then, to add texture and body, Reed recommends texturizing dust.
Although the typical Italian bob is shown on center-parted hair, it also works as a side parted bob, with those cute flicked-under sections. When heat styling, Forsythe suggests using your best hair dryer and a medium-sized round brush to "roll sections underneath for a beveled effect." For a soft finish, "let hair dry to 90% before applying L'Oréal Professionnel Techni-Art Beach Waves to enhance movement and texture."
In The Hair Bros viral TikTok tutorial, Latham calls upon Hair Story Lift Volumizing Spray to add oomph. "Then, we put the hair in some small buns and lightly clip the top pieces to encourage lift and volume," Latham explains, "before using a hairdryer on top." As Latham shows on his client this style looks good with every parting. A quick way to cheat volume is to "mix up your parting, flipping it to the opposite side," says Reed.
---
5 Italian bob styles we love
Considering the chop? Take inspiration from our curated edit of Italian bob haircuts as seen on A-listers over the years.
1. Beachy Italian bob
Add movement and body to an Italian bob haircut with tousled, beachy waves a la Beyonce. To recreate this look, use your best curling iron.
2. Classic Italian bob
This classic Italian bob is sleek, chic, and heavy at the ends. Ask your stylist for blunt ends and minimal layering to achieve this style. When styling at home, invest in one of the best straightener brushes to smooth hair without making it poker straight.
3. Long Italian bob
If you're after a medium hairstyle, consider a slightly longer take on the Italian bob. The added length gives more flexibility so you can easily create updos for short hair, as well as down dos.
4. Wavy Italian bob
For the ultimate going-out glam look, pair an Italian bob with a Hollywood wavy hairstyle. Use a curling iron or one of the best hair straighteners to create these soft waves.
5. Sleek Italian bob
Searching for hairstyles for straight hair? Consider this sleek Italian bob that's super stylish and flattering for all face shapes, especially oval.
---
Emma Stoddart is a freelance beauty journalist and self-confessed skincare aficionado with over five years' industry experience. Emma has worked for some of the UK's top women's titles including Net-A-Porter, Stylist and Grazia. Her experience spans online and print as well as producing editorial shoots with some of the industry's biggest artists, including Val Garland. Asides from working with them behind the scenes, she's also had the chance to interview the likes of Patrick Ta, Pat McGrath, and Sam McKnight for all their insider tips and tricks.