Chopped bob explained: this throwback volumized style is set to be one of 2023's most popular trims
The chopped bob is the latest flattering haircut that can totally transform all hair types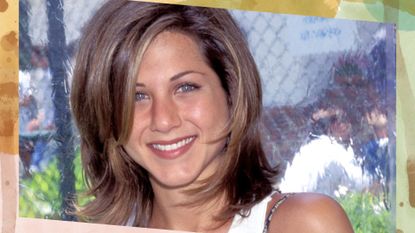 (Image credit: Getty/Future)
The chopped bob is the latest hairstyle taking the beauty world by storm and is only set to grow in popularity. A loose, tousled take on the classic cropped trim, this trendy and flattering look is adored by celebrities.
It is no secret that bob hairstyles are having a bit of a moment right now, and we couldn't be happier. Low maintenance and extremely chic, there is almost no one that a bob won't work for. But if you have always found the shorter trim to be too refined for your tastes, the chopped bob could be the more relaxed, edgier cut you've been hoping for.
When it comes to short hairstyles, the worry can be that there's less room for experimenting and individuality. However, the number of trendy bobs we have come across recently proves otherwise. From the timeless French bob to the softer boyfriend bob, the possibilities are endless. We break down what you need to know about the chopped bob, including advice from the experts to get this cool, stylish look yourself.
The chopped bob: what you need to know
What is the chopped bob?
"The chopped bob is a more lived-in bob style with texture, movement, and versatility, but at the same time it's ultra-low maintenance," explains Jonathan Andrew (opens in new tab), Fudge Professional Global Ambassador. "It isn't your traditional blunt bob - it uses layers and texture to make it chic and sexy."
This style is perfect for those who have naturally wavy hairstyles, or those who like their hair to have more texture and body. The style lends itself to an 'undone' look, so it is a bob for those who want a short style that isn't too straight or uniform.
Who does the chopped bob suit?
"Anyone! The chopped bob is bespoke and tailored to the individual," says Andrew. "The one thing is that it isn't blunt or over-styled - its layers and textures make it a versatile and laid-back style." This is one of our favorite things about the chopped bob, as it can really be changed to suit anyone's taste without losing the edgy look, much like the bixie haircut.
With this look, one of the only bob mistakes you can make it not consulting with your hairdresser first. "Talk with your stylist to tailor it to your face shape - teetering between the chin to just above the shoulders, and then discuss the best hair styling and washing routine to ensure it has maximum staying power, and doesn't look lank or weighed down at any point," advises Andrew.
What's the difference between the chopped bob and other bob styles?
With so many fresh bob styles trending, it can be tricky to differentiate between each look and decide which one is best for you. However, there are actually huge differences between straighter styles like the box bob and looser styles such as the chopped bob or Italian bob.
"The chopped bob is simply that - not uniform, not sleek, not polished - it's texturized, expensive, and chic looking," explains Andrew. "Whereas the French bob [for example] should have the sleek, perfect look, this is more lived-in, which is set to be a big trend this year."
Can the chopped bob work for curly hair types?
"Absolutely! It's all about texture, so curls are the ultimate base in order to add some fun and movement into your style," says Andrew. Though curly hairstyles can sometimes be trickier to style, this is a look that really benefits from a bouncier hair type. Style with the best hair dryers for curly hair to get maximum volume, and allow your natural curl pattern to do all the work.
What to ask for at the salon to get the perfect chopped bob
"Simply ask your stylist to assess your hair texture, your face shape and how long you want to stay or go and then how you can incorporate layers to accentuate your face," advises Andrew. The way your chopped bob is cut will vary from person to person, so it is worth taking the time to have a consultation and get some advice from a professional.
2023 hair trends tell us that bouncy waves and natural textures are set to be all the rage, so lean into this look by opting for some layering. "Layers can contour the face and this style could be the ultimate game-changer to take years off, or simply be a more flattering overall style, which accentuates your features rather than dragging them down or hiding them," says Andrew.
How to style the chopped bob
As we've said, this is a versatile style. But there's one thing every hair type should aim for, according to Andrew, "Volume! Texturizing products or a mousse to help create natural texture without weighing it down." The key to mastering how to style layered hair in a cool 90s blowout hair look like Rosie's is all in the products you use after washing, and choosing the right ones to support this choppy look is key.
Our beauty writer recommends...
9 chopped bob hairstyles we love
1. The tousled chopped bob
Sienna Miller always gives us major hair envy, and her take on the chopped bob is one of our favorites. To channel this look, create subtle waves in your hair using the best hair straighteners, with some layers curling in towards your face and others pointing away to create extra movement and depth.
2. The chopped bob with bangs
We love this brunette color and timeless choppy cut that Cameron Diaz pulls off so well. Bangs make a perfect addition to any chopped bob look thanks to the extra definition they provide around the face. Apply some oil to your hair after styling to get a healthy, shiny finish.
3. The volumized chopped bob
Don't be afraid to add even more volume to your chopped bob with the help of the best hair styling products. Use a blow-dry cream to get the most hold and lift from heat styling, and finish with a texture spray to keep your hair in place.
4. The side part chopped bob
The key to nailing this look is all in the styling. Add some beachy waves to the hair using a texturizing spray and part the hair to the side to create more volume. A perfect everyday look, this can be done with any length of bob, from cropped to shoulder length.
5. The sleek chopped bob
The best part about this look (aside from Zendaya's beautiful chocolate balayage hair color) is that you will be left with a full, bouncy look even with minimal styling. To get a sleek finish that retains movement through subtly choppy ends like this, blow dry with the best hair dryer brushes and use the rounded shape to curl off your ends.
6. The chopped bob up-do
The layers cut into a chopped bob mean that this is the perfect style for up-dos. Scrape the longer pieces of your hair back into a bun, and let the shorter tendrils fall to reveal gorgeous face-framing layers.
7. The loose chopped bob
This loose, relaxed style is ideal for low-maintenance lovers. Allow your hair's natural texture to shine by using your best hair dryer until hair is about 80% dry, then allow it to air dry to let some natural waves form. Or if your hair is poker straight naturally, try using a heated waver to recreate this look (our beauty ed's rave review of the Babyliss Wave Secret Air might be of use if so)
8. The vintage chopped bob
We love this vintage take on the chopped bob that uses the various layers to create movement and curl. Recreate this look by parting your hair to the side and using the best hot rollers to form a soft, natural curl.
9. The cropped chopped bob
The beauty of shorter cuts like this is that they allow for layering in the back whilst keeping some length around the face. Chat to your hairdresser about how best to tailor this to you, and embrace the messier side of the chopped bob style by allowing hair to air dry.
Amelia joined woman&home after graduating with an MA in Magazine Journalism from City University in 2022. She specialises in lifestyle journalism and throughout her undergraduate degree she wrote for a variety of student publications, where she developed a love for all things style, beauty and sustainable fashion. She has previously written for titles including OK! Magazine, New! Magazine and Notion before she started her career as a lifestyle journalist with woman&home after completing an internship with the brand.