Lisa Rinna just had the most dramatic hair transformation and to be quite frank, we're digging it!
The 'Housewives' star sported a new 'do - while her fans aren't sure how to feel about it we're on board with the new look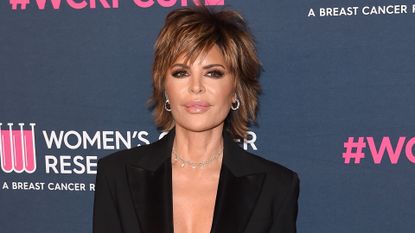 (Image credit: Getty images )
Lisa Rinna is known for her iconic look and her longtime appearance as one of the stars of The Real Housewives of Beverly Hills - but recently, the star debuted a new, 70s hairdo that left her fans a little concerned.
At Paris Fashion Week, only the most iconic stars, models, designers, influencers, (etc.) are invited to attend - so it's no wonder Lisa Rinna's name was on the list for multiple shows.
However, Lisa, who recently revealed that her and star Florence Pugh are good friends, turned heads when she debuted a fierce new 'do at the Vivienne Westwood show. She sported a shiny bob hairstyle bowl cut, featuring blonde highlights and thick bangs.
Yes, you read that correctly - a bowl cut.
Now, we love our girl Lisa, even after her eight seasons on RHOBH have come to an end - and we're digging the look, but we have sooooo many questions about this hair transformation. Is it real? How does she get it so neat? Will it suit us?!
Nevertheless, the star also brought her fashion A-game to the show, wearing metallic purple leggings and a printed top, cinched with a belt at the waist, as well as some black platform boots.
When the Housewives legend posted the picture of her Paris Fashion Week look to her Instagram, her friends, and fans alike met the post with some varied reactions - and we couldn't help but be amused by some of the comments.
Some people in her Instagram comments compared her look to that of movie and TV characters, like Will from Netflix's Stranger Things, Lord Farquaad from Shrek, and even Johnny Depp's portrayal of Willy Wonka in the Tim Burton movie Charlie and the Chocolate Factory.
We know the thinking behind this hair choice for Lisa - but some of her fans can't seem to understand it.
"Definitely not your best hair do," someone commented on her Instagram post.
"Ummmmmm, it's a hard no on the hair," someone else said.
However, others are supportive of the Housewives alum, regardless of her new look.
"You can do no wrong, honeyyyy," one person commented. Another compared the star to singer Toni Tennille, telling her she rocked the look.
Lisa, however, is no stranger to a controversial hairdo - or a controversial anything, for that matter. From spiking her hair up into a Heat Miser-esque 'do for a runway look for Copenhagen Fashion Week, to the plethora of her unforgettable, more casual looks, she always comes to slay - and the world continues to love and revere her for it.
Madeline Merinuk is woman&home's US lifestyle news writer. She covers celebrity, entertainment, fashion, and beauty news but is also obsessed with internet trends - you can find her reciting trending TikTok sounds out loud at any given time.
After winning multiple student journalism awards for her investigative work, she graduated from Hofstra University in 2021 with a B.A. in Journalism. After graduating, she worked at today.com, the digital site for the Today Show, where she wrote pop culture news and interviewed big-name personalities like Emily Ratajkowski, Haley Lu Richardson, Emma Corrin, and more.
Her personal interests, in no particular order, are: cheese, Joni Mitchell, reading, hot yoga, traveling, having multiple chapsticks in every handbag at all times, and dancing to ABBA songs as if she were in the Mamma Mia movies.