Lisa Rinna and Florence Pugh have revealed how their unlikely friendship blossomed
Lisa Rinna and Florence Pugh have revealed how they became unlikely friends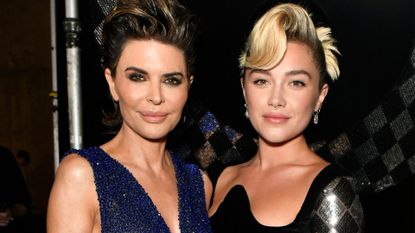 (Image credit: Getty Images)
The Real Housewives of Beverly Hills star Lisa Rinna and Don't Worry Darling actress Florence Pugh have shared details of how their unlikely friendship blossomed.
Every once in a while, we come across a pair of Hollywood A-listers we didn't know were friends - and now we can say this of Lisa Rinna and Florence Pugh.
Florence, 27, and Lisa, 59, were recently at the Harris Reed fashion show, held at the Tate Modern, for London Fashion Week, where the two revealed that they've been friends for years.
On a video shared to Lisa's Instagram, the two can be seen chicly posing together, where they're both laughing and smiling at each other. "I love her!!" Lisa says, gesturing toward Florence.
When asked if Florence watches Housewives, Florence says, "Yes, I do."
She then reveals to the videographer that her and Lisa have been "messaging" for years. "We've literally been DMing each other for three years," Lisa says, agreeing with Florence.
At the show, both Lisa and Florence sported Harris Reed looks, with Florence rocking her recently iconic bixie haricut.
"So, when she came and said hi to me, I said, 'Oh, friend!'" Florence chimes in, laughing.
Then, they pose for an uber-iconic photo together - one that has sent Housewives fans and Florence fans alike into a tizzy. It truly is a fever dream Hollywood friendship, but one that we are absolutely here for.
"When my faves collide. 😭," someone commented on Lisa's post.
In her caption for the Instagram video, Lisa says, "Love finally meeting you @florencepugh ❤️."
When Lisa and Florence aren't DMing each other, they're both quite busy in their careers. After her departure from RHOBH, Lisa has launched her very own wine label, "Rinna Wines," for which she sells a Sparkling Brut and a Sparkling Brut Rosé, both produced in Provence.
"It's a drinking wine, not a throwing wine," she told PEOPLE, nodding to all of the wine-throwing antics that took place on RHOBH. "We've done the other; we want to drink it now!"
Flo, on the other hand, is quite the busy bee in the acting sphere. The young star has had multiple critically-acclaimed motion pictures, Don't Worry Darling, directed by Olivia Wilde, and The Wonder, come out in the last few months - and no doubt has some more gigs booked, seeing as she's quite the hot commodity in Hollywood these days (and deservedly so.)
Madeline Merinuk is woman&home's US lifestyle news writer. She covers celebrity, entertainment, fashion, and beauty news but is also obsessed with internet trends - you can find her reciting trending TikTok sounds out loud at any given time.
After winning multiple student journalism awards for her investigative work, she graduated from Hofstra University in 2021 with a B.A. in Journalism. After graduating, she worked at today.com, the digital site for the Today Show, where she wrote pop culture news and interviewed big-name personalities like Emily Ratajkowski, Haley Lu Richardson, Emma Corrin, and more.
Her personal interests, in no particular order, are: cheese, Joni Mitchell, reading, hot yoga, traveling, having multiple chapsticks in every handbag at all times, and dancing to ABBA songs as if she were in the Mamma Mia movies.