The best hot rollers for bouncy waves and curls without heat damage
We select the best hot rollers that are easy-to-use, gentle on your hair, and create long-lasting curls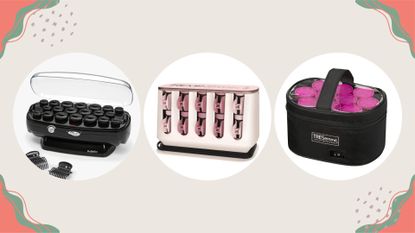 (Image credit: Babyliss, Remington, Tresemme)
The best hot rollers have a glamorous appeal that no curling iron can match. Fans of a vintage aesthetic will be pleased to see heated rollers making a comeback on the modern dressing table, but when it comes to choosing between the latest high-tech offerings, it pays to think practically.
If you've always used your best hair dryer and best curling iron to create curls, investing in a set of the best hot rollers could change the way you style your hair for good. And knowing which rollers to opt for should be based on various factors, from your hair type and length to how you want to use them.
You may decide to use rollers if you "are after a softer, more voluminous look, as curling irons create a tighter curl," says Nicole Petty (opens in new tab), Hair Expert at Milk + Blush. She also notes that hot rollers are less damaging than curling irons, and although they "do take longer to set, they are great for multitasking. Unlike a curling iron, which requires you to use your hands, you can set your hair in rollers and do other tasks while they cool." Whatever your styling desires, we've tried and tested the latest hot roller models to bring you this guide.
How we tested the best hot rollers
Why you can trust Woman & Home Our expert reviewers spend hours testing and comparing products and services so you can choose the best for you. Find out more about how we test.
We used the rollers on several hair types and assessed them on factors including ease of use, portability, lasting power of the curl, and the variety of styling options they offer. We took price into account too, as a luxury set will almost certainly offer more bells and whistles than a budget bargain.
All hot rollers have the benefit of being gentler than most hair curling methods (aside from heatless options such as learning how to curl hair overnight with dressing gown curls) but we paid close attention to the condition of our hair after using each of these sets - because nobody wants a frazzled crispy curl. This is still a growing market, so our list is a curated edit of the very best sets available at the time of writing, but we will continue testing and adding new models as and when they hit the shelves.
The best hot rollers, chosen by our beauty team
1. TRESemme Volume Compact Hot Rollers
Best budget hot rollers
Specifications
RRP: $39.09 / £30
Material: Plastic with metal pins
Numbers of rollers per set: 10
Reasons to buy
+
Compact design with zip bag
+
Good for travel thanks to dual voltage
+
Easy to use with simple controls

Reasons to avoid
-
Not the best for thick or very long hair
If you're after a set of fuss-free hot rollers at an affordable price with a fool-proof design, try TRESemme Volume Compact Hot Rollers. The set includes 10 pink plastic rollers sitting tightly in a compact, super light, zip-up travel case that's so easy to store away or pack in a weekend bag.
With a simple on-switch and dual voltage for use in the UK and abroad, these are a breeze to use so would make a welcome change for anyone who has never quite got the hang of how to curl your hair with a curling iron. Simply plug in, place on a heatproof surface, switch on, and let the hot rollers quickly warm up from the metal bases within the case they're stashed in. We found that the 32mm rollers could create medium-sized, bouncy curls, as well as beach hair waves on short hairstyles.
They use metal pins and a textured surface area to stay gripped in the hair while they cool, but we found that we wanted a little more security when it came to keeping these rollers in place. If you have thick hair, you might want to add the additional support of bigger claw clips, as the pins may not be enough to keep long hairstyles or thicker locks in place. While ten hot rollers might be an ideal number for medium-length or fine hair, those with longer or thicker hair would also benefit from a set with more rollers, in order to get the best results.
2. Remington Pro Luxe Heated Rollers
Best hot rollers for long hair
Specifications
RRP: $69.04 / £44.99
Material: Velvet with plastic clips
Number of rollers per set: 20
Reasons to buy
+
Includes 20 velvet rollers, perfect for longer or thicker hair
+
Claw style clips keep rollers tightly in place
+
Two sizes of roller to create a range of curls
Reasons to avoid
-
Chunky set is less convenient for travel
Remington Professional Pro Luxe Heated Rollers are the ultimate choice for creating salon-worthy bouncy curls that last, with the 20-piece set meaning even those with long, thick hair can nail that glam hot roller look.
Inside the pink plastic storage case (which features a handy section for wrapping the cord around and keeping it tidy and compact) the rollers heat up in minutes. We found the process of removing them from the case, wrapping them into our hair, and clipping them in was seamless. The hinged, plastic claw clips allowed our hair to be secured in place without creating the crimps or kinks that can occur with hot rollers that use thin metal pins to stay put. As with all of the best hot rollers, if you want curls that stick around, it's best to leave them in for as long as possible. Happily, with Remington's design, we found it easy to keep these rollers in for hours without them falling loose. Hello, long-lasting curls!
Of the 20 rollers, there are twelve 32mm barrels and eight smaller 25mm barrels, allowing you to tailor your curl size to different sections of hair - think looser curls around the face or in shorter layers of hair, and tighter curls through the bottom sections. However, if you're after uniform curls in just one size, you might prefer to opt for a set in which all of the rollers are the same diameter.
3. Nicky Clarke Classic Curl Heated Rollers
Best hot rollers for travel
Specifications
RRP: $52.05 / £40
Material: Plastic with metal pins
Number of rollers per set: 12
Reasons to buy
+
Slim, light, and sleek travel case - perfect for packing
+
12 rollers and pins included in small package
+
Smaller 25mm rollers for tighter curls
Reasons to avoid
-
Less luxurious feel than alternatives at a similar price point
Of all the options we tried, Nicky Clarke Classic Curl heated rollers were definitely the best hot rollers for travel, allowing you to carry 12 rollers in a small carrier, compared to just 10 in the similar TRESemme design.
They click into place in their neat zipped bag, heat up at the flick of a switch, and let you know when they're ready to use via a little light that turns from red to white. On testing, we did find one downside in the fact that the case only allows for six rollers to heat up at a time. This meant we had to click more into the heating plates as we went along, in order to warm up enough rollers to style a whole head of hair.
As always, the longer these rollers are left in the hair, the better, in terms of creating curly hairstyles with staying power. So it might be beneficial to invest in some stronger claw-style clips to keep the hot rollers in place for longer instead of relying on the metal pins included. Overall, this 12-piece set is ideal for those wanting to get glam on the go with minimal fuss. It's light and fits neatly into a carry case, so you can transport and plug the rollers in just about anywhere.
4. T3 Volumizing Hot Rollers Luxe
Best luxury hot rollers
Specifications
RRP: $163.33 / £125
Material: Velvet with plastic clips
Number of rollers per set: 8
Reasons to buy
+
Two heat settings to choose from
+
90-minute auto-off safety setting
+
Two roller sizes are included with others available separately
Reasons to avoid
-
Only eight rollers included in full set
T3's Volumizing Hot Rollers Luxe was one of the pricier hot roller sets we tested, and with just eight rollers included, this isn't one to go for if you have thick hair. However, for someone with a medium hairstyle, fine or short hair, these would be a great pick who is looking to invest in something a little more luxurious.
Of the eight that come in the set, there are four extra large 44mm rollers and four large 38mm options. More rollers are available to buy separately, as well as a wider range of sizes, with small 25mm and medium 32mm options available, albeit at an extra cost. We love that this set has a sleeker design and feel than others, with shiny gold trim on each velvet-flocked roller, a neat leather-feel carry case, and a flat, slim heating base that fits perfectly on a dressing table. This provides a seriously polished feel to the set.
Each roller is built with a ceramic PTC heater and an aluminum core. This technology holds heat effectively and evenly, optimizing volume and hair health (always a good thing) The plastic claw clips included fit tightly into a mesh pouch inside the roller case and we found they provided a tight grip without leaving dents or creases in our hair as it cooled. The velvet outer casing of each roller meant our hair wrapped and unwrapped ultra smoothly without tangling. The larger rollers provided serious volume akin to a bouncy blow dry with loose curls, while the medium size created a bouncier look.
5. Babyliss Thermo-Ceramic Rollers
Best hot rollers for a variety of styling options
Specifications
RRP: $65.36 / £50
Material: Velvet with plastic clips
Number of rollers per set: 20
Reasons to buy
+
20 rollers in three different sizes
+
Adjustable heat setting
+
Both plastic clips and metal pins included
Reasons to avoid
-
Heavy case not designed for travel
With eight large, six medium, and six small rollers, as well as both metal pins and plastic claw clips for keeping hair in place, the Babyliss Thermo-Ceramic Rollers were the best hot rollers we tested for making sure all bases are covered.
The rollers warm up in a chunky plastic flip-lid case that, while very effective for heating, isn't very portable, so this set is best used at home. We love that the temperature of these soft-touch rollers can be adjusted by a twist button, which provides plenty of options for styling. You can keep things cool for looser styles or crank up the heat when you want tighter longer-lasting curls. You're in control of how much heat your tresses take with this set, although we'd advise using heat protection for hair with any heated hair tool, however gentle.
The three different roller sizes also meant that we had the option to create a wide range of looks, compared with sets that contain just one or two sizes. We were able to create tighter, ringlet curls with the small rollers, bouncy glam curls with the medium size, and or loose curls with the large. Alternatively, you can use all three every time you style and create a more natural-looking and less uniform curled style.
---
How to choose the best hot rollers for you
Hot roller size: Different sizes of rollers will create looser or tighter curls, with some of the best hot roller sets containing a mix of sizes, giving you more control over your style. "I would encourage you to play with different sizes of heated rollers to find a style you love. As a general rule, the smaller the roller, the tighter the curl," explains celebrity stylist Jason Collier (opens in new tab), who has worked with A-listers such as Victoria Beckham, Eva Longoria, and Sienna Miller.
Your hair type: Those with finer hair or shorter styles will get away with choosing a set with fewer rollers inside, while those with longer or thicker hair will need more rollers to achieve the optimum look in as little time as possible.
Metal grips vs claw clips: Some of the best hot roller sets come with thin, metal grips to keep the rollers secured in the hair, while others rely on plastic claw clips. Some have both. While rollers with claw clips tend to have better gripping power, those with metal pins are more compact to store or travel with and still do a great job, although they can leave crimps in the hair.
If you want to style at home or on the go: Some hot roller sets are best used at home as they have larger, chunkier heating cases. Others are a dream to stash away in a weekend holdall or even a handbag but don't have the same array of features as larger sets.
How to use hot rollers
The effectiveness of your hot rollers will depend on several factors, from what you do to your hair after you remove the rollers to how recently you used your best shampoo and conditioner before styling. "You'll get the best results on washed and conditioned hair but you can still use them on day two or day three hair if you're in a pinch," says Neil Capstick (opens in new tab), hair pro and founder of Neäl & Wølf.
The way you use your rollers will also impact how your curls turn out, so knowing the style you want to achieve and how to get there is key. "To achieve soft, wavy curls, use large rollers at a low temperature and leave them in your hair for about 10 minutes. For tighter curls, use smaller rollers on a higher temperature and leave for 15-20 minutes," says Collier.
"The styling, once you've taken out the rollers, is where the magic happens! Try not to be too zealous in brushing, combing, or teasing out your curls – take it gently and bit by bit until you have the desired look. After all, you can't go back once you've brushed it all out," advises Capstick.
Hot rollers vs curling irons and wands
There are benefits to switching from your go-to curling tong to hot rollers - namely less heat damage and healthier hair. While the best hot rollers don't get quite as hot as other styling tools, the process of letting them cool in your hair to create the curls means your hair health will thank you. "Hot rollers heat up quickly, but release the heat slowly, instead of high impact heat straight onto your strands," explains Collier, adding, "This puts much less stress on your hair and decreases the likelihood of breakage. They can also help to promote hair shine and deliver professional-quality results that last longer than other tools."
Investing in a set of the best hot rollers has a heap of upsides, but there are a few things to remember if you're usually a die-hard curling tong user. "One of the biggest difficulties of using heated rollers is reliably getting the curl you want. While you can be more targeted with instant tools like curling tongs and straighteners, it takes practice to find the correct positioning of rollers to achieve the desired look," Petty advises. "Also, your hair may not look as sleek as when using curling irons or your best hair straighteners, so you may still need to rely on these tools to help smooth out the look if some haven't held as well as others."
However, Petty notes that "unlike a curling iron, you can place rollers closer to the scalp to create volume, and they're easier to handle than an iron because the temperature isn't as high. With hot rollers, you will generally get big, loose curls, more volume, and a softer look," so if this is what you're after, look no further.
---