6 ways to curl hair overnight, tried and tested by us
Mastering how to curl hair overnight makes getting ready for the day a whole lot easier – and these methods really work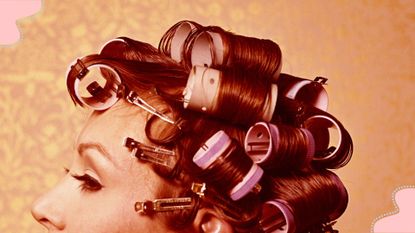 (Image credit: Getty)
If you have been wondering how to curl hair overnight, you are probably looking for ways to make your styling routine as quick and painless as possible. The good news is that we have tried and tested the best methods out there, and they are a total game-changer to keep you looking polished on frantic mornings.
Fans of heatless curls know that they offer a brilliant way to curl hair without excessive heat styling. This means that damaged hair types can avoid any unnecessary breakage or dryness, which even the best curling irons can cause, without having to settle for unstyled hair.
"You get some extra hours in bed in the morning, plus it keeps tangles at a minimum through the night," says Anabel Kingsley (opens in new tab), brand president, and trichologist at Philip Kingsley. Few things are more satisfying than going to bed knowing you will wake up with a flawless style, but in order to get results, you need to use the right method for you. We've tried and tested several to see which really works, and these are our favorites.
The 6 best ways to curl hair overnight
The key to learning how to curl hair overnight lies in finding the method that works best for you. You'll want it to be effective, easy to do, and – most importantly – comfortable to sleep on. We tried out several techniques to see which lived up to these standards, giving perfect overnight heatless curls every time.
1. Braids
Ease of method: 10/10
Curl results: 8.5/10
One of the easiest ways to curl hair overnight, braids are a go-to method that can be done in a matter of seconds. Whether you want to add body to short hairstyles or want a simple way to tame longer locks, anyone can master a braid. Sleeping with braids in our hair gave us more of a kinky, beachy wave look as opposed to ringlet curls, so if you like a more undone and relaxed finish, this is the method for you. Here's how to do it:
Start with damp or dry hair: The drier your hair, the better. If your hair is too wet when you put your braids in, it won't dry properly overnight and therefore your style won't hold.
Section your hair: You will need to decide how many braids you want to do and section your hair accordingly. To keep things simple, you can just do one big braid. This will give a nice relaxed feel with kinks that aren't too tight. If you want a more crimped look, go for smaller sections.
Choose your braid type: You can do any type of braid, including French and Dutch, to get the curly effect. A regular braid also works well, and it is a good option if you want curls through your mid-lengths and ends rather than starting at the root.
Sleep: It's that simple! Sleep with the braids in, take them out in the morning and you're ready to go.
2. Bun
Ease of method: 10/10
Curl results: 7/10
Another quick and easy way to curl hair overnight, throwing your hair in a bun is a great way to add a looser curl to long hairstyles. We found that this works best on slightly damp hair, as it sets in place overnight when it dries, making for more noticeable results. Although there are many different ways to do a bun, which all result in different curl shapes, this is how we found it worked best:
Ensure hair is 80-90% dry: You want your hair to be only slightly damp for this method to work best. Towel dry, leave to air dry, or blow dry to prepare properly.
Twist hair: Before putting it up in the bun, we found that twisting our hair helped us get extra curl action. Use your fingers to twist it up and hold it tight, ready to secure.
Wrap into the bun: Throw your hair up into the bun, keeping your hair twisted. We like to do our buns by wrapping the hair around itself on the top of our head, ensuring it is tight and secure.
Sleep: Now you can sleep soundly and wake up to loose, bouncy curls that only took a matter of seconds to style.
Our beauty writer recommends...
3. Silk scarf
Ease of method: 8/10
Curl results: 9/10
If you're a fan of dressing gown curls, you'll love this overnight heatless curls method. It works in almost exactly the same way, except the scarf gives a slightly different look to a dressing gown cord. Not only is silk better for frizzy hair as it keeps hair smooth and protected, but it also allows for more freedom over the tightness of your curls. Most silk scarves are easier to manipulate than chunky dressing gown cords, so you can make your curls tighter if that's the look you're after.
Place your silk scarf on top of your head: Use a claw clip to secure the scarf in place on top of your head, leaving two long tails hanging down by both of your ears.
Wrap on one side: Begin on one side of your head, starting at the root. Grab a small section of hair at the front of your head and wrap it around the silk scarf to form a curled shape. If you want a looser curl, you can be quite relaxed with the number of curls you do. For ringlets, ensure you are pulling the hair tight.
Add more hair: Each time you wrap a section of hair around the scarf, grab another small section of hair to add to it. This technique is similar to how you would do a French braid, where you gradually add more and more hair until it is all wrapped around.
Continue to the end and secure: Now, secure with a big hair tie or scrunchie and you're good to go! This is a very comfortable style to sleep on, and the longer you leave it in the better.
4. Plopping
Ease of method: 8/10
Curl results: 8.5/10
Plopping is a technique typically used by those with naturally curly hairstyles to enhance their curl pattern. However, it can be used overnight on straighter hair types, working in a similar way to scrunch drying. It's worth noting that, like scrunching, this will add a cool, mussed-up texture rather than create perfect curls. We like to apply one of the best hair masks after washing to keep our hair extra hydrated, then begin plopping. Here's how to do it:
Start with freshly washed hair: The best time to do this is just after washing. There's quite a lot of freedom with this style as it doesn't matter how wet your hair is, however, it won't work on dry hair. If you have very thick hair, ensure your hair is only damp so that it dries overnight.
Lay out a t-shirt: All you need for a successful 'plop' is a standard t-shirt, with long-ish sleeves. Lay your t-shirt flat onto a surface with the head opening pointing towards you, and the bottom of the t-shirt away.
Fold up: If your t-shirt is oversized, you may want to fold the bottom half up so that the top is shorter and will be the right size for your head.
Flip your hair over: Now flip your hair over your head, so that the ends are resting in the middle of the t-shirt. Slowly lower your head down until all of your hair is collected in the t-shirt.
Tie and secure: Grab the arms of your t-shirt and bring them around the back of your head and tie in a knot to secure the t-shirt. The t-shirt should be tight to your head with your hair collected inside. Sleep with this on, and your hair should have formed nice, natural-looking texture in the morning.
5. Twists
Ease of method: 10/10
Curl results: 8.5/10
If you like the look of a bouncy blow dry but don't have the time or energy to spend using hair dryer brushes or similar, twists could be a great alternative. The key to getting this right is using clips that will stay in place and not dig in, so make sure you have some to hand that are comfortable. This works with damp hair, or you can twist your hair after drying it with heat and leave it to set overnight, so it's a great versatile option.
Section hair: To create a nice, loose wave, we typically only make two sections. But you can twist as many as you like depending on hair thickness and desired look. Just be aware that if you have too many sections it may not be as comfortable to sleep on.
Twist hair: Twist each section up, alternating the directions of the twists if you like. Make sure the twists are firm to get the best possible results.
Secure: Hold on to your twist tightly, and place the ends of your hair on the top of your head. Then, secure the end with a claw clip and you're good to go. If just one clip feels too loose, you can use as many as you need along the stretch of the twist.
Our beauty writer recommends...
6. Sock curls
Ease of method: 7/10
Curl results: 9/10
Sock curls are the latest overnight heatless curls method trending on social media. If you want to know how to air dry hair and still get a blow-out look, this is what everyone swears by. We did find it slightly trickier to master than some of the other overnight heatless curls techniques, but it is worth the time and effort if you want to avoid heat completely. Once you get the hang of wrapping your hair tight enough, it becomes easier. Then all you need is a pair of long, thick socks and you're ready to go.
Section hair into two: To get a bouncy, blow-out look, you'll want to separate the top and bottom sections of your hair. If you have very thick hair, you can further separate the bottom half of your hair into two again.
Roll and secure: Place the sock at the end of your section of hair, and begin rolling from the ends to the roots. Ensure your hair is wrapped tight around the sock the whole way up. Once you've reached the top of your head, tie the ends of the sock together to secure it.
Repeat: Repeat the same process on the other section of hair, making sure all your hair is wrapped up, and you're done! Expect a loose, bouncy curl in the morning.
---
How do I force my hair to curl and stay put?
If you struggle to make your curls stay in place, ensure that you are using the right hair styling products before and after curling. Too much product beforehand, such as leave-in conditioners or sprays, can make your hair heavy and therefore curls will slip out. Not using the right products after can mean that styles don't last. For best results, curl your hair when it is freshly washed and use hairspray to set the curls in place.
How can I keep my hair healthy with overnight heatless curls?
"If applying minimal heat, your hair should stay fairly hydrated and thus healthy," says Kingsley. "However, don't forget to look after your scalp too! Wash your hair frequently to ensure a clean scalp and on in-between days, use a scalp toner to keep the scalp microbiome healthy and soak up excess oils."
Amelia joined woman&home after graduating with an MA in Magazine Journalism from City University in 2022. She specialises in lifestyle journalism and throughout her undergraduate degree she wrote for a variety of student publications, where she developed a love for all things style, beauty and sustainable fashion. She has previously written for titles including OK! Magazine, New! Magazine and Notion before she started her career as a lifestyle journalist with woman&home after completing an internship with the brand.