Do dressing gown curls really work? I tried the viral hair hack and this is what happened
w&h beauty assistant tries dressing gown curls – the TikTok trend promising bouncy waves with zero heat damage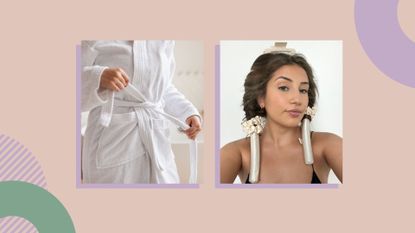 (Image credit: Future/Getty images/Darcy Brown)
I won't lie - when I saw dressing gown curls on my social media feed, I wasn't convinced they would work.
For years I've told myself that the unfortunate downside of achieving perfectly styled hair is using heat, so the idea that I could achieve my regular bouncy blow dry with just the strap on my dressing gown seemed a little far-fetched. But slowly, the trend crept up on me as I saw more and more impressive results and dressing gown curl converts who looked as if they'd spent all day in the salon.
So I decided to see if this trend lives up to the hype – as there are plenty of reasons why you should learn how to air dry hair. Many of us, myself included, subject our hair to heat-styling, and I can honestly say I have perfected the art of how to blow dry hair with the help of my best hair dryer. But even with heat protection for hair, extreme temperatures can leave locks thirsty and prone to breakage. That's why this surprise household hero could just be one of the best hair products of 2022.
Everything you need to know about dressing gown curls
What are dressing gown curls?
Dressing gown curls are also known as 'heatless curls'. In other words, they are one of many ways to style hair without a hair dryer. The method requires using the strap of your dressing gown, or similar soft material, and wrapping almost-dry hair around it in one go.
After leaving it wrapped for at least a few hours, gently unwrap and what should emerge is a beautifully structured head of curls that last all day long. This trend has taken off so much that brands have decided to create their own heatless curlers. For this trial, I used a soft silk curler, designed to replicate the effect of a dressing gown cord, but any robe tie or thick, flexible piece of fabric should work.
Our beauty team recommends...
How do you do dressing gown curls?
I used my self-care Sunday to try out this trend, as it's not a quick fix, so it best fits into a pampering routine. After washing my hair with the best shampoo and conditioner and towel drying, I sat down to discover how to use the tool. And after trying and testing different methods, this step-by-step method is how I achieved the best results.
Wash: Wash your hair and apply your best hair styling products that offer hold, or a curl cream if your hair is naturally textured. Allow your hair to air dry until it is nearly dry but slightly damp. The almost-dry bit's important. If you're wondering do dressing gown curls work on wet hair - If it's saturated, it'll likely stay that way while wrapped up.
Prep: Split your hair into your desired parting. I went straight down the middle for a tidier finish. Then place the dressing gown strap or heatless curler on top of your head and secure it in place with a hair claw.
Wrap: Taking your hair in sections and starting from the top, begin to wrap your hair around the heatless curler away from the face. Make sure to take hair from the front and back. Grab more hair as you go down towards the ends and seal with a scrunchie at the bottom.
Repeat: Repeat steps 2-3 on the other side of the hair.
Relax: Leave the heatless curls in for at least a few hours or overnight. Remove the clip and the silk curler and gently brush through the ends
Do dressing gown curls work?
Now for the moment of truth. As I unwrapped my hair to reveal the dressing gown curls, my jaw honestly dropped as I looked in the mirror. Though I did have more flyaways than I'd usually expect when heat styling, I was pleased by the shape and structure of the curl that had formed. The part that really impressed me was the root lift this technique achieved – it was just like the volume I usually get with a DIY blow dry. With the help of hairspray, the style held nicely in place all day.
Are dressing gown curls worth trying? w&h verdict
After seeing great results from dressing gown curls, I definitely recommend trying this technique to see how it works for you. That being said, I have always been able to rely on my hair to hold a style, so it is worth noting that if you are blessed with curly or textured hair, or your hair struggles to hold a curl you may not see the same lasting results.
You also won't achieve the smooth texture that you get from blow drying and using the best curling irons. But, I loved that I could create a nice structured curl and some impressive volume without worrying about damage. With the help of a few products to smooth flyaways and improve hold, ditching the heat has never been easier. I'm hooked.
Darcy Brown is a print and digital beauty journalist with her finger on the pulse of the latest trends. She entered the industry as an intern for publications such as Fabulous Magazine and the Sun. Since graduating from university with a first-class BA Hons degree in Philosophy, she has thrown herself into all things beauty.
When she's not writing for Woman & Home and Weekly titles including Woman and Woman's Own, you can find Darcy working on editorial shoots and social media campaigns with some of the industry's leading experts, including George Hammer, Angelo Seminara, and Lan Nguyen Grealis.