20 Ways To Style Your Hair Without A Hairdryer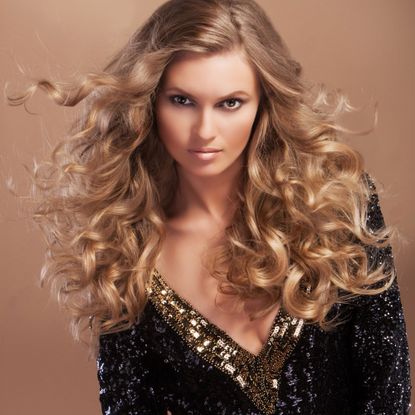 Discover how to make the most of your look - even when you're short on time with our no-fuss, hairdryer-free ideas
It's a hot summers night and you've just washed your hair. The daunting prospect before you? Having to sit underneath a stifling hairdryer while enduring the blazing hot weather. Having to get all hot and bothered just after you've stepped out of the shower? Alanis Moirresette should've put it in that song. Suddenly we're wishing we knew how to dry hair without a hairdryer and still have it look good. Good news. We do!
And honestly, a lot of them are much better than the hair dryer anyway (any heat styling can be damaging for your hair, drying it out and making it fragile and brittle). So when you're deciding how to dry hair without a hairdryer, a lot depends on your hair type and the look you want to go for.
We know it sounds weird, but plopping – bear with us - is a great way to dry curly hair. All you do? Pile your wet hair onto a t-shirt, twist the sides and wrap it around your head like a turban. Then just wait! Piling your hair on top of your head prevents gravity from messing with the movement, letting those beautiful curls take the shape they want to (this method is great for bringing out natural waves too).
If your hair's straight, a couple of styling products are your tickets to creative new looks. Salt spray is damp hair's best friend (there's a reason why so many of us are obsessed with beach hair). Spray it into damp hair and scrunch through with your fingers and then leave to dry: voila –choppy, sexy texture that looks fresh from the beach.
Of course, finding out how to dry hair without a hairdryer lets you step aside from that perfect blow dry and experiment with new looks too: updos, chignons, plaits. Find 20 of our favourites here...
Hair by Karine Jackson using Organic Colour Systems
How to dry hair without hairdryer: Lazy girl knot
If you have quite thin hair, but haven't got time for an at-home blow dry, twist hair up into a messy bun. Keep it low on the nape of the neck and leave a few loose strands out for an undone, relaxed look. Hair by Headmasters
How to dry hair without hairdryer: Short Cropped Hairsyle with fringe
Grown out lengths and a long fringe update your cropped hairstyle for summer 2013. Plus, this slightly longer style means you can spend less time on your locks. Hold your style in place - without touching the hairdryer - with the Redken Tousle Whip 04. Apply a small amount to damp or dry hair, creating your desired look with your fingers. Hair by Sassoon Salon
How to dry hair without hairdryer: Short Afro curly hairstyle
For a new take on your curls, pull the front back with an elastic head band and let the back curl naturally around your face and neck. A great hairstyle for busy types who need to get on with the day.
How to dry hair without hairdryer: Long tied back hairstyle
A ponytail can be so ladylike: Just be sure to leave some volume in the top and tie the hair low on the nape of the neck to keep the style youthful. Curl, backcomb or leave the pony straight - this style is so versatile! Hair by Headmasters
How to dry hair without hairdryer: Long tied back hairstyle
This summer, beach hairstyles are about waves. Work the Percy & Reed Abundantly Bouncy Volumising Mousse into towel-dried hair then scrunch dry for that soft wave look. Hair by Michael Barnes for Goldwell
How to dry hair without hairdryer: Mid length wavy Hairstyle with Fringe
Struggle to keep you wavy locks under control? Don't fight it - embrace the look with shaggy layers and a long fringe to minimise styling time. Hair by Hairaisers
How to dry hair without hairdryer: Messy up do hairstyle with fringe
Updo hairstyles don't always have to be high octane glamour. Opt for a messy top-knot with a tousled fringe for an on-trend and unique 'do - an easy way to style your hair when you are short on time. Hair by Jamie Stevens
How to dry hair without hairdryer: Chignon Hairstyle
Backcomb the top for a little height, pin up and smooth with a touch of the Kérastase Styling Gloss Appeal. A fabulous Audrey Hepburn style for any occasion that takes no time at all. Hair by Alta Moda for Schwarzkopf
How to dry hair without hairdryer: Long curly hairstyle
Loosen up and set your hair free with some sexy rock chic curls. Create the look with the Bumble & Bumble Surf Spray. Just spritz on damp hair and shake out with your fingers for undone glamour. Hair by Hooker & Young
How to dry hair without hairdryer: Short Messy Hairstyle
Shake up your style for the weekend. Rough dry your cropped hair instead of keeping it neat - don't be tempted to smooth the hair down. This is a great way to change your look from the office to off duty. Hair by Ken Picton
How to dry hair without hairdryer: Mid length Hairstyle with Fringe
A layered hairstyle is an easy way to make sure your locks have shape and body without any effort. Ask for hidden layers to keep hair looking thick and healthy, or opt for feathery front sections to flatter your features and frame your face. Hair by MODE
How to dry hair without hairdryer: Red curly hairstyle
Embrace wild, romantic hair this season with gorgeous copper curls. Make the most of your natural curls with the Redken Curvaceous Ringlet Perfecting Lotion. Just scrunch and go! Hair by Katie Mulcahy
How to dry hair without hairdryer: Short Curly Hairstyle
Add texture and movement to your regular bob by curling the ends with short no-fuss layers. Sweep your fringe over to one side to give your style a 50s twist and you are ready to go! Hair by Rae Palmer
How to dry hair without hairdryer: Messy cropped bob hairstyle with fringe
Forget super sleek styling, this summer don't be afraid to add some texture to your your chin-length bob. Rough drying, rather than using a dryer, will help you to achieve this look. Hair by Ken Picton
How to dry hair without hairdryer: Mid length Hairstyle with Fringe
Show off your wild side and let your naturally straight hair air dry. Sweeping it over on a side parting will make this look glamorous, rather than messy. Hair by Hooker & Young
How to dry hair without hairdryer: Hairstyle with bun
Finish off your classic look with an elegant updo - that takes next to no styling time. Loop hair around itself at the crown of the head, or just below, and simply secure with a hairband to create this classic and feminine style. Leave some volume on top to stop the look becoming severe. Hair by Headmasters
How to dry hair without hairdryer: Mid length curly Hairstyle
Run a small amount of the Kérastase Styling Mousse Bouffant through damp hair and scrunch. Even the most lacklustre of locks will become beachy, goddess waves with minimal effort. Hair by Martin Crean at Mode
How to dry hair without hairdryer: Big curls hairstyle
Do you struggle to control your natural curls? Let them loose this season and embrace the natural curve of your hair. Keep volume and shape in your style with the Bumble And Bumble Curl Conscious Holding Foam. Hair by Katie Mulcahy
How to dry hair without hairdryer: Copper curly hair
If you hair is naturally curly, wear it big! Allow hair to dry naturally before teasing into big, undone waves. Brush up and away from the roots to add volume. Hair by Neil Atkinson at Mahogany Hairdressing