The best scalp treatments for healthier, happier hair
Introducing the best scalp treatments to soothe, exfoliate, moisturize and more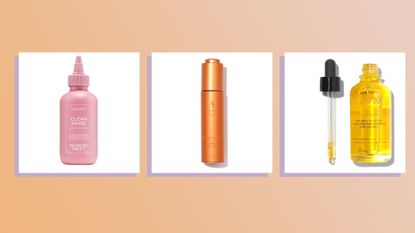 (Image credit: Future)
Incorporating one of the best scalp treatments into your beauty regime is a great way to boost your hair's health. After all, as many trichologists will confirm, healthy hair starts with a happy scalp. From soothing irritation to restoring balance—turn your head to the latest crop of scalp treatments promising many a good hair day ahead.
Scalp care is on the rise and, according to Alexia Inge, co-founder, and co-CEO of beauty e-tailer Cult Beauty, it is the next category to be colonized by the wellness trend. "Traditionally haircare products have been about stripping the strands of their natural oils before rebuilding the hair with humectants and silicone, so it feels healthy," says Inge. "Now, there's a whole movement towards gentle corrections, micro-dosing active ingredients and holistic solutions."
Haircare brands and skincare brands are getting involved to create some of the best scalp treatments hitting the market. Dr Barbara Sturm, Augustinus Bader, Drunk Elephant and Aesop (to name a few) have all moved into scalp care, launching some of the best hair masks and scalp oil for hair growth treatments with formulas akin to the best skincare products. From toners and serums to masks and shampoos, our pick of the best scalp treatments do everything from adding shine to offering a scalp facial experience and boosting growth.
How to choose the best scalp treatments for you
Why you can trust Woman & Home Our expert reviewers spend hours testing and comparing products and services so you can choose the best for you. Find out more about how we test.
"The skin on your scalp is an extension of the skin on your forehead," says Anabel Kingsley, consultant trichologist and brand president at Philip Kingsley, "it contains sebaceous (oil) glands and is constantly replacing old skin cells with new ones." And thus, it deserves the same kind of care that's given to our skincare routine. Shopping for scalp treatments? Here's what to look out for:
Reducing flakes: Want to know how to get rid of dandruff? "You need to treat dandruff consistently for best results," says Kingsley. "Use a daily shampoo containing an anti-microbial active, such piroctone olamine, that targets the yeast responsible for dandruff and rebalances your scalp's microflora," explains Kingsley. "For persistent or heavy scaling disorders, it's best to use shampoos made with tar (coal tar or tree tar such as Juniper) or consult a qualified trichologist," adds Tony Maleedy, trichologist and founder of EarthKind.
Exfoliating: "Weekly exfoliation of the scalp helps to keep the skin hydrated and supple while also removing dead skin cells and flakes," says Kingsley. Maleedy says "go for exfoliants made from natural materials such as seeds or ground tree bark, not small plastic beads as these are a disaster for the environment."
Hydrating: "If you have a dry scalp, applying pure oil is not going to do much good—oil-in-water emulsions are much better," says Kingsley. "Dry skin is not just due to lack of oil—it is also due to lack of moisture, or excessive water loss from the skin. Pure oils can cause irritation and weigh down your roots."
Soothing: "Use a daily re-hydrating scalp toner containing ingredients such as sodium salicylate—an anti-inflammatory and anti-irritant active that helps to soothe the scalp," advises Kingsley. "Twice weekly, apply a moisturizing scalp mask containing ingredients such as aloe vera, and mild exfoliants, such as betaine salicylate."
Tackling oiliness: "Oily hair can be annoying but it's the best hair type to have as the oils ensure your hair remains in good condition," says Maleedy. "Do not apply conditioner to the scalp as this is likely to make hair oily and it's not needed there. Instead, just apply it to mid-length and ends where the hair becomes dry and brittle."
THE BEST SCALP TREATMENTS, chosen BY OUR EXPERTS
1. The Nue Co. Supa Thick Hair Treatment
Best overall scalp treatment
Specifications
RRP: $45/£35
Best for: Thinning hair and shedding
Key ingredients: Peppermint and rosemary oil and patented probiotic technology
Reasons to buy
+
Promotes thicker, healthier hair
+
Supports scalp health by stimulating circulation to roots
+
Reduces flakiness and dandruff
Reasons to avoid
-
Have to wait 20 minutes before rinsing
Dreaming of thicker, fuller hair? Let us introduce you to The Nue Co, one of the best scalp treatments across the board. A dream to apply, the soft bottle is easy to squeeze with a nozzle attachment that distributes just the right amount of the lightweight gel-like formula. Simply massage it into the scalp and leave it on for 20 minutes before washing hair as usual.
As for ingredients, the scalp-savvy treatment contains the brand's patented probiotic technology that supports scalp health by stimulating circulation to the follicles—nourishing roots and reducing dandruff. Peppermint and rosemary oil also work together to promote thicker, healthier hair. After use, hair instantly looks lifted and bouncier, while over time this top treatment will boost hair growth, too.
2. Dr. Barbara Sturm Balancing Scalp Serum
Best luxury scalp treatment
Specifications
RRP: $100/£80
Best for: Irritation, redness and itching
Key ingredients: Brown and green algae, hyaluronic acid, purslane extract, Japanese camellia and lavender
Reasons to buy
+
Soothes irritation and reduces flakiness
+
Protects the scalp against heat, pollution, and UV stress
+
Improves hair condition
Known for her innovative, science-led skincare treatments, Dr Barbara Sturm has recently branched out into the world of haircare with a hard-working range of luxurious products—including this serum. A savior for those who struggle with an itchy or flaky scalp, this treatment helps soothe skin and reduce irritation with a powerful cocktail of skin-savvy ingredients.
Japanese camellia, brown and green algae, and lavender all soothe skin, while sunflower sprouts and tara extract protect hair from heat, pollution, and UV stress. That's not all—hyaluronic acid and purslane extract boost hydration and stop itching. Expensive, yes. But this hair hero really does it all and is a godsend for anyone experiencing irritation.
3. The INKEY List Glycolic Acid Exfoliating Scalp Scrub
Best budget scalp treatment
Specifications
RRP: $12.99/£12.99
Best for: Product build-up and flaky scalp
Key ingredients: Glycolic acid, Mediterranean microalgae and castor beads
Reasons to buy
+
Removes product build-up and dead skin
+
Helps regulate sebum levels
+
Castor beads are biodegradable
Looking to invest in one of the best hair clarifying treatments? This purse-friendly product from The INKEY List is just the ticket. The gentle scrub is blended with both chemical exfoliants (7% glycolic acid) and physical exfoliants (biodegradable castor beads) to remove dead skin cells and product build-up to reveal a happier, more balanced scalp.
Suitable for all hair types, it also contains Mediterranean microalgae to help regulate sebum levels and balance your microbiome. Apply onto a wet or dry scalp, using the nozzle to evenly distribute, before massaging it in with fingertips. Leave on for ten minutes before rinsing hair with shampoo. To avoid drying the scalp, only use this treatment once or twice a week.
4. Philip Kingsley Scalp Toner For Flaky & Itchy Scalps
Best scalp treatment for flaky and itchy scalps
Specifications
RRP: $33/£22.50
Best for: Flaky and itchy scalps
Key ingredients : Piroctone Olamine, Camphor and Benzalkonium Chloride
Reasons to buy
+
Anti-microbial
+
Refreshes soothes and comforts scalp
+
Fragrance-free and vegan-friendly
Flaky, itchy scalp? Turn your head to this soothing scalp toner from Philip Kingsley. Water-based and fragrance-free, the clear formula is loaded with piroctone olamine to fight fungus and bacteria, camphor to cool and soothe as well as benzalkonium chloride to provide instant and long-lasting relief from itching.
"Just like your face, your scalp benefits from daily use of the best toner" says Kingsley. "After towel-drying your hair, apply the scalp toner to the scalp (directly from the nozzle) in one-inch partings from ear-to-ear." No need to rinse, the formula can be left on to help prevent the recurrence of flakes and build-up of dead skin cells.
5. JVN Hair Complete Pre-Wash Scalp Oil
Best scalp treatment for dry skin
Specifications
RRP: $28/£24
Best for: Dry, itchy, or flaky scalp
Key ingredients : Basil root extract, hemisqualane and bisabolol
Reasons to buy
+
Leaves hair looking healthier
+
Clarifies, calms and cleanses the scalp
+
Safe for colored hair
Reasons to avoid
-
Oil product not for everyone
If you have a dry, itchy, or flaky scalp, give this pre-shampoo scalp treatment from new brand on the block, JVN Hair, a whirl. The nutrient-dense golden oil is brimming with bisabolol to soothe and calm the scalp, basil root extract to help reduce hair loss, and hemisqualane to strengthen and smooth strands.
A multi-tasking hair hero, the oil is extremely lightweight and doesn't weigh hair down—it also washes off easily with one of the best shampoos and conditioners. Simply massage a dropperful on the scalp 15-minutes before washing to hydrate and soothe skin. For best results, the brand recommends using the treatment weekly.
6. EarthKind Tea Tree & Eucalyptus Shampoo Bar for Improved Scalp Health
Best scalp treatment to soothe irritation
Specifications
RRP: £6.95 (UK only)
Best for: Dandruff and irritated scalps
Key ingredients: Tea tree and eucalyptus
Reasons to buy
+
Plastic-free, sustainable shampoo
+
Soothing and calming effect
+
Gentle enough for daily use
Reasons to avoid
-
Requires a storage tin to keep the bar dry between washes
Looking to go green with your scalp care regime? Make the switch from bottle to bar with eco-friendly beauty brand EarthKind. Plastic-free and cruelty-free, these shampoo bars are designed to be kind to the planet as well as your hair. Formulated with tea tree and eucalyptus oils, which have antimicrobial effects on the scalp, this specific shampoo bar helps reduce the level of bacteria and yeast on the scalp that can lead to dandruff and other scalp concerns.
To use, wet your hair first before applying the bar all over strands to create a rich lather. Massage it into the scalp and then rinse off. Our top tip? To make your bar last longer, it's best to store it in a tin or container, away from water.
7. Augustinus Bader The Scalp Treatment
Best scalp treatment for shedding and hair loss
Specifications
RRP: $80/£62
Best for: Shedding hair
Key ingredients: TFC8 complex, magnesium, copper, zinc and Indian cress and water cress
Reasons to buy
+
Reduces shedding and volumizes strands
+
Calms irritation
+
Clears blocked follicles
The ideal solution for combating hair thinning, this luxurious scalp treatment is designed to boost volume from the root and stimulate growth with a cocktail of skin-savvy ingredients. First up, there's the brand's patented Trigger Factor Complex (TFC8®) that promotes skin renewal and hair growth. Then there's a clever complex of magnesium, copper, and zinc to help revitalize the skin. Alongside this, you'll find watercress, Indian cress, and maca root extracts to strengthen keratin production.
A leave-in treatment, it's designed to be applied onto a clean, damp scalp in sections before being massaged in. While it is very expensive, the product packs a potent punch and delivers healthier, shinier, and thicker hair in a matter of weeks. If you're looking to splurge, this could be the treatment for you.
8. Sunday Riley Clean Rinse Clarifying Scalp Serum
Best clarifying scalp treatment
Specifications
RRP: $48/£42
Best for: Product build-up and flaky scalps
Key ingredients: Glycolic and salicylic acids
Reasons to buy
+
Removes product buildup, excess oil, dead skin, and pollution
+
Doesn't strip the scalp of essential natural oils
+
A little goes a long way
Go-to skincare brand Sunday Riley has answered our scalp care prayers with this clarifying, detoxifying scalp serum. Blended with exfoliating glycolic acid and salicylic acid, the rinse-off formula works to remove product build-up, excess oil, dead skin cells and pollution. The results? A refreshed and balanced scalp that feels ultra clean.
As well as acids, the serum contains rose clay and witch hazel to gently remove impurities as well as soothing jasmine essential oil and niacinamide to boost hair growth. Our only word of warning: the serum can lead to drying so we recommend following the treatment with a hydrating shampoo.
9. Living Proof Scalp Care Revitalizing Treatment
Best scalp treatment for thicker, fuller hair
Specifications
RRP: $32/£22
Best for: Thinning hair
Key ingredients : Healthy Follicle Complex™, jojoba esters and vitamins
Reasons to buy
+
Helps achieve thicker, healthier hair
+
Rich in vitamins and nutrients
+
Comes with massager
Reasons to avoid
-
Takes a while to see real results
Scalp care is key to fighting hair loss and this treatment from Living Proof is the perfect product pick. The overnight treatment is powered by the brand's Healthy Follicle Complex—that's essentially a cocktail of yeast proteins and zinc salts—that work together to nourish and strengthen strands from the root. Jojoba esters and vitamins also provide hydration, moisturize the scalp, and restore the skin barrier function.
Designed to be used daily, apply the treatment directly to the scalp, straight from the nozzle, on wet or dry hair, and massage in (with the included massager). The massager is a lovely touch that really works the product into the scalp. While it can take up to 90 days to see thicker, fuller results—it does have an immediate plumping effect, thanks to something called NaturePep Amaranth.
10. Malin + Goetz Detox Scalp Mask
Best exfoliating scalp treatment
Specifications
RRP: $28/£28
Best for: Product build-up and oiliness
Key ingredients: Salicylic acid, AHAs and fatty acid-rich oils
Reasons to buy
+
Works in just five minutes
+
Exfoliates and detoxifies the scalp
+
Conditions and nourishes the skin
Reasons to avoid
-
Difficult to spread evenly
If you find that exfoliating scalp scrubs are too harsh, try this Detox Scalp Mask from Malin + Goetz. The foaming formula sweeps away product build-up and oils with a clever combo of salicylic acid and AHAs to provide gentle exfoliation. It takes just five minutes to work its magic and can be applied on a dry scalp, before rinsing off.
To prevent any dryness, the treatment boasts fatty acid-rich oils which deliver essential hydration to nourish and soothe the scalp. Double tick! While the bubbling mask can be a little tricky to spread across the scalp evenly, once you do (and rinse it off) hair feels refreshed and healthier.
---
woman&home thanks Alexia Inge, Anabel Kingsley and Tony Maleedy for their time and expertise.
Emma Stoddart is a freelance beauty journalist and self-confessed skincare aficionado with over five years' industry experience. Emma has worked for some of the UK's top women's titles including Net-A-Porter, Stylist and Grazia. Her experience spans online and print as well as producing editorial shoots with some of the industry's biggest artists, including Val Garland. Asides from working with them behind the scenes, she's also had the chance to interview the likes of Patrick Ta, Pat McGrath, and Sam McKnight for all their insider tips and tricks.