7 Beauty Ed approved hair clarifying treatments, including the £3.99 bad hair day saviour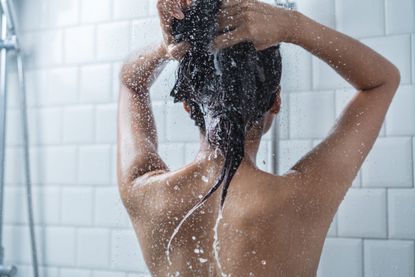 (Image credit: Getty Images/iStockphoto)
If you haven't tried a hair clarifying treatment before, now could be the perfect time.
For one thing, most of us are happy to lay off heat styling and loading on excessive product for the time being, so why not take advantage of this momentary breather to deep clean with a hair clarifying product instead?
In a world where we're pretty consistently told not to over-wash our hair so we don't 'strip' it and that day old hair makes styling easier, it's easy to become washing-averse.
Most of us are certainly guilty of using dry shampoo and buns to eke out as many days between shampoos as possible, avoid 'first day fluffiness' and save a bit of time in the morning.
MORE: These 26 hair products have won a Woman & Home hair award this year (opens in new tab)
The truth is perfectly clean and clarified hair may feel nice, but doesn't always look as good as hair that's got a day or so's worth of oil through it.
But it is so important to build hair clarifying and scalp deep-cleaning into your routine too.
Why should I use a hair clarifying treatment?
Most of us are aware that great hair grows from a healthy scalp, so it follows that a scalp overloaded with oil and build-up could get in the way of growth. The skin on our heads rarely gets much love unless it misbehaves, but even if you don't have dandruff or tight, itchy patches, it still needs a good clearing out every now and then.
If you're worried about leaching away natural moisture from your hair, no need. The best hair clarifying products are gentle and nourishing so look for masks and scrubs with natural grains, gentle cleansing agents and essential oils.
You may notice some of the treatments below are on the pricier side, particularly the ones designed to be used directly on your scalp.
You could caveat that by saying you only need to use them once a week so they'll last for ages and frankly you are dealing with skin here, so if you can afford to it's worth spending a bit more on some proper skincare.
Read to to discover my favourite hair clarifying treatments, from the weightless shampoo that leaves hair swishy and beautifully scented to a cheeky £3.99 oil-absorber and tingly botanical scalp gel.
Best hair clarifying treatments
Monpure Clarifying Scalp Scrub
SHOP NOW: Monpure Clarifying Scalp Scrub, £63, Monpure.com (opens in new tab)
If you're not into scalp exfoliation yet consider this your gateway. Created by dermatologists to de-flake, decongest and nourish, it's gratifying to use and smells like heaven.
Ouai Fine Shampoo
SHOP NOW: Ouai Fine Shampoo and Conditioner, £22 each, Johnlewis.com (opens in new tab)
Simple but effective, Ouai's new haircare duos are formulated to suit various hair thicknesses rather than styling need. Weightless, shine-enhancing Fine did the trick for me, deep-cleaning my hair without leaving it all stripped and squeaky. Plus it and leaves a lovely and unusually long-lasting fragrance on my fine strands.
L'Occitane Purifying Freshness Rebalancing Scalp Essence
SHOP NOW: L'Occitane Purifying Freshness Rebalancing Scalp Essence, £28, uk.loccitane.com (opens in new tab)
Thyme, mint and grapefruit essential oils mingle with herbal vinegar in this tingly fresh leave-on gel. Rub into roots for antibacterial effects and an extra day between shampoos.
Kérastase Resistance Therapiste Soin
SHOP NOW: Kérastase Resistance Therapiste Soin, £24.80, Feelunique.com (opens in new tab)
Is pre-conditioner a thing? Yes, say Kerastase, whose lightweight formula gently softens fine or damaged hair before shampooing, thus protecting it during the process. This smart formula is infused into the hair fibre, so will stick around after washing to strengthen and soften from within, negating the need for any heavy, build-up causing conditioner.
Herbal Essences Bio:renew Hair Oil Blend Coconut & Aloe
SHOP NOW: Herbal Essences Bio:renew Hair Oil Blend Coconut & Aloe, £6, Boots.com (opens in new tab)
Hydrating treatments needn't be heavy. This spritz combines aloe vera juice with strength-building amino acids. Use on damp hair if it's fine or dry if it's thick.
Pantene Cheat Day Dry Shampoo Foam
SHOP NOW: Pantene Cheat Day Dry Shampoo Foam, £3.99, Boots.com (opens in new tab)
Some days a wash and blow dry isn't going to happen. Dry shampoo sprays can be a bit claggy but this airy mousse mops up oil without feeling like its there at all.
Biossance 100% Squalane Oil
SHOP NOW: Biossance 100% Squalane Oil, £27, Cultbeauty.co.uk (opens in new tab)
Why buy three oils when one does it all? This pure, renewably-sourced squalane is a non comodogenic (non-clogging) oil, and will smooth frizz, seal split ends and soften skin too.
Beauty Editor, womanandhome.com
As woman&home's Beauty Channel Editor, Fiona Mckim has tried more products than she's had hot dinners and nothing makes her happier than raving about brilliant finds on womanandhome.com or her instagram grid (@fionamckim if you like hair experiments and cute shih-tzus). Fiona joined woman&home as Assistant Beauty Editor in 2013 under industry legend Jo GB, who taught her everything she needed to know (learn about ingredients and employ extreme cynicism). She has since covered every corner of the industry, from interviewing dermatologists and celebrities to reporting backstage at Fashion Week and judging the w&h Beauty Awards.